There has always been great emphasis on investing, especially for individuals and businesses who wish to diversify their assets and portfolio. However, the world of investing is not without challenges for beginners and seasoned professionals alike who want to choose what's best for them.
Financial companies of all shapes and sizes aim to address the challenges in the field by adopting a mobile-first approach, giving investors and traders alike the ability to invest with just a touch of a button. This is made possible with broker apps that can make trades happen.
For those who want to get their feet wet and enter the world of investing and trading stocks, look no further. Below are broker apps that will be of great help.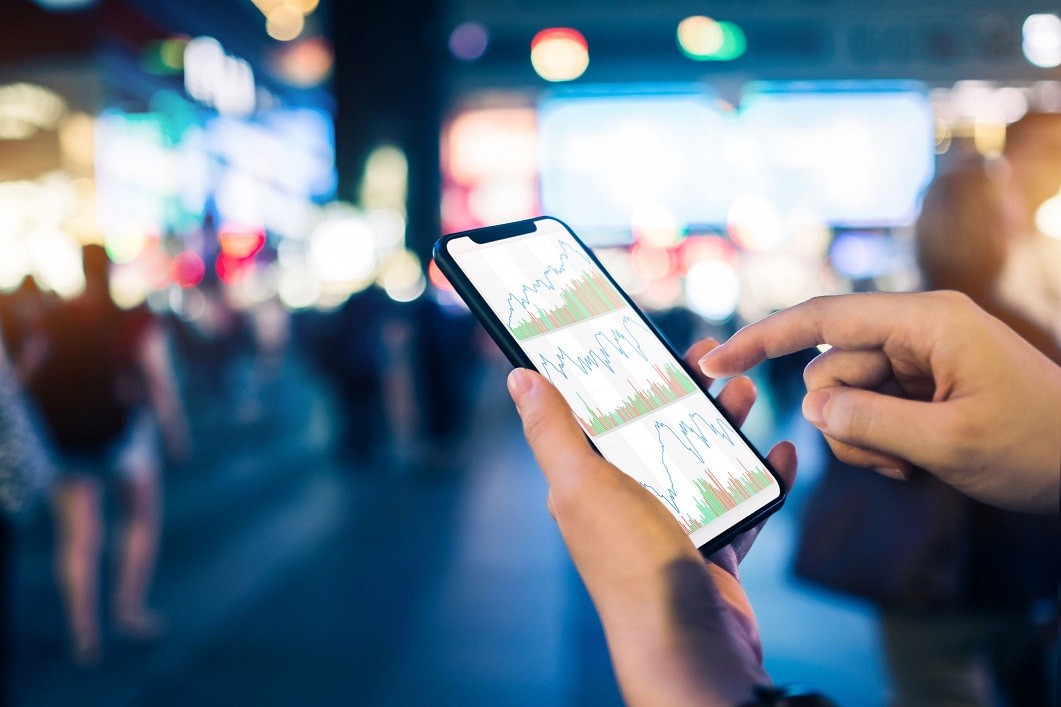 What Is a Broker App?
A broker app is a type of trading platform. This software is primarily used for trading, opening and closing accounts, investing in different stocks, and overseeing and managing these investments.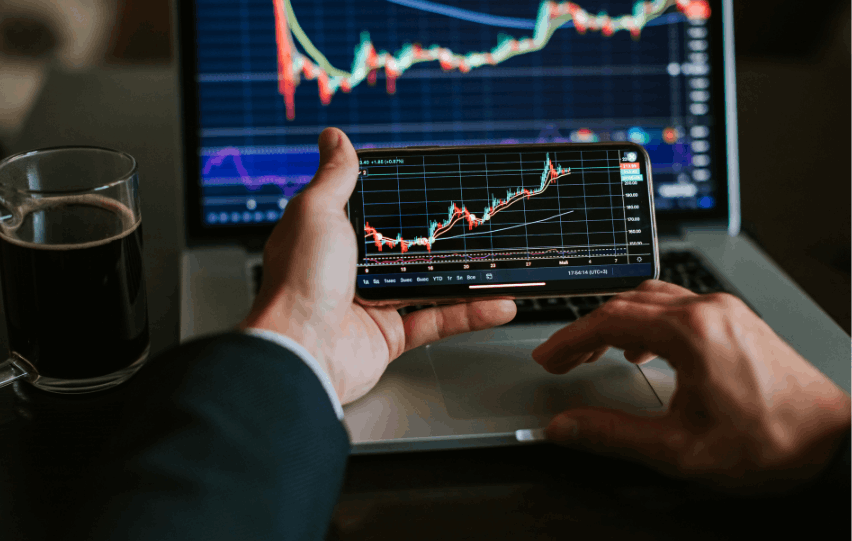 There are a variety of broker applications available on the market today.
Some of these software tools include more basic functions designed for beginners who are interested in learning more about the different market positions as well as their advanced or more complex functions.
How a Broker App Can Help You
At its very core, broker apps provide the necessary information designed to make trading and stocks more accessible. Apart from shedding light on the current events surrounding the trading scene, these software tools also ensure that they are equipped with handling the technical side of trading.
In keeping up with the user's progress, a broker app typically provides updates and notifications, as well as detailed reports. This allows individuals managing their cash and investments to keep moving towards their goal and managing their finances easily.
Webull
For those who want to work with a free broker app, Webull is perhaps the best in its field. Not only does it not charge for its trades, but it also foregoes unwanted charges or commissions for ETFs and other options.
Webull is ideal for people who are experienced in the field. Although it does not provide a wealth of resources on educating people on stocks and trading, it does, however, come with advanced charting features.
What's more, it is equipped with advanced quote data, something that appeals to traders.
How it Works
Webull works by building a portfolio that takes into account the user's end goal and preferences. Besides after-hours trading, it also comes with digital currency investments and smart trading tools, all available on a user-friendly interface.
The app is available on the Google Play Store for Android users and the App Store for iOS users. Webull can be downloaded and used for free. There is also no minimum account balance, but individuals who want to open a margin account are required to deposit at least $2,000.
Fidelity
One of the most user-friendly apps on this list is none other than Fidelity. Ideal for beginners, this software tool works by allowing individuals to invest and manage their stocks and market positions across all their accounts.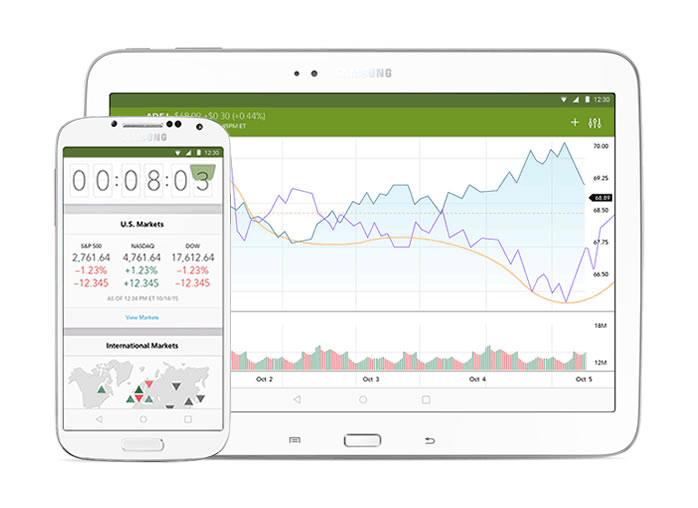 It offers an extensive range of products for users to choose from. A defining feature of the app is that it supports a variety of accounts.
It is also equipped with intuitive and responsive screens, as well as tools that help individuals keep track not only of their long-term goals but also the current rates and international market insights. News can also be watched on the app.
How Fidelity Works
Fidelity can be downloaded on the App Store and the Google Play Store. As individuals log in, they will be given a customized dashboard filled with new updates and reports based on what they are following and trading with.
With great value, this comes with $0 stocks, options, and ETF trades, allowing individuals to get more at little to no cost. However, there is a corresponding fee on per options contracts, as well as broker-assisted trades and mutual funds, all of which range from $0.65 to $49.95.
TD Ameritrade Mobile
Arguably the most established trading platform individuals can come across, TD Ameritrade Mobile brings users closer to a wealth of stocks and shares, including those geared for Forex. It gives users a good grasp of the basics of investing by providing account summaries and price alerts.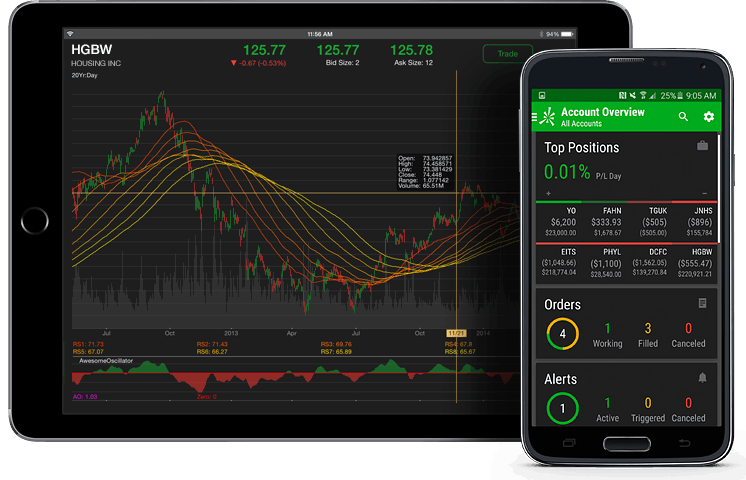 Low-cost accounts are abundant on the TD Ameritrade Mobile app, making it ideal for beginners and active traders alike.
There are no commission fees for online stocks, options trading, and ETFs, although it commands a small fee for mutual funds, per options contracts, and broker-assisted trades.
Learning How to Use TD Ameritrade Mobile
The app works like other broker apps by allowing users to easily trade using their mobile device. It also works in conjunction with its trading app called thinkorswim.
Even better, it provides individuals with the market research they need. This is handy for those who want to stay in the loop while on-the-go.
To download this, individuals can simply tap on 'install' either on the Google Play Store or on the App Store. From here, individuals can explore and track their investments using the intuitive interface. It also helps that integrated charts and timely price alerts come with the app.
Robinhood
Robinhood is yet another brokerage service and app that lets individuals invest in stocks, options, and funds. The option to invest in cryptocurrency is also available. As part of an incentive for new users, individuals are granted their first stock from Robinhood.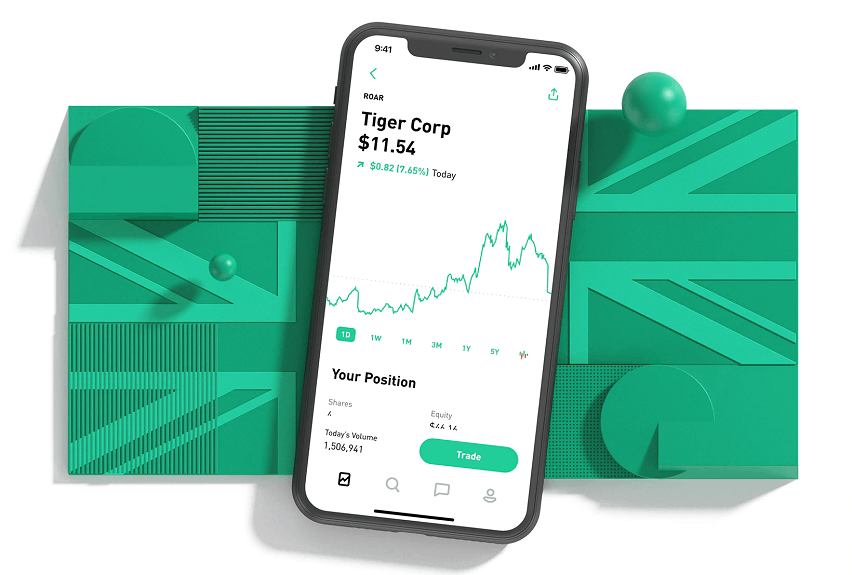 What is great about this program is that lets people stay on top of their investments and world events by providing users with customized news that pertains to their investments.
Information about particular stocks or investments is also handy with real-time market data and articles available on the Robinhood app.
How the App Works
The app is available on the App Store for iOS users and the Google Play Store for Android users. With a fast and simple interface, even beginners will have a grand time with the basic functions, stock quotes, charts, and watch lists on Robinhood.
As a broker app, Robinhood also prides itself in allowing users a number of commission-free trades and stocks. However, users can easily upgrade for $5 a month for a premium subscription that provides more margins as well as more trading opportunities.
SoFi
SoFi is yet another broker app that is great for new traders as it supports a variety of account types, including retirement-based ones to investment options. Several stocks and ETFs can also be found using the app, most of which are grouped accordingly for easier browsing.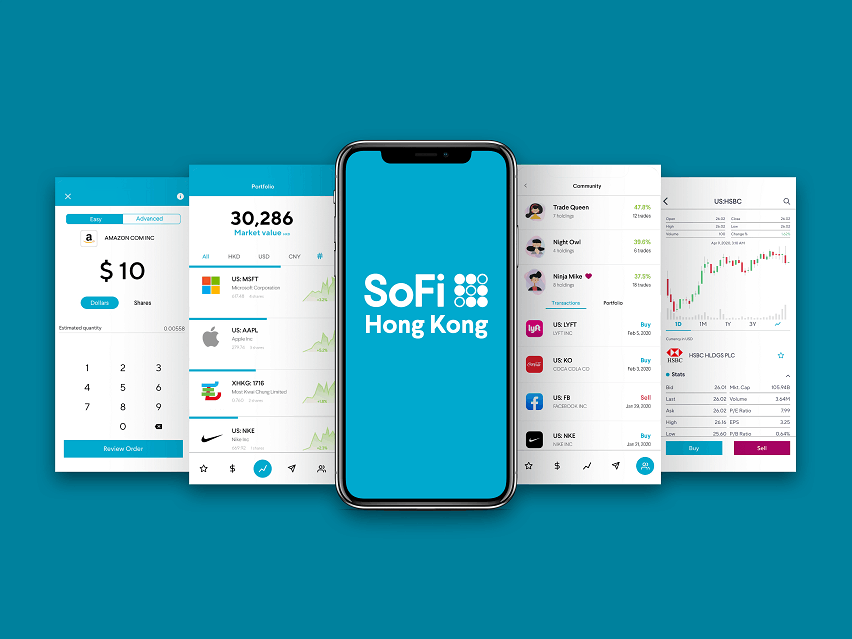 Truly a beginner-friendly application, SoFi brings interested investors closer to their goals by getting them started without high investment amounts.
There are also no commission fees involved, making for an ideal learning experience for those starting to learn trading stocks.
How the App Works
To start, individuals can simply pick the company or stocks they wish to invest in under their active investing account. All that prospective investors need to start with is $1.
The app is available for download on the App Store and Google Play Store. Look for the app by the company Social Finance Inc.
Tastyworks
Tastyworks is made for individuals who are more interested in focusing their sights on options-based trading. However, the company's offerings aren't just limited. It also comes with stocks, ETFs, and futures to choose from.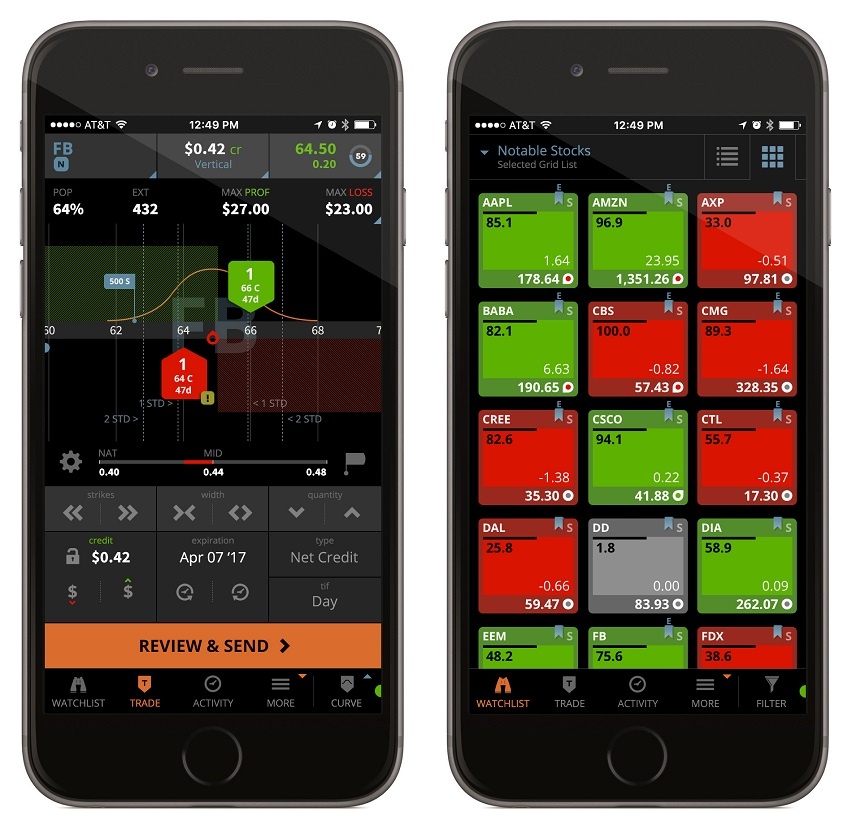 One of the main come-ons of this broker app is that stocks and ETFs do not come with commission fees.
What's more, options and ETF contracts can be sealed from anywhere from just $1 to $10. It has to be said that despite not being a household name, it supports a lot of account types under its name.
Using the Tastyworks App
Here, individuals can simply click on their desired company to start trading and investing.
Available for download on the App Store and Google Play Store, this free program is easy to use.
Ally Mobile
Last but certainly not least is no other than Ally Mobile. For those who already have a number of banking products under one name and who wish to have their accounts consolidated and easily accessible under one place, Ally is the best bet.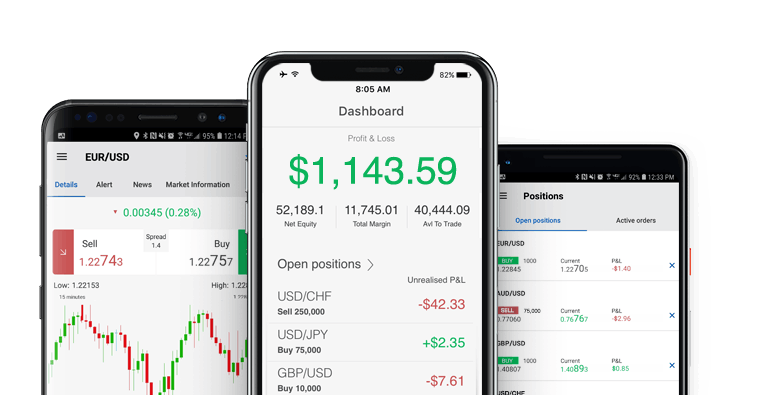 Besides having all your banking and financial accounts in one place, one of Ally's strengths is that it does away with its commission fees for ETFs, online stocks, and options trades, giving individuals a wide range of options to choose from.
Minimal charges apply per options contracts and others.
Using Ally Mobile
What sets Ally Mobile apart from the rest is that it already pairs well with the users' checking and savings accounts. There are also no minimum amounts required. True to its name, the app is a user's ally by being a user-friendly option, with trading and investments being available in just a few taps.
Ally Mobile can be downloaded for free on the App Store and also the Google Play Store. This app comes with a robo-advisor for more help, as well as charting, basic research, and news articles for more informed trades.
Conclusion
Investing is a great financial move for many people. With these broker apps, each individual investor, from beginners to more experienced traders, can hit their goals, with the right stocks and trades for them, with the best platform in hand.
Last updated on December 23rd, 2022 at 07:50 pm