Mobile phones are now used in almost every transaction today. From online groceries to banking, everything can be done through our mobile device, especially when it is connected to the internet.
The rise of the use of mobile devices has also prompted some people to take advantage of those who are not tech-savvy. Oftentimes, innocent people fall prey to identity theft and security breaches that would often lead to fraud.
Protect your family today by downloading the ESET Mobile App. In this article, we'll discuss how to keep your mobile device safe using the app's main features and how you can use the app to protect you and your family's devices from viruses and malicious attacks.
Keep Your Mobile Device Safe and Secure with ESET Mobile Security
Protection from Viruses and Other Malware
A Proactive Anti-Theft System for Your Mobile Phone
Provide Extra Protection with the App Lock Feature
Scan Your Network and Block Unwanted Calls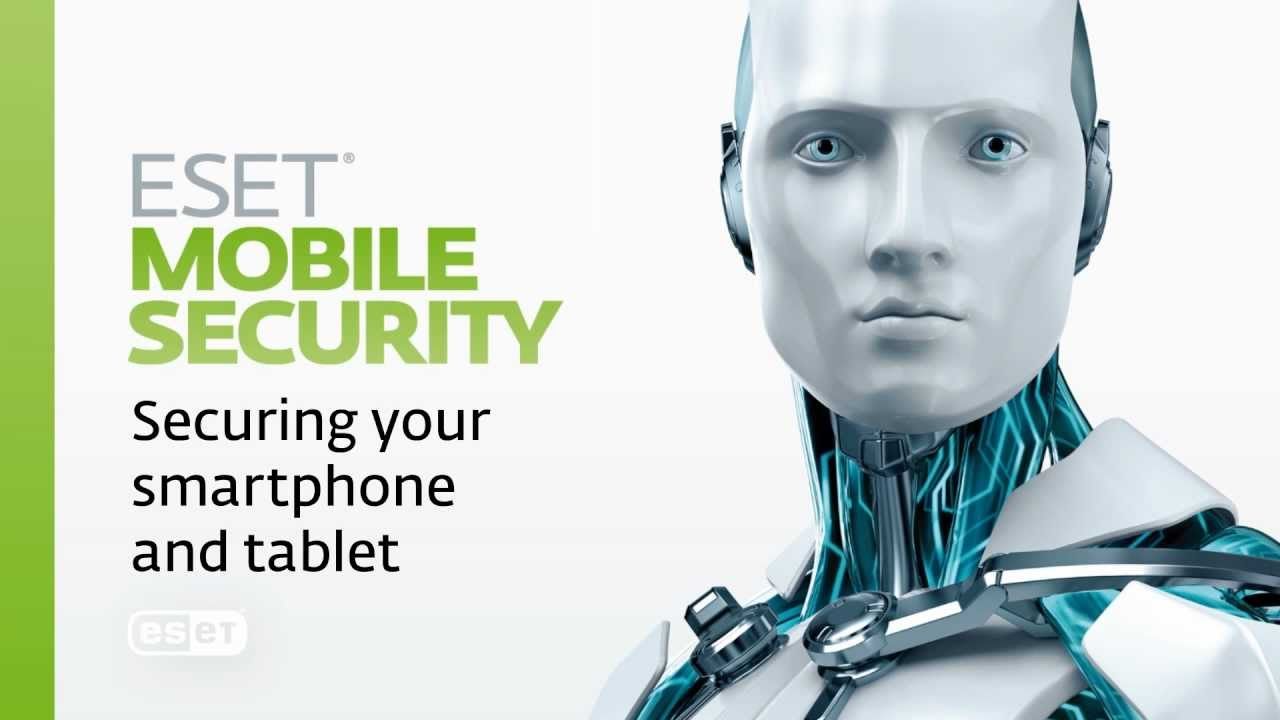 Keep Your Mobile Device Safe and Secure With ESET Mobile Security
ESET Mobile Security is a mobile app that aims to provide maximum safety and security whenever you connect to the internet using your mobile phone.
The app intends to protect your phone from viruses, ransomware, phishing, and other types of malware so you can continue to work and use your phone without any worries.
Used by millions of people all over the world, ESET prides itself as the top mobile security app. It has been downloaded over 10 million times with a rating of 4.7 stars on the Google Play Store.
This goes to prove that the ESET Mobile App continues to be the ultimate choice for security for all mobile phone users.
Your Download Options
The ESET Mobile App offers two different options for users to choose from. Users can download the app and use the basic version for free. The basic version includes antivirus protection, real-time scanning, security report, activity log, and the USB scanner.
Users who want more features can subscribe to the premium plan for a specific rate. Premium features include payment protection, anti-phishing, network inspection, adware detection, scheduled scans, and an option to connect and protect up to five devices.
Users can try the premium version of the app for 30 days, after which they will be billed. You can cancel your subscription at any time.
Protection from Viruses and Other Malware
Mobile malware and viruses are malicious software that is specifically designed to attack mobile devices and aim to expose your private data to the public.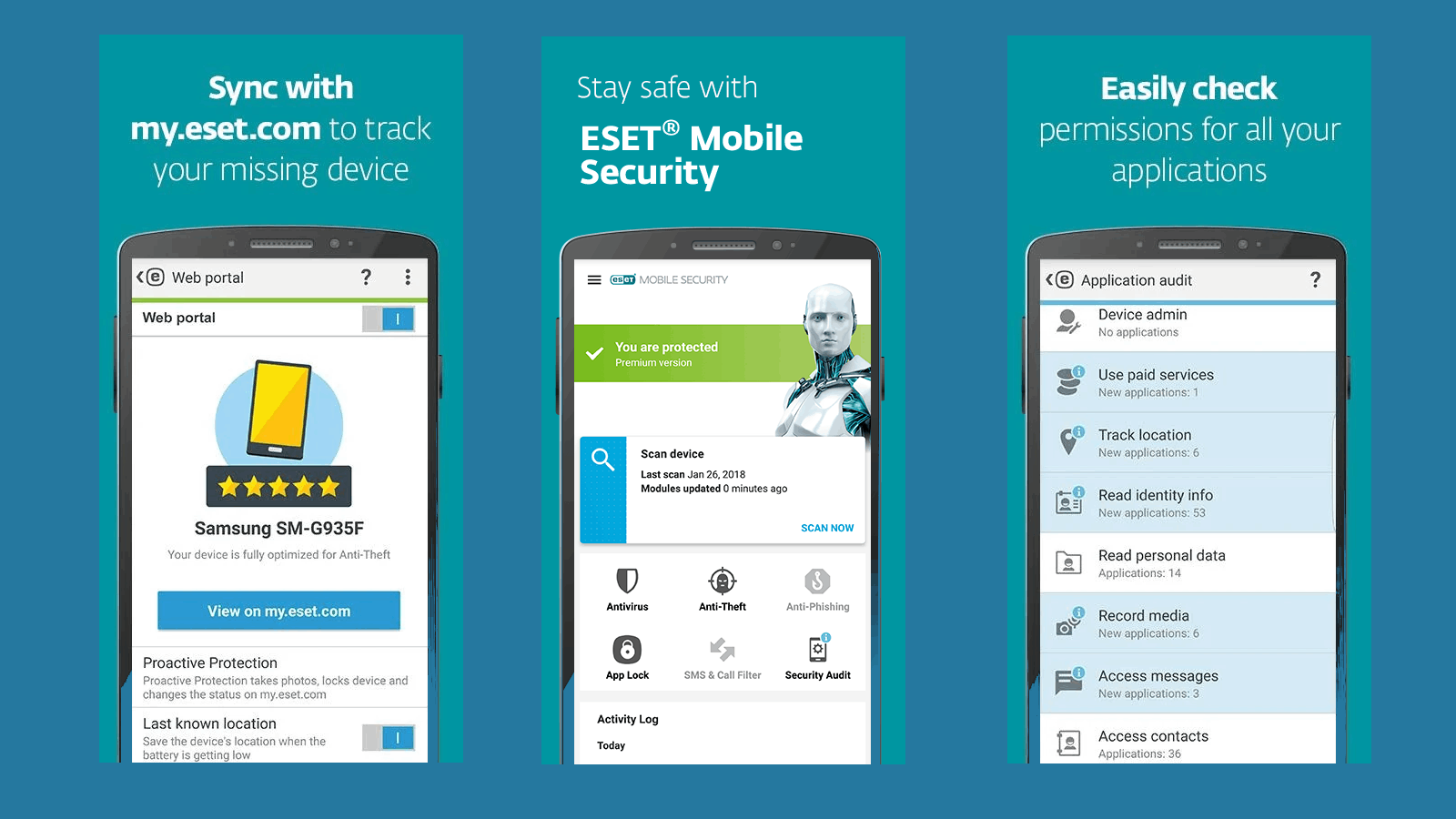 While most mobile malware is not as devastating as the ones found in other devices, it is still a risk to your personal information and a risk to your security. This can even pose a threat to your bank account if you use online banking through their mobile phones.
Viruses and other mobile malware are a growing threat now that we are living in a world where mobile technology is integrated with our lives.
Many people often get victimized by viruses and other malware programs due to the lack of security and protection on their phones. This is why the ESET Mobile App was born and has been proven to work to protect you and your personal data.
Signs Your Phone Has a Virus
There are signs you can look for to see if your phone has been infected with a virus or malware program. If you find yourself receiving strange charges on your bills, your phone might be infected with invasive malware which has been using your personal details.
An invasive advertisement might be very annoying, but just one tap can allow the adware to embed itself into your phone's system. Also, our phone becoming slow or experiencing poor performance could be a virus.
Finally, you might want to check your phone for new applications. If you are not familiar with any new apps or you know you didn't install one on your phone, you should uninstall it immediately.
A Proactive Anti-Theft System for Your Mobile Phone
Apart from protecting your phone from viruses and other malware programs, the ESET Mobile app also has many other unique features that intensify the security of your phone.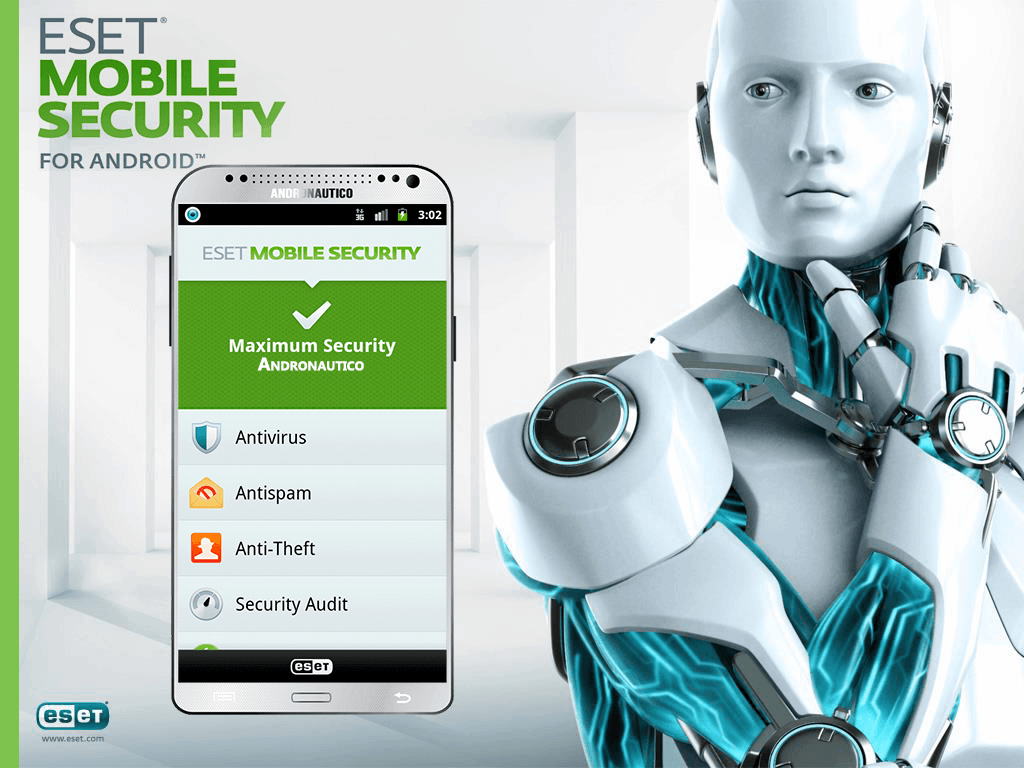 The app features a proactive anti-theft system that allows you to track your phone in case it goes missing.
Your phone will also automatically take snapshots if there are suspicious activities and instantly lock your phone. Locate your phone with the help of its tracking system that can track down its last location.
If you're unable to recover your phone, the app also deletes all the data remotely so no one can use it.
Shop and Do Online Banking Safely
With the ESET Mobile app installed on your phone, you can be confident that you can do online shopping and banking without having to worry about invasive programs.
The basic feature of the app protects your phone by intercepting threats before they enter your phone. These invasive programs are isolated and cleaned before they can even do damage.
The app also scans files and apps for malware in real-time. You'll get all the information you need through the activity log. Make sure to allow the Device Administrator permission to ensure that the app functions properly and as intended.
Provide Extra Protection with App Lock Feature
There are times when you leave your phone unlocked and expose your information to anyone who might want to invade your privacy.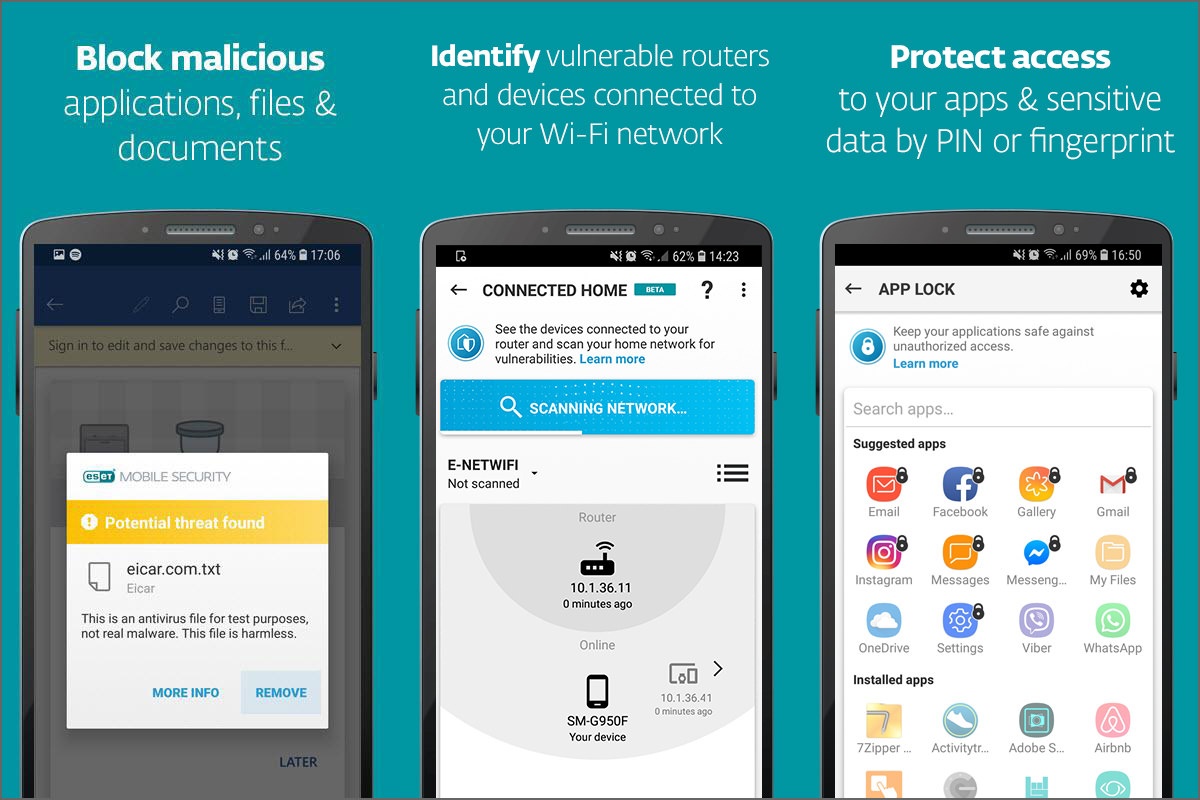 Add a layer of protection to your apps by using the feature that locks all of your apps and requires any other user extra authentication to gain access to certain apps. Protect the content on your phone by limiting access to unauthorized users.
You will need to set up your password and choose which apps you would like to have restricted access to. You may even choose to set up this feature for all of your apps.
However, it is highly recommended that you use this feature on your online banking and shopping app to prevent any unauthorized access.
Protect Up to Five Devices
The premium subscription of the ESET Mobile App allows you to connect up to five devices. This means that you also get to protect more people that are likely being targeted by security issues as well.
This feature is highly recommended for families and friends who want to protect their loved ones. You can register these devices into your account and have them download the app on their phone. They will automatically enjoy the same protection as you, and your device has.
There's also the ESET HOME feature which is a dedicated website that allows you to track all connected devices and check which of the devices have the activated protection. This way, you'll be able to monitor all devices and see if they are protected properly.
Scan Your Network and Block Unwanted Calls
There are times when we receive some unwanted calls and wonder how they were able to get our number in the first place. This can happen especially if you regularly connect to a public internet connection.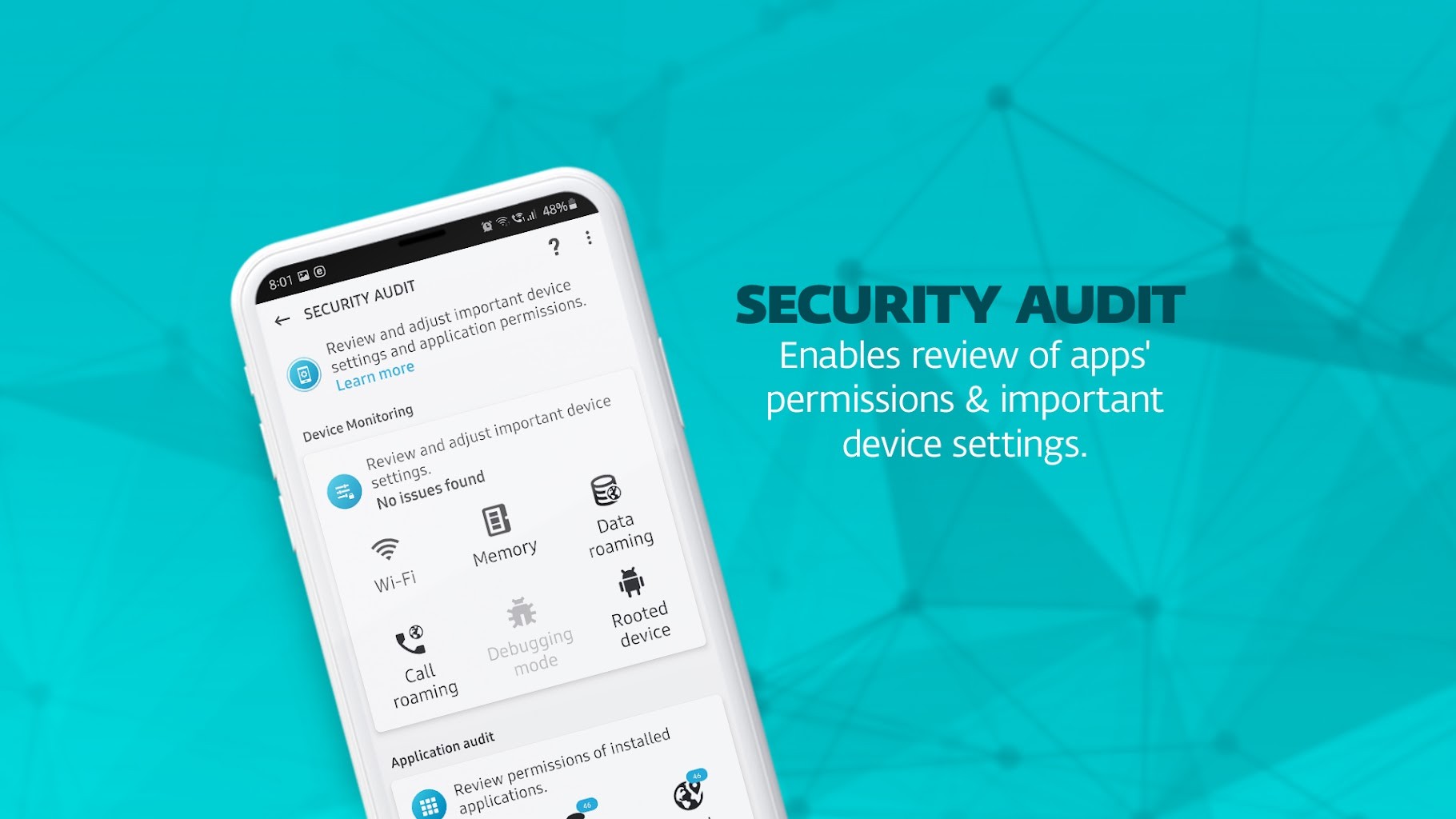 It can also happen if your home network is not sufficient enough to protect your privacy. Your home network should be a safe haven for you and your family. It should be well-protected against malicious programs mentioned above.
Scanning your network for safety is a good way to ensure that you have a safe digital environment for you and your family. The ESET Mobile App scans your network for possible infiltrations and allows you to block unwanted calls leaving you with peace of mind.
You may even use the app to scan the network you're currently in to see if there are programs that intend to invade your privacy.
Provide Complete Security Report
The ESET Mobile App has a scanning feature that thoroughly and routinely checks your mobile device for suspicious programs. You can either set the scan to automatic, or you can set a schedule every day depending on how you want to be updated.
After each scan, you'll receive a complete security report that will give you all the details. The app will also notify you if there are any malicious programs on your device that have been isolated and give you the option to remove them from your phone.
The security report is a standard procedure to give you information and updates as well as give you peace of mind knowing that your personal data safe and sound.
To Sum Up
It's easy to think of your phone as just another device that you carry with you every day. However, it's also one of the most important gadgets that we use in almost everything that we do. It is always best to help keep it protected by using a trusted and reputable app such as the ESET Mobile App.
Last updated on December 28th, 2022 at 06:05 pm