We have all been there: Microsoft Word suddenly crashes and all of your unsaved document suddenly vanishes. It is a horrible feeling that can lead to frustration and missed deadlines. However, before you begin hours of hard work recreating the document, read this guide. In this article, we will show you how to recover unsaved or deleted Word documents. 
Also, Read GT Recovery for windows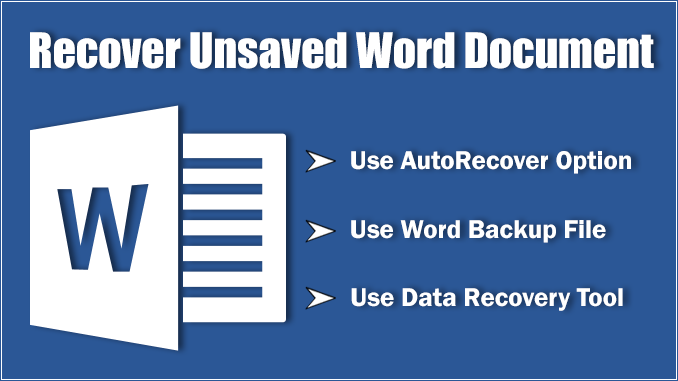 How to Recover Unsaved Word Document
Below are the best methods to recover unsaved, deleted, or lost Word documents.
1. Recover from Recent Documents
Open the Microsoft Word app and click the file tab.
Next, click on recent.
Scroll to the bottom of your recent documents.
Then, click recover the unsaved document.
The lost draft will open in a new window.
Now, click to save and recover your Word file.
2. Recover from Manager Version
Open Microsoft Word on your device.
Now, open an existing file.
Click the file tab.
Now click info.
Click on the manage version option.
Now click recover unsaved documents.
You will see a list of unsaved files. Select the file and click to open it.
3. Search for Autorecovery File
Open the Microsoft Word application and open the file menu and click options.
In the left navigation pane, click save section.
You can change the time it will automatically save a recoverable copy
Now set the option of Save AutoRecover to your preference of every __ minutes and click Ok.
4. Get Your Deleted or Lost Word Document from Recycle Bin
Open the recycle bin on your device.
Find your Word document and right-click on the file.
Now click Restore to recover the deleted Word document.
5. Recover a Deleted Word Document
You can select the option Deleted Files Recovery to get started.
Select the location where your Word document file was lost.
Now you can scan the whole computer.
The results will show quickly. If you can't find your results, please use our All-Around Recovery function.
After the deep scan, you can preview all recoverable Word document files and click the recover button to save.
Though these methods can come in handy to recover lost or unsaved Word documents, you should always manually save your Word document progress. Saving a document early and often is the key to making sure you never lose your work.
These are the best ways to recover Word documents. We hope this guide has been clear and helpful for you! If you have any questions, let us know in the comment box. Share this guide with your friends, family, and coworkers!