You're an ardent bathroom singer, your friends find you extremely talented, and your music teacher goes ga-ga over you. Then chances are you've thought of putting your musıcal talent out there at least once in your life.
But the hassle of finding record labels, distributors, and enough funds to make your music heard might make you second-guess. This headache has been taken away by online audio distribution platforms like SoundCloud.
SoundCloud helps you share your fresh work with millions of listeners, gain followers, and monetize your content. In this article, we'll explain all about SoundCloud and how it makes for an amazing platform for music lovers.
About SoundCloud
Based in Berlin, SoundCloud is a popular audio distribution and music sharing platform that lets you upload, share, promote, as well as stream audio all in one place. It is a shared space by creators looking to distribute their work and listeners who love streaming fresh audio content from artists other than the mainstream.
The company was started by Alexander Ljung and Eric Wahlforss in 2007 and since then it has grown tremendously. Currently, SoundCloud is one of the largest music streaming platforms globally with more than 175 million active monthly users.
It helped many emerging artists increase their reach and develop a fan following. Unlike a streaming service, SoundCloud is quite interactive and lets listeners like, comment, and share on their favorite piece.
This bridges the gap between artists and fans which exists on other one-directional streaming services.
Features of the SoundCloud App
There are many features that make SoundCloud stand out and will instantly get you hooked to the app. You get a diverse content catalog for your DJ sets, remixes, freestyles, and more. There are thousands of music categories with fresh talent emerging every day.
SoundCloud nails it with its lit music library that is home to some of the biggest new hits- from jazz, pop, rock, techno, and even podcasts. The platform currently streams more than 200 million tracks uploaded by over 20 million talented creators from around the world.
You also get well-curated playlists as SoundCloud has multiple theme-based and genre-based playlists curated for all types of listeners. You can create new playlists of your favorite songs and play them on loop on any occasion.
Access to a Fun Community
What's better than vibing with other Music maniacs on your favorite songs? The ever-changing music culture thrives in SoundCloud communities where artists and fans interact in real-time. You can directly connect to emerging superstars and engage with their content.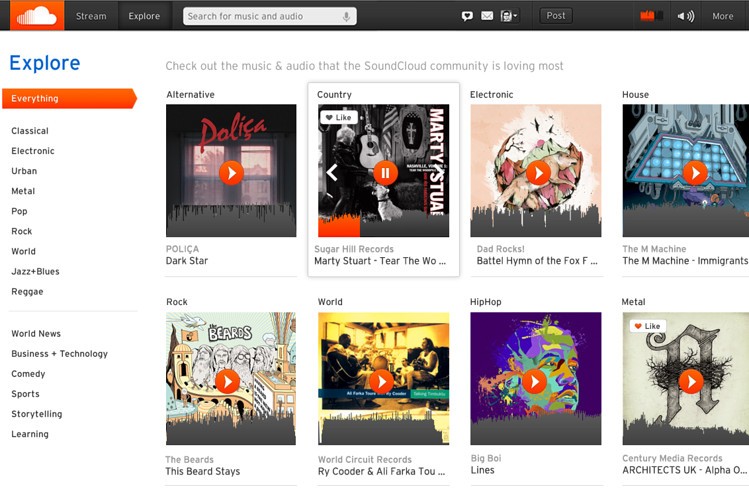 Genre-based community profiles run by experts are also available that keep updating trending music from several genres to you keep you posted.
Relevant Track Suggestions: Based on your listening habits, SoundCloud gives you some great (and surprisingly accurate) music suggestions. You can also check out SoundCloud Charts which show the trending tracks or podcasts for different genres.
What Are the Costs for Soundcloud?
There is a free version you can use, however with the free version you don't have as much freedom to listen to the music you want, nor can you post. So for greater freedom, you might want to consider a Subscription
What Are the Subscriptions Available?
SoundCloud Go for Listeners: This plan gives you the option to save unlimited tracks to listen offline on the go. You also get to enjoy an ad-free listening experience. Save unlimited tracks for offline listening. The 'Go' plan comes with a free 30-day trial after which the service costs $5.99 per month.
Besides all the features of 'Go' plan, the SoundCloud Go+ plan also gives full access to all the music catalogs without any previews. The plus plan also offers high-quality HD streaming to the listeners. It costs about $9.99 per month after the initial one-month trial period.
SoundCloud Repost for Creators: Priced at $30/year, this plan gives you 1-year distribution licensing term wherein you can share your content to Apple Music, Spotify, TikTok, Instagram, and other major streaming services. You can keep 80% of the revenue earned through your content. Moreover, you get exclusive features like Featured Profiles, Track Background Art, and Banner Click-Throughs. You can also run previously saved campaigns and create smart links for all your uploaded content.
SoundCloud for Both Creators and Listeners
SoundCloud Pro Unlimited contains all the 'Repost' features and more at $144 per year. Creators can pin up to 5 playlists or tracks to their profile with the Spotlight feature. It also gives you unlimited HD storage and the option to schedule the release of your tracks.
Moreover, you can get special access to discounts from major music services and a Go+ membership for just $4.99 per month.
How to Download SoundCloud
SoundCloud app is free to download on Windows, iOS, and Android devices. It can be accessed on smartphones, iPads, iPhones, or PC. You can find the app on the Apple Store, and the Google Play Store Once you download the app, you'll have to create a SoundCloud account.
You can either make an account directly on the SoundCloud website and then log in to the app or create an account in the app. To sign up, you'll need to click the 'create account' option and provide an active email address and password. You can also sign up with your Apple, Facebook, or Google account to save time.
Signing up is absolutely free and apart from a diverse library of freely accessible content, you also get some creator features. In the free version, you can upload up to 180 minutes of content.
How to Use SoundCloud
Before you start using the SoundCloud app, it's important to familiarise yourself with its design. Here are some important components you must know about.
Stream - It appears on your dashboard and keeps you updated with new tracks, playlists, reposts from creators you follow on SoundCloud. Your posts also appear on Stream along with the profile.
Profile - Your public profile is denoted by a URL and contains your uploads and reposts along with personal details like name, description, etc.
Library - It shows all your playlists, tracks, and likes along with the content from people you follow on SoundCloud.
Followers/Following - This section shows all the artists and community members you follow. You can add and remove followed accounts anytime if you no longer listen to their music.
Embedded player - This feature lets you add the tracks, playlist, or your SoundCloud profile to your blog or website.
How to Set Up Your Profile
Once you've logged in, you can go to the settings and change your default username or URL which your followers can use to find you. You can also update your profile picture, a header, and description to your profile to personalize it.
SoundCloud experience is much more fun when you have an active community and you can build one by commenting, liking, and reposting your favorite pieces. It will gain you more followers and you'll be able to engage with like-minded people.
You can play music directly from 'Stream' or use the search option to find an artist you know. Browse new hits by filtering genres (rock, jazz, classical, etc) or playlists by other users. Click the 'upload' button on your profile and then select (or drag and drop) an audio file.
Once you've selected a file, the app will start transcoding it to make it streamable. While it's uploading, you can add track title, image, tags, and descriptions to help your audience find you.
What Are the Downsides
SoundCloud has a simple interface which makes the chances for low-quality streaming and bugs low. However, many users have reported a bad user experience because of excessive ads in the free version of the app. SoundCloud also has restricted access in some countries, thus limiting its reach.
The inability to create AI custom-curated playlists in SoundCloud like in other apps such as Spotify or Pandora is also a downside. Other than that, users also find the limited upload time quite inconvenient as it makes the app inefficient for podcasters.
SoundCloud transcodes its tracks to 125kb mp3 format, but the quality is a little disappointing as compared to competitors like Spotify.
Tips for a Good SoundCloud Experience
Now that you've learned all about SoundCloud, you can make use of these handy tips for creators to get the best of this app. Don't limit your SoundCloud experience to tracks and remixes.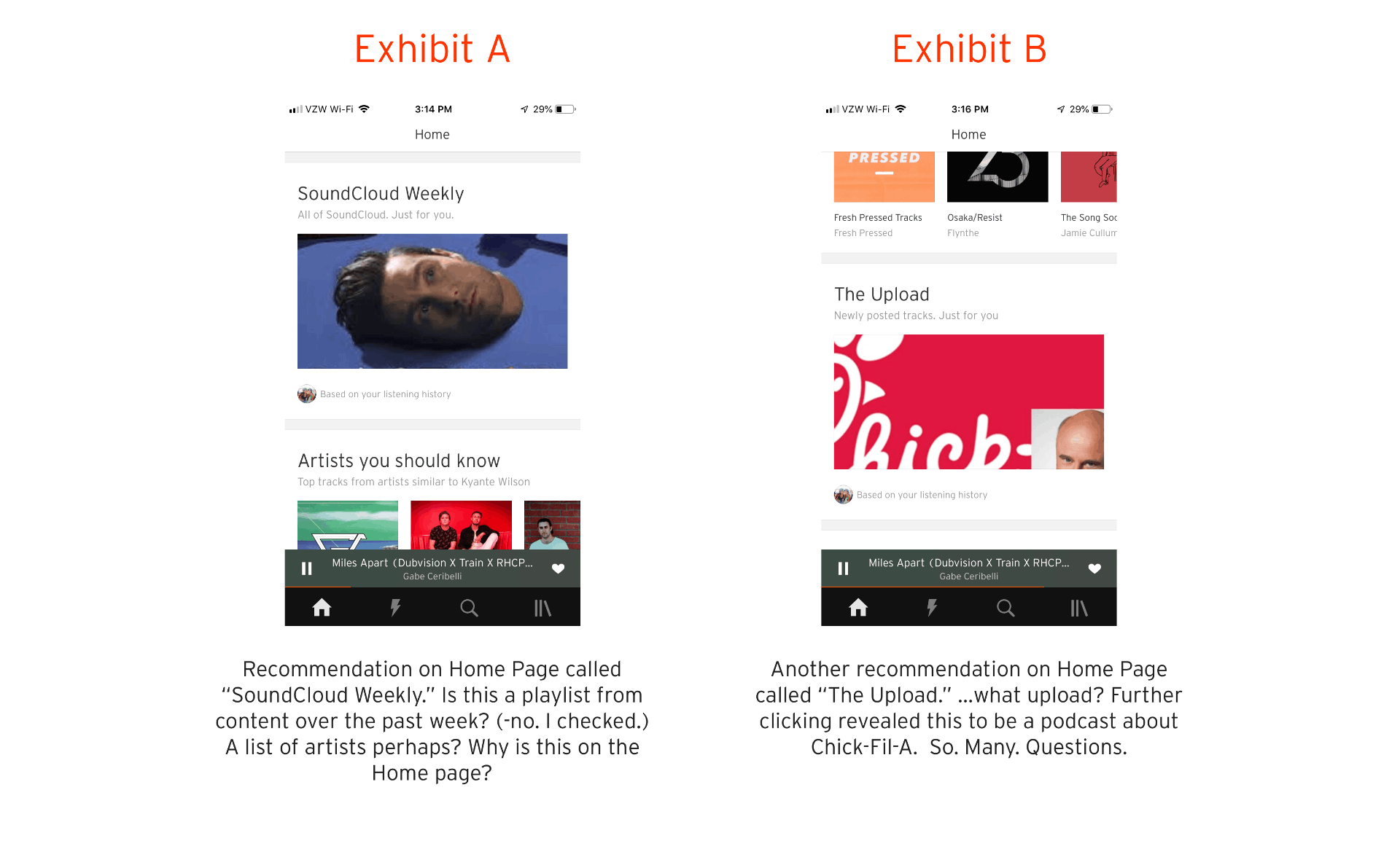 You should be creative and engage your followers with different types of audio content. It includes travel diaries, audio interviews, adverts for the next live, giveaways, spontaneous thoughts, funny ideas, and much more.
The album art is the face of your track that gets pops up every time someone plays or shares your track. You can either put some effort into a good image or hire a designer to do it for you. A PNG or JPEG format with at least 800*800 dimensions is recommended.
It's smart to utilize your existing social media following and personal connections to gain traction on SoundCloud. It will give you the initial push and also get you more collaborations as you get noticed.
How Creators Can Make Money
SoundCloud lets creators add a 'buy' link to the description of the tracks. It will lead listeners to third-party platforms like iTunes or Juno where they can purchase the full track. It's a great way to earn direct revenue from your SoundCloud account.
Conclusion
SoundCloud can be really exciting for listeners and encouraging for new artists. The platform is constantly updated with fresh content from around the world. It keeps you ahead of trends and gives you several different tastes of music apart from the mainstream.
You should check out the free version first and then upgrade to premium plans based on what your needs are.
Last updated on December 26th, 2022 at 07:30 pm