Pregnancy is a time when bodies are changing a lot. While this can be an exciting time in a mother's life, this can also be downright challenging. Thankfully, there are various pregnancy apps that can help monitor a baby's progress and the body's changes.
A pregnancy application is a useful tool for pregnant women. Not only does this serve as an invaluable resource, but this also provides accessible information right at the user's fingertips. For those looking to gain more support and guidance throughout their journey, below are some free apps to check out.
Ovia Pregnancy Tracker
The Ovia app allows users to keep tabs on their baby's growth inside their belly. To make tracking more fun and exciting, it features the little one's current hand and foot sizes. Apart from this, the app also makes tangible comparisons to fruits, animals, and even pastries.
Available for download for free on the Google Play Store and the App Store, this application is designed to make milestones and other essential dates easier to track as it comes with a calendar. This app also gives users an extensive range of interesting articles to peruse and weekly reports on their pregnancy.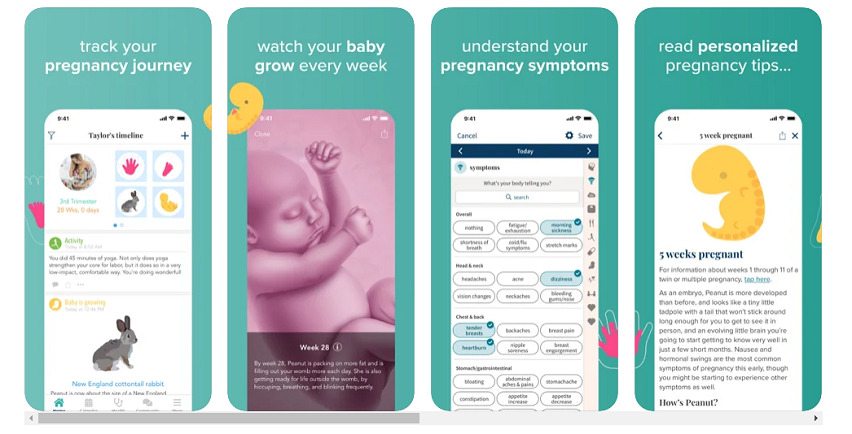 It is also equipped with a health tracker to help users stay on top of their wellness. From their starting weight, blood pressure, and many others, this allows pregnant moms to keep themselves healthy at all times. It also provides a tracking feature for baby names, gender, and even goals down the road.
Sprout Pregnancy
Another one of the free apps to monitor pregnancy is the popular Sprout Pregnancy app. This offers a three-dimensional approach towards interacting with the baby even while they are still in the womb. With the help of simulations, users can watch their baby's kicks, heartbeats, and movements.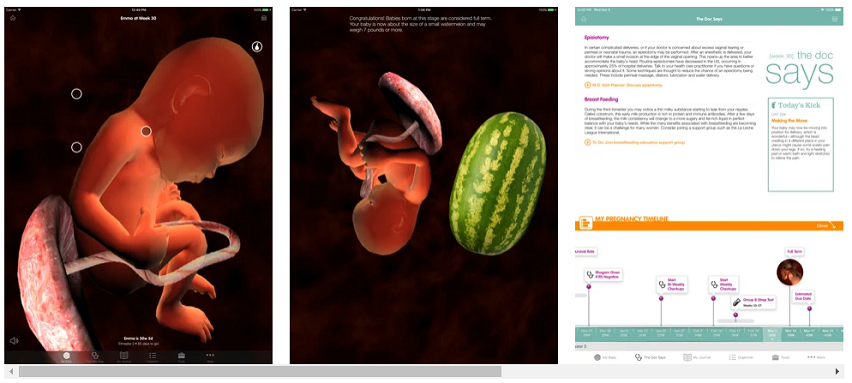 The app comes with a free pregnancy journal to track the pregnancy progress and the baby's growth. What's more, this journal can be transferred via PDF for seamless reading and printing needs. Even better, this program provides regular updates on the daily and weekly progress of your little one.
Sprout Pregnancy is free for download for Android and iOS users, with the option to avail of in-app purchases. It has a premium version, which comes with a free two-week trial period. Individuals using this can take advantage not just of pregnancy photos but also regularly asked questions.
Baby2Body: Pregnancy Wellness
Keen on staying fit and healthy throughout the pregnancy journey? The Baby2Body app helps users achieve this goal by providing individuals with a unique and personalized workout regimen based on their needs and the various pregnancy stages.
Apart from a wide range of workouts, this particular application is generous in giving moms access to recipes and other mindfulness tips and exercises, all tailored to each user before and after giving birth. Of course, this goes without saying the pregnant women can use this to track their timelines.
Memories and photos can also be captured along the way with the help of the built-in text journal. With this three-in-one app, individuals have access to a trainer, nutritionist, and more at their beck and call. It is available for download on the App Store and is up on the Google Play Store for early access.
Pregnancy Tracker & Baby App
Another worthy app to check out on this list is the Pregnancy Tracker & Baby App by BabyCenter. Downloadable on the App Store and Google for free, this is one of the more comprehensive resources for pregnant women out there.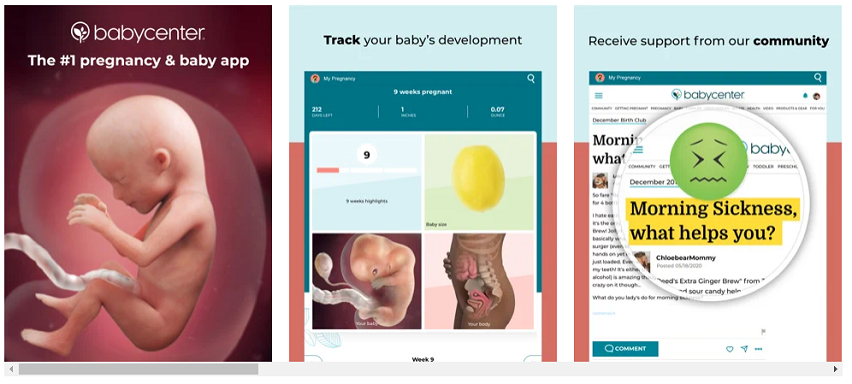 One of its main features is providing an array of exercise and nutrition information and a wealth of pregnancy tips to help users with their journey as smoothly as possible. Moreover, this also comes with fetal development videos to give women an idea of how their baby is growing and progressing.
Other helpful tools are also available on the app, such as the kick tracker, a registry checklist, baby names, a contraction timer, and many others. After giving birth, people may still use the app to transition towards a parenting guide to help individuals navigate parenthood.
GLOW Nurture: Bump + Baby Tracker
Seamless use and the transition seem to be the name of the game, and if it is, the Glow Nurture app is taking the lead. Apart from smooth integration with partner apps such as MyFitnessPal and Apple's Health app, this also allows community and partner support access.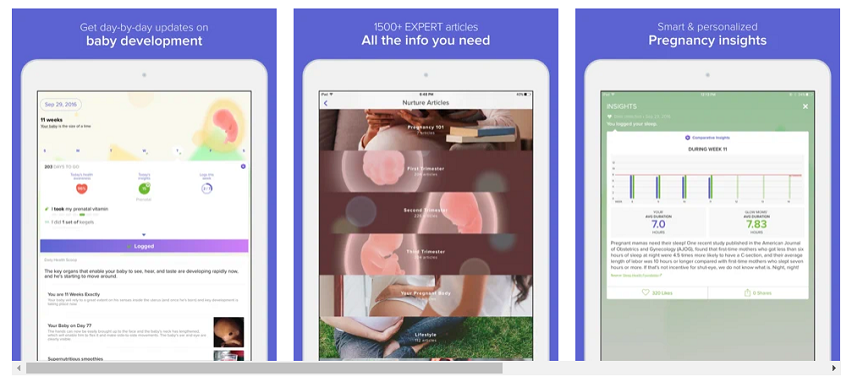 By making this community and partner support system available to users, pregnant women can mirror their progress to their partners with ease, informing the other party how their baby is developing. Recommendations can also be sought from real moms, the community, and the varying articles on site.
A great and extensive tracker can serve as a site for logging in pregnancy statistics, reminders, appointments, and even take bump photos, which can also be shared on a wider scale. This tool is likewise equipped with a kick counter and contraction timer. This is available for Android and iOS users.
The Bump – Pregnancy & Baby Tracker
Not one for more complicated apps? The Bump will simplify its approach with its user-friendly interface. Cool and streamlined, this provides users with daily content catered to their specific and unique pregnancy journey. This also gives a weekly insight into the baby's growth with its 3D model.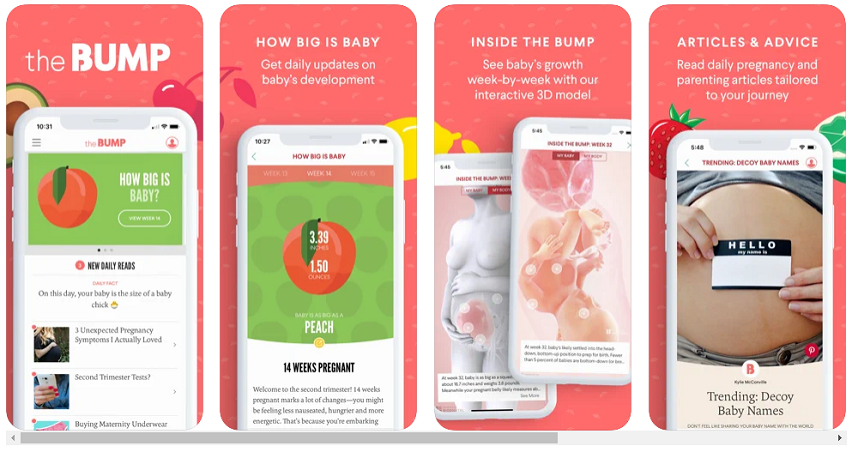 Articles are also a main highlight of this app, particularly because it is made in partnership with industry experts and professionals. This mobile application is also equipped with a planner that can integrate with the iOS calendar for a hassle-free approach to scheduling and more.
Besides being available on the App Store and the Google Play Store, the best part of this app is perhaps its extensive registry products from different brands and establishments. As users add on to their registries, the app will automatically track what's inside the list, what has been purchased, and the like.
Pregnancy+
Another program that comes with a user-friendly interface is no other than Pregnancy+. This app is a no-frills approach that tracks the little one's development. From the user's weight gain, the baby's kicks, doctor's visits, shopping lists, appointments, and more, this can do just about anything.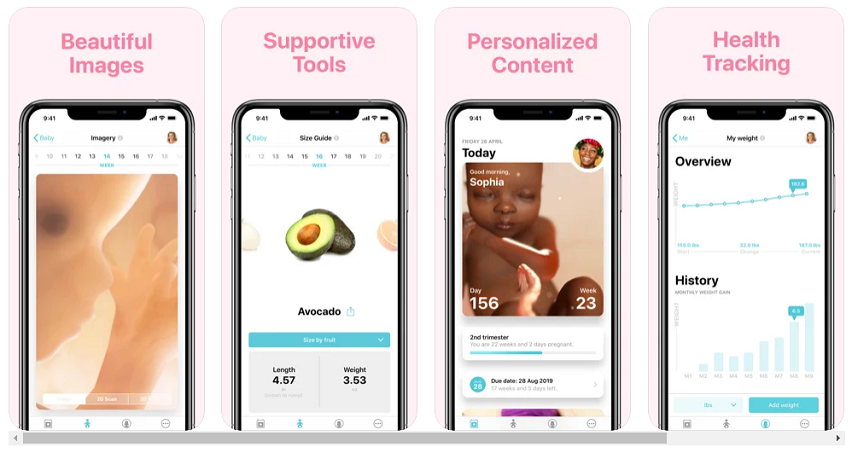 One of Pregnancy's best features is its uber-clear and precise visuals that give users a deeper insight into how their baby is growing and developing weekly, especially as it captures the images from different angles. This also comes with a health tracker and even tips to use throughout the pregnancy journey.
Not one to be missed is the fetal size comparison, which compares the baby to a fruit or even an animal, giving users a more in-depth and tangible form to compare to. This app is downloadable on the Google Play Store for Android users and the App Store for iOS users.
Totally Pregnant
Pregnant women can document their experiences through the Totally Pregnant mobile app. It provides them with a digital and personalized photo album that stores all bump photos, scans, and documents all in one nifty tool. This can be downloaded from the Google Play Store.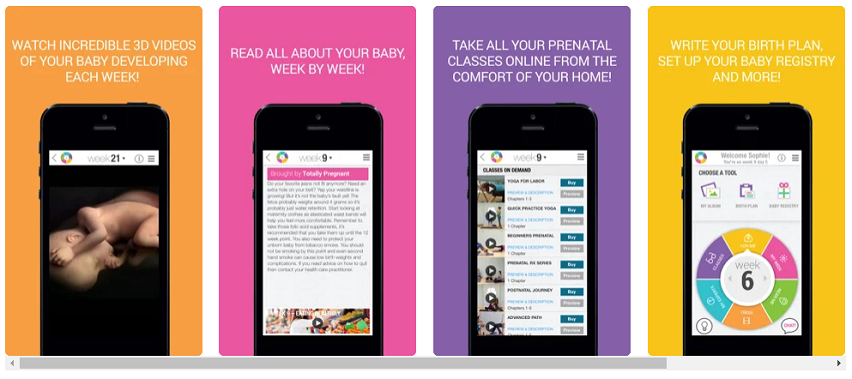 Another creative feature of the app is that it offers accessible prenatal and birth classes that will set users up for success as they prepare for childbirth in the future. These classes can also be taken over the Internet using tons of different devices.
As part of its support system, the app comes with a community section where moms-to-be can reach out to fellow expecting mothers using the app and share their experiences. Lastly, this app is equipped with 3D videos of babies, vlogs, a birth plan creator, and other essential resources.
Hello Belly: Pregnancy Tracker
Last but certainly not least on this list is this cute, creative, and downright engaging app. Called Hello Belly, this can be downloaded from both the App Store and the Google Play Store. Its funny illustrations alone are enough to make users stay.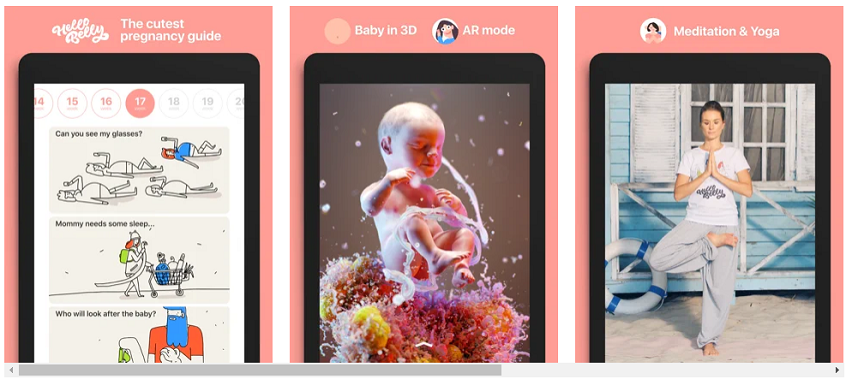 While not as comprehensive as others on the list, this does provide a friendlier approach towards explaining and tracking various stages of the pregnancy. Through quirky graphics, it takes users on a journey towards progress and growth with a hilarious tone through a weekly update.
The app also comes with 3D and AR visualizations for a more detailed approach to accompany the weekly updates. There is no shortage of lifestyle tips, with more than 400 available ones on the app written by industry experts. Exercises and yoga videos are also part of the program.
Conclusion
Pregnancy tracking apps are certainly a godsend for women who want access to resources in just a touch of a button. While this is no substitute for doctors' professional help and advice, this can be a useful addition to a pregnant woman's bevy of apps on their mobile device.
With the help of these applications, individuals no longer have to be alone in their pregnancy journey. From celebrating and being in-the-know of certain milestones to tracking symptoms and contractions, this is a handy tool that can give mothers and mothers-to-be the support they need.
Spanish version: Aplicaciones para monitorear el embarazo en el móvil
Last updated on May 23rd, 2023 at 09:19 pm