People want to show their best look online by uploading quality photos. I often want to show off my best angle and look in my pictures, so I use photo editing apps. With just a few edits, I can have my look transformed completely.
I often take barefaced selfies because I can easily edit them to have a full-blown makeup transformation. I trust the YouCam Makeup app for the makeover that I want to show in my photos. It has camera makeup filters from top brand beauty filters.
YouCam Makeup describes itself as the best makeup editor available. Learn why YouCam Makeup is the best makeup editor by discovering its features below. Discover how to install and use the YouCam Makeup app.
Discovering the YouCam Makeup App
Exploring the YouCam Makeup App
Creating an Account on YouCam Makeup
Editing a Photo on YouCam Makeup
Using Lip Editor Tools on YouCam Makeup
Putting My Eye Makeup on YouCam Makeup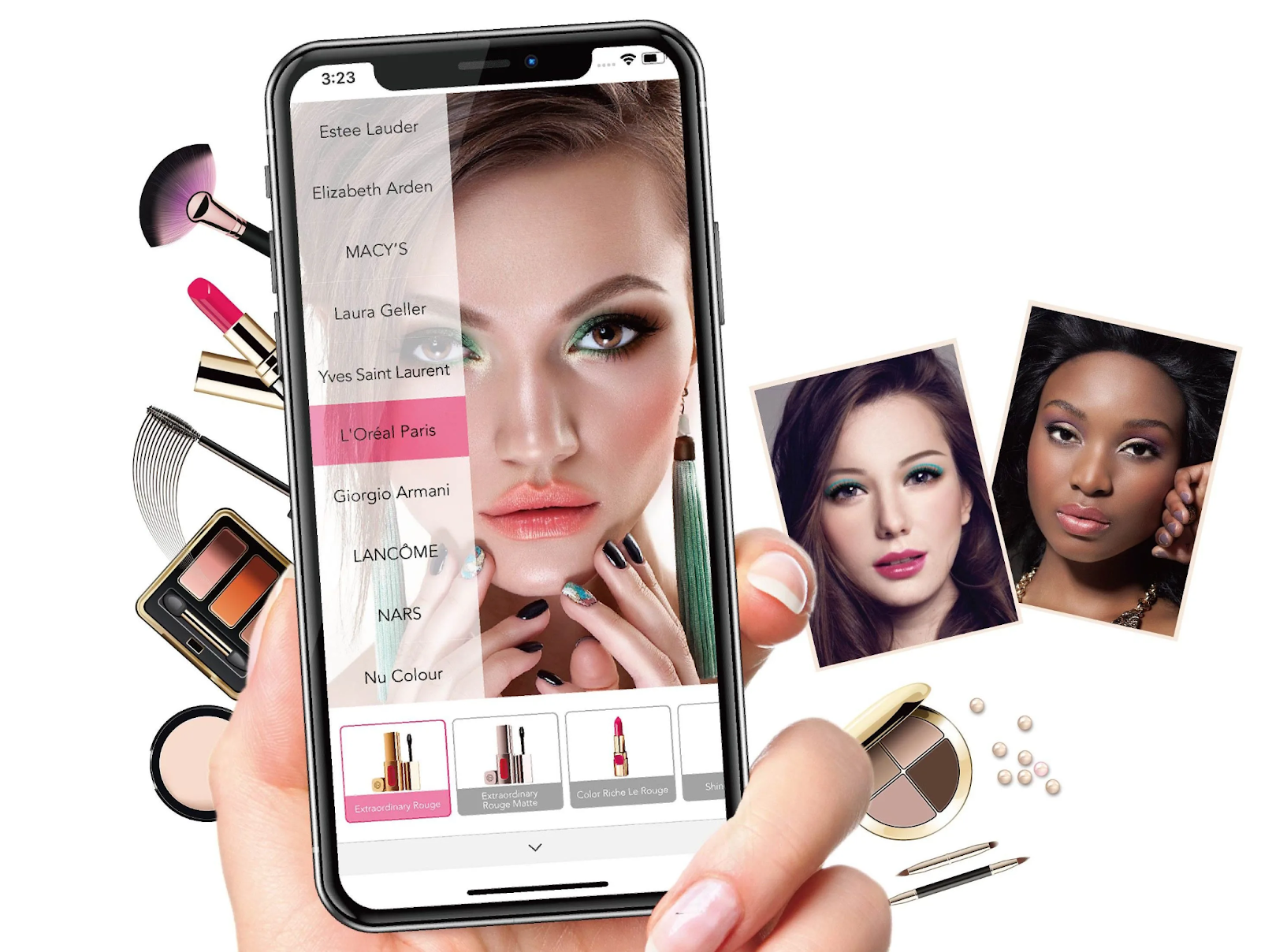 Discovering the YouCam Makeup App
I usually do my makeup before going out, like going to the office, meeting with friends, or attending small parties. While I have my makeup on, I take selfies to show to the world through my social media accounts.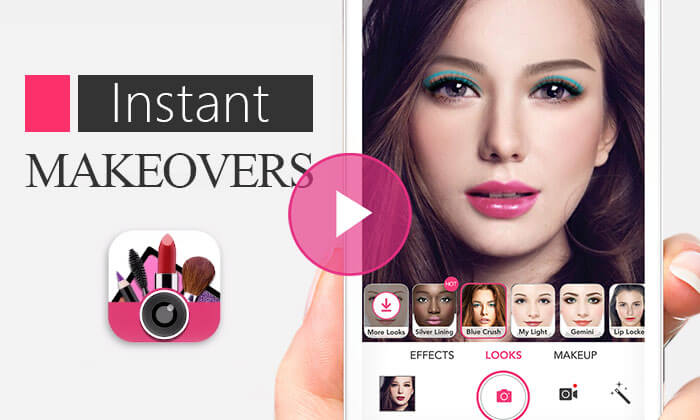 My other habit is to take selfies at home while being barefaced. YouCam Makeup allows me to snap and edit photos instantly because it is a two-in-one app.
It is a virtual makeover and selfie retouch editing app, so it works best whenever I take selfies, even with my bare face.
I liked that the app's editing tools made the makeover look realistic. I can change my hair color, retouch my full face makeup, and make my skin look smooth. YouCam Makeup also has numerous beauty filters.
Installing the YouCam Makeup App
Perfect Mobile Corp. launched the YouCam Makeup app in August 2014 and has gained the attention of many people around the world. At present, the app has been downloaded over 100 million times already, with millions of active users.
It is easy to trust the app, especially for new users, because of the excellent reviews and ratings of YouCam Makeup users. The YouCam Makeup app is free on the Google Play Store and the Apple App Store.
Although YouCam Makeup is free to be installed, it offers in-app purchase items and premium subscription plans for a better makeup makeover experience.
Exploring the YouCam Makeup App
The app welcomed me with a short walkthrough of its main features when I installed it.YouCam Makeup mentioned that it has over 1,000 makeup styles, from natural to chic, so I can easily find the perfect look.

YouCam Makeup supports total face retouch by trying fuller lips, thicker eyebrows, smaller eyes, new hair color, etc. It also mentioned that it is possible to retouch my skin on YouCam Makeup by swiping away pimples, blemishes, and more.
Lastly, YouCam Makeup explained that it has premium subscription plans to unlock all its exclusive tools and features. After the walkthrough, the app asked me to read its Terms of Use, Privacy Policy, and Purchase Conditions to understand how the app works.
It is important to read the app's Privacy Policy, so I will know how it will protect my data privacy. I am concerned because I will give the app access to my face and other personal information that may threaten my online security.
Subscribing to YouCam Makeup Premium
I like that the YouCam Makeup app offers premium subscription plans because I will have access to its exclusive tools, features, and perks. The YouCam Makeup Premium costs $5.99 per month or $29.99 per year.
With the premium subscription, I have an advertisement-free experience on YouCam Makeup. It is also possible to unlock the following features: all body shape tools, face adjustment, perfect skin, retouching selfies for a smile and teeth whitening, and many more.
My most used premium feature is the full makeup tool for a complete makeover experience and editing on YouCam Makeup. It is also possible to add animation and effects and use the time machine feature for a fun selfie. Lastly, the YouCam Makeup app's watermark will be removed.
Creating an Account on YouCam Makeup
The YouCam Makeup app uses the freemium model, so most of its features are free to be used. As such, users are not required to sign up in order to enjoy the app. New users can simply skip the account registration on the walkthrough.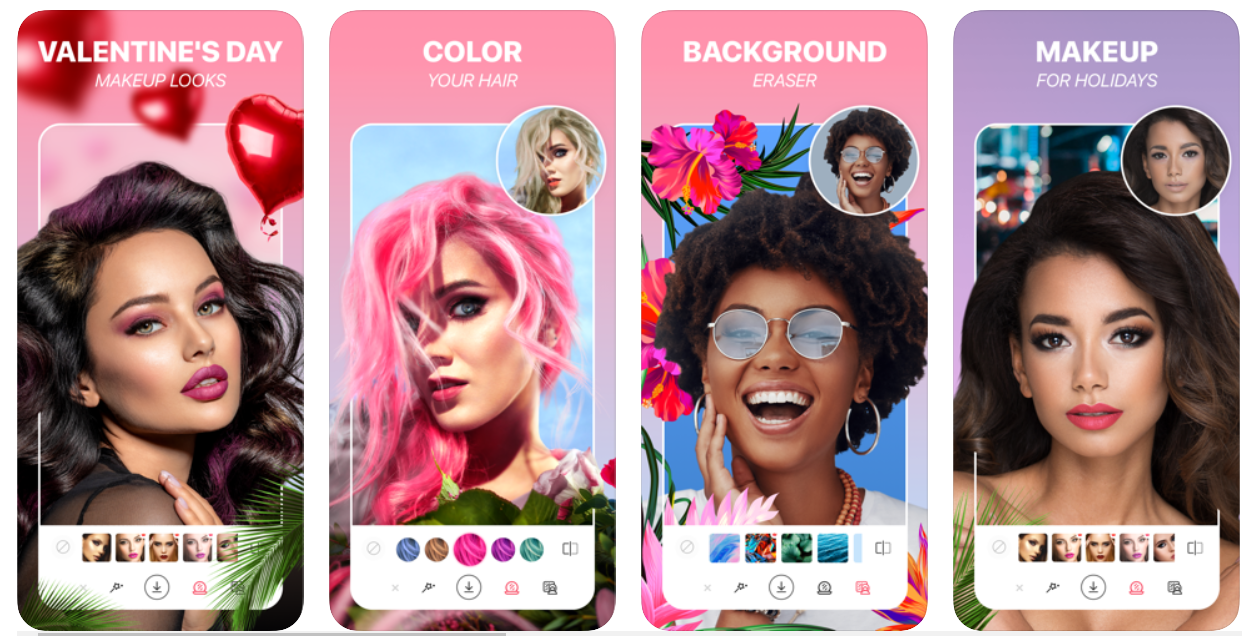 YouCam Makeup automatically creates a guest ID for users who do not have an account. However, signing up is required when users want to subscribe to YouCam Makeup Premium. Users can simply link their Facebook or Google accounts to register on YouCam Makeup.
YouCam Makeup encourages everyone to create an account because of the few exclusive benefits for registered accounts. I can access my photos and video on any device via cloud backup supported by the YouCam Makeup app.
It is also possible to share my awesome selfies if I have an account to record every moment and express my personality. YouCam Makeup can help me be featured and grow followers by building my special presence in the YouCam Makeup community. Lastly, I can add a bio and profile pictures to complete my profile.
Exploring the YouCam Makeup App
Once I create an account on the YouCam Makeup app, I can freely explore its content and features. I checked that YouCam Makeup has five main tabs: Home, Community, Search, Notifications, and Profile.
The Home tab contains all the photo makeover and selfie editor features of YouCam Makeup. I can check the awesome selfies of other YouCam Makeup users on the Community tab. I can also interact with them on this tab.
The Search tab lets me check the posts, people, and tags on the Community so that I can get inspiration for my makeover. The notifications from my following and followers list will be collated on the fourth tab. In addition, I can edit and update my profile on the last tab.
Editing a Photo on YouCam Makeup
Editing a photo is YouCam Makeup's main feature. There are two options for a makeover: Photo Makeup or Makeup Cam. Photo Makeup lets me edit photos from my phone's gallery, while Makeup Cam is a live photo editing feature.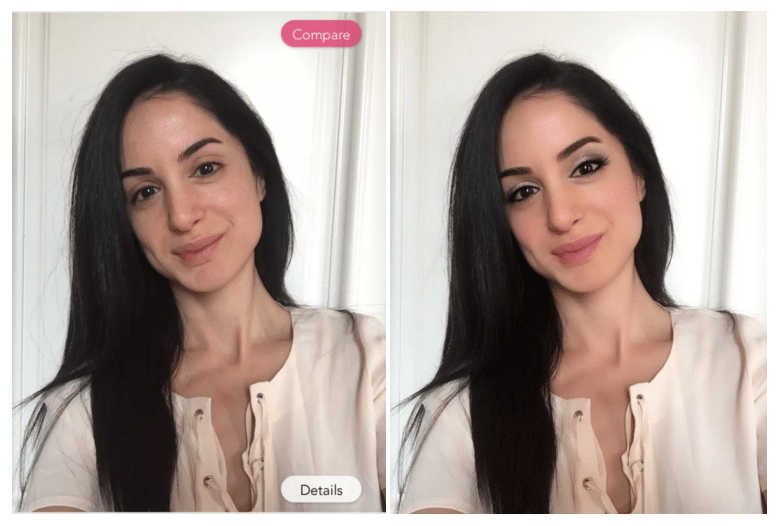 Although the app supports live photo editing by directly taking a selfie, I still use the Photo Makeup option often. I want to have my photos or selfies done before I edit them on the app. I can have more options of which is the best photo with my best angle if I take my selfies beforehand.
To start editing a photo, I have to give the app permission to access my media files and gallery first. Then, I need to select which photo I want to edit using the app. YouCam Makeup will process the selected photo in a few seconds, so it will be available for editing.
Changing My Look in an Instant
One of the most fascinating features of the YouCam Makeup is the Looks tool. It offers various looks with unique makeup styles that will automatically instantly apply to my face. It works best whenever I use my barefaced selfies.
These looks are complete with full-blown makeup for the eyes, nose, eyebrows, lips, and skin. There are hundreds of available looks on the YouCam Makeup app, and I just need to select the look that I would like to achieve.
The looks styles are categorized into Hot, Spring, Sunglasses, Korean Style, Celebrity, Fashion Week, Party, Red Carpet, Work, Wedding, Holiday, Summer, Valentine, etc. Each category has several specific looks in summer, I can have floral fun, berry smooth, mermaid, and many more.
Using Lip Editor Tools on YouCam Makeup
I often use the lip editor tools on the app because I enjoy exploring the color and texture. The lip editor tools are in the "Mouth" category on the YouCam Makeup app.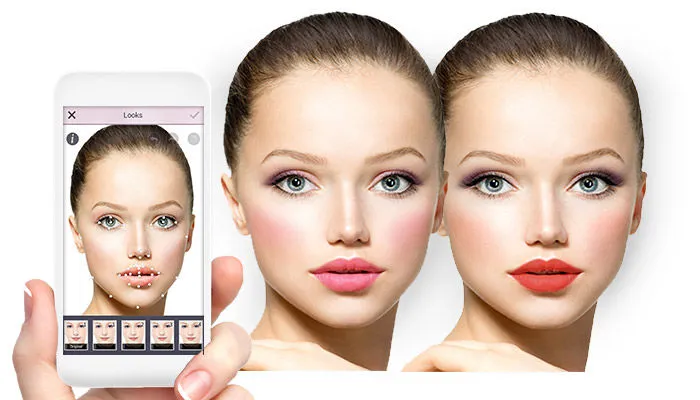 I can enjoy the following mouth editing tools: Lip Color, Lip Reshape, Smile, Lip Plumper, Teeth Whitener, and Lip Art. I love that I can change my lip color on the app as there are many colors available.
It is also possible to choose the texture of the lipstick that will be applied, which can be sheer, matte, gloss, shimmer, metallic, or holographic. I can make my lips more plumper and teeth whiter on YouCam Makeup.
Enhancing My Face on YouCam Makeup
The face editing tools available on YouCam Makeup allow me to reshape and enhance some parts of my face. I can make my face smoother by removing all the blemishes, pimple scars, and other marks.
YouCam Makeup lets me reshape my face changing my face shape, chin shape, chin-length, cheek, cheekbone, jaw, and forehead. I liked that I can enhance my nose in an instant on the YouCam Makeup app.
Putting My Eye Makeup on YouCam Makeup
I give importance to making my eyes look good, so I spend time choosing the right eye makeup on YouCam Makeup. On the app, I can choose the color and pattern for my eyeliner.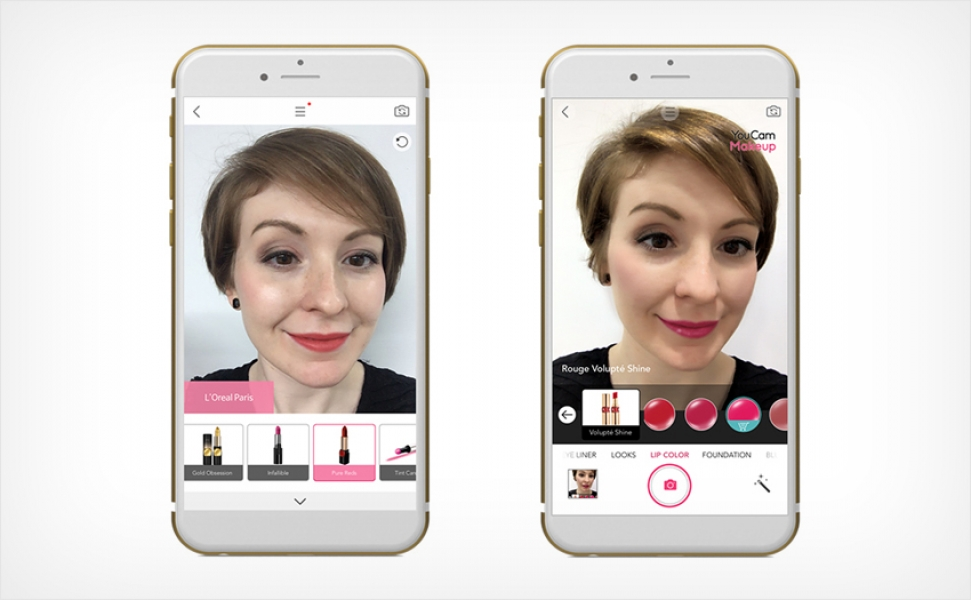 There are also several options to enhance my eyelashes to fit my look. YouCam Makeup offers numerous eye shadow colors grouped in a palette, which feels like I am choosing from the actual eye shadow palette that I have.
Some of the other eye editing tools available on YouCam Makeup are dark circle remover, eye tuner, eyebrows, brow reshape, eye color, eye bag, double eyelid, and red-eye.
Changing My Hair Style on YouCam Makeup
To complete the look, YouCam Makeup provides hair editing tools. I can change my hair color in an instant. There are several options like multicolor, two colors, one color, or ombre.
The hairstyle options let me choose a new haircut to find which suits my look best. I liked that the change in hair color and style are applied smoothly, so it looks realistic.
Conclusion
The YouCam Makeup app offers a makeup toolkit that lets me edit my raw photos. Through the app, I can get a full-blown makeup makeover for my eyes, nose, lips, skin, and hair.
As you can see from this article, the YouCam Makeup app has many additional features that set it apart from typical photo editing apps.
Last updated on December 23rd, 2022 at 07:26 pm