Child-rearing can be tricky, but conceiving a little one still takes away the cake. Millions of parents worldwide are troubled with the nuances of negative pregnancy tests, clinical checkups, and failed family planning attempts. Thanks to technological advances, parenting is no longer a far-fetched dream for many.
Apps like Ovia Fertility & Cycle Tracker have made it quite easy to achieve your family planning goals. Based on cutting-edge research packed into proprietary algorithms, Ovia is one of the most accurate fertility trackers. The free app also helps individuals with irregular menstrual cycles to track their fertility periods and conceive successfully.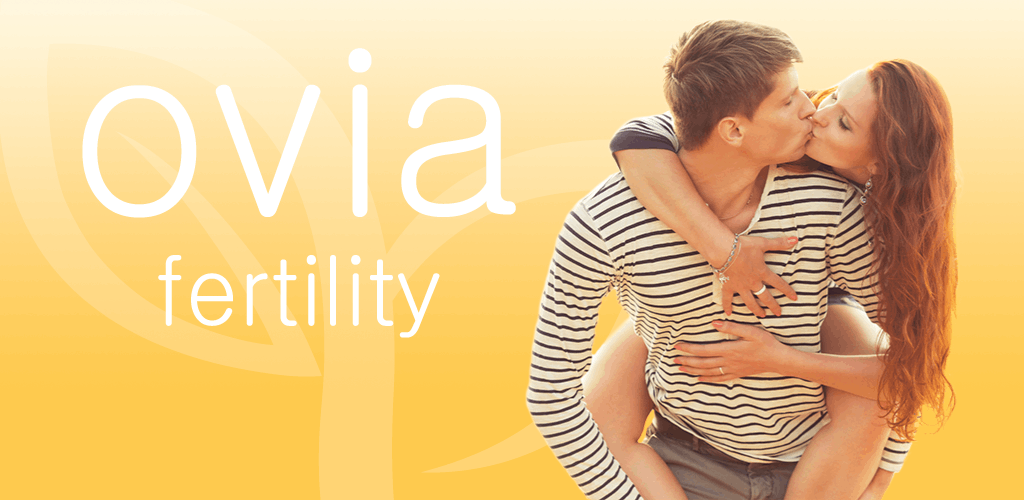 If you're looking for a comprehensive app to help with maternity, Ovia is definitely worth a shot. In this article, we'll learn about some aspects of the application.
About the App
Why does Period Tracking Help in Getting Pregnant?
Features of the App
Menstrual Insights
Ovia is for Everyone
How does it Work
How to Use the App?
Tips to Make the Most of the App
About The App
Ovia is one of the most popular fertility tracker apps on the market, designed by Ovia Health. The app is a part of the comprehensive family planning and maternity solutions of the company. They claim to have helped over 13 million people with guided family planning and parenting. The app uses doctor-tested technology to improve the clinical outcomes related to childbearing.
It offers a plethora of useful features all in one package and helps the users with added tips and exposure to the parenting community. Ovia Health boasts a proven 30% increase in natural conception and a reduction of up to 30% in premature births. These statistics justify Ovia's position as a trusted maternity help brand among millions of childbearing individuals.
Why Does Period Tracking Help In Getting Pregnant?
Fluctuation in the menstrual cycle is common for most individuals, and many may notice irregular time spans between periods. It makes it a daunting task to accurately track your ovulation and predict the right time to conceive. By tracking your periods with the help of AI, you're likely to identify trends in your ovulation cycle.
This will further help you pinpoint the times when you are most fertile. Although it's trickier for people with irregular periods to predict when they're ovulating, apps like Ovia still help a lot if you track your menstrual cycle regularly.
Features Of The App
Aspiring mothers-to-be love Ovia because it comes with an exhaustive list of features relevant to women trying to conceive. The female body has the highest probability of conception on certain days of the menstrual cycle. With Ovia's fertile window predictions and daily fertility scores, you will never miss the best days for trying to conceive.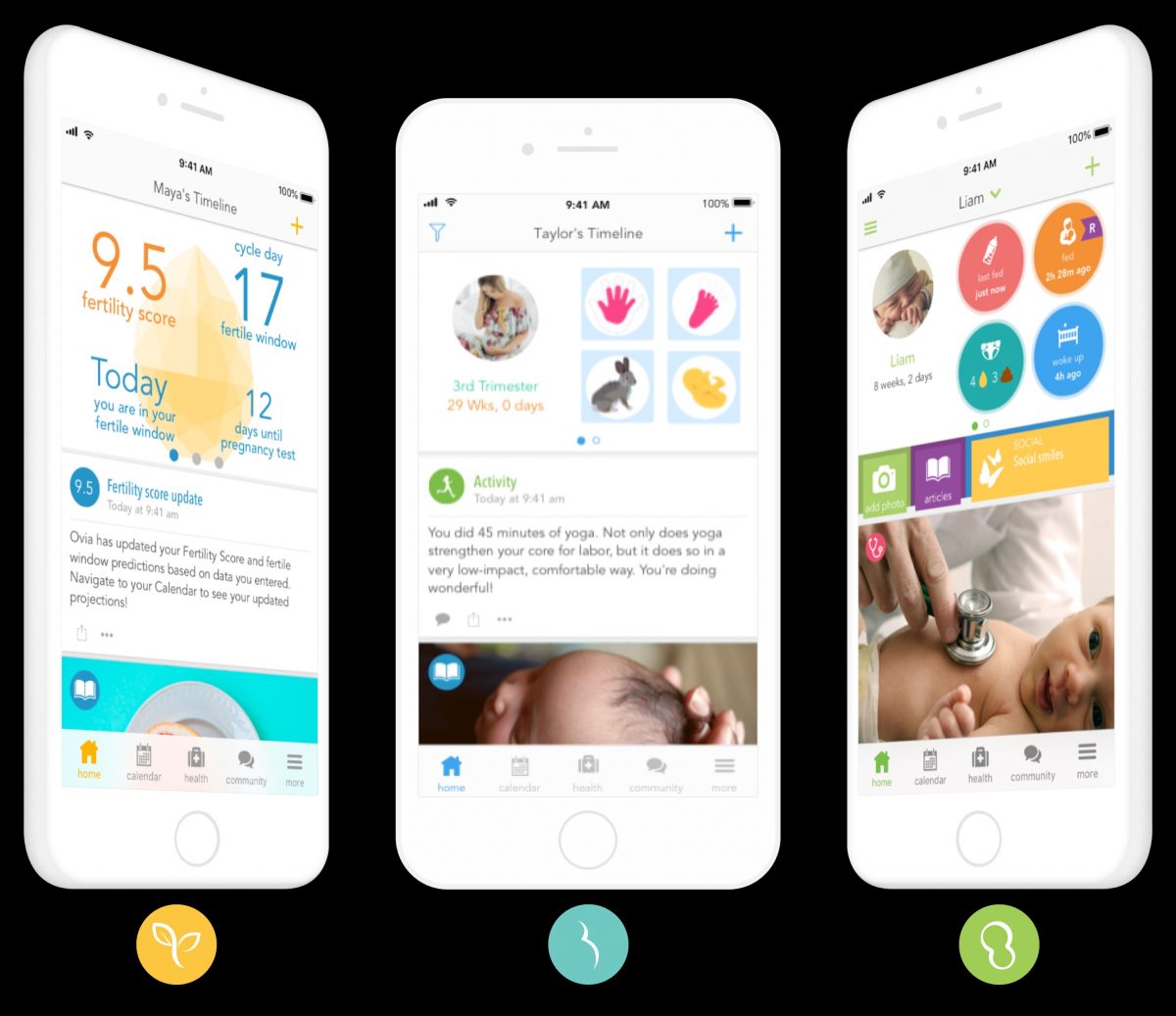 Cervical fluid is essential for conception. It facilitates the egg's fertilization with the sperm by helping the sperm survive and reach the uterus. The Ovia app helps you track your cervical fluid and position and other fertility data like basal body temperature and on-going medications that interact with hormones or affect pregnancy.
Overlooking health conditions that need attention can be detrimental to the process of conceiving. Ovia gives you feedback to the data you enter and alerts you in real-time about health issues based on your recorded symptoms.
Menstrual Insights
Ovia gives out daily conception tips as well as insights about your period cycle. These daily TTC (trying to conceive) tips and insights not only help you conceive faster but also help you understand your own body better. Ovia offers access to over 2,000 articles on conceptions, fertility, and reproductive health that experts write.
That's not all! Ovia hosts an online community that you can interact with if you have any questions. Don't worry if you don't know any aspiring mothers-to-be in real life. You can ask all your questions anonymously on Ovia and get the answers you are trying to find.
Ovia Is For Everyone
Ovia is a highly flexible app made for all different kinds of women. Ovia understands that every woman is different and has different period patterns. It hence supports both regular and irregular menstrual cycles. The customizable data tracking and logging can be directed towards what is most relevant to you.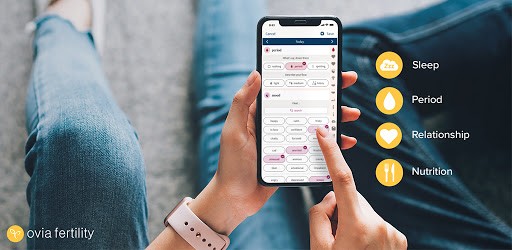 You can decide to focus on numerous pregnancy-related categories, including symptoms, sex, exercise, nutrition, moods, and PM.  Ovia lets you share your recorded data to the Apple Health App. You can also sync it with Fitbit to automatically record steps, weight, and sleep-cycles with Ovia. Everything from your average menstrual cycle length to period length is recorded and presented in the health summary.
You can study your fertility chart to recognize trends in your menstrual behavior and learn more about your body. Ovia allows you to export the recorded data as an Excel sheet. This makes it easier for you to share data with your partner. You don't have to worry about prying eyes looming about your phone as you can protect your Ovia account with a PIN.
How Does It Work?
Based on its AI-based personalization features, the app automatically projects the timeline of your next menstrual cycles. It can also inform you how long and irregular your next menstrual cycle will be. The app keeps adjusting its projections for existing users and tailoring its features for different stages of family planning. It does so by calculating the averages and correlating trends of your past cycles.
The app pinpoints the menstruation data you've entered with red droplets and its projections with grey droplets to make a distinction. This helps you measure how accurately the app can predict your cycle.
How To Download?
The app is available for free to Android and iOS users on mobile phones and tablets. You can directly search for the app in Google Play Store or Apple Store to download. Alternatively, you can go to the Ovia Health website and check out their 'Apps' menu. You'll find a link to the app store page of the Ovia fertility tracker there.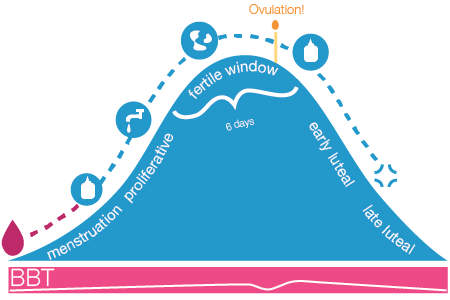 Once you download the app, you will have to sign up using your personal details like name, email, and password. You will get a confirmation email once the sign up is complete, and you can log in using the same email and password from more than one device.
How To Use The App?
Once you download and sign up on the app, you have to start with filling in basic data about your cycle, like the kind of periods you have, regular or irregular, and the last day you had your period. However, if you don't know these details yet, you can choose the 'I don't know option,' and Ovia will help you figure it out later.
Before logging in, you have to enter your personal details like name, age, postal code, and how long you have been trying to conceive. After entering this information, you will access your timeline, calendar, personalized health advice, other charts, and tools. You can navigate across these pages by clicking the buttons at the bottom of the screen.
You will find an 'online community' option in the bottom panel of the app. Here you will see questions and answers posted by other users like you. It's a great way to interact and share your concerns with people who have already have been using the app.
Ovia Dashboard
If you've set conceiving as one of your family planning goals, you'll get your fertility score and other info on the dashboard. Ovia will predict your fertile window and when you should take the next pregnancy test. You can change your goal anytime from the settings menu.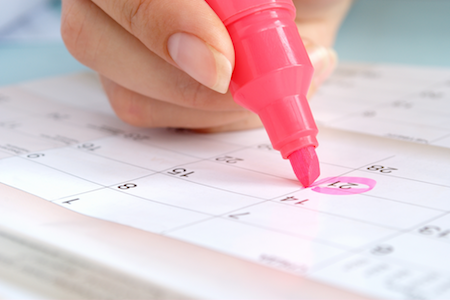 For getting personalized advice, you have to take an optional health assessment (in the home menu). It helps you determine suitable health goals and also tells you what health areas need improvement. The app tailors all its tips and features according to the information gained from this assessment.
Your period calendar will be live on the home page of the app. While using the calendar, make sure you edit the tracker with categories that cater to your needs. The more accurate the information you enter, the more valuable feedback Ovia can give you.
Tips To Make The Most Of The App
Now that you're through with all the app details, these tried and tested tips will help you get the best results from Ovia. You can link the Ovia Fertility tracker with your Apple watch to get one-click access to common features. You can set reminders, see the tracker, and stay up-to-date with your fertility info.
It would help if you corrected Ovia predictions every time your period doesn't fall in the predicted duration or otherwise. This helps the tracker improve its predictions based on the current cycle trends. To get the most accurate fertility data, you should update the app with all the important health-related details. It includes your everyday mood, cycle dates, or any irregularities during the cycle.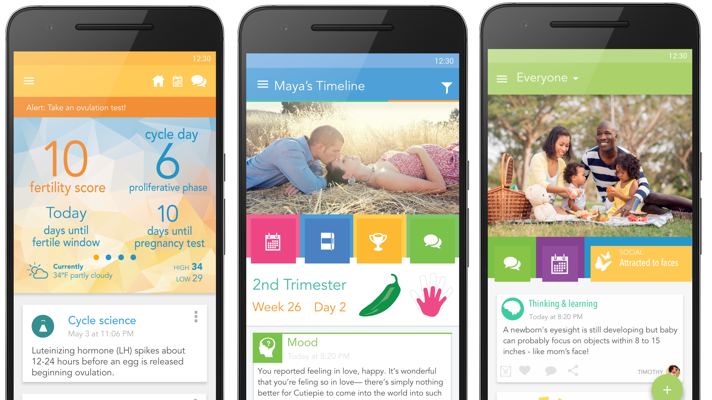 Conclusion
Ovia provides you with everything you need to know about your body to be able to conceive. Although it's an excellent maternity solution, sometimes excess tips and predictions can be overwhelming.
Remember, it's just an app and not an alternative to medical help. So before making any decisions based on the information Ovia gives you, it's best to consult your gynecologist.
Spanish version: ¿Intentando quedar embarazada? Esta aplicación calcula el período de fertilidad
Last updated on May 23rd, 2023 at 09:06 pm