Modern technology has allowed people to reach and achieve many things, including having access to the once very private and expensive treatment for mental health issues.
Sometimes, people just need breathers and a space to safely express and process their emotions, but it can be quite hard to do so when it costs money. Fortunately, mental health apps were created which can be accessed right from a person's mobile phone.
Read on and discover five of the best mental health apps that are available on the market. Find out their key features, costs, and how they can help you to relax.
Moodfit
MoodMission
Sanvello
Talkspace
Depression CBT Self-Help Guide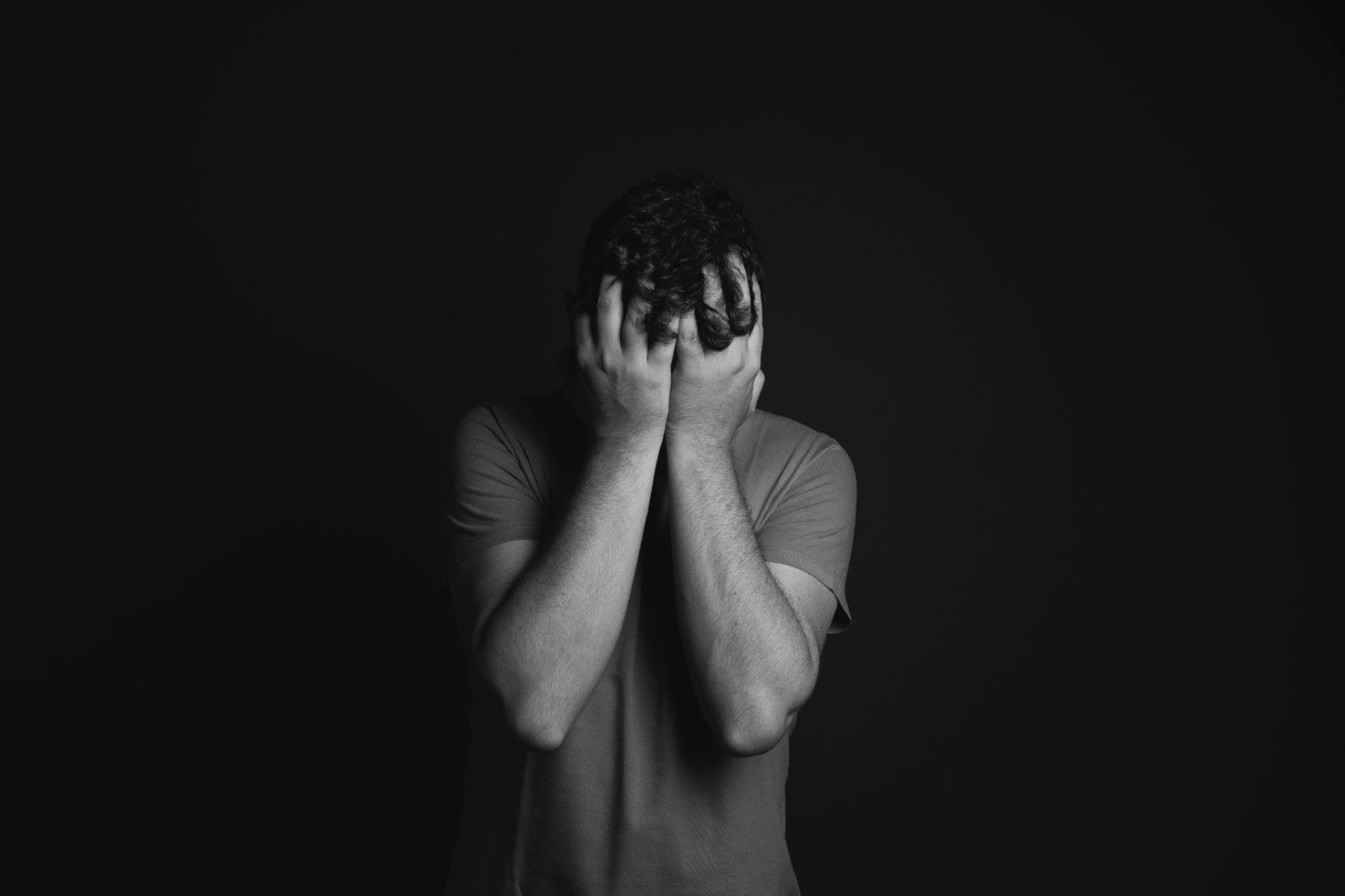 Moodfit
Moodfit is a great app that allows users to track their moods, as well as gives exercises that help uplift and combat negative emotions.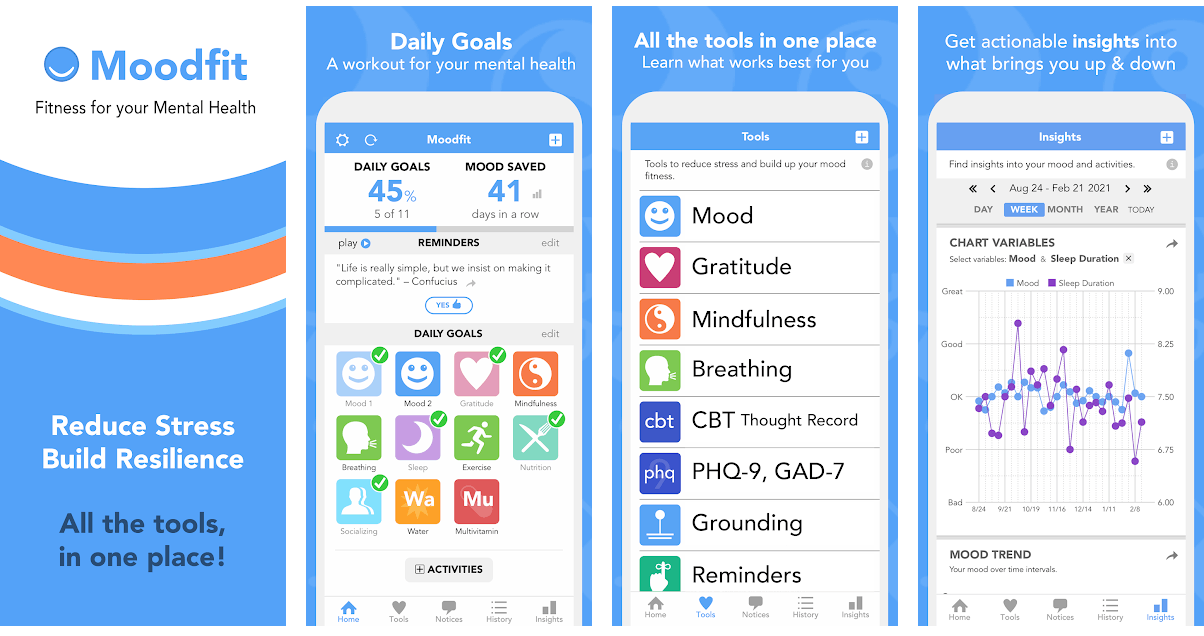 The app's insights and tools are designed to uplift moods and work best when you are determined to help your mental health be in shape, similar to how physical workout apps work. You can also access audio files and articles which will help you understand what you're feeling.
Moodfit allows you to understand your feelings or help you feel better when you are experiencing early stages of anxiety, depression, or stress. To start, you are asked to complete a questionnaire that will determine the severity of your symptoms.
Aside from that, you will be learning skills such as mindfulness, gratitude, and relaxation. The app also includes a cognitive behavioral therapy portion where you can learn about combating negative thoughts. A thought record will also teach you about thinking differently.
Pros and Cons of Using the Moodfit App
As you use the app more and more, you will also better understand things that affect how you feel such as medication, exercise, and sleep. You can also follow insights, action points, and strategies from the app to feel better.
Some of the pros of using the app are it includes adaptable and customizable goals, a daily progress tracker, and visual insights with action points.
However, users need to be wary of self-diagnosis as the app does not have access to professional clinical information and knowledge. The app is free to download on the Google Play Store.
MoodMission
Making this list of the best apps for mental health is MoodMission, a research-backed application that provides users with missions to improve their mood and develop positive mental health skills.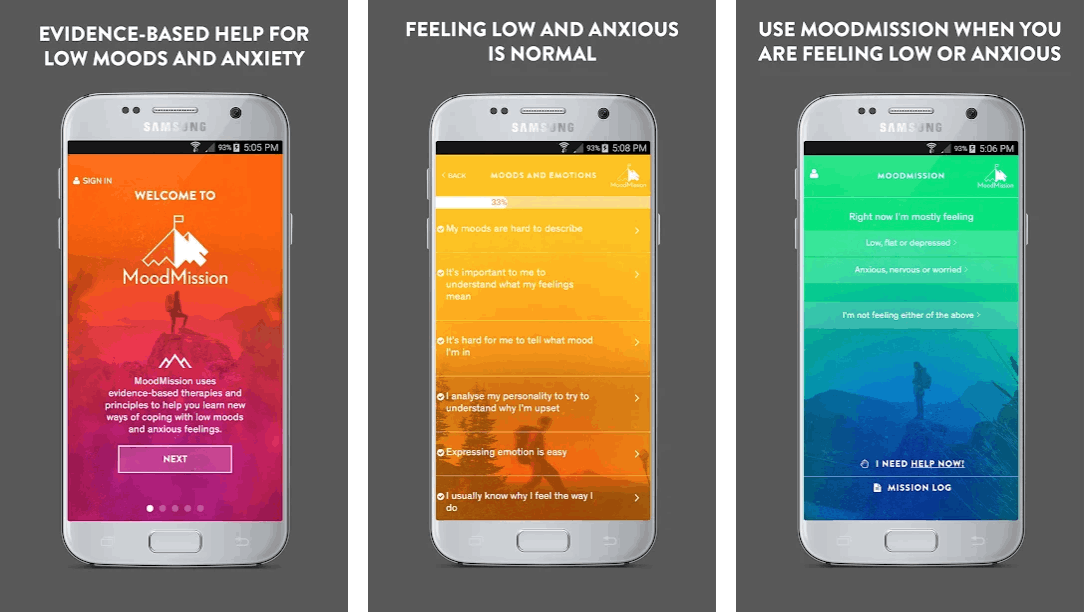 Designed for people experiencing depression, stress, and anxiety, the app provides missions for users to do, such as breathing exercises, skills development (e.g. crocheting, sewing), physical activities (e.g. push-ups), and thinking activities to veer away from negative thoughts and emotions.
To use the app, you will have to select how you're feeling among the options and situations which describe the emotion you are feeling. Then, based on your responses, you will be given five different missions. The objectives and rationale behind each mission are also provided.
After successfully completing a mission, the app will ask you to rate your stress or emotions. You will be able to track your progress through the mission log which shows all completed missions.
Pros and Cons of Using the MoodMission App
The biggest advantage of this app over other apps for mental health is that it is developed by mental health professionals and is supported by randomized-controlled trials. There also exists in-app rewards for motivation. Mind-boosting activities are also present to help with anxiety.
Some of the cons are the overwhelming questionnaire at the start, as well as the lack of access to professional help and the options which are limited to just completing missions. Other users also noted that some of the activities can be quite time-consuming and difficult.
The app is available for download on the Google Play Store ($5.99) and the Apple App Store ($7.99).
Sanvello
Sanvello is a great mental health app because it is another app which methods are backed by science. The app provides cognitive behavioral therapy to help with moderate anxiety and depression.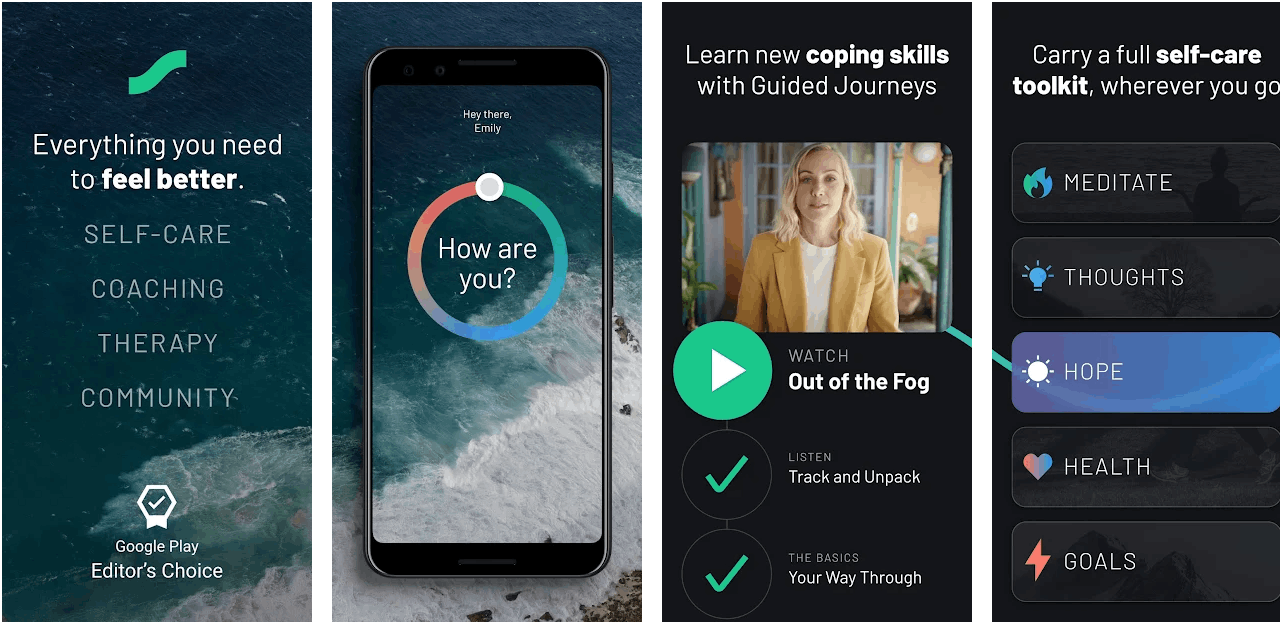 The app's mission is to "help people build the life skills they need" and guarantees flexibility in the time, place, and manner of their liking through clinically validated techniques to cope with stress, depression, and anxiety.
Sanvello teaches mindfulness and provides tracking tools to improve both mental wellness and physical health. You will be asked to track your mood every day by answering simple questions that will help you pin your emotions and identify mood patterns.
You will have access to guided journeys that will help you gain control of your experiences and develop lifelong skills. Tools to deal with issues such as stage fright, test-taking anxiety, and morning dread are also available for you to use.
Pros and Cons in Using the Sanvello App
Sanvello has an online community where you can connect with other people anonymously and share stories, ask for advice, or talk to people who understand what you are experiencing.
Aside from methods that are backed by research, you are provided with different options based on your specific needs and issues. Moreover, you have access to a licensed therapist who can help when you need further support.
Cons include the unavailability of the therapy option in all states, as well as the cost that comes in using the app. Sanvello is available for download at the Google Play Store and the Apple App Store for $7.99.
Talkspace
This app is unique in the sense that it connects users to a wide network of mental health professionals who are accessible and available for a chat or live therapy session.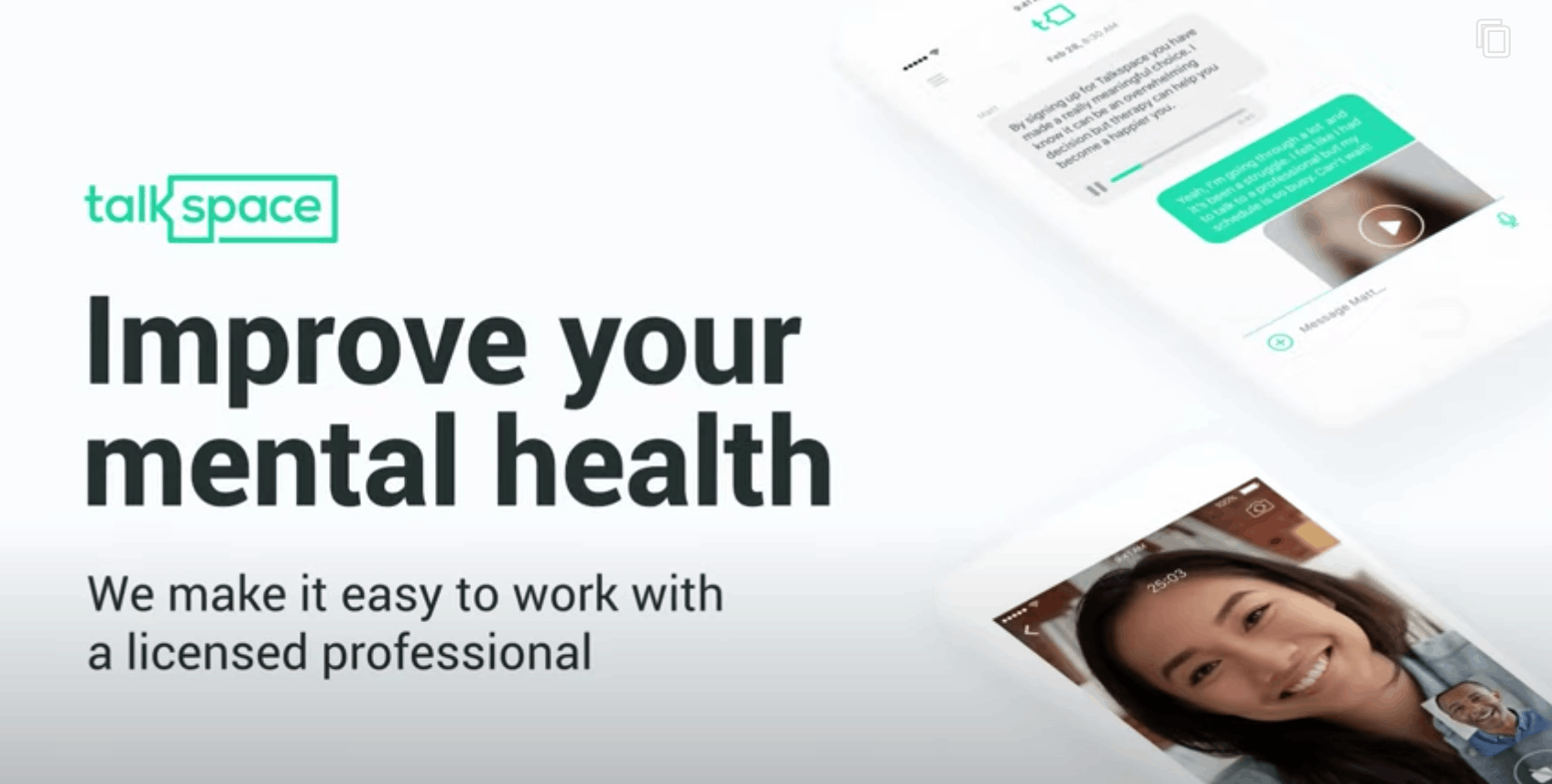 The app guarantees that therapists are well-trained and have ample experience in providing online therapy.
These therapists have over 3,000 hours of clinical experience and have specific training in areas such as dialectical behavior therapy, mindfulness, cognitive-behavioral therapy, existential-humanistic approaches, and psychodynamics.
Conversations with therapists are secure and protected as the app uses banking-grade encryption to keep information confidential and safe. Conversations are carried over from one device to another without the fear of attacks from hackers and phishers.
Pros and Cons of Using the Talkspace App
The greatest advantage of using this app is the option to connect with a licensed mental health professional who can diagnose and treat different conditions. Users can use live video or a live chat, depending on where they are most comfortable.
Some of the cons are the cost that comes with the app, as well as the limited range of therapeutic approaches. There could also be instances where the communication style of the therapist will not best fit your needs.
Moreover, therapist evaluation surveys can be exhausting to accomplish. The app is available to download at Google Play Store and the Apple App Store. Unlimited therapy subscriptions start at $65 per month.
Depression CBT Self-Help Guide
Last on the list is the Depression CBT Self-Help Guide which offers cognitive behavioral therapy (CBT)-based guides, tools, and exercises to help manage symptoms of depression. The app provides insights on how to best engage with self-care behaviors that can help improve your mood and develop positive feelings.
To start, you will be asked to complete a questionnaire to help identify the severity or level of your depression. You will be guided by the basic information on depression and also provide tips to cope with the condition. The app also addresses common physical symptoms of depression such as sleep disturbance and low energy.
The app also includes a thought diary for you to learn how to challenge and combat stressful thinking and emotion-training audio for accessing tranquility and relaxation.
The app's methods are all based on CBT. Through the app, you will be able to change the way you think and learn how to reframe thoughts which can worsen and intensify your depression.
Pros and Cons of Using the CBT Self-Help Guide App
The app has many simple and fun activities which are achievable and very easy to perform. The activities also promote calm with integrated audio. You will also receive feedback on symptom severity and have access to articles on mental health.
Cons include the lack of comprehensive information on components of CBT and access to professional guidance. There is also a tendency for people to self-diagnose depression.
The app is available for download for free at the Google Play Store.
Conclusion
Mental health apps are great because they are accessible and mostly free to the public. They give people the opportunity to cope with mental health problems and improve their overall mental wellness without having to pay a lot of money.
However, caution must be exercised when using apps like these. People exhibiting severe symptoms should go see a licensed expert or professional and must not rely on these apps alone. These apps can only do so much and complement professional treatment for people who need them.
Last updated on December 29th, 2022 at 07:12 pm