Learning a new language is not an easy feat. It requires time, dedication, discipline, and perseverance to acquire and grasp a language. For adults, it is even harder to learn a new language because rewiring cognitive abilities and skills for language acquisition can be hard to develop during adulthood.
However, with the advanced and innovative technology today, learning anything is made easier. Game-based platforms prove to be effective and efficient in helping people re-train their brains and learn new languages. For some, brushing up on skills can also be a breeze with new apps and software found on the market.
Drops by Kahoot! is a perfect example of using innovative and creative technology in helping people learn vocabulary. Read on and discover more about this app and see whether this app is the right fit for your language needs!
A Gamified Experience For Language Learning
Getting Started With Drops
Key Features You'll Love
Topics On Drops: Words You'll Need To Know
Collections And Profile Tabs
Reviews And Feedback On The App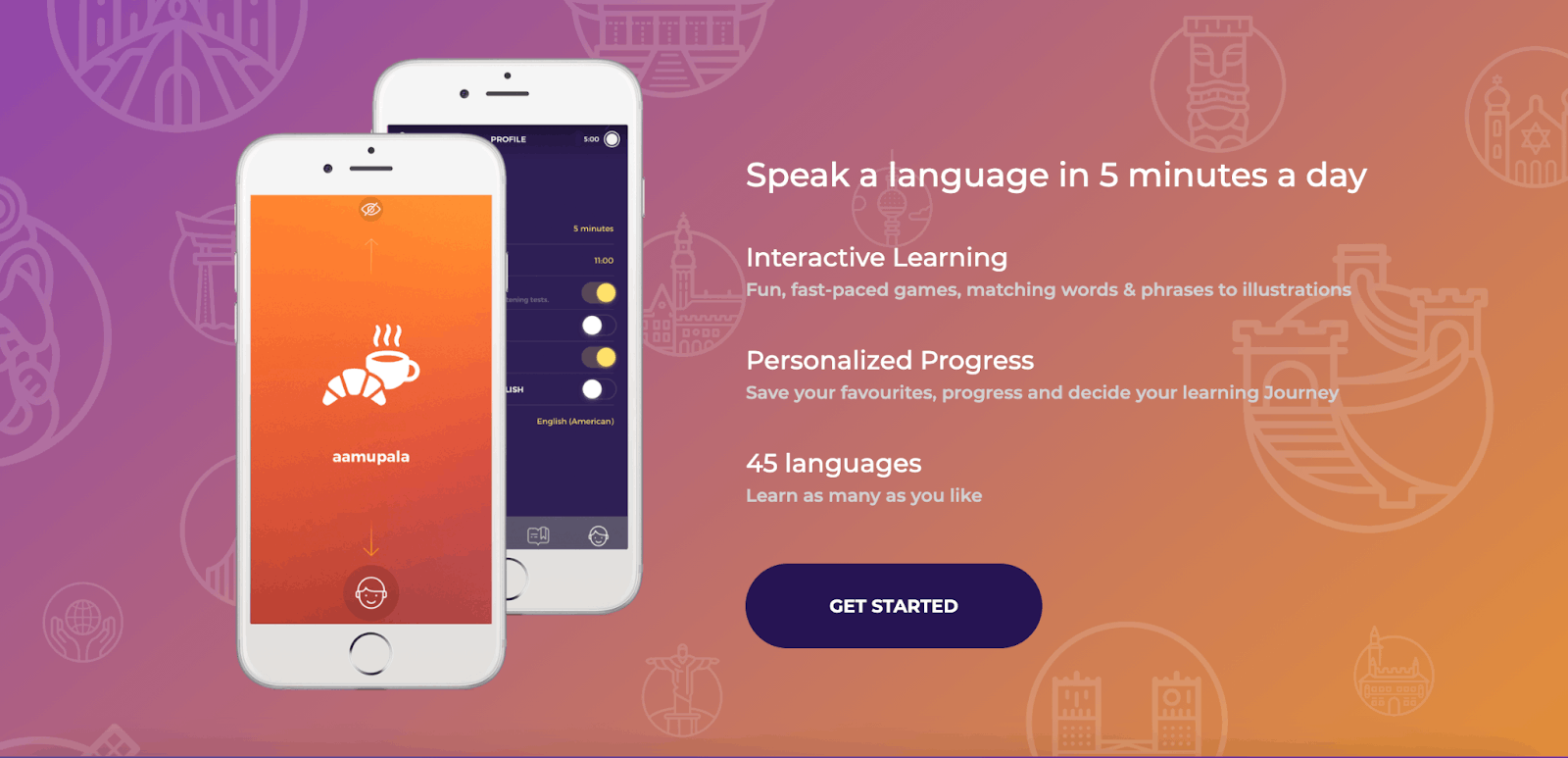 A Gamified Experience For Language Learning
Drops by Kahoot! makes language learning fun and enjoyable for learners who want to improve on learning a language.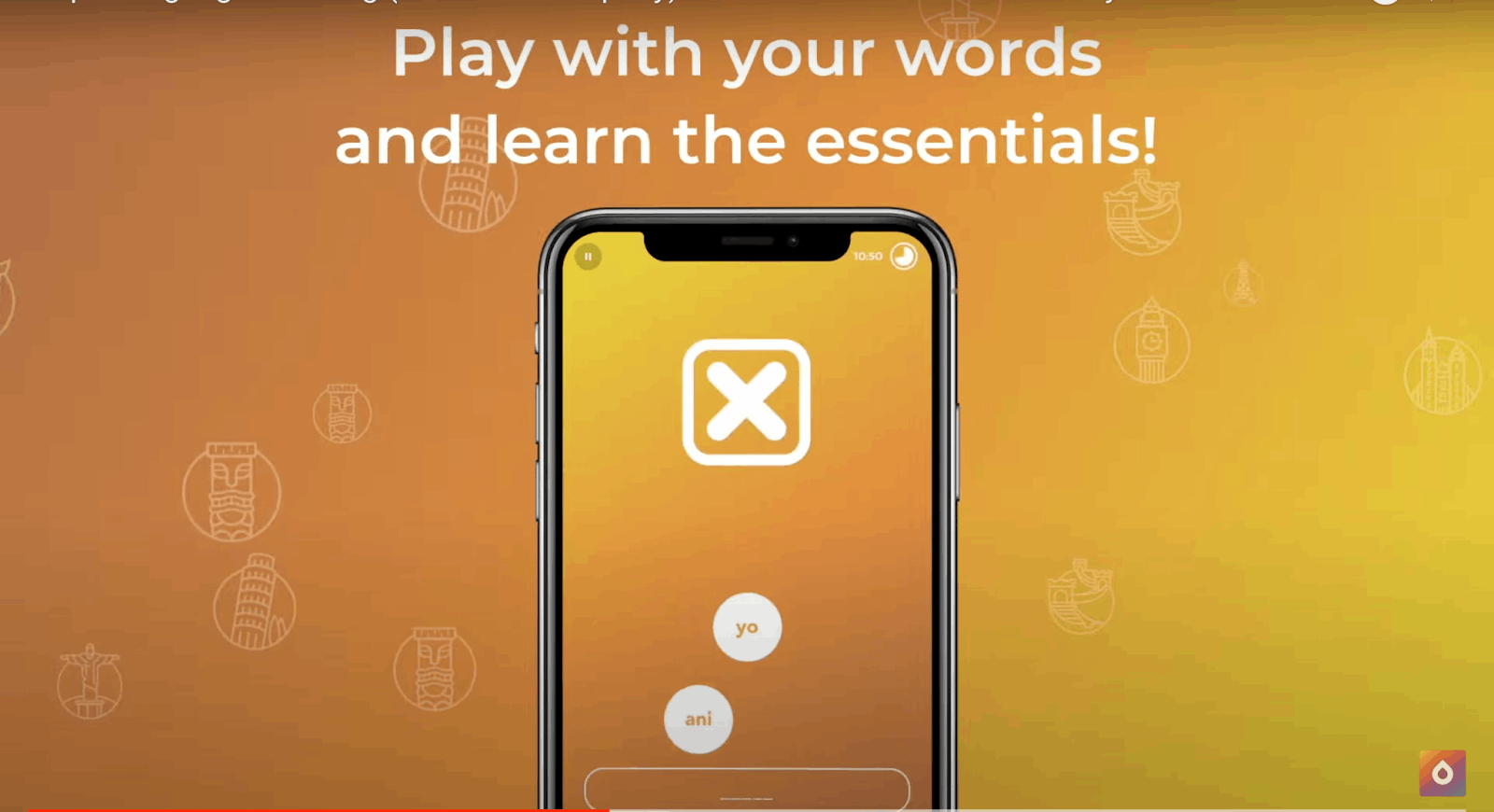 The game works by using mini-games and minimalist illustrations to integrate useful words and vocabulary. It is a fun app that makes language learning both educational and fun at the same time!
Because it is part of the successful and innovative Kahoot! company that is known for its plethora of great educational games that makes learning fun for students, the app uses the same technique: it uses games and visuals to imprint vocabulary to users.
Some of the features that make Drops extra unique are its visual aspect, rapid 5-minute sessions, entertaining and addictive games, and a focus on vocabulary instead of grammar.
Forty-Five Languages To Learn
Drops feature over 45 languages that people can choose from-- its impressive collection of languages available for learning is one of the main reasons Drop is a cult favorite among language learners.
Some of the unique languages featured in this app are Ainu, Bosnian, Croatian, Esperanto, Hawaiian, Greek, Hebrew, Igbo, Maori, Persian, Samoan, Swahili, Tagalog, and Yoruba, aside from the commonly learned French, German, Greek, Italian, and English.
Drops also provide alphabet courses for beginners in Korean, Chinese, Japanese, Arabic, Russian, and Hindi.
Getting Started With Drops
Drops are available to download for free on Google Play Store and Apple App Store. With over five million downloads and an impressive rating of 4.5 stars at Google Play, the app is truly a game-changer in vocabulary development and language learning.

After downloading the app, you will be asked to register for an account using your email, Apple ID, Facebook, or Google accounts.
After successfully linking your account, you will be asked to select the language you want to learn. Be careful with the language you choose because you wouldn't want to waste your first five minutes on the app on a language you do not want to learn.
After choosing the language you want to study, the app immediately takes you to the 5-minute session, which doubles as a tutorial in using the app.
Drops Premium: Uninterrupted Learning
While the app is entirely free, you might get annoyed with some ads that keep on showing on your screen while using the app. If you want to splurge a bit, you can try the premium version of Drops.
Features of the premium plan include unlimited playtime, listening tests, offline access, and an ad-free experience. You will also be able to access all 45 languages instead of just one.
There are three subscription plans: a monthly plan billed at $8.49 per month, an annual plan at $5 monthly ($60 per year), and a lifetime plan billed at $149.99.
Key Features You'll Love
Drop's five-minute session that is available for free is the app's main feature for those who are using the basic version.
After every five-minute session, users will have to wait for 10 hours to unlock the following levels and proceed to the next topics.
While some may say that it is limiting, five-minute sessions are practical because the information is divided into bite-sized pieces that could easily be digested and remembered.
Aside from that, no one will have an excuse not to do their daily session because everyone can spare five minutes of their time!
Best Vocabulary Tool
Because the app uses gamification as a tool, it combines the fun and addictive aspect into language learning. It aims to make good use of people's time playing games while learning something and developing a new skill.
Aside from that, the app also focuses on vocabulary to build working knowledge on common words.
With that, Drops do not guarantee fluency. Rather, it is best used as a great add-on vocabulary tool for those who are learning a language.
Topics On Drops: Words You'll Need To Know
Topics are generally divided into 15 categories: Food and Drinks, Travel Talk, Foundation, Nature and Animals, People and Health, Travel and Vehicles, Home and Garden, City and Shops, Business and Tech, Fashion and Clothing, Fun and Recreation, Science and Wisdom, Sports and Fitness, Society and Politics, and Time and Dates.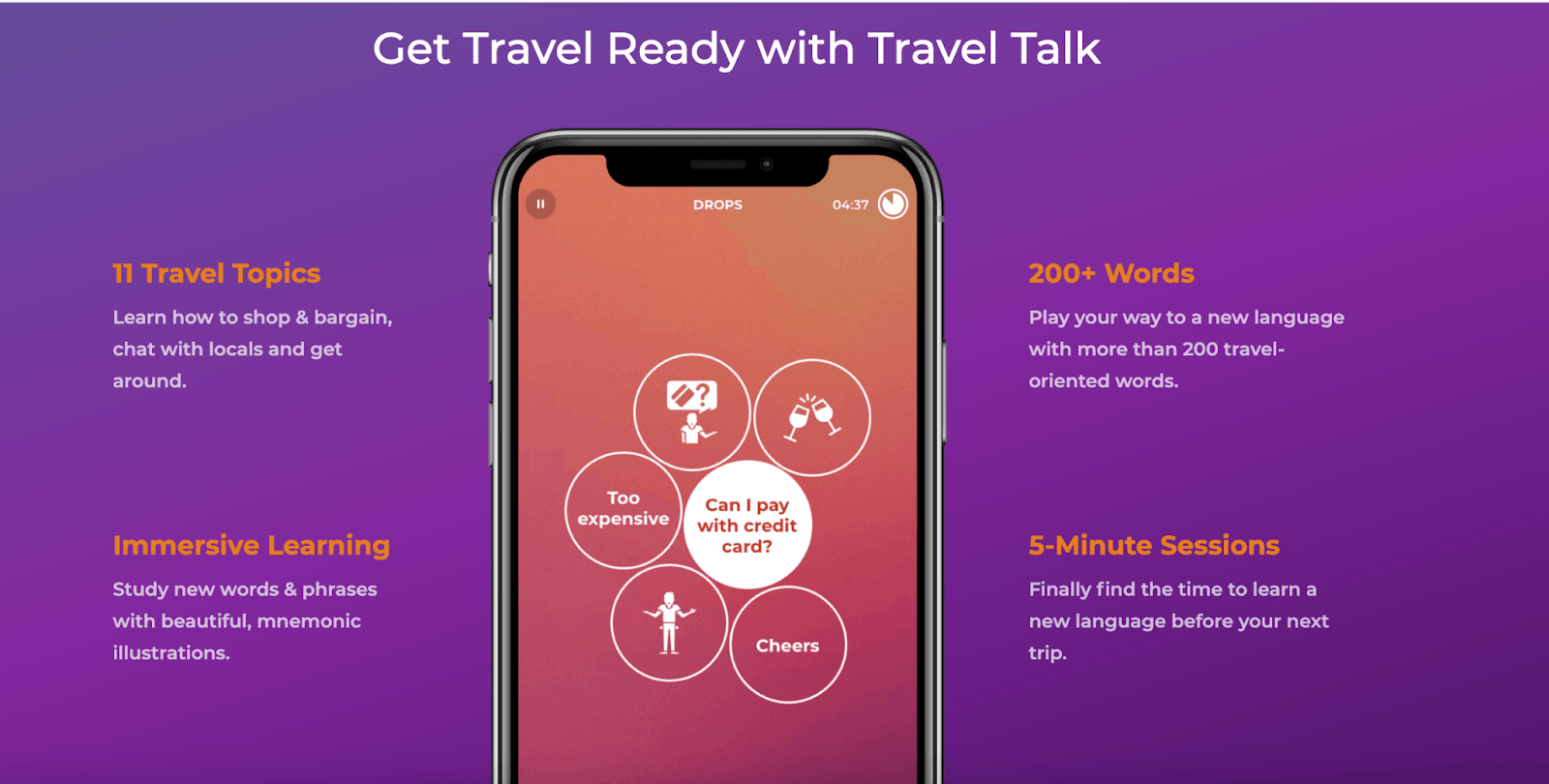 Each category is divided into subtopics that you may learn during the five-minute sessions. The number of subtopics varies from the general category. Its extensive collection of subtopics covers anything under the sun, so you'll be guaranteed to encounter common words to add to your vocabulary.
By default, the first topic would be under the category of Food and Drinks. Basic food items such as fish, fruit, breakfast, cheese, soup, fork, plate, and many other words are included in the first subtopic under Food and Drinks.
Be A Confident Traveler With Travel Talk
The newest feature of Drops, Travel Talk, instantly became a hit because of its convenience and relevance to users.
The category includes 11 subtopics that focus on traveling, getting around, shopping, bargaining, and interacting with locals. These words are common words that you will most likely encounter during your trip.
With over 200 words to learn, you can be confident and familiarized with conversational phrases to help you with your travels.
Collections And Profile Tabs
All words that you've encountered on the app appear under the Collections tab, the second icon on the lower part of your screen. You can add them to your Favorites by clicking on the heart beside it so you can quickly go back to them later on.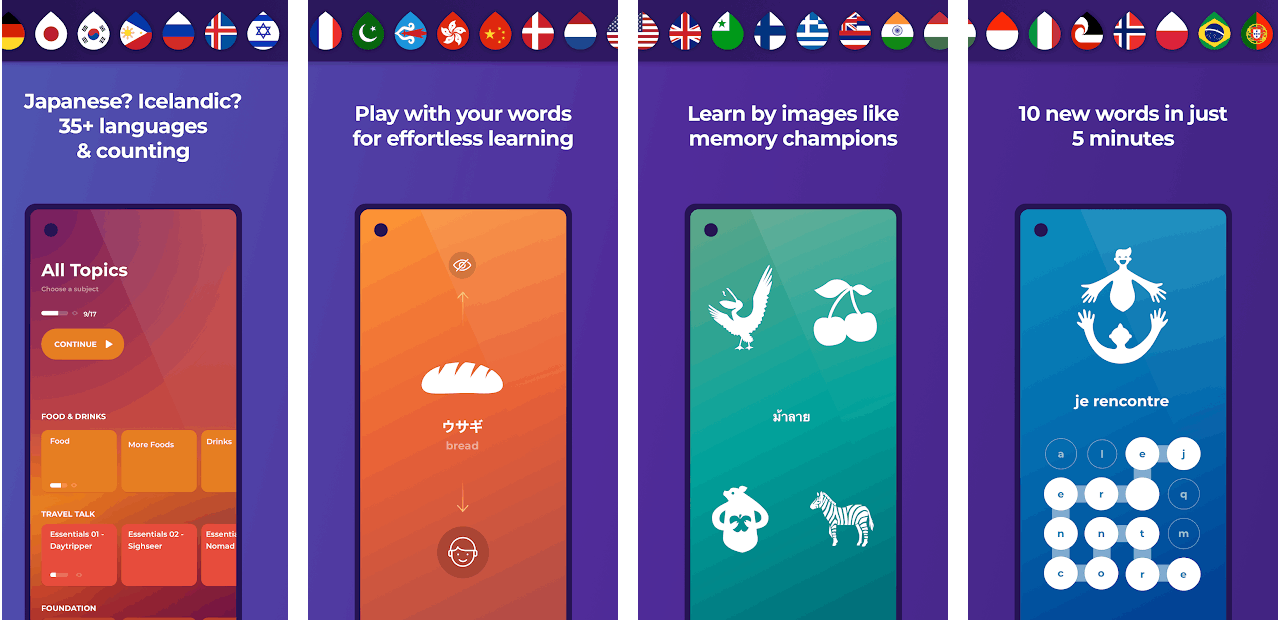 You can also click on each word and listen to the pronunciation over and over again! It's a truly remarkable feature to help you improve your vocabulary and retention of words and meanings.
Words under Collections are also grouped according to general category (i.e., Food, Travel, Nature, etc.). You can also search for them using the search bar at the top of the screen.
By clicking the three dots beside each word, you have the option to share the word via the Visual Dictionary (an external feature by Drops). You may also report the word for misspelling, translation and pronunciation errors, or inappropriate/irrelevant illustrations.
Customize Your Experience With Profiles
The Profiles tab lets you choose the language you will be learning for the day, as well as the skill level. You can choose between Beginner, Immediate, or Advanced.
The Profiles tab also shows you your current streak in using the app. It also includes a calendar that highlights the days you've successfully completed a five-minute session.
Achievements such as Archer and Marathoner can be unlocked once you've reached a specific number of days on your streak. The longer the streak, the better the rewards!
Reviews And Feedback On The App
The app was awarded as Google Play's Best App of 2018 and had since been constantly improving its features for its users.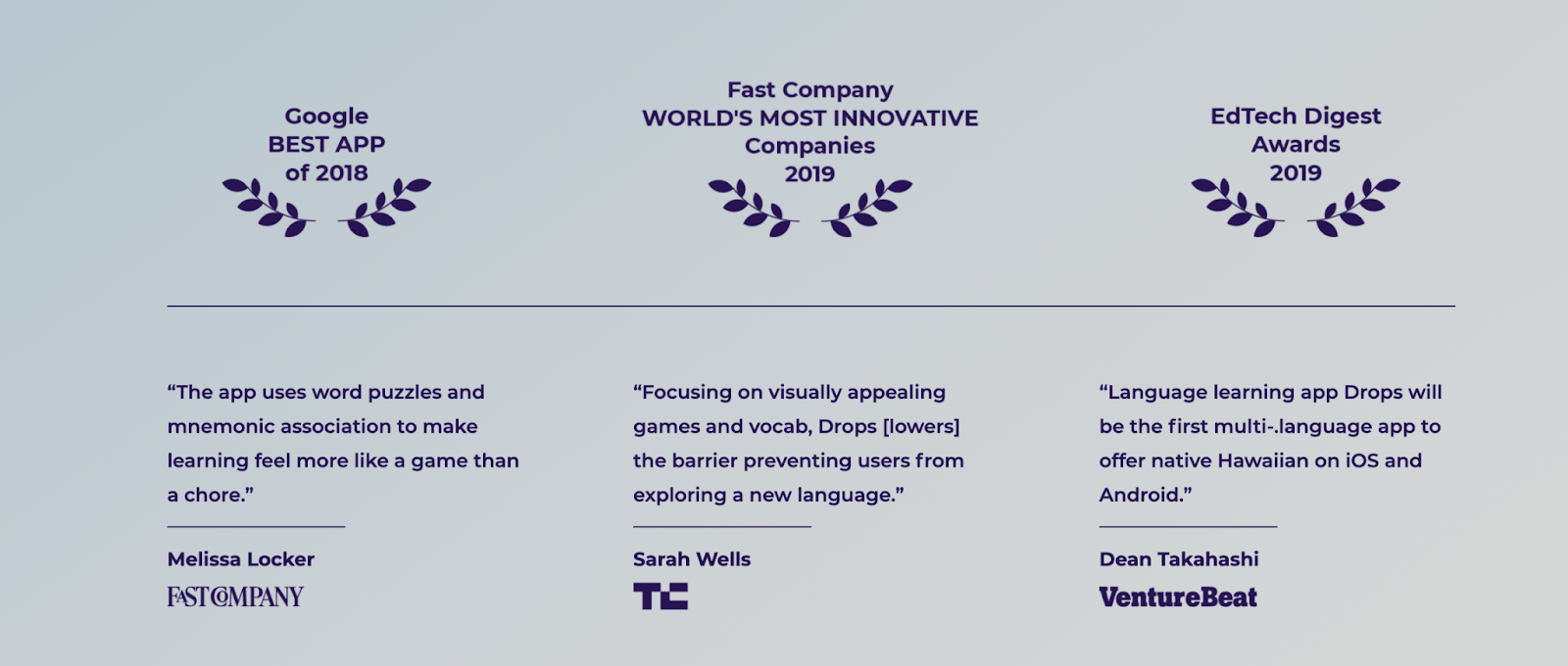 Some improvement points could be correcting some pronunciation and spelling errors and technical glitches such as mismatches between the illustration and word.
Users expressed that Drops has been their ultimate go-to app for vocabulary enhancement because of its interface's simplicity and modern design.
However, some comments focus on increasing the daily five-minute session for free users to maximize their time.
Excellent Pronunciations
The app also prides itself in its audio library of pronunciations, with native speakers articulating words for authentic and accurate information.
Conclusion
Drops is an exemplary application that takes advantage of gaming and integrates it with learning to make language and vocabulary development as fun as any other addictive game. With Drops, there's no excuse not to learn every day.
All you need is the drive to make learning a habit. Drops will help users forge a learning habit while keeping the entertainment factor an important part of learning. See for yourself if Drops is the right app to help your language skills.
Spanish version: Drops - aprendizaje de idiomas: Echa un vistazo a esta aplicación
Last updated on May 23rd, 2023 at 10:06 pm