Vincent Van Gogh, the late Dutch painter once said, "I sometimes feel there is nothing so delightful as drawing". As beautiful as that sounds, Van Gogh is not the only one that feels that way although he knows how to express his feelings better than most.
This is why the field of art and craft has broken new grounds and evolved beyond just the use of brushes, canvas, and paints. Thanks to software development creative fanatics these days can find many ways to fulfill their passion for drawing.
Autodesk SketchBook is a drawing app and painting software that helps artists to create drawings and sketches digitally. Thus, for every creative enthusiast who loves to explore innovative ways to fill the world with colors, here is an informed guide to Autodesk SketchBook.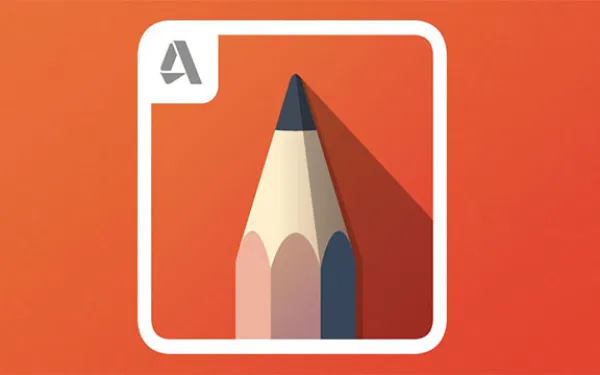 About Autodesk SketchBook and Its Basic Interface
In the blossoming trend of Photoshop for digital art, SketchBook or SketchBook Pro is an incredible piece of technology that one can choose to jump on the bandwagon. It is a mobile application and an ultimate solution for artists who yearn for high-quality features to accomplish their creative tasks.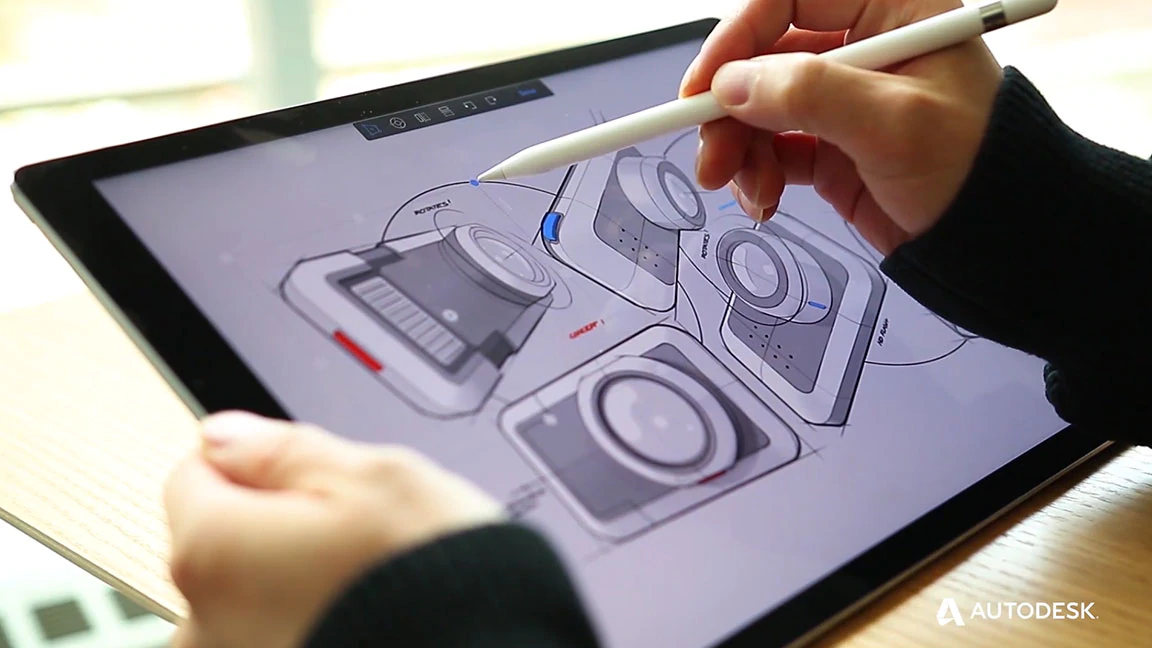 Infused with professional drawing tools with a beautiful interface, the application is picture-perfect, not just for personal use but for professional designers, architects, concept artists, and graphic designers.
The Sketchbook Development Story
Talking about its introduction in the world of art, it was developed by Alias System Corporation and later acquired by Autodesk. Bounteous versions of the software were made available in the market but one that has a soft spot among users is the SketchBook Mobile Version which was launched in 2009 for iPhone and iPod.
In November 2010, it also turned out to be suitable for Android devices. Ever since then, Autodesk has come up with a handful of improvements and new updates in SketchBook with a mission to let the users complete full-furnished artwork with innovative ideas. Below-mentioned is the basic interface and tools that the app offers to its users.
The Brush Palette and the Brush Puck
There are numerous types of brushes in the 'Brush Palette' panel that one can access as per needs and preferences. This means you're not stuck with a single line type of drawing like the old days.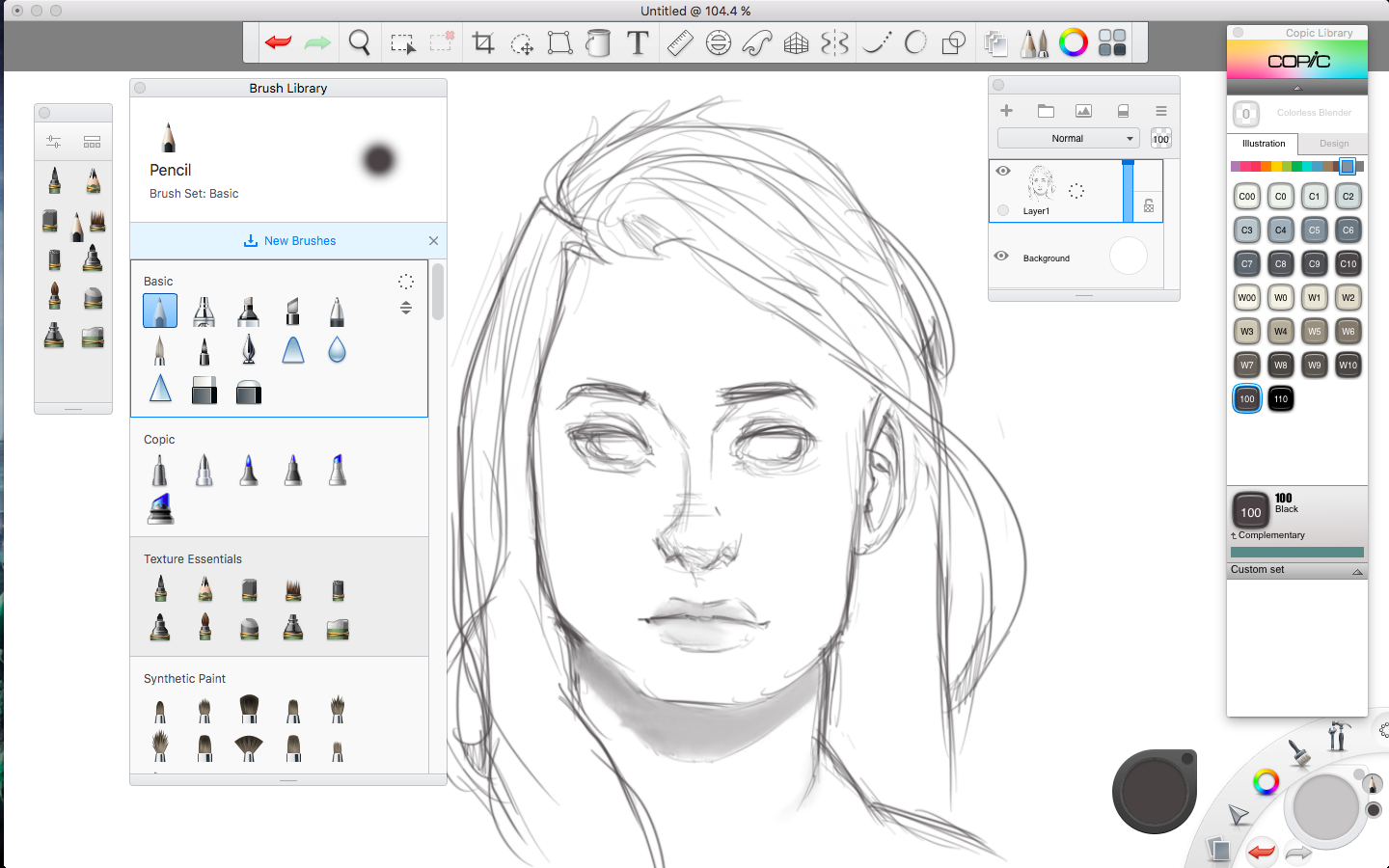 These are pencil, airbrush, marker, chisel-tip pen, ballpoint pen, paintbrush, felt-tip pen, smear, inking pen, blur, sharpen, hard eraser, and soft eraser. Further other default sets of brushes can also be found by simply going to Windows > SketchBook extras.
How the Brush Puck Fits In
After choosing the brush or pen, artists like to alter its capacity and size. Though it can be somewhat possible in the Brush properties panel or using the shortcut, it is strenuous in the case of a no-keyboard policy.
That's where the need for 'Brush Puck' enters into play. This consists of a white circle which makes it easy for users to do alterations just by clicking and dragging.
The Color Puck and the Toolbar
SketchBook provides 'The Colour Editor' to choose and adjust the color how you want. Nevertheless,
The 'Colour Puck' is more significant to harness as it saves a great expanse of screen space. Just like Brush Puck, it includes a small circle that allows one to have a small color palette of swatches. It can also be used to adjust saturation and brightness.
The 'Toolbar' is the panel that comes up with additional tools that are not related to drawing but makes the overall task easy to accomplish. These include undo, redo, zoom, rotate, move the canvas, select, crop, quick transform, flood fill, add the text, ellipse, symmetry, and much more.
How the Additional Lagoon Bar Fits In
The 'Lagoon' is the toolbar in the corner that allows users to gain access to basic functions such as brushes, tools/views, edit tools, basic colors, and file tools. One can also hide or move as per screen convenience to get done with drawing and sketches effectively.
A-list Features of Autodesk SketchBook
The app offers Predictive stroke, using which one can improve the quality of stroke. It can help to correct the basic figures like circle, rectangle, and triangle.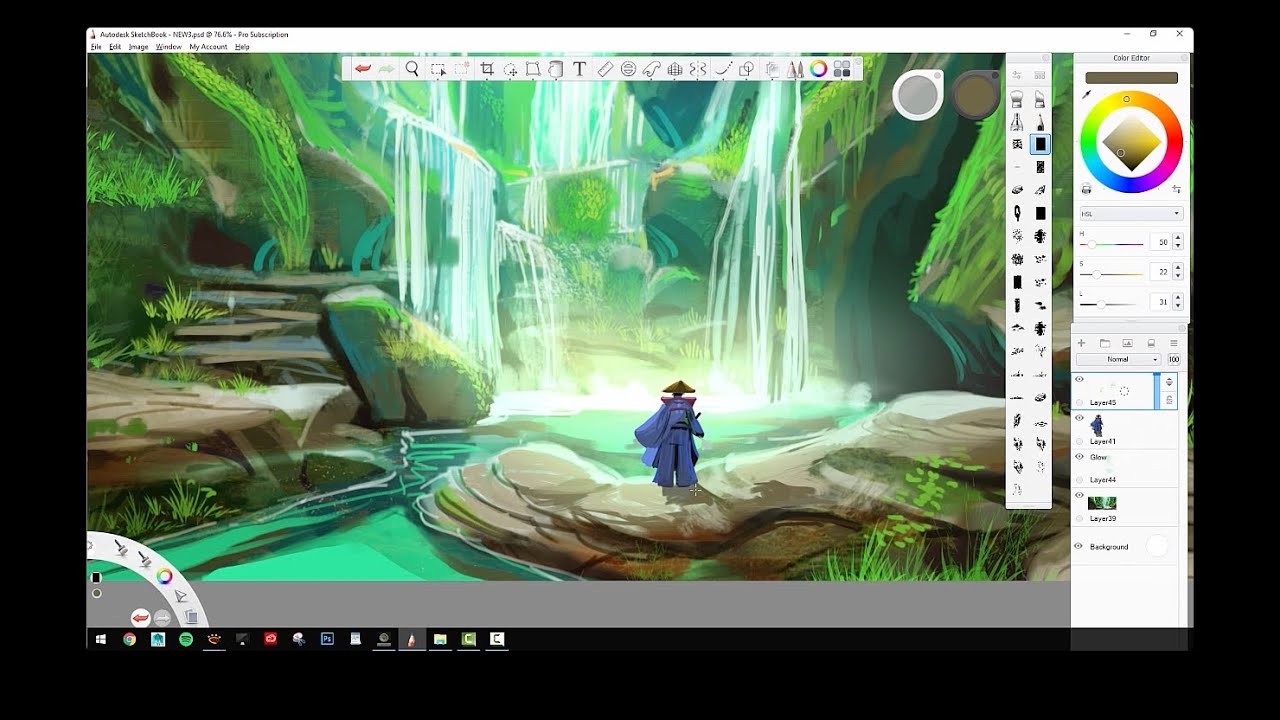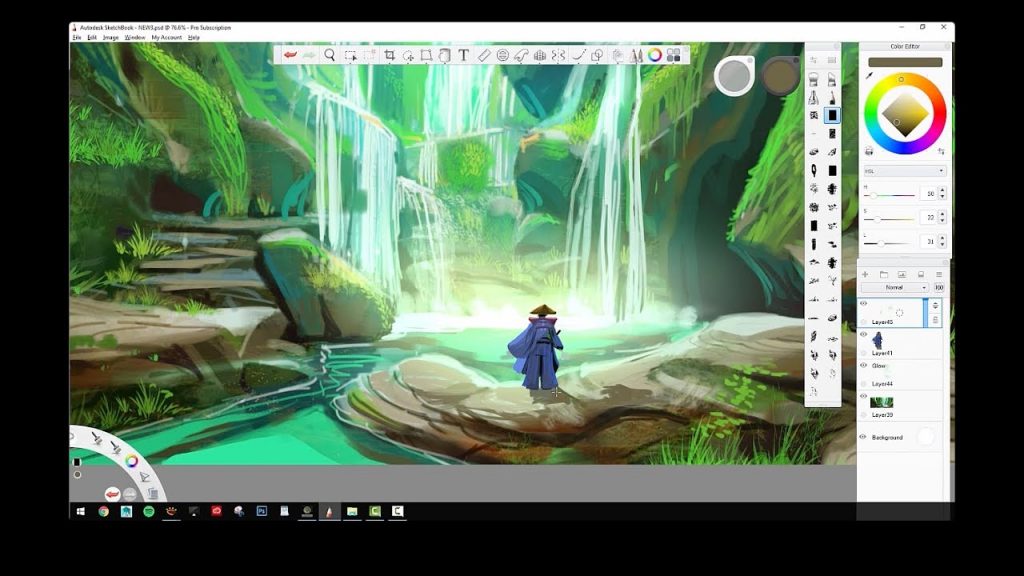 In other words, it automatically smoothes up the lines of work making it perfect according to the shape.
Predictive Stroke and Copic Color Library
The Copic Color Library deployed in the app allows the users to select predefined color swatches. It makes it easy to build-up custom color sets or to gain access to additional shades for convenient yet professional drawing.
Distort Transformation and Flipbook Animation
Just like digital Autoshop, the feature of Distort transformation lets one fix the proportions and perspective of the art piece.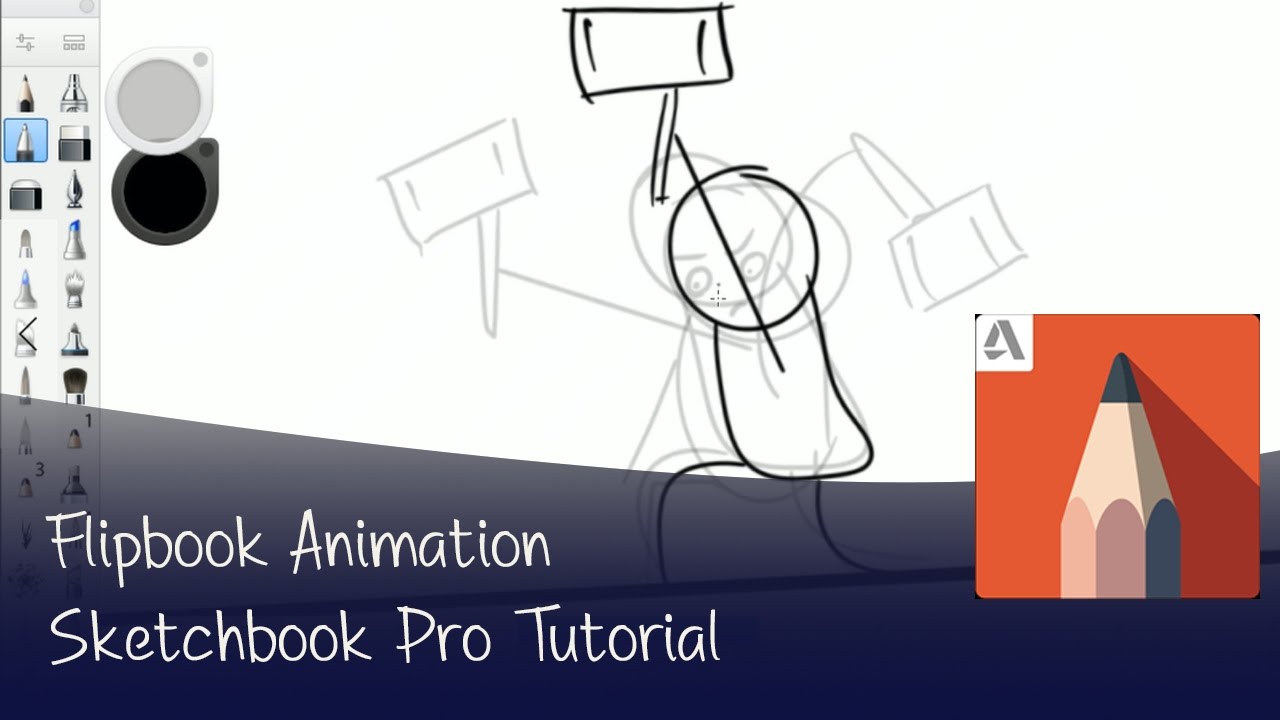 Various transform operations possible with this app are scale, rotate, distort, warp, or perspective.
How to Create Movement
To create the illusion of movement, it is suggested to harness 'Flipbook animation' in the Autodesk SketchBook app. It makes it easy for artists to create animation up to 4 layers for extra creativity in personal or professional aspects of work.
Rulers and Guides and Unlimited Brushes
The professional concept of drawing entails ultimate precision. That's where the user can make use of rulers and guides in the app. These mount to the latest features of the app and help to bring accuracy in shapes, curves, and ellipse guides.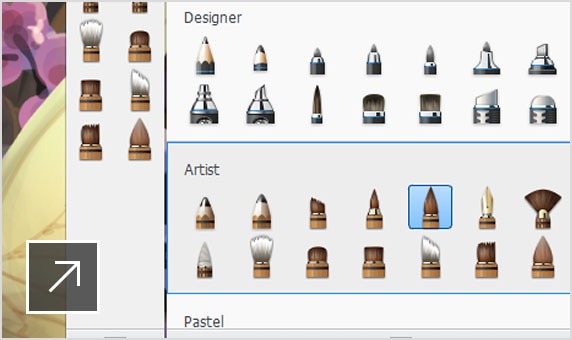 As already mentioned, the app offers unlimited brushes to complete the drawings, sketches, and illustrations.
How the Brushes Work
One can either select from 140 brushes or create a new one that suits precisely the professional concept of the representation. Import of brush design is also available for the artists.
Four Symmetrical Dimensions
In case one desires to draw a perfectly symmetrical figure for a professional purpose, the app brings into being 4 symmetry dimensions.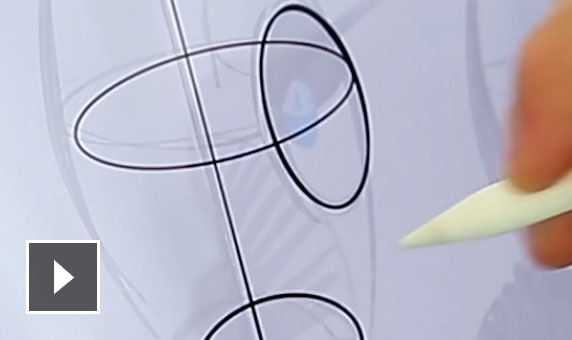 Using this, it is easy-breezy to draw with X, Y, XY, and up to 16-sector radial symmetry.
How Camera Scanning Helps with Dimensions
Some of the other phenomenal features of the SketchBook mobile app include camera scanning, JPG, PNB, TIFF, BMP support, 100 mpx canvas, inks, markets, cross-platform, and a lot more.
It also permits for line art import with transparent background to get done with the desired illustration.
Benefits of Using Autodesk SketchBook
SketchBook mobile software is infused with a smooth and initiative interface that lets the professional artists accomplish their drawings and illustration without any distractions. Further, the fact that the UI stays unidentified until one snag a pencil, brush, or marker on the screen makes it possible for the user to concentrate on creative ideas.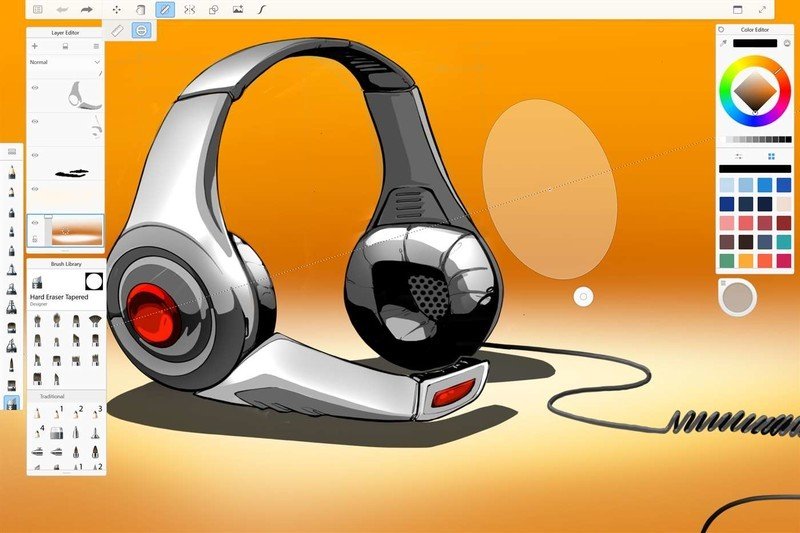 Autodesk SketchBook users can easily export as all devices are PSD compatible. In addition, the app is also effective in letting one export the work into JPG, PNG, BMP, and TIFF. It is an incredible pro for artists who like to translate their creative ideas quicker.
Creative Usage
With the spike in creative fields such as architecture and graphic designing, the SketchBook app is becoming more popular these days. The reason being, it offers a 100 MP canvas, rulers and predictive guides, and unlimited drawing tools that make it convenient for the designer to complete the illustration with utmost precision.
Utilize Creativity Abound
Be it iPhone, Android phone, tablet, or laptop, the app is compatible with almost all devices.
| | | |
| --- | --- | --- |
| Supported Device | Support Type | Customer Type |
| iOS | Online | Educational Institutes |
| Android | | Small & Medium Businesses |
| Desktop | | Enterprise |
Nevertheless, the employment of the app on the mobile phone is a picture-perfect idea as this pocket drawing diary becomes portable enough to let one mull over extra creative ideas. Check-out the technical specifications table for more details.
Cost of Autodesk SketchBook
Believing that creativity starts with an idea, the fully-featured version of SketchBook is offered free of cost to everyone.
How to Download it for Free?
Autodesk SketchBook is available for both iOS and Android devices. To install the app on an Android phone, one has to search for the app in the Google Play store.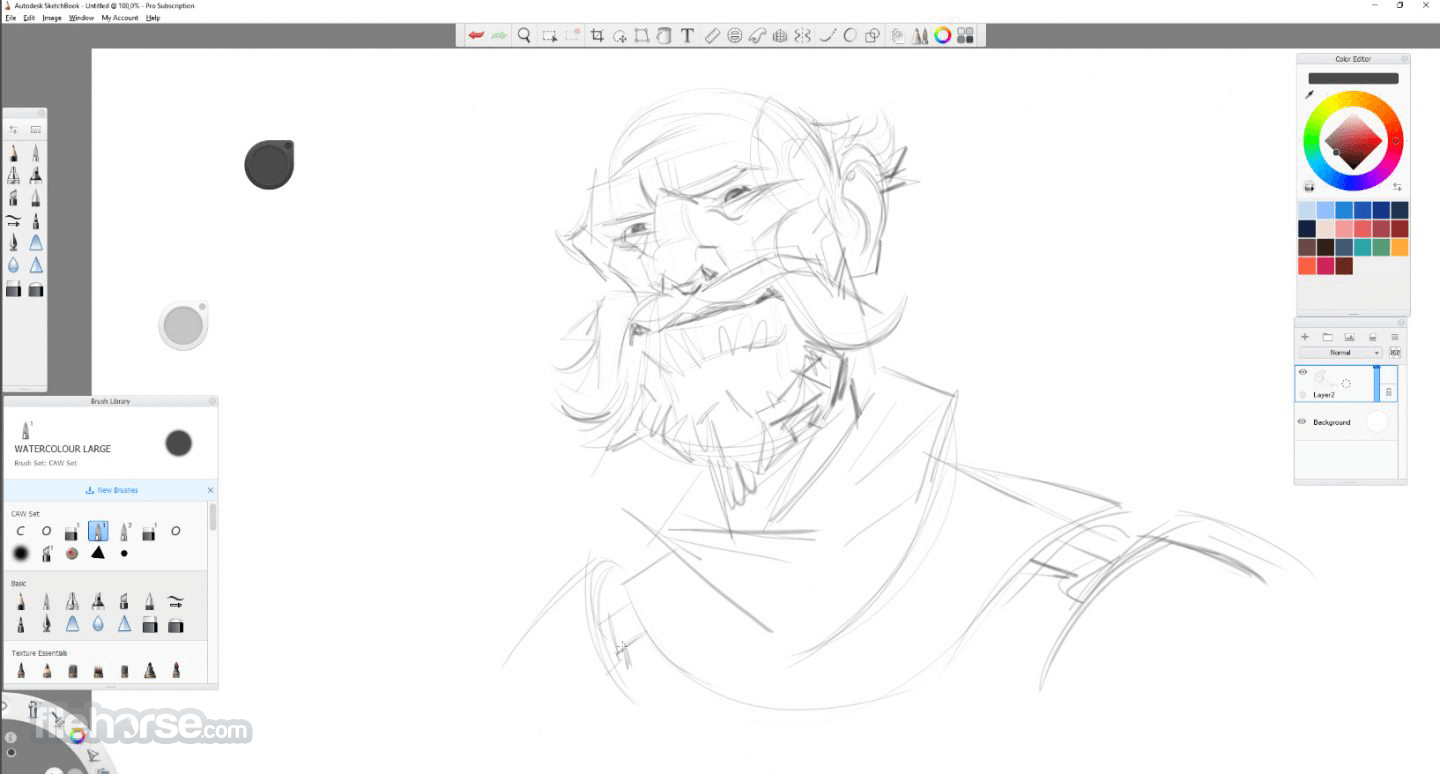 However, there is another option that allows individuals and enterprises to have access to unlocked features of the app.
How to Get the Pro Paid Version
This is the pro membership plan available at US$29.99 per year or $4.99 per month. To a little more surprise, students and educators can gain full-powered features of the app free for 3 years, although subject to activating the account and getting the license.
In the case of an iOS device, it is suggested to first create an iTunes account, if there is not. Further, tap on App Store and search for the app by listing its name in the search bar. From there one can install the app by entering the password of the iTunes account.
Where Else to Access the App
Furthermore, the app can also be accessed directly from Autodesk which also gives you a chance to peruse their site and check out updates.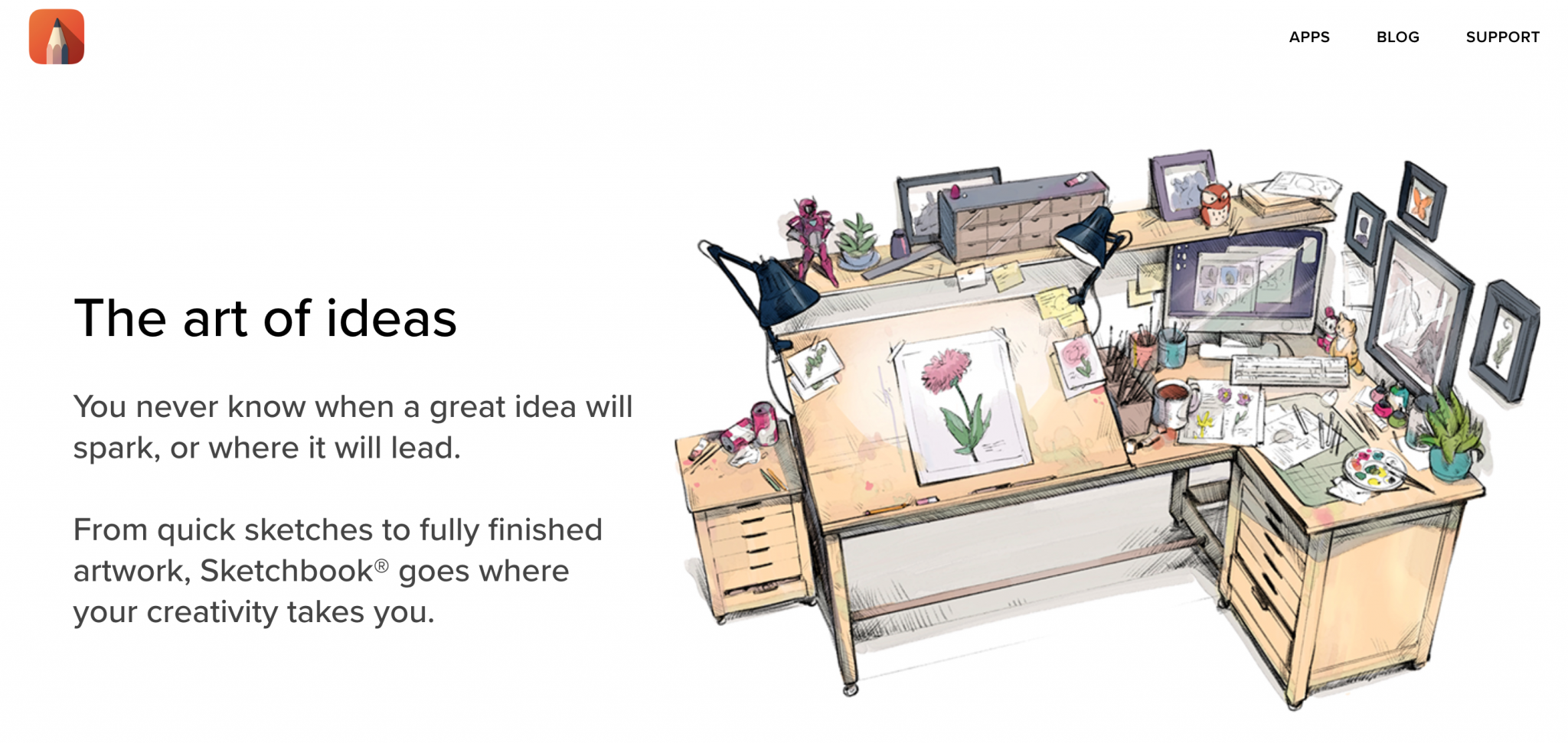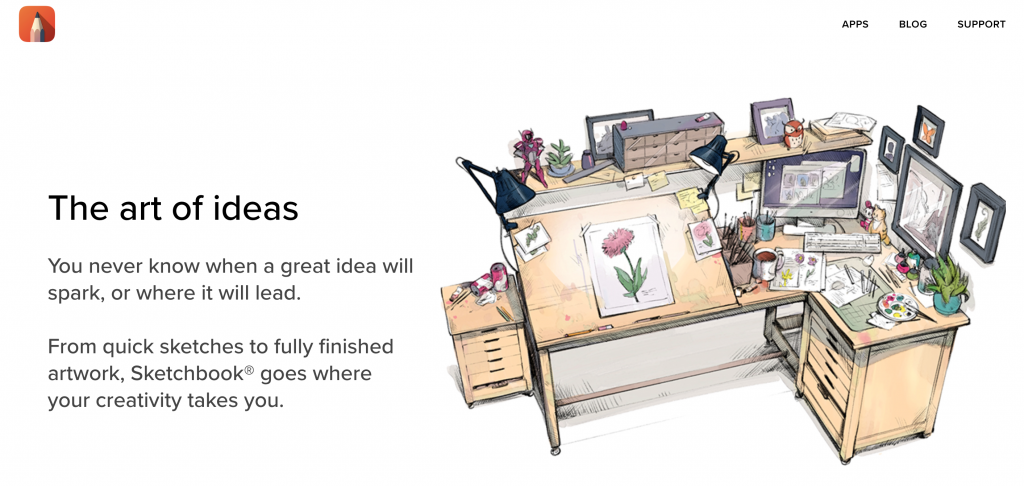 If you go this route, you'll need to download the app from their site.
What to Do After Downloading
After doing so, one has to run and install the app, following by launching it upon completion. This lets the app run on both mobile devices, tablets, and laptops.
How to Use Autodesk SketchBook
To use the app on a mobile device or Windows, one has to open the installed version of Autodesk SketchBook. Subsequent to this, the user will be welcomed by an interface including basic panels.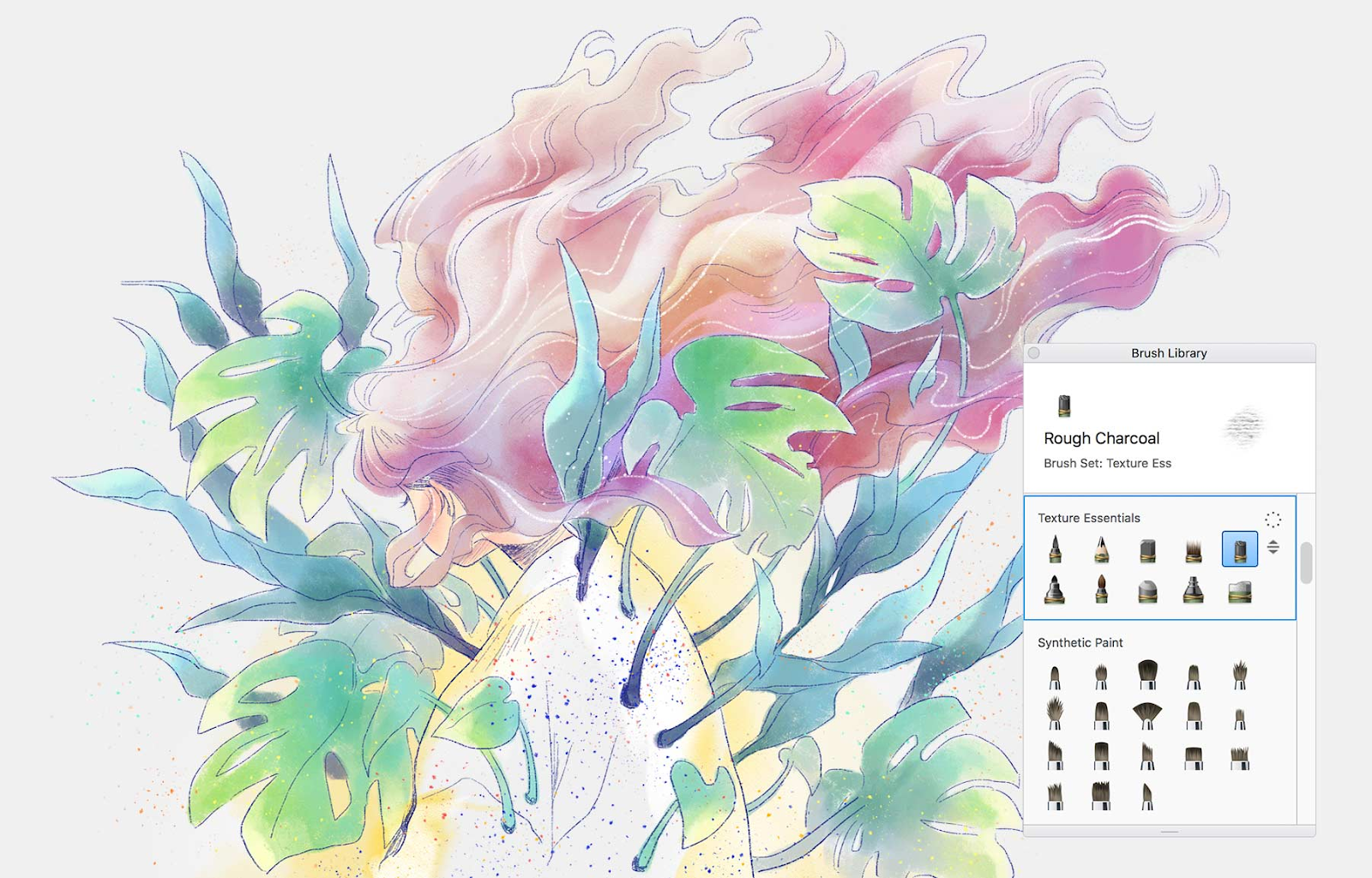 However, since the app interface is quite vast and detailed, it requires timely practice and learning to be a master of the art.
For Beginners
For beginners, it is suggested to go through tutorials to have a grasp of drawing tools. Although you may want to jump write in, it's a better idea to run through the tutorials so that when you use it, you'll find everything easier to use.
And that means you can get your illustrations underway, faster than you thought.
Key Takeaways
Indeed, creativity is now not merely about passion but forms an essential aspect of the professional world these days. Thus, there is an utmost need for incredible software like Autodesk SketchBook that helps to make headway in the creative field.
All it takes is a little enthusiasm and a basic understanding of the features to use art and colors in a modern way. You don't have to be a drawing or tech pro to use SketchBook, all you need is a passion to make the illustrations in your head come to life.
Last updated on December 2nd, 2022 at 04:55 am