Ever wanted to read a book but couldn't find any time to sit down and open a book, let alone read one?
Worry no more because the future of content consumption and learning gets better with Blinkist, a smart mobile application with bite-sized information to help the busy ones catch up with learning.
Read below to learn more about the Blinkist app, its key features, how to use it, and see if this app is right for you.
Blinkist: Learn More in a Blink
Key Features of Blinkist
The Home Tab: Get Personal
The Explore and My Library Tabs: Discover More
Pros and Cons of the Blinkist App
Pricing and Subscription

Blinkist: Learn More in a Blink
Blinkist is a book-summarizing subscription service that is based in Berlin, Germany. Launched in 2012, the app provides summaries of over 4,500 bestsellers on non-fiction and podcasts through 15-minute reads. These reads are called 'Blinks' or 'book-in-blinks'.

Founded by a group of writers, readers, developers, designers, and planners, Blink promises its users to learn things faster than a blink of an eye. Blinkist was developed as a response to people wanting to read but not having time due to the countless activities that take up people's days, leaving no room for reading.
Book-in-blinks are meaningful products aimed to help the busiest of people catch up with their reading at any time of the day, whenever is most convenient to them. The team collaborates with authors to find intriguing books, as well as comb through bestseller lists and new releases to ensure that every recommendation is personalized for each user.
What's more, this technology is available in a mobile app, making it easier than ever to catch up with daily reading no matter the place and time. Learn more about the mobile app as we go through the next section!
The Blinkist Mobile App: An Award-Winning App
With over 5 million downloads and a 4.5-star rating on Google Play Store, the app is recommended by over 18 million users and readers. The app had also won the Google Material Design Award, the United Nations World Summit Award in the Learning and Education category, and was awarded as one of Apple's Best Apps in 2017.
Once you've downloaded the app, you'll be asked about the number of books you plan to read in a week, the genres you are most interested in, and your preferred method of learning between reading and listening. Then, you'll be asked to create an account or to sign in with Facebook, Apple, or Google.
Blinkist is available on both the Google Play Store and the Apple App Store. It is free to download, so just search the app and click 'Install' for Google or 'Get' for the App Store.
Key Features of Blinkist
Blinkist boasts two key features: reading book summaries (blinks) and listening to audiobook summaries. When you tap a book on your library, you can swipe from one key highlight to the next.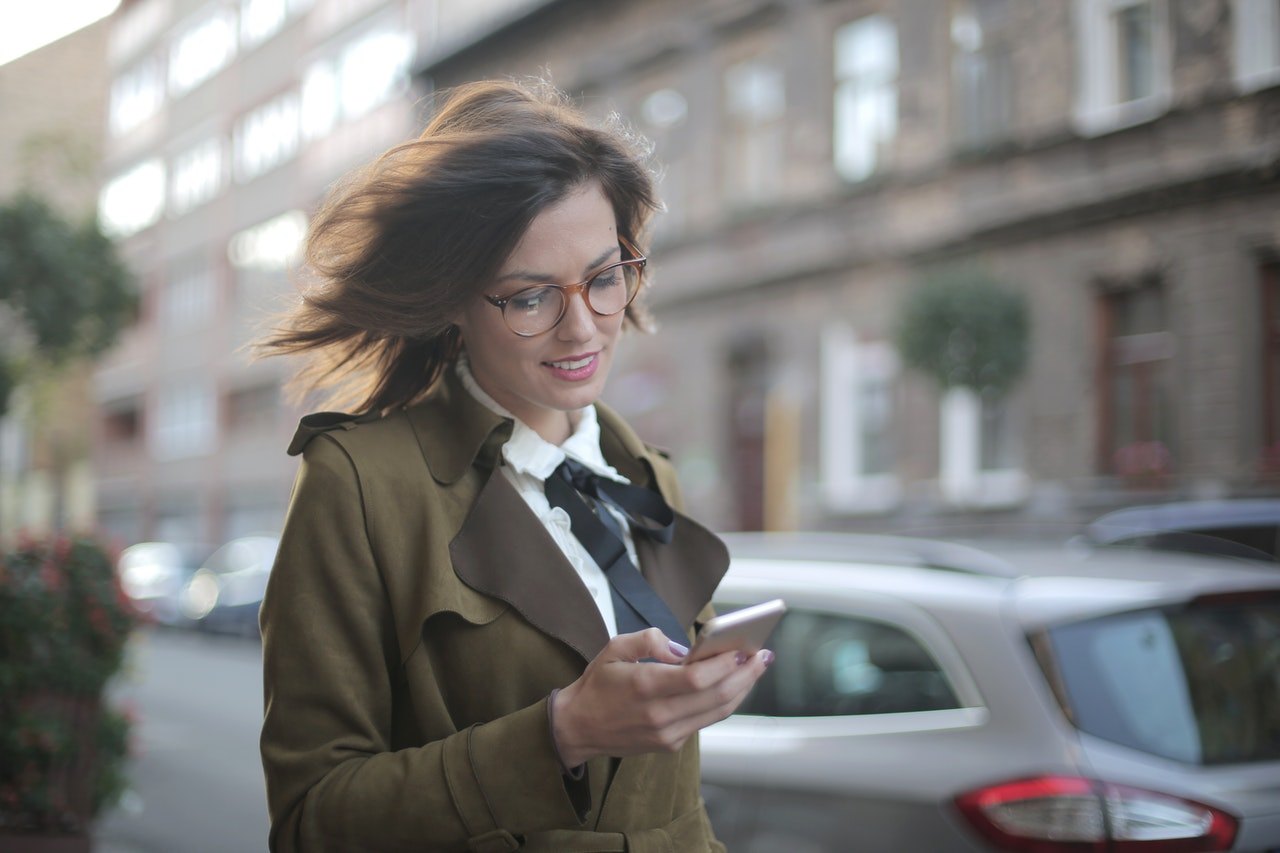 A progress bar will be shown at the bottom, as well as a table of contents, a toggle to adjust the font size, and a button to quickly switch to audio mode. While reading blinks, you will see nuggets of wisdom from the book, so watch out for those!
The final page will be a summary with some call to action. Then, you can mark the blink as completed, go back to your library, and read another one!
Listening to AudioBook Summaries
The second feature of Blink, which is listening to audiobook summaries, can be explored when you choose 'Listen' instead of 'Read' at the start of blinks.
You can enable auto-playing at the bottom of the screen, which will let the app play all the books from your library in a row. Once you swipe left, you can shuffle the order of the books. However, if you enable the 'Offline Mode', the app will only play audiobooks downloaded to your library.
The audio player is a straightforward player which shows you the key takeaway of each blink. You can also skip 15 seconds forward and backward, as well as decrease or increase the speed. You can play for as slow as half the speed or as twice as fast!
The Home Tab: Get Personal
Awarded with the Google Material Design Award, Blinkist surely provides its users a sleek and modern interface that is easy to navigate and matches the app's image and branding.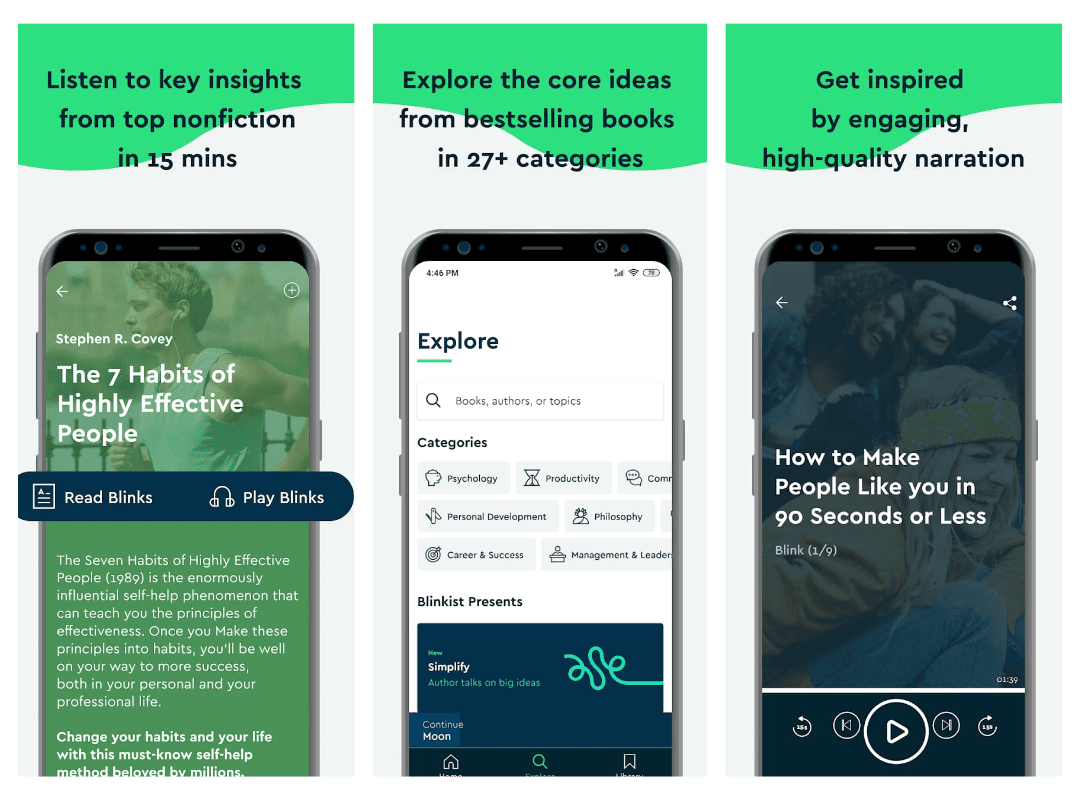 The mobile application has three tabs: Home, Explore, and My Library, as well as the setting options on the upper right corner of the screen.
Under the Home tab, you'll notice the Latest Shortcast Episodes, which are compressed versions of podcasts. You'll also find personalized recommendations such as Blink for You, Shortcast Episodes For You, and Collections for You based on your app history, searches, and preferences.
Aside from these, you'll get access to Blinks that Leaders Read, a collection of titles recommended by leaders, as well as the Blink for the Day, a daily recommendation carefully selected by the app' curators and the Trending Blinks, a collection of the most popular and most-read/played blink.
Get the New Releases
Get the new releases of blinks and shortcasts under the Home tab with the Latest Blinks and 'Shortcasts: Key Ideas from podcasts in 15 Minutes'.
These are either updated daily or weekly, so be sure to check the app often to avoid missing out on the newest and latest releases.
The Explore and My Library Tabs: Discover More
The second tab on the Blinkist App is the Explore tab. Here, you can search the app for content by title, author, host, or topic.
There is also a wide array of categories to choose from such as Psychology, Career and Success, Politics, Philosophy, Personal Development, among many others.
You can also check the Collections, which are much like song playlists, only instead of songs, the playlist is filled with blinks.
Lastly, under the Explore tab, you have the option to browse through a catalog and choose between Shortcasts, Blinks, or even full-length Audiobooks.
My Library Tab
The My Library tab allows you to check the blinks and shortcasts you've saved and downloaded. It also shows all items you've finished reading or listening to.
On the upper right corner of your screen, you'll see a heart icon that contains all of your Favorites.
Another incredible feature of this app is that just like in real books, you can highlight ideas and important points you'd want to remember. Check them out at the Highlights section next to the Favorites icon on the upper right corner of your screen.
Pros and Cons of the Blinkist App
There are several pros and cons when using the Blinkist app as stated by its users and readers. However, all the pros outweigh the cons, which makes the app a good and reliable app for most people.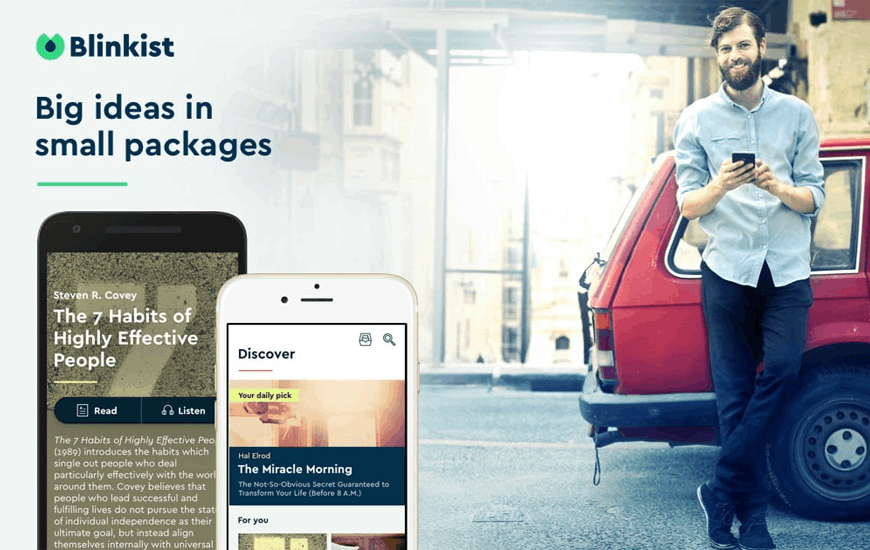 First among the pros is that book summaries are comprehensive and complete, so you can be sure that you grasp all the important concepts from a book.  Second, because the app is simple, it makes consuming and learning the content easy.
Third, the highlighting feature helps a lot in remembering important details, crucial ideas, and key insights. Although it is usually an underrated feature, highlighting helps users retain and remember the best ideas which they can go back to later on under the My Library tab.
Lastly, Blinkist provides a seamless and unparalleled audio experience that is flexible enough to allow you to learn during long workouts, commuting to work, or cooking and cleaning the house.
Cons of the App
A few cons of using the app would be the feeling of repetition and boredom on reading multiple summaries, so it is recommended that you must only read 1-2 summaries a day to digest and retain information.
Another one is the lack of scrutiny or fact-checking on any of the books, which would still require users' discernment on the content they are consuming.
Lastly, the entire reading experience is stripped away by reading just summaries– but then again, that's the whole point of book summaries, right? Blinkist does a great job in retaining the facts and insights, but for those who would want to enjoy reading, you may opt to skip using Blinkist or just use it as a complementary tool for your reading.
Pricing and Subscription
Although the Blinkist app is free to download and install, the free account only allows users to read one summary each day– and you can't even choose it because all you get to read is the Daily Pick.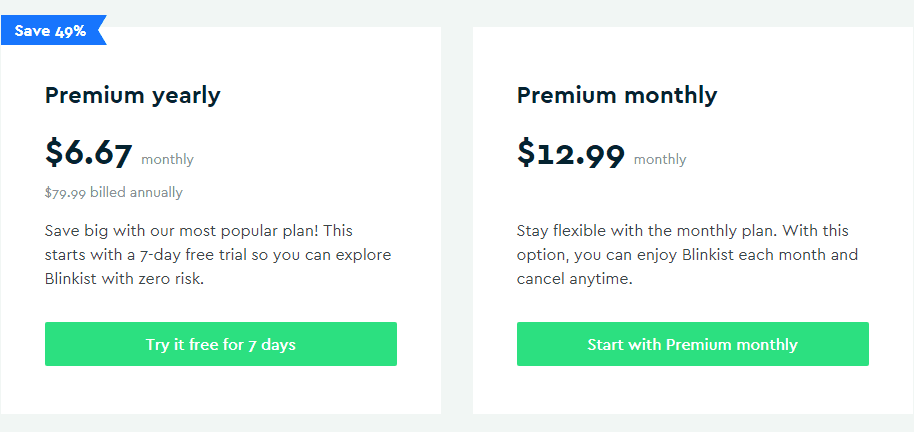 If you want to read more and have a little more control over your reading, subscribe to the premium version, charged at $12.99 per month for full and unlimited access to every single content the app has to offer.
Save More with the Annual Plan
However, you get to save more if you subscribe to the Annual Plan. For just $6.67 a month or almost half the price of the monthly fee subscription plan, you get to save 50% of your money and get full access for an entire year!
If you think about it, this steep discount makes the app worth it, considering the skills you'll be gaining in return for some amount of money.
Conclusion
With so many activities going on in peoples' lives today, it can be difficult to dedicate time for learning and leisure reading. But with Blinkist, you'll have no more excuses as learning can happen easily and straight from your phone!
What are you waiting for? Open your App Store or Play Store, download the app, and start a new intellectual era for yourself. Learning never stops, after all!
Spanish version: ¿Sin mucho tiempo? Obtén ideas clave sobre libros y podcasts copulares con app Blinkist
Last updated on May 24th, 2023 at 08:53 am