Are you planning to color your hair anytime soon? Choosing a new hair color can be challenging, particularly if you have no idea how the color will look on you.
There are ways to help you decide on your hair color, such as going to the salon and consulting a hairdresser. An advanced and high-tech way to visualize your future hair color look is through a mobile app. You can download and use free apps designed for hair color changing.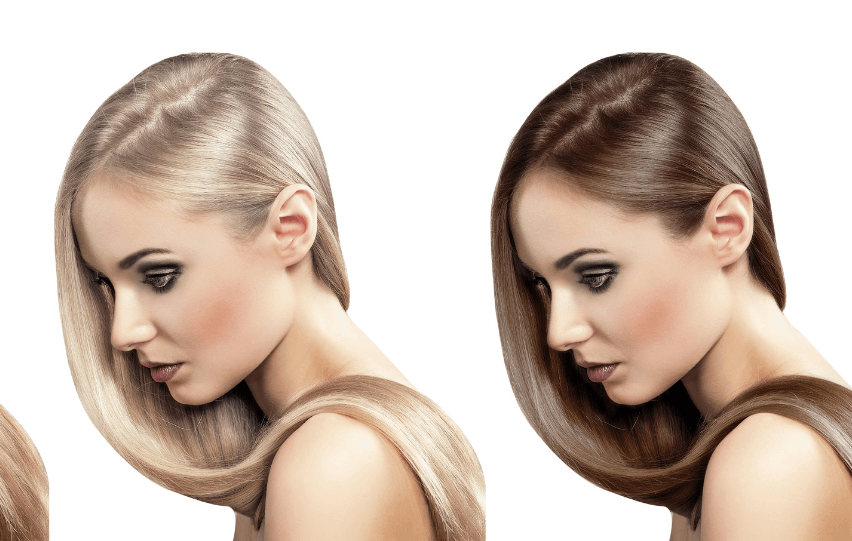 Why Hair Color?
Many people have been coloring their hair, and the purpose of such change in hair varies. Some people want to be more fashionable, while others need to cover their white or gray hair or restore their original hair color that has been sun-bleached or chemically processed. Who doesn't want the perfect hair for their next social media video or photo?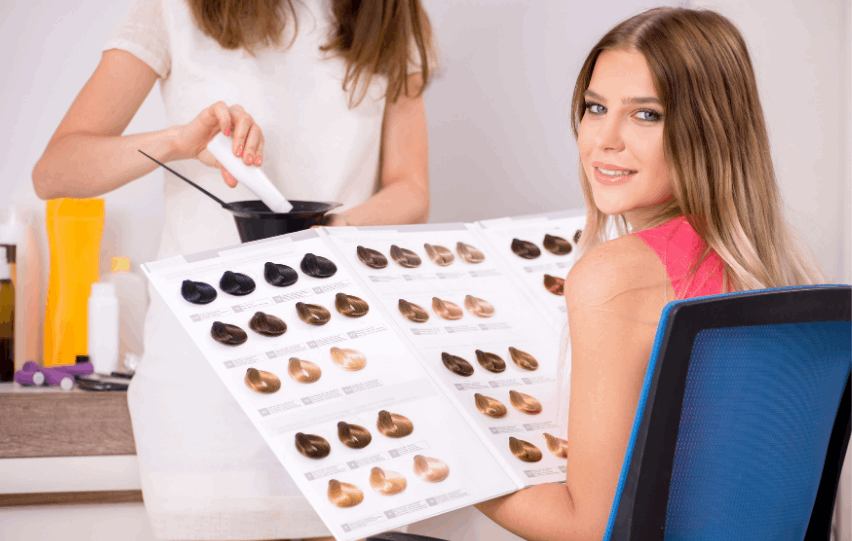 Hair is called the crowning glory, and it has a huge impact on one's appearance. That's why people consider hair coloring to enhance their look.
The result of hair coloring may suit your preference, or it may end up rather disappointing. If you are not sure what color will be the perfect fit, then try one of the following hair color changing apps so you won't make an avoidable mistake.
Best Free Hair Color Changing Apps
Discover the following hair apps developed for hair color changing that you can access using your smartphone.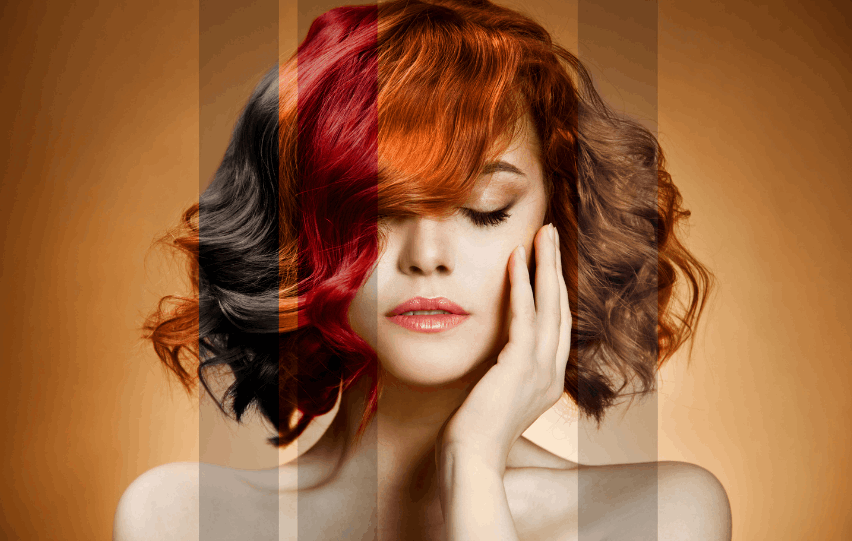 Get access to all sorts of hair colors and hairstyles you can mix and match depending on your preferences.
Transform your look in real-time or through uploading a photo and see if the result suits you. The apps are downloadable via Apple App Store and Google Play.
Style My Hair
Style My Hair is an app created by L'Oreal. It is a free hair color changing app available on both iOS and Android devices. It has many color palettes, which vary from natural browns and blondes to trendy purples and blues.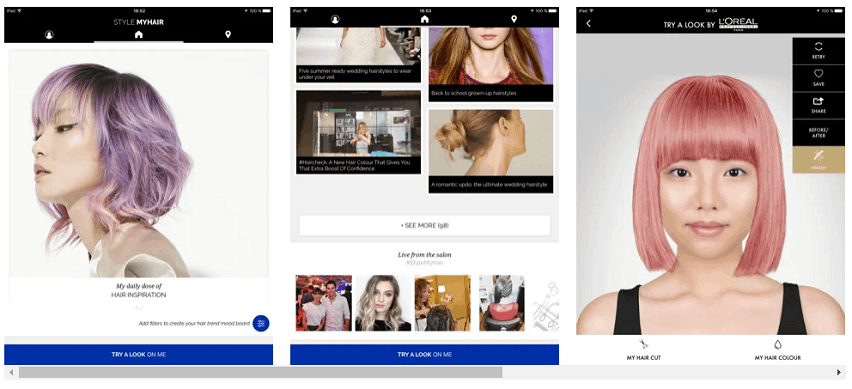 Please take advantage of its 3D technology to see how the new hair color looks on you. You can flip your hair, run your fingers through your tresses, and even move around to check out all your hair. You can save the look if you want and share it with others.
Once you have decided to change your hair color, the app directs you to a nearby L'Oreal professional salon to make your newly created look come true.
Hair Color Dye
Hair Color Dye is an easy-to-use app that allows you to try out unique hairstyles. This app allows you to pick from a wide array of varied and vibrant hair colors to try on your hair. You can expect to see real results.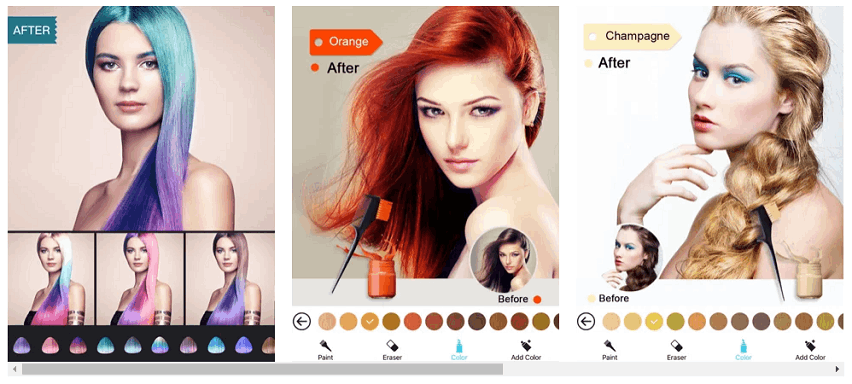 This app has easy-to-follow instructions. Simply upload a photo of yourself and change your entire hair color or color only some parts of your hair by hand. You can also share the results through social media or text messages.
The Hair Color Dye app is only available for iOS users. You can download it for free. However, some colors cost an additional 99 cents via in-app purchase.
Fabby Look
Fabby Look is a hair coloring app that is realistic and fast-loading. It is free to download on either iOS or Android devices.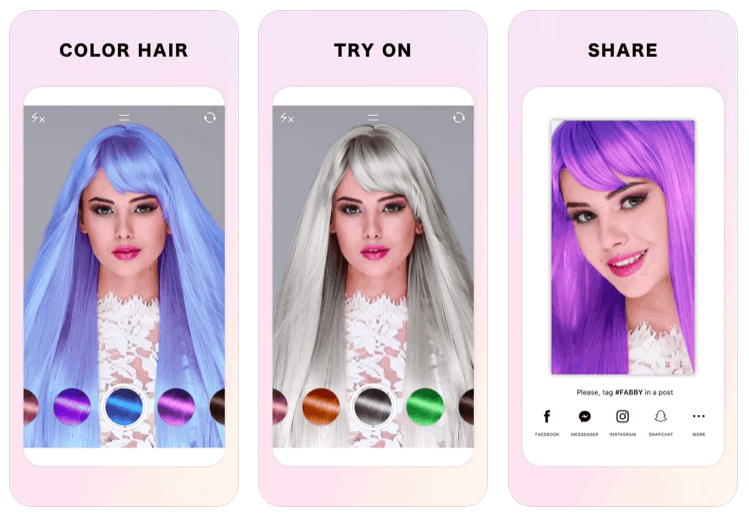 You can experiment with tons of trendy colors such as purple, blue, platinum, and more. Take a look at how the colors match your face using the camera from your phone in real-time or through the photo or video on your phone's album.
This app also allows you to share the look on your Facebook, Instagram, or Snapchat account.
Hairstyle Magic Mirror
Hairstyle Magic Mirror app has a wide range of colors and hairstyles for both men and women. In this app, you can pick a character, either male or female, to style. You can also opt to take a photo or upload a picture of yourself that you want to transform.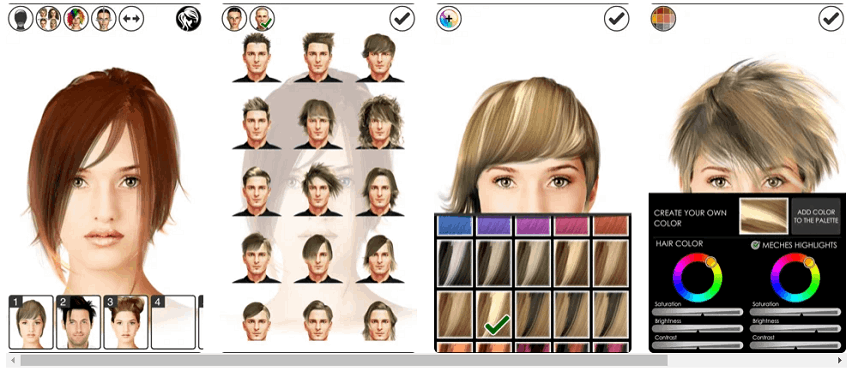 This app has two downloadable versions. You can choose the Lite version in both iOS and Android, which is free, or get the Premium version that costs $4.49.
The paid version has added hair colors, styles, and features, and its facial-detection function works better with improvements on the final result.
YouCam Make-up-Magic Selfie Cam
This app is more than just a hair color changing app. It uses augmented reality to apply hair colors and allows you to check out new hairstyles and how they will look on your face.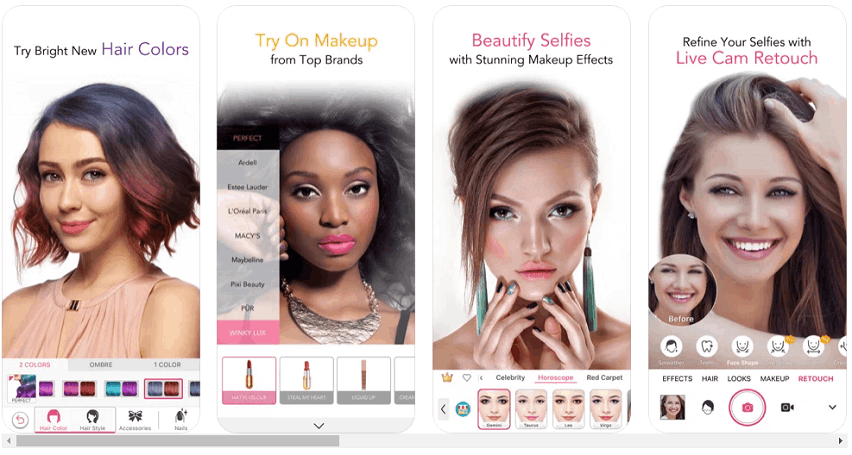 There is a smart facial detection feature that applies makeup looks in real-time or on photos. Furthermore, there are retouching tools to smoothen your skin, adjust your facial shape, and whiten your teeth. You can enjoy over 200 special effects to put on your selfies.
This app is free to use and download in both the App Store and Google Play Store. But, you have to upgrade to a paid version to get access to the advanced features.
Mary Kay Virtual Makeover
Mary Kay Virtual Makeover app offers hair color and hairstyle transformations. You can even apply makeup for your eyes and lips, add accessories. It features one-click makeovers to allow you to try out a whole trendy, seasonal, or unique occasion look.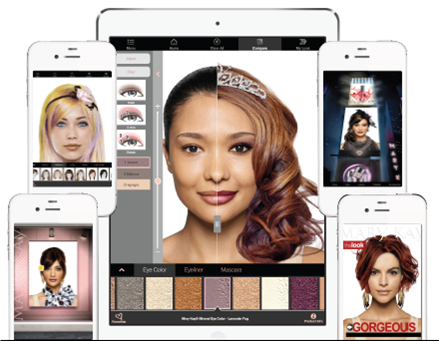 Using this app, you can discover the right makeup products and hairstyles that will turn your dream look into a reality. You can also buy the products you want with just a few clicks in the app.
Download this app on your iOS or Android device for free. Have a fun experience trying out different looks and share them with your family or friends over social media.
Hair Style Changer
Hair Style Changer is an app for visualizing hairstyle and hair colors for men and women. You can even cut your hair into a style by touching the photo or add accessories to your look. The app also lets men and boys try out new beard and mustache colors.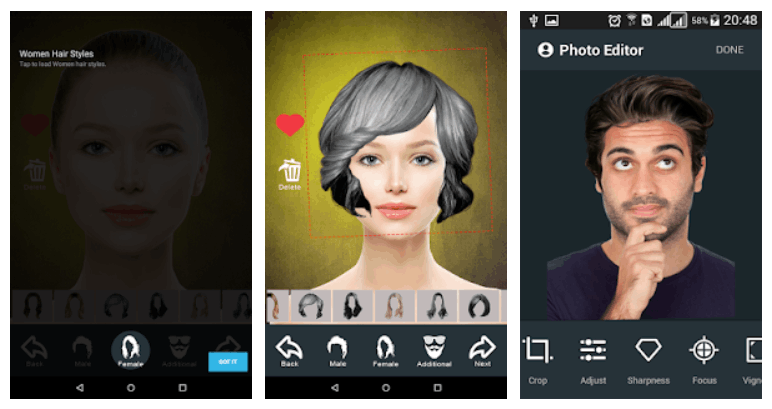 This app allows multiple social media platform sharing so you can post or send your favorite looks for others to see.
Download the app for free on both iOS and Android.
ModiFace's Hair Color
ModiFace's Hair Color app is exclusively made for hair color experimentation. This app focuses on the entire hair color look. However, it does not apply to color highlights, tips, or bangs.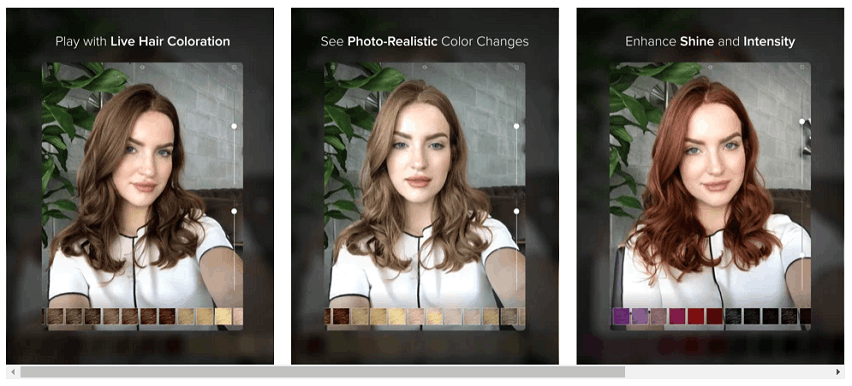 Try the colors in your hair in real-time or upload a picture of yourself. The app can recognize your hairline quickly without you having to outline the shape manually.
ModiFace's Hair Color is a user-friendly, free app in both the App Store and Google Play Store. Unlock more hair color choices, avail of its premium version for $1.99.
InStyle Hairstyle Try-On
InStyle HairstyleTry-On app offers its users more than 500 different hair colors and hairstyles to explore. Find the best fit for you by uploading your photo, then the auto-detect technology of the app will accurately identify your face shape.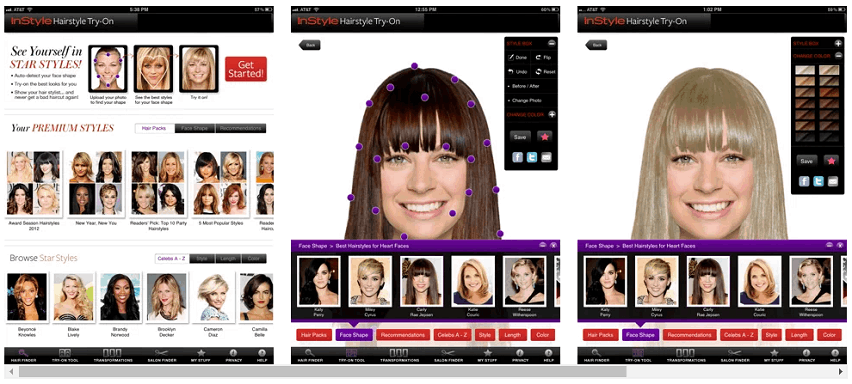 This app allows you to see how you will look with a celebrity's hair color and haircut. Pick your favorite celebrity and match your photo. If you want the results, why not get the same color and style on your makeover.
You could receive personalized recommendations if you upgraded to the premium version. Download the app in the App Store to get started.
Hair Zapp
Hair Zapp is originally made for hairstylists. This app is available in the App Store, and Google Play Store comes with a free and premium version ($4.49). The free app features over 500 unique hair color and hairstyle combinations, while the premium app offers more than a hundred additional varieties.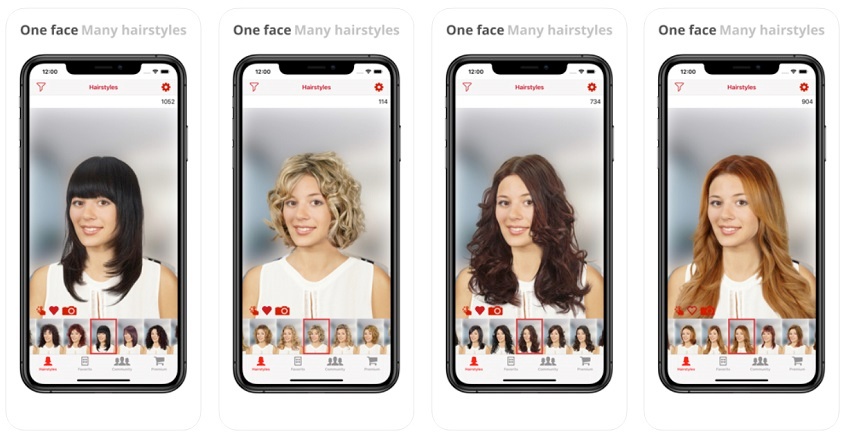 You can compare your favorite looks side by side to decide which one is better. On the other hand, you can join the Hair Zapp community to get some advice.
Moreover, this app can be upgraded for stylist-specific features and client-management tools, perfect for hairdressers.
Black Hair For Women
The Black Hair for Women is an iOS-only app specially developed and designed for black women's hair. The basic version of the app is free, but you can upgrade it for $2.99 to eliminate ads.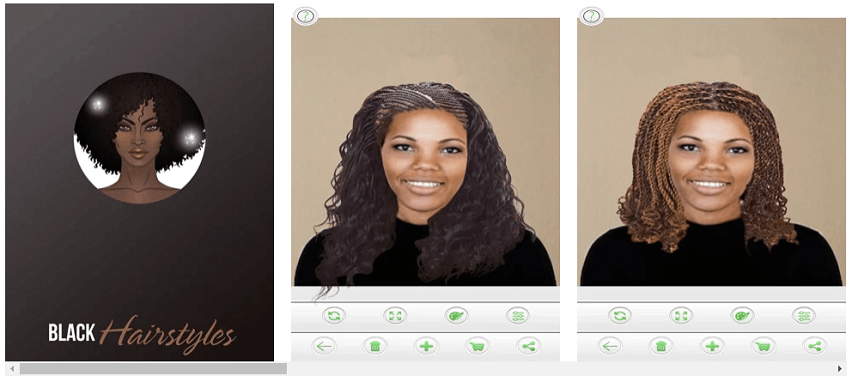 The app has a user-friendly interface giving you the ability to try on all kinds of hairstyles, haircuts, and hair colors.
Simply upload your photo, choose from the available options, save and share with friends.
Hair Color Changer Real
Hair Color Changer Real app lets you explore a new look every day. It also allows you to save the results to your phone gallery or share them with your family and friends via email.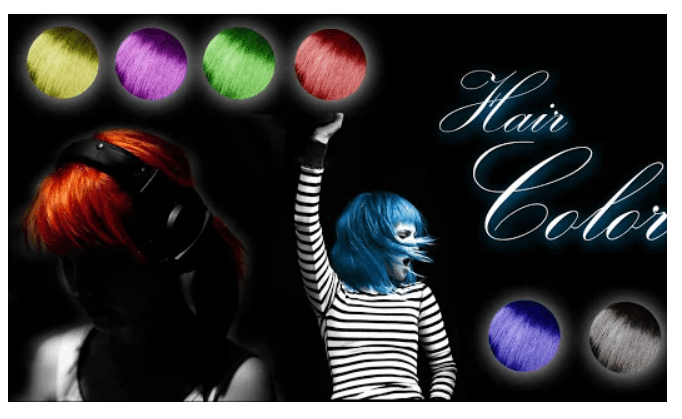 To use this app, brush your hair first, then take your own photo. Afterward, choose a color you want from the variety of hair color options. This app features over 40 pre-defined hair colors with different shades of blonde, brown, and red.
You can even use several controls for hair color intensity, hair smoothness, and hair color brightening. You can download the app in Google Play Store for free.
Hair Color Booth
Hair Color Booth app can quickly transform your hair color digitally. It consists of a wide range of realistic hair colors that are adjustable to create any combination accurately.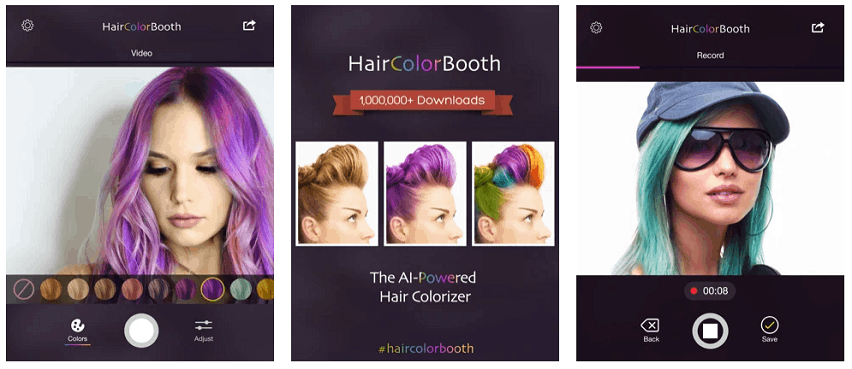 Once you have completed your hair makeover, you can simply save your photo, or you can share it on your personal social media account.
This is free to download in the App Store with some in-app purchases to access more features.
Conclusion
Mobile apps created for hair color changing are beneficial for those who want to do a test drive before getting a hair color makeover.
The list above is a guide to some of the many hair apps you can download and use on your phone for free.
Spanish version: Aplicaciones gratuitas para cambiar el color del cabello
Last updated on October 13th, 2023 at 07:33 pm