Unlike the previous generation, today's teenagers grew up with easy-access Internet connections and smartphones. It makes sense, therefore, that teenagers are inseparable from their phones. But what exactly do they do on their phones for hours on end?
We looked into which apps are most used by teenagers and found out that most of their downloaded mobile applications are primarily for socialization and entertainment. Read on to find out which apps made it onto the list of apps most used by teenagers.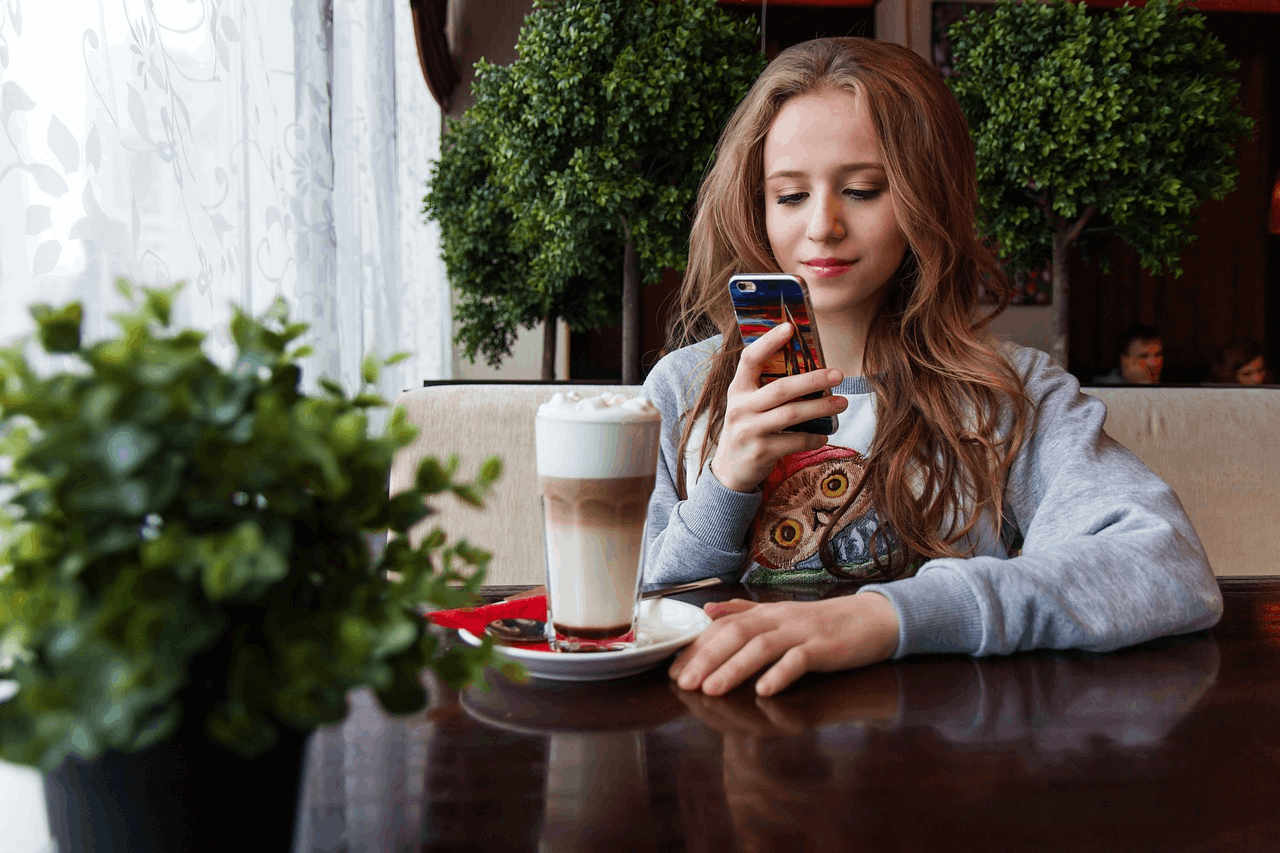 TikTok
Formerly called Musical.ly, TikTok is the immensely popular app responsible for many videos that go viral on the internet. It is a social networking platform that focuses on short videos ranging from 30 seconds to 3 minutes.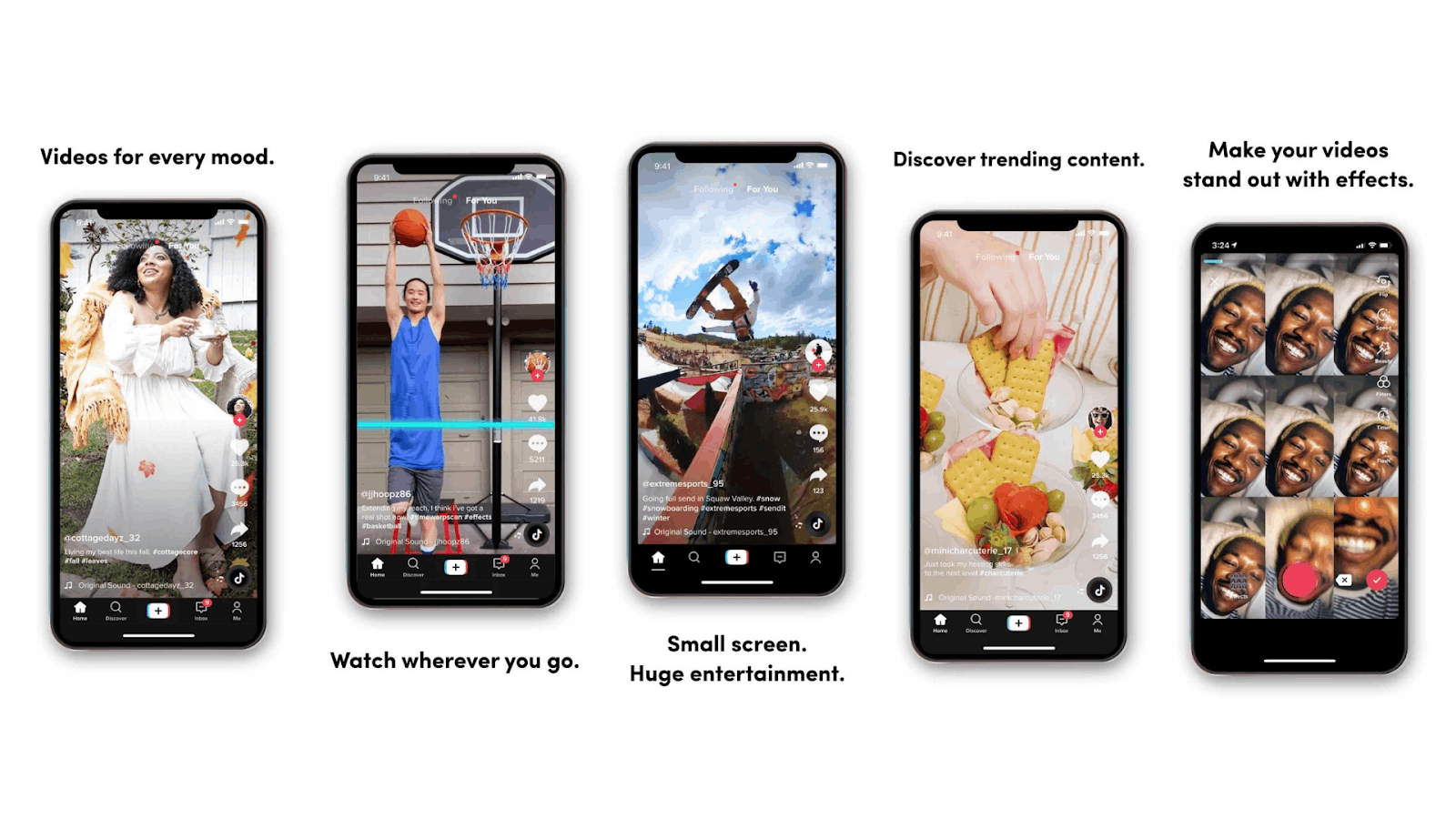 Users also treat TikTok as a micro-vlogging application and a platform to create their content. For those who use TikTok to watch videos, the mobile application also personalizes the users' video feeds according to their activity on the app.
The mobile application is responsible for viral videos like hacks, dance challenges, and even memes that users worldwide try out. To hop on the phenomenon that is TikTok and be in the loop on viral videos, you can download the app at the Google Play Store and the Apple App Store.
YouTube
Another video-sharing platform emerged as one of the apps most used by teenagers. YouTube was established in 2005 and has since retained its popularity as it is a part of the online content consumption of teens today. A testament to YouTube's popularity would be its generation of a new kind of celebrity called YouTubers.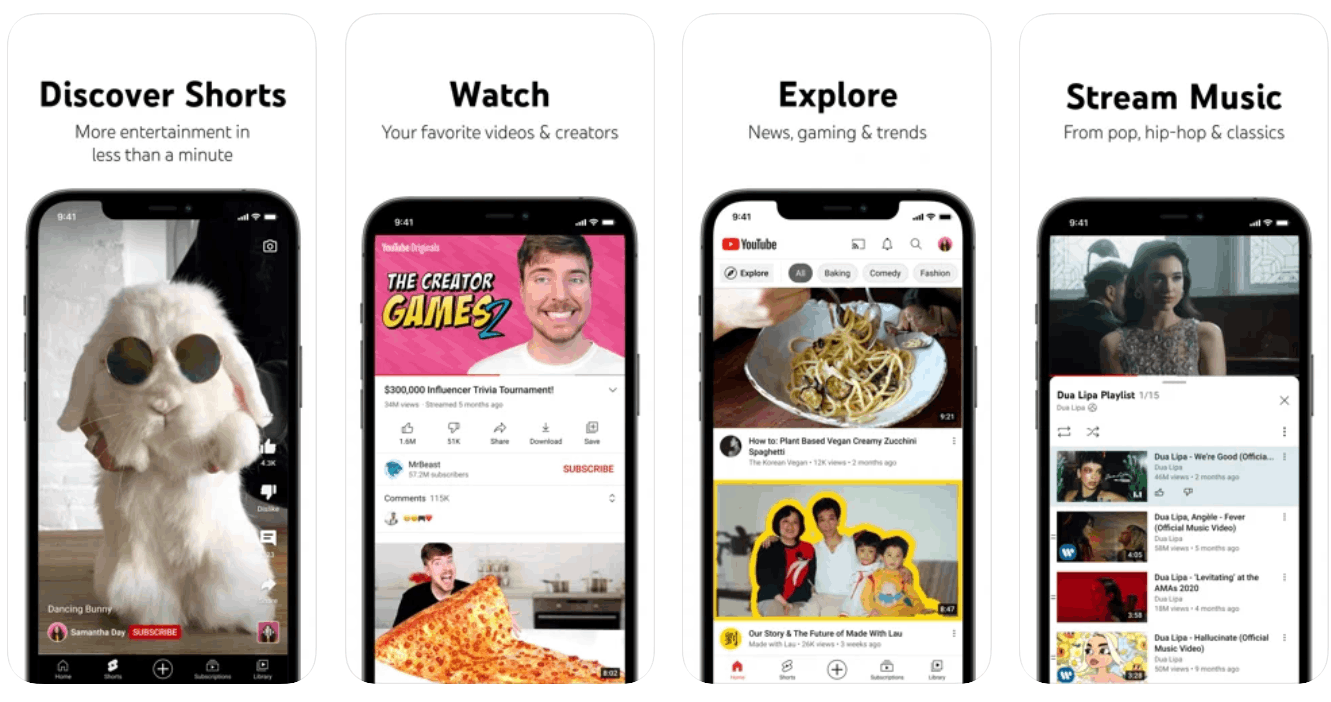 The app allows users to view videos uploaded by other users, watch live streams, and even upload content of their own. Users can also choose to subscribe to channels they find most interesting and have videos suggested to them based on the videos they watch and search.
Practically any type of video can be found on YouTube — including educational videos, animal videos, music videos, vlogs, ASMR, and more. You can watch all sorts of videos on your phone through the YouTube application which is downloadable from the Google Play Store and the Apple App Store.
Reface
Teenagers know how to amuse themselves, which is proven by the mobile application, Reface. Among the list of apps most used by teenagers, Reface allows its users to place their faces onto popular videos or GIFs and share them on social media platforms.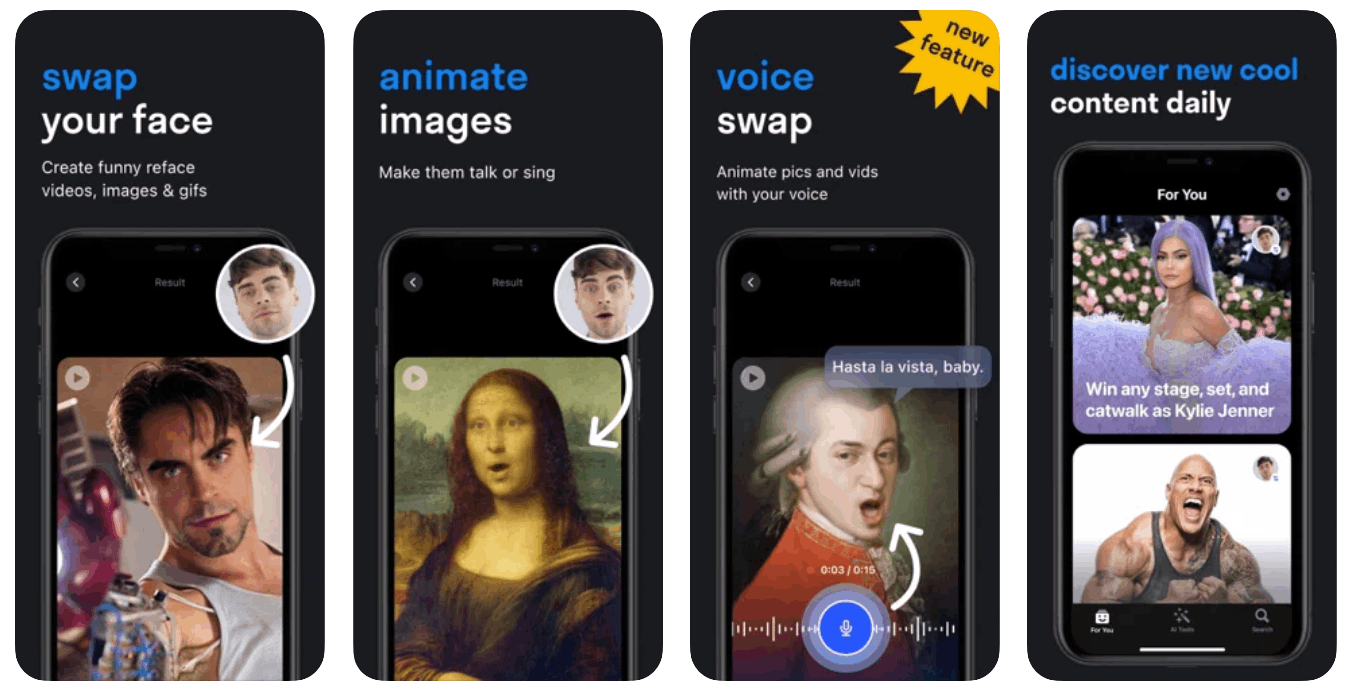 Formerly known as Doublicat, Reface is immensely popular among teens as it is often used to make memes or parodies out of existing videos and GIFs. However, many people have expressed concern about privacy because the app can track users' facial structures, and these can be used to make deepfake videos or impersonate others.
Regardless, teenagers' fondness for Reface is undeniable due to its fun and humorous nature. It has a certain playfulness that appeals to their generation. If you want to recreate memes or have fun with its features, the Reface mobile application is available for download from the Google Play Store and the Apple App Store.
Snapchat
Connecting to people online is a common theme among the apps most used by teenagers. Snapchat, for instance, is an instant messaging mobile application initially launched in 2011.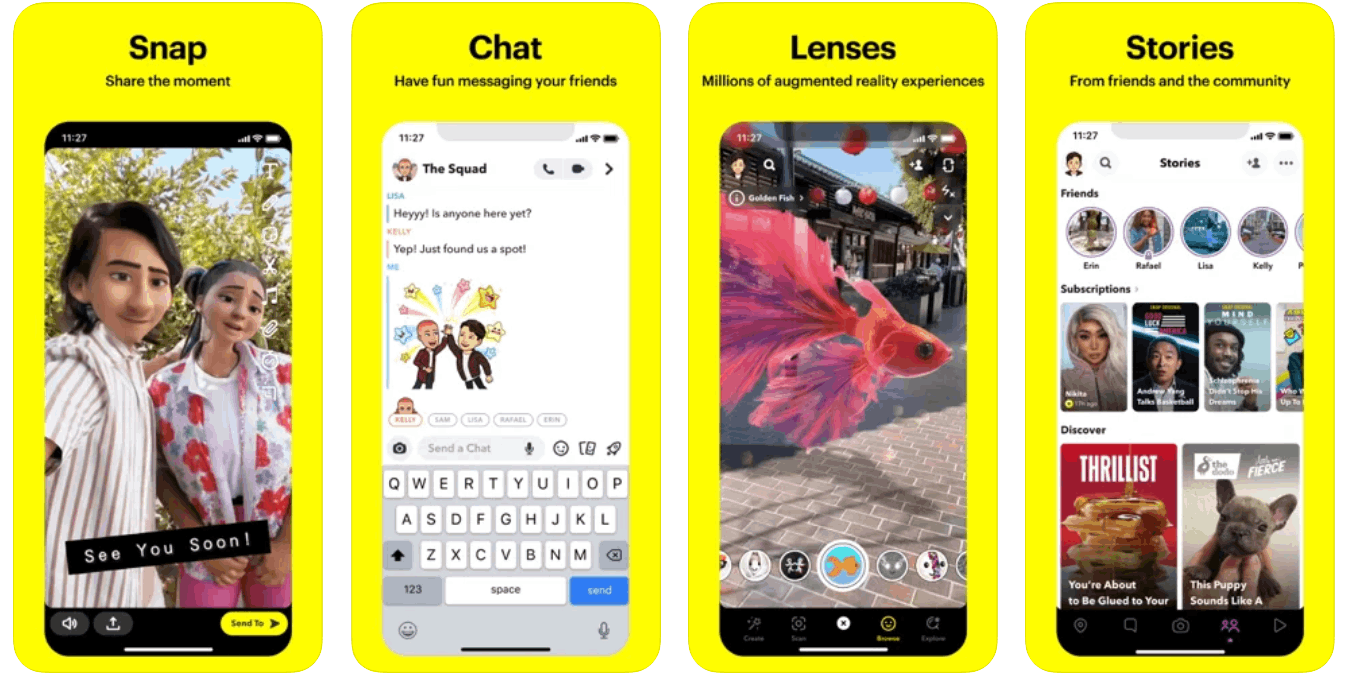 It popularized the "Stories" feature later adopted by other social media platforms. This feature lets users upload images or videos that are viewable to their contacts for 24 hours.
Another one of Snapchat's key and trailblazer features is that it allows users to send images, videos, and messages that can only be seen by their contacts for a limited amount of time before it disappears indefinitely. If these ephemeral features of Snapchat appeal to you, you can download its mobile application via the Google Play Store and the Apple App Store.
Instagram
Another one of the mobile applications most used by teenagers that has stood the test of time is Instagram. First released in 2010, Instagram is one of the top photo-sharing social media platforms that exist. It allows users to share photos with pre-approved followers, search for locations, and explore trending posts.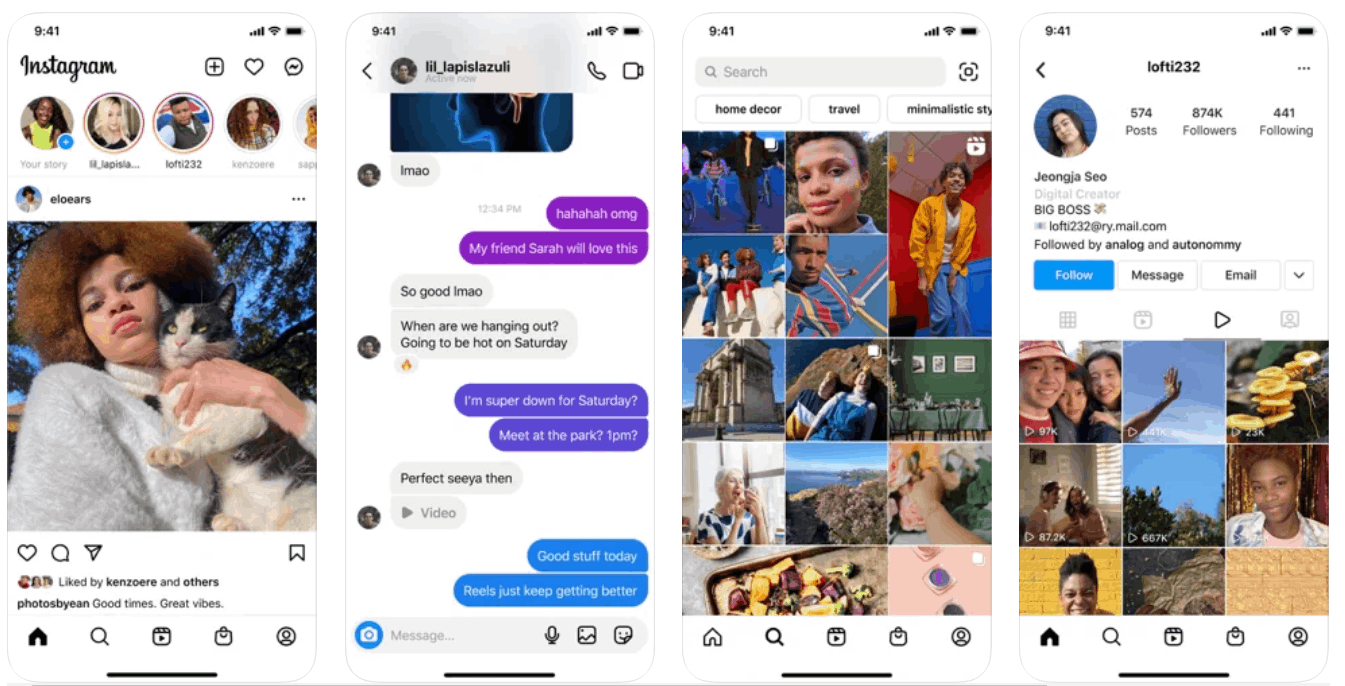 In recent years, Instagram has been one of the main platforms used by social media personalities and influencers. Since its first release, Instagram has added several features such as messaging, Stories, and the ability to upload multiple images.
If you want to share your photos or look at those taken by others, you can download Instagram's mobile application through the Google Play Store and the Apple App Store.
Discord
Consistent with the social function of apps most used by teenagers, Discord makes this list. Discord is a digital platform that offers communication through various media such as text, video, and voice. Its distinctive feature are its communities called servers, where users can interact with each other.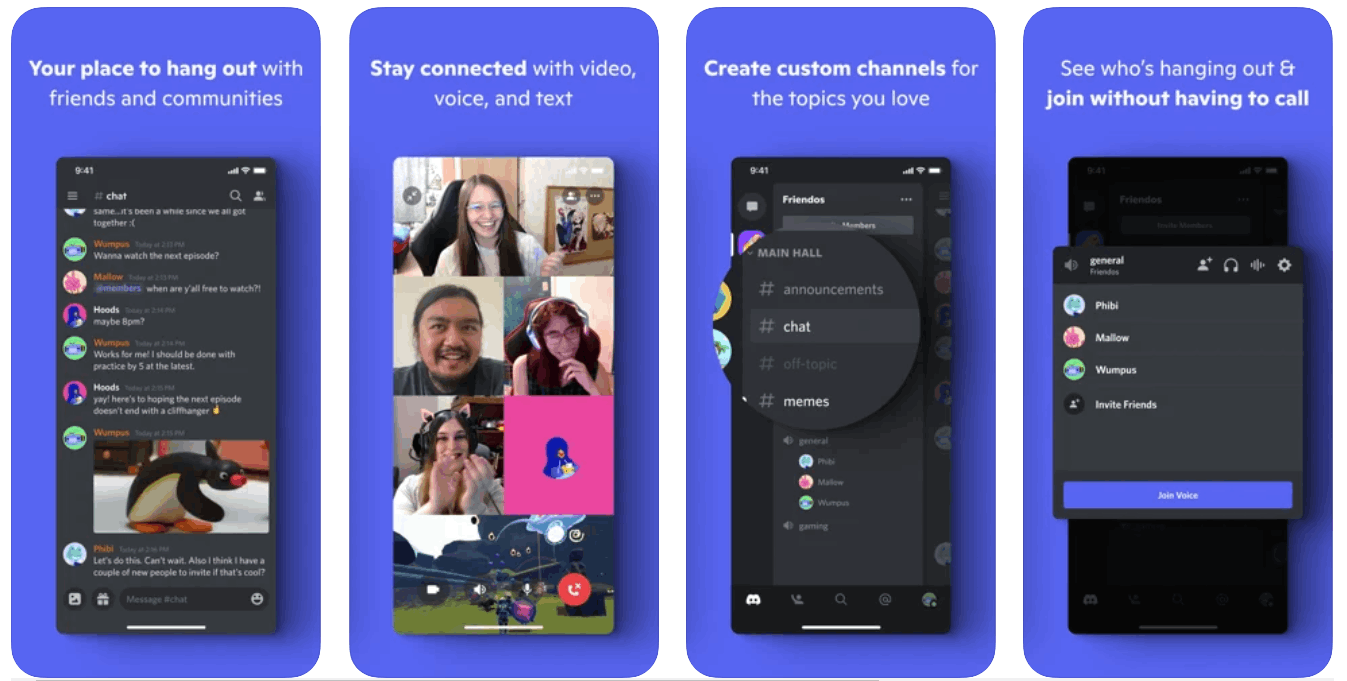 First released in 2015, Discord has also been used by gamers, people with shared interests, and even teachers. Its community-centric nature sets it apart from other platforms of its kind. Topics among servers include music, film, gaming, politics, mental health, and many more.
If you are interested in interacting with like-minded people, try out Discord and download it on your mobile phone through the Google Play Store or the Apple App Store.
Ask.fm
Anonymity is one thing that encourages people when they interact with others online. At the same time, there are questions that we might be too shy to ask. This is what Ask.fm counts on.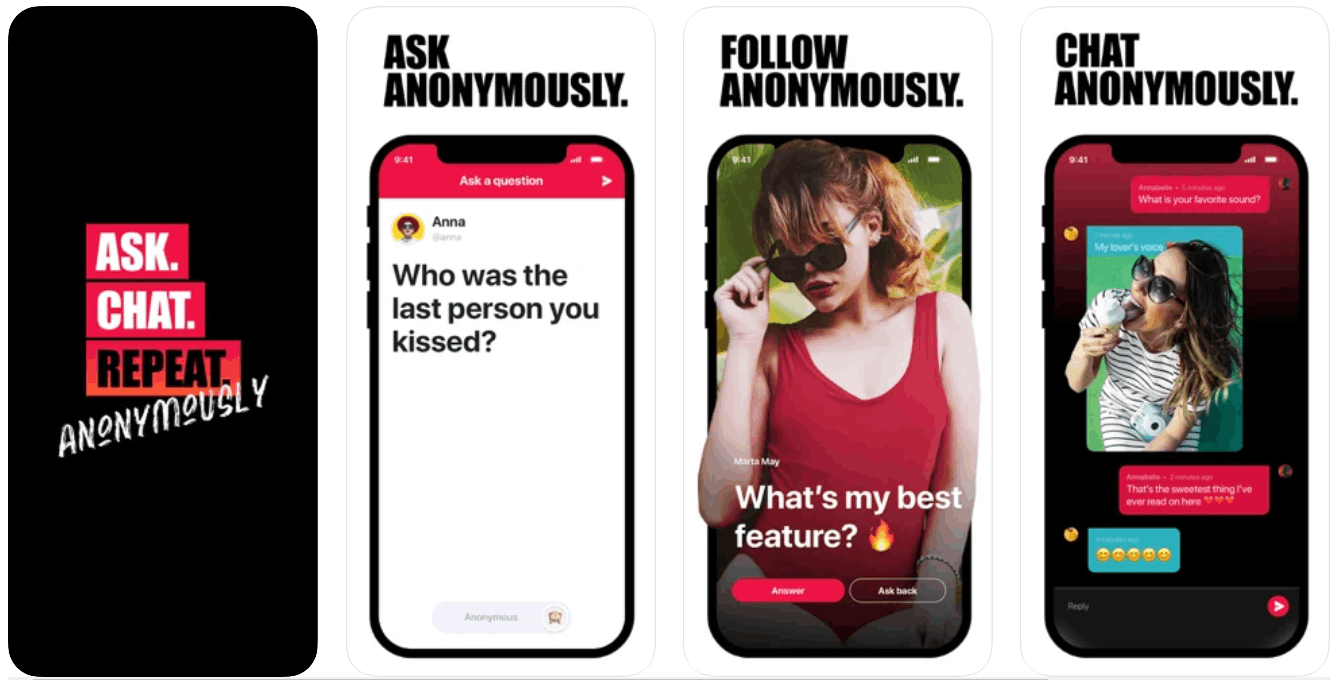 Ask.fm is a social networking platform whose main feature is asking other users questions anonymously. Aside from its namesake feature of asking questions, Ask.fm also offers chatting and following other users–also anonymously. Users also have profiles where the questions they answered are posted.
Recently, the mobile application also started offering an Ask.fm coins feature. Here, users can tip other users whose answers they find amusing or interesting. If you are interested in asking and answering questions while your identity remains a mystery, you can download Ask.fm via the Google Play Store or the Apple App Store.
VSCO
A photo-editing application has made it to the list of apps most used by teenagers. VSCO is a mobile application where users can enhance their photos through editing tools and presets. This app is one that teens use in tandem with their social media accounts.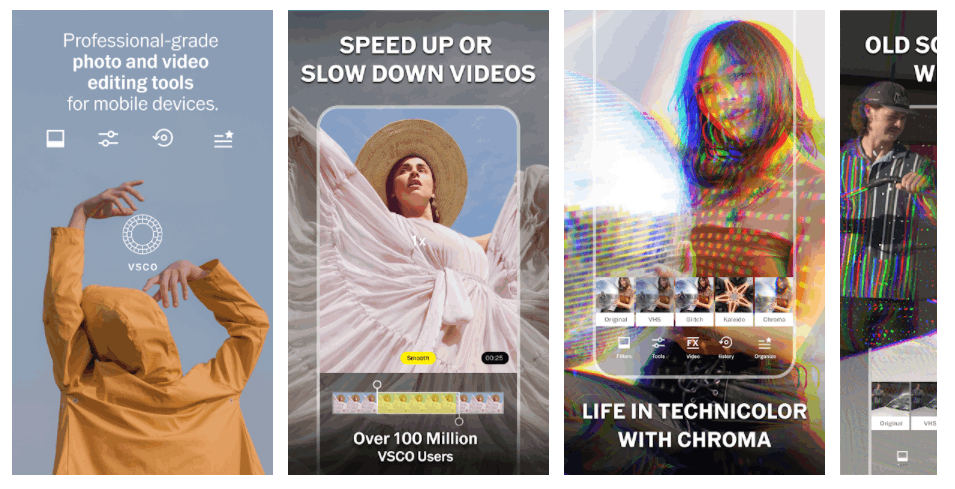 Formerly known as VSCO Cam, the mobile application has been around almost as long as Instagram. Having established its reputation as an easy-to-use mobile photo-editing application, VSCO has even partnered with leading photography companies like Kodak, Fuji, and Agfa for presets.
Now, VSCO also has video-editing features and is known for its classy presets and user-friendly interface. If you want to up your Instagram or selfie game, try downloading VSCO on the Google Play Store or the Apple App Store.
Roblox
A gaming platform has also made it on the list of apps most used by teenagers. Roblox is a mobile application that allows users to play games and even create them. The app is free to install on phones via the Google Play Store and the Apple App Store and includes in-app purchases should the users want upgrades.

The mobile application was released in 2006 for desktop and 2012 for mobile and started as a relatively small company. It has since grown and is even considered by the Apple App Store as the #1 mobile application in the Adventure category.
Aside from encouraging creativity by allowing users to create their own games, Roblox also has communication features that allow users to socialize and chat with other players on the platform. So, if you are in the market for an adventurous gaming experience, try out Roblox.
Wattpad
Considered #3 in the Apple App Store's Book category, Wattpad has maintained its popularity as an online reading platform since its establishment in 2006. Wattpad is a platform that allows users to read and even write stories of their own.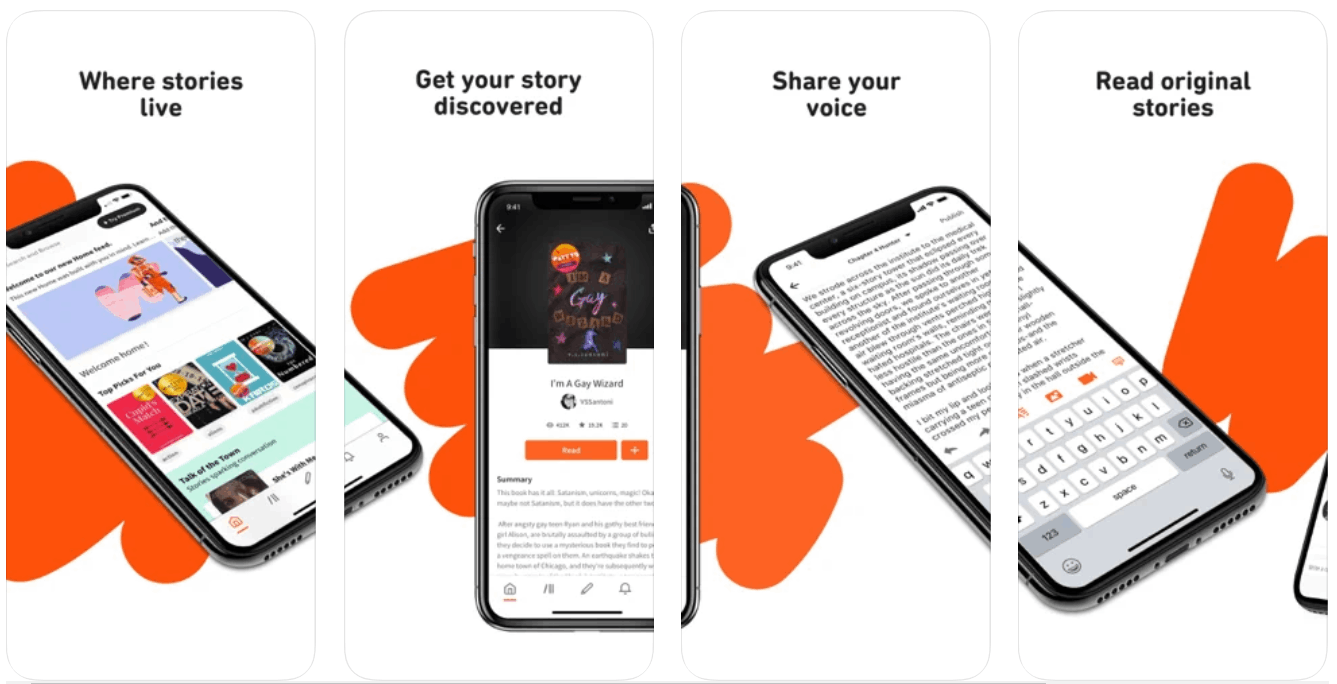 The online reading platform is home to a wide variety of story genres, including original romance fiction, sci-fi, and, of course, fan fiction. There have even been Wattpad writers whose stories were discovered and published, some were even produced as a TV Series like "The Kissing Booth."
Wattpad serves as a great platform for aspiring writers, or even just individuals who write for fun. Users can also interact with other users with whom they share the same interests. If you are into reading stories or are itching to write one of your own, try out Wattpad available on mobile through the Google Play Store and the Apple App Store.
Conclusion
It is no wonder that today's teenagers have been dubbed as digital natives because they have found interesting ways to socialize and connect with others through their phones. They can keep themselves occupied through a device that fits in their palms with the help of these mobile applications.
While these are only some of the apps that teenagers most use, we can see that their generation uses their mobile phones for socialization, entertainment, or a mix of both.
Last updated on December 28th, 2022 at 07:03 pm