Have you ever wanted to put a WhatsApp link on Instagram or other social media platforms but fear that putting your telephone number out there in public for everyone to see is a bad idea? It is a bad idea, but he way. Fortunately, you're not the only one who feels that way.
A lot of users would prefer to use WhatsApp as their main form of communication rather than Instagram (IG), and many have already found the perfect solution through WhatsApp link generators.
With WhatsApp link generators, you can create links that redirect users to contact you instantly with just one click. Learn more about this amazing technology, discover how to do it, and learn some tips and tricks to maximize your channels in the article below.
Putting WhatsApp Links on Instagram
Benefits of Putting WhatsApp Links on Instagram
Putting a Direct WhatsApp Link onto Your Instagram Profile
Tips and Tricks for Adding WhatsApp Link on Instagram
Key Features of the WhatsApp Link Generator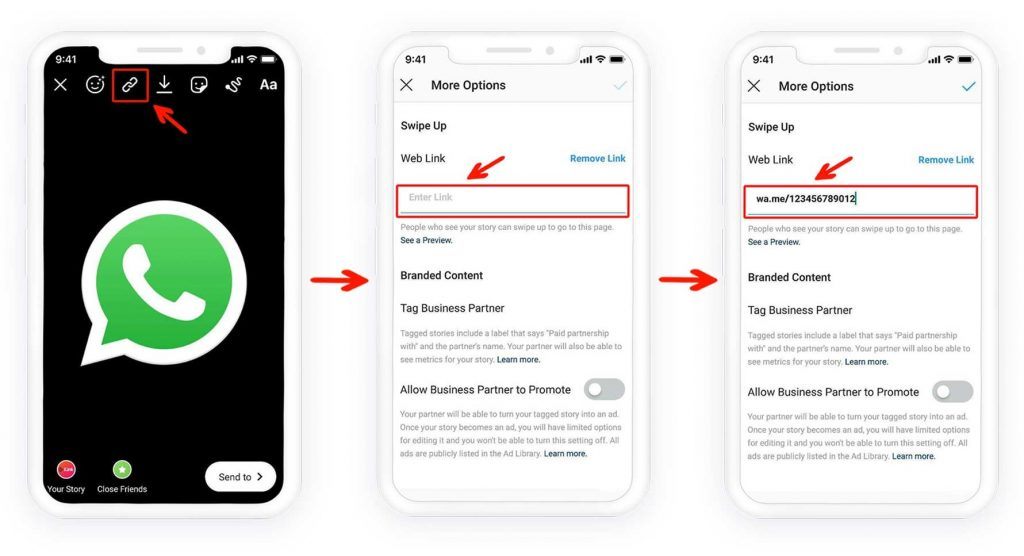 Putting WhatsApp Links on Instagram
Before diving into the how-to of putting WhatsApp links on IG, it's important to learn why you should be prioritizing WhatsApp links on IG in the first place.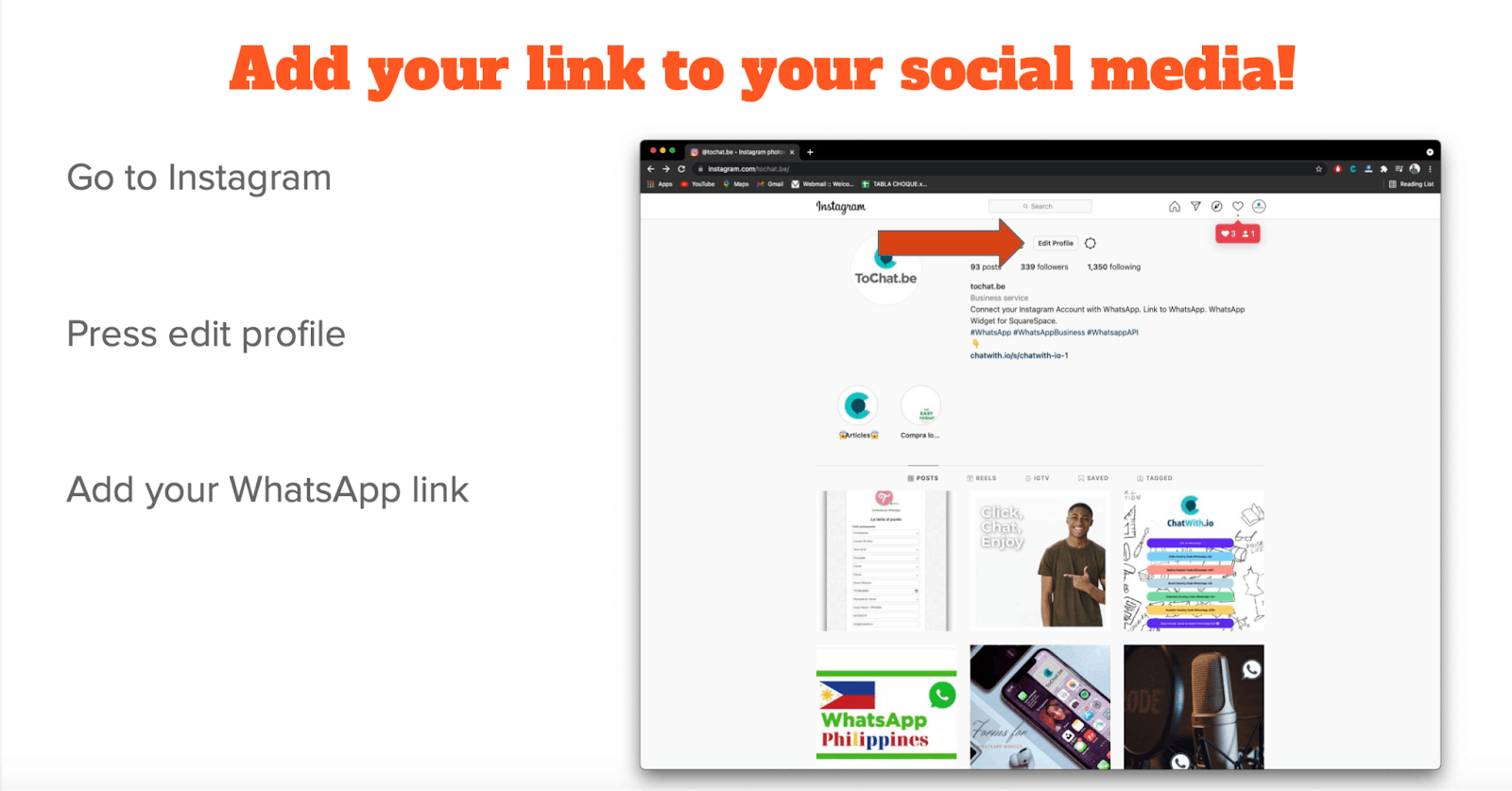 Because Instagram only allows one link to be placed on an IG profile bio, many users struggle to decide which link they should put there.
Instead of adding your website, email, or other social media platforms, consider adding your WhatsApp account.
This way, your followers can instantly reach you, and you can seize the opportunity to talk more about what you want from them. You can also use communicating over WhatsApp to help build a connection with your followers.
Better for Your Brand
Compared to simply adding your website where they can leave a message through a form or contact you via email, putting your WhatsApp link redirects them to an opportunity to receive a response from you instantly.
This is important if you want to strike while the iron is hot, so to speak, and maintain their attention while it is still fresh.
A lot of people use both WhatsApp and IG in order to reach a lot of people. While the two platforms' uses vary from each other, they can both be used to your advantage.
Benefits of Putting WhatsApp Links on Instagram
Adding WhatsApp links to your Instagram profile allows your users to contact you easily on WhatsApp without you revealing and posting your number publicly. Using WhatsApp link generators protects your phone number.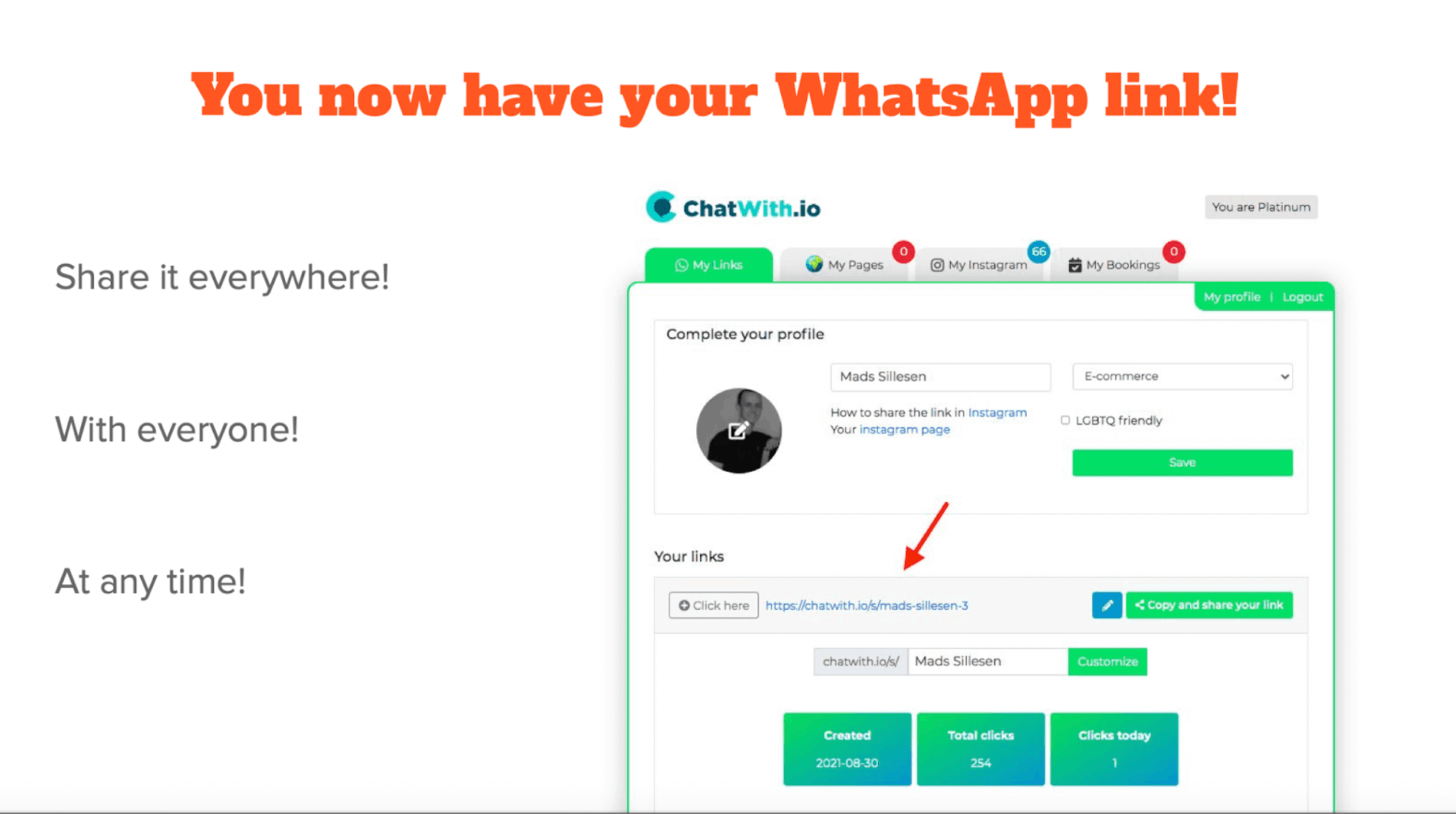 Some people may ask, "Why bother redirecting users to WhatsApp when I can just use the Instagram chat feature?" The answer to this is simple. WhatsApp has a far better messaging and chat feature than the one on Instagram.
If you are a business owner, you will love the strategy of linking directly to WhatsApp because it means you no longer have to resort to the IG chat feature to do most of your marketing on IG.
If you currently do all your business on WhatsApp, this is the perfect solution for you to optimize your customer service without compromising marketing and advertising. Moreover, you make the process of contacting you a lot easier for your customers too.
Maximizing Your Communication Channels
Instagram is perfect to pair with WhatsApp because of IG's ability to attract followers and customers through the visual content you put out using the platform.
As you gain more and more followers with your engaging Instagram content, you also have the opportunity to connect with them through a single link.
Turn that massive pool of followers from IG into profit or action by encouraging your followers to connect with you on WhatsApp.
Putting a Direct WhatsApp Link onto Your Instagram Profile
The quickest and easiest way to integrate your WhatsApp link into your Instagram profile is through the Instagram bio. This way, everyone who visits your profile will be able to see your WhatsApp link without having to scroll through your feed or view your IG stories and highlights.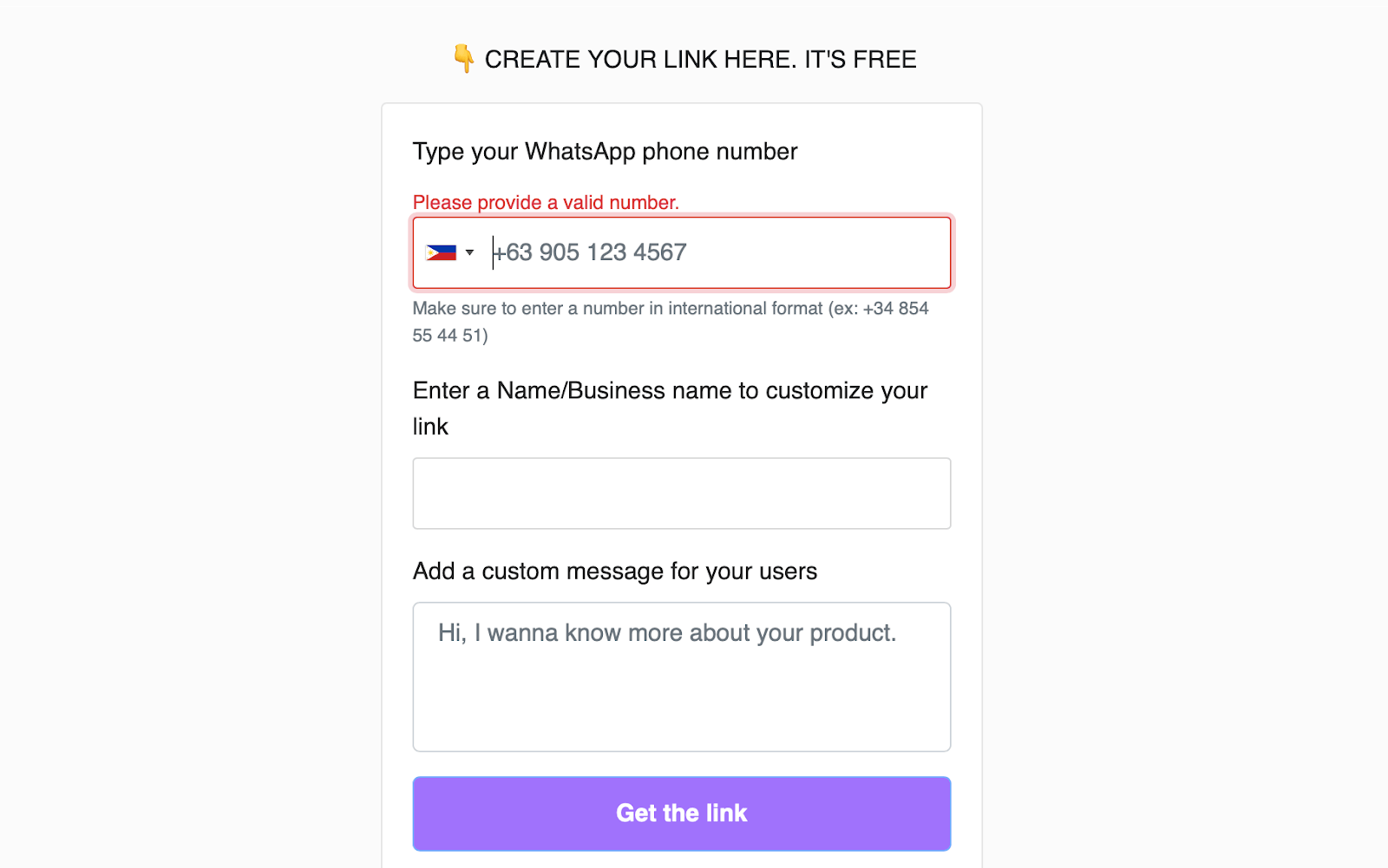 Before pasting your link on your IG bio, you will first need to head to a WhatsApp link generator such as ChatWith.io.
From there, you can type your WhatsApp phone number, your name, or the business name that you want to appear on the link, as well as a custom message that will appear for anyone who clicks the link.
Be sure to add the correct country code from the drop-down box beside where you enter your phone number on WhatsApp. Remember to enter a number using the international format, too.
Editing Your Bio
Once you've generated your link, copy it by pressing Ctrl-C or Command-C for Mac users, and go to your Edit Profile page on Instagram. Paste the link by pressing Ctrl-V or Command-V in the area for adding a website link.
You may also opt to include some additional information in the bio and maybe even mention that they can click the provided link if they want to reach you on WhatsApp.
When people click on the link, they will be redirected to a page where they can instantly start a conversation with you on WhatsApp.
Tips and Tricks for Adding WhatsApp Link on Instagram
One common error people make when trying to paste WhatsApp links to Instagram is that they paste their WhatsApp link to the bio instead of the field for website links.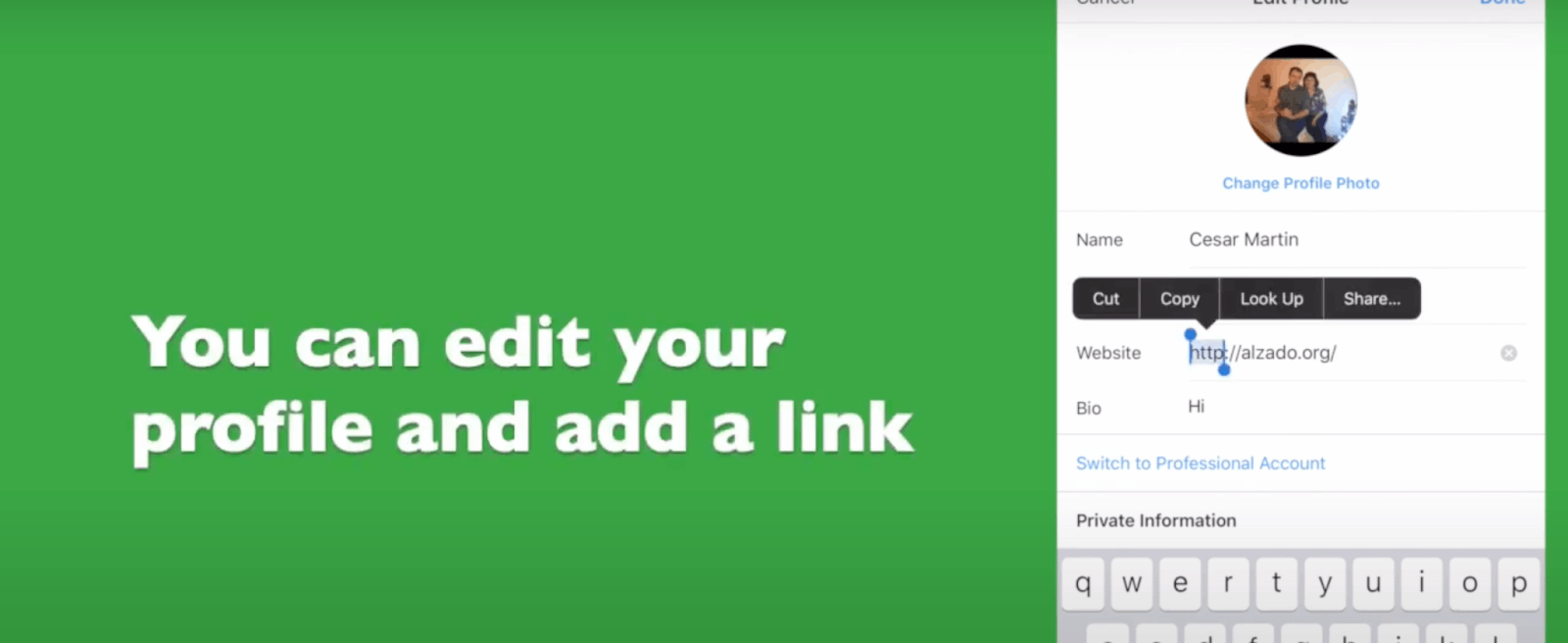 Links are not clickable when they are pasted into the bio field of the profile. If you do this, your link will be useless. Be sure to paste the link on the website field, which is located above the field for the bio.
If you have less than 10,000 followers, you cannot add a WhatsApp link to your IG stories. If you do not have a paperclip icon on your IG story features, you cannot add links that tell people to "Swipe up to go to link."
You can still add URLs, but do not expect your viewers to be redirected to the web page since they appear as text. You can use another link generator to make your link easier to remember and memorize so that users can easily type in the link on their web browsers.
Using a URL Shortener for Your IG Stories
Suppose you have an IG account that doesn't let you post links. You might want to try shortening your links to something easily recognizable and memorable using generators such as bit.ly.
After generating a WhatsApp link, you can copy that link and paste it onto the bit.ly link generator and customize your URL.
For instance, if your generated WhatsApp link appears as "tochat.be/marquinton-residences-reservation", you can transform that link into "bit.ly/marquinton" to make it shorter and easier to type in manually.
Key Features of the WhatsApp Link Generator
With ChatWith.io, you can also track whoever clicks on your WhatsApp links. Aside from being a WhatsApp link generator, this service also provides real-time statistics on who clicks our WhatsApp links.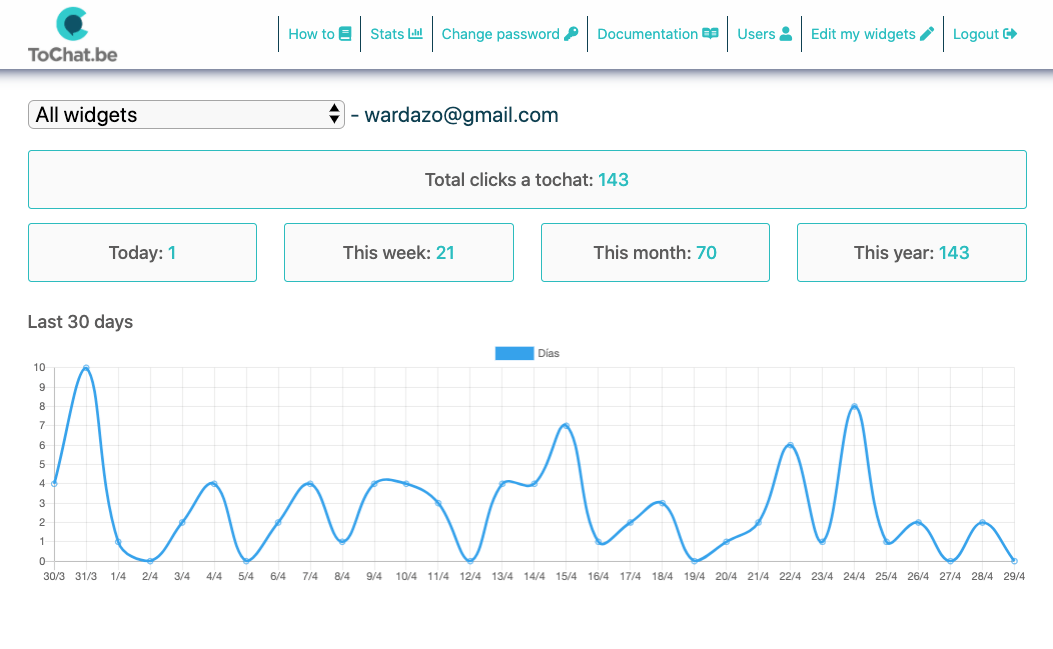 To access this, you will have to create an account with ChatWith.io. It's completely free, but you get access to premium features when you pay $20 a year.
With the free version, you can control and track the performance of your WhatsApp links/widgets. With the premium version, you can manage unlimited links/widgets.
The tracking service shows the number of clicks your link gained for a year, a month, a week, and a day. This is a great feature if you are concerned with tracking the reach of your link to your followers.
Personalizing Your Links
If you aim for advanced customization and personalization, you can customize the design and elements of your link/widget's appearance using the CSS programming language.
This is an easy solution for people who want to match the redirected web page to their company's branding. Go to the Settings tab of your account on ChatWith.io.
Write your custom CSS on the field provided under the settings on Auto Popup and Auto Popup Delay. There is no limit on the code length you can write, so you can create something unique or matched perfectly to your branding.
Conclusion
Placing WhatsApp links on Instagram has many uses and benefits. With the help of link generators, your privacy is protected without compromising the convenience of reaching you and your brand or business with just one link. Communicating with you through the most-used messaging platform in the world has been made easier with link generators.
Moreover, the tracking function of link generators is also seen as a bonus function that helps brands and companies in their decision-making, advertising, and branding. Whether you're a small business owner or a normal IG user who wants to direct your Instagram messaging to your WhatsApp account, link generators will do the job for you!
Last updated on May 18th, 2022 at 12:01 am