Learning guitar has never been easy until now with the Justin Guitar Power Lessons App for Beginners. This application is recognized globally and hosts many lessons for guitar players and learners, which breaks down the basics of the instruments and has you strumming to a tune in no time.
For the first time, free guitar lessons are made available for guitar lovers, which offer step-by-step lessons that cover everything, including guitar tabs, guitar chords, and more. Unlike any other guitar teacher, Justin Sandercoe's methods are the most effective and logically structured, helping to learn and play guitar songs with easy-to-follow play-along style lessons.
Details of The Application
In the past days, every beginner guitarist would have to buy music books and hire a guitar teacher for proper lessons, which would only have limited information and techniques depending on the teacher's knowledge, music taste, and skill.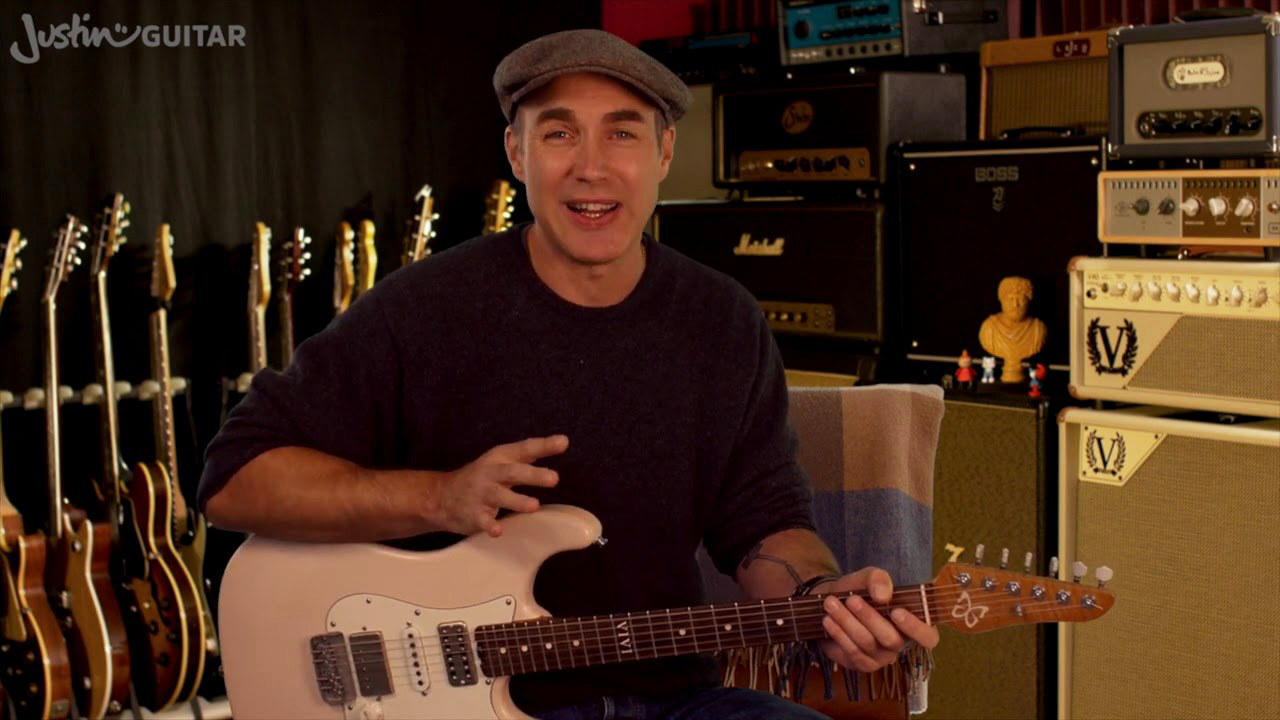 These methods made the journey more difficult and time-consuming and made a huge hole in the beginner's pocket, which became very discouraging and caused many newcomers to back out. The entirely composed and ultimate experience Justin Guitar Power app will help you learn to play guitar songs by making available features such as guitar tabs and guitar chords while playing real guitar songs.
It doesn't matter whether you have been playing a real guitar for the first time or you've been strumming the strings for a while! It helps you learn hundreds of different techniques by offering innovative guitar exercises, a fantastic collection of various real guitar songs, and guitar chords.
How To Use?
Justin Guitar app features a user-friendly interface with an interactive dashboard that helps the user navigate the lessons and watch all the available videos available for practice. Other than that, multiple different customization options will make the guitar lessons much easy for beginners. Justin Guitar application has its lessons divided between stages ranging from stage 1 to stage 9.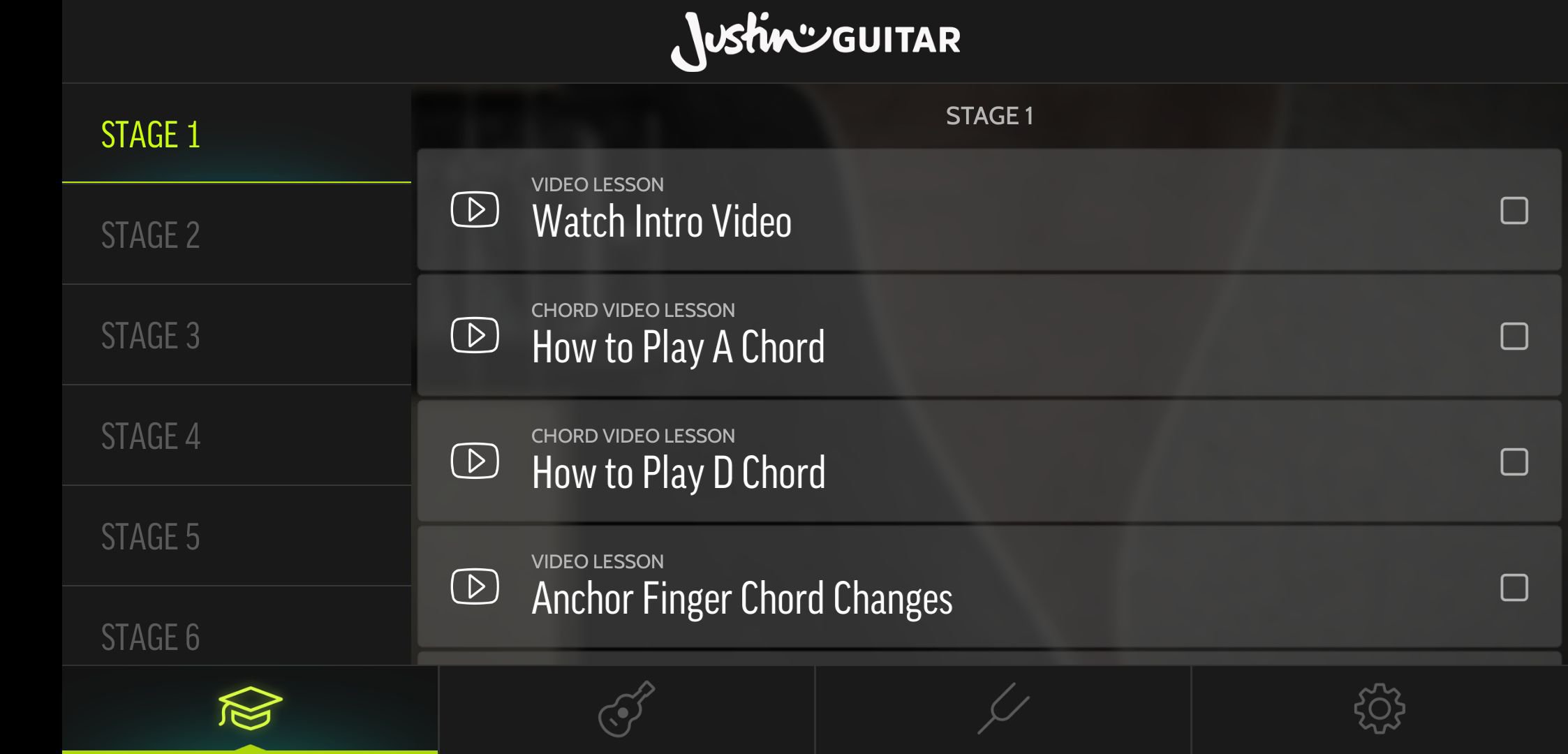 Each step is comprised of videos with progressive lessons and skills to learn. The stages can be seen on the left panel; scroll down from 1 to 9. The songs available in the Justin guitar catalog are categorized according to the stages, which explain its difficulty to learn.
A song that belongs in the stage 1 directory will be much easier to learn and master on the guitar than the music in the stage 9 directory. You can also select a song of your own choice by merely pressing on the search icon on the top left corner and typing down the song's name.
Other Information About the App
Once you select a song, the app will direct you to a new screen that will display the upcoming chords and the song's lyrics, and the strumming pattern. A slider option with a toggle can also be seen on the screen's left side, which will help control the song's tempo. This feature can be used if the guitar player feels that the music is too fast or too slow.
Another option is available to ad percussion and the melody. The user can also save their favorite songs to their playlist by dragging the song name in the search option, which will result in displaying a plus sign to the right side of the song name.
The user has to press the plus sign to add it to the playlist to practice playing the song on the guitar later. The lessons available in the Justin Guitar Power application cover all the bases and are organized logically, which means that missing out on a video and skipping to the next stage can miss many essential steps and skills.
Lesson Names
The lessons are named with relevance to its technique and song they feature. Justin Guitar app features a well-known song in each class, resulting in great enthusiasm for beginners to test their skills and experiment with their open chord riffs and simple solos.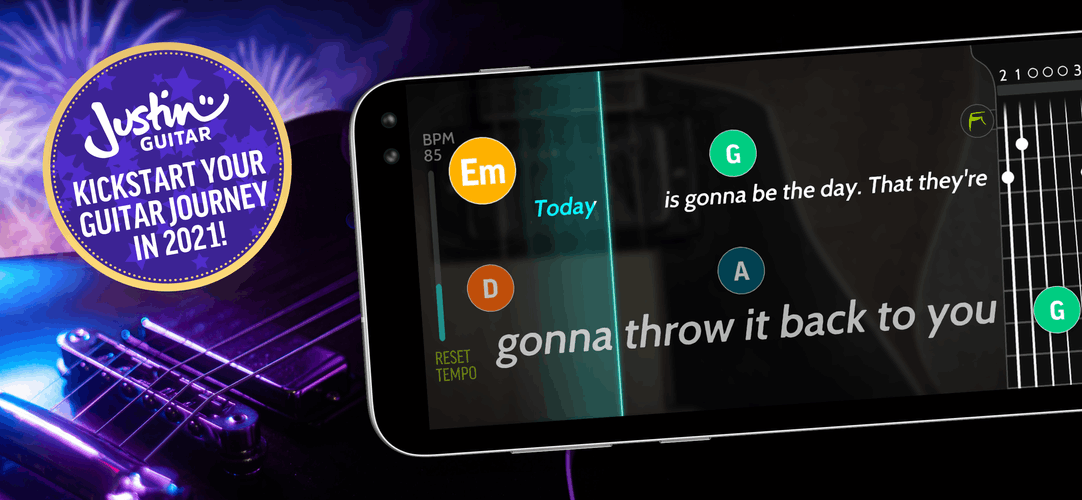 There is a wide range of free theory lessons available, allowing the guitar player to master their fretboard, understand the use of arpeggios, and experiment with several scales and modes. The song catalog consists of an extensive range of artists with different genres and eras, including Rock, Pop, Folk Music, Jazz, Funk, and even R&B.
Step by Step Play-Along Learning Path
The beginner lessons song collections will aid your learning curve by offering you progressive guitar lessons with different elements. These elements include the basic guitar chords, chord changes, guitar tabs, guitar scales, fingerpicking patterns, along with so much more.
These will help you keep track of your progress and make sure that you keep yourself engaged with the lessons and get better at them. By the end of the classes, you will find yourself playing hundreds of different real songs and learn to read guitar tabs!
Over 50 Engaging and Encouraging Lessons
Each stage will have a different song that you can easily learn to polish your skills and tricks. The beginning course is absolutely free and perfect for anyone who has never touched a guitar before and is looking forward to learning basic skills and knowledge.
The lessons will help you discover the proper technique and apply your picking technique professionally and adequately. Other than basic techniques, beginners' classes offer rhythm training, music theory, power chords, palm muting, fingerstyle training, minor pentatonic scale, practice schedules for learners, and practice exercises.
Self-Assessment System
Justin's guitar lessons are divided into three categories which are beginner, intermediate and advanced. In the beginner lessons, you will learn basics such as tuning your guitar, minimizing finger pain, changing between cords, and playing easy songs to set a practice routine. The beginner module also features separate ear training lessons to learn to distinguish and different intervals and test your knowledge with a 20-question quiz.
It also includes two free music levels in which you learn about semitones, tones, open string mnemonics, and learn to read fretboard diagrams for scales. The intermediate level is generally for guitarists with 3-6 months experience, which expands to concepts such as triads, basic fingerstyle patterns, and introduction to funk. It also offers a lesson in transcribing in which you can use your knowledge of the minor pentatonic scale to tab what you hear.
The intermediate classes are a bit fast though improvising during lessons, and finding your sound is encouraged. The advanced course is not extensive, but it delivers essential tips to enhance your playing experiences, such as memorizing modes and jazz techniques. There is also a lesson made available, dedicated to Jimi Hendrix and Curtis Mayfield style fills.
Song Collection of Over 1000 Hit Songs
Justin Guitar app users can browse through over 1000 songs to practice on and correctly hit the chords. The pieces in the catalog are sorted by title, artist, grade, and date. The verses and chorus are broken down with a simple strumming pattern to help the music enthusiasts to learn to play the tunes with finesse and perfection.
Justin Guitar app allows its users to stay updated with the present era's music by releasing more songs every month with a play-along style display with amazing, easy-to-follow guides such as guitar chords, guitar tabs, and guitar scales, adjustable backing tracks, and lyrics.
How To Download?
Justin Guitar application can be easily downloaded from the Google Play Store. All you have to do is visit the play store and type "Justin Guitar Power Lessons App for Beginners" in the search bar. Select the appropriate result of the creator Musopia and press the green install button. Wait until the application has been downloaded and installed, and it will be ready for you to use.
Justin Guitar app offers various features that help improve the user experience, save time, and manage lessons. For example, the Practice Assistant tool helps the guitar player to create practice routines, structure their classes, and check how much time they have spent on their routine each day.
An online forum is also available on the Justin guitar website, which helps different users interact and solve queries.
Extras That You Can Find!
Justin Guitar offers different tools to polish your guitar skills and get better at them. Some of the tools available are the Interval ear trainer, metronome, Tempo calculator, and Countdown timer. Interval ear trainer is a game in which you can select the interval you hear on a guitar or a piano.
There are levels in this game, and each level features 20 questions. The metronome can be used to adjust the song's time, while the tempo calculator lets you tap your keyboard in time to a rhythm and find out the song's average bpm.
On the other hand, the countdown timer enables the user to add or subtract minutes or seconds to a song according to their convenience.
Conclusion
Justin Guitar Power Lessons is an excellent application for beginners, which is also a fantastic value for money. It is highly recommended for beginner and intermediate guitar players on a budget, those who want to work up their skills.
T is seemingly an exciting platform for jazz fans, songwriters, ukulele beginners, and guitar players who want to be a part of a friendly musical community.
Spanish version: Aprender a tocar guitarra nunca ha sido tan fácil: Descubre esta aplicación gratuita
Last updated on May 23rd, 2023 at 09:10 pm