Traveling alone is not everyone's cup of tea - it can sometimes be scary, especially if you are a woman. However, there are apps that women can use to make their travels safer and more enjoyable.
From safety notifications to travel companion finders and toilet maps, something on this list can help the female traveler feel safer and more comfortable.
Read on to learn about the best travel apps for women and tips on how to get the most out of them.
Mayday Safety - Safety Made Simple
GeoSure - Safety Awareness in the Palm of Your Hand
Flush - Fast and Simple Toilet Finder
Tourlina - Finding Interesting Female Travel Companions
Where Is Public Toilet - Find Public Facilities
PackPoint - Packing Your Bags For You
Rescuer: A Women's Safety App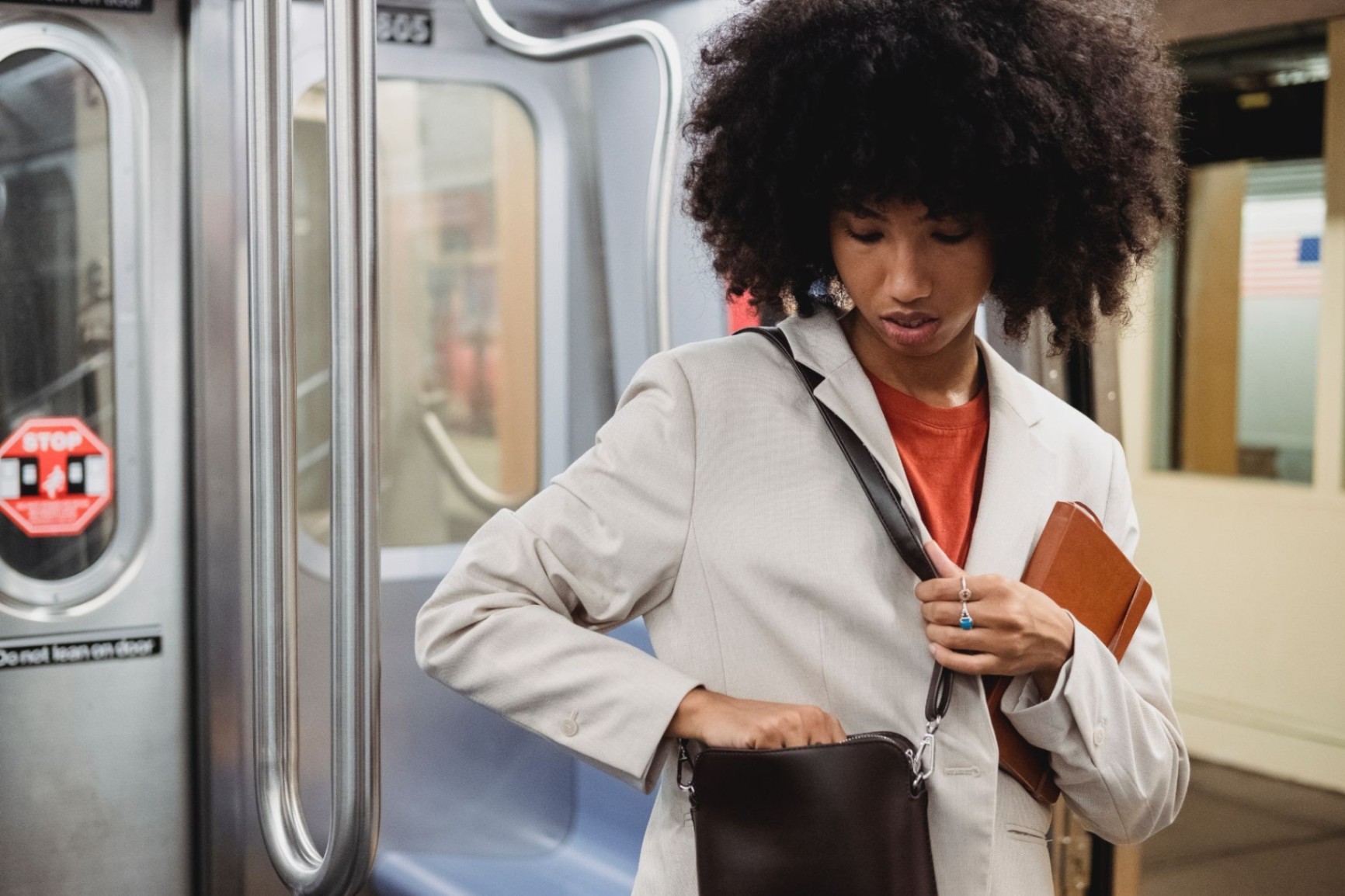 Mayday Safety - Safety Made Simple
Mayday Safety is an app that allows you to quickly alert and notify your loved ones and trusted contacts on your whereabouts and location. This app utilizes advanced and sophisticated technology to communicate one's location with just the use of cellular signals or internet access.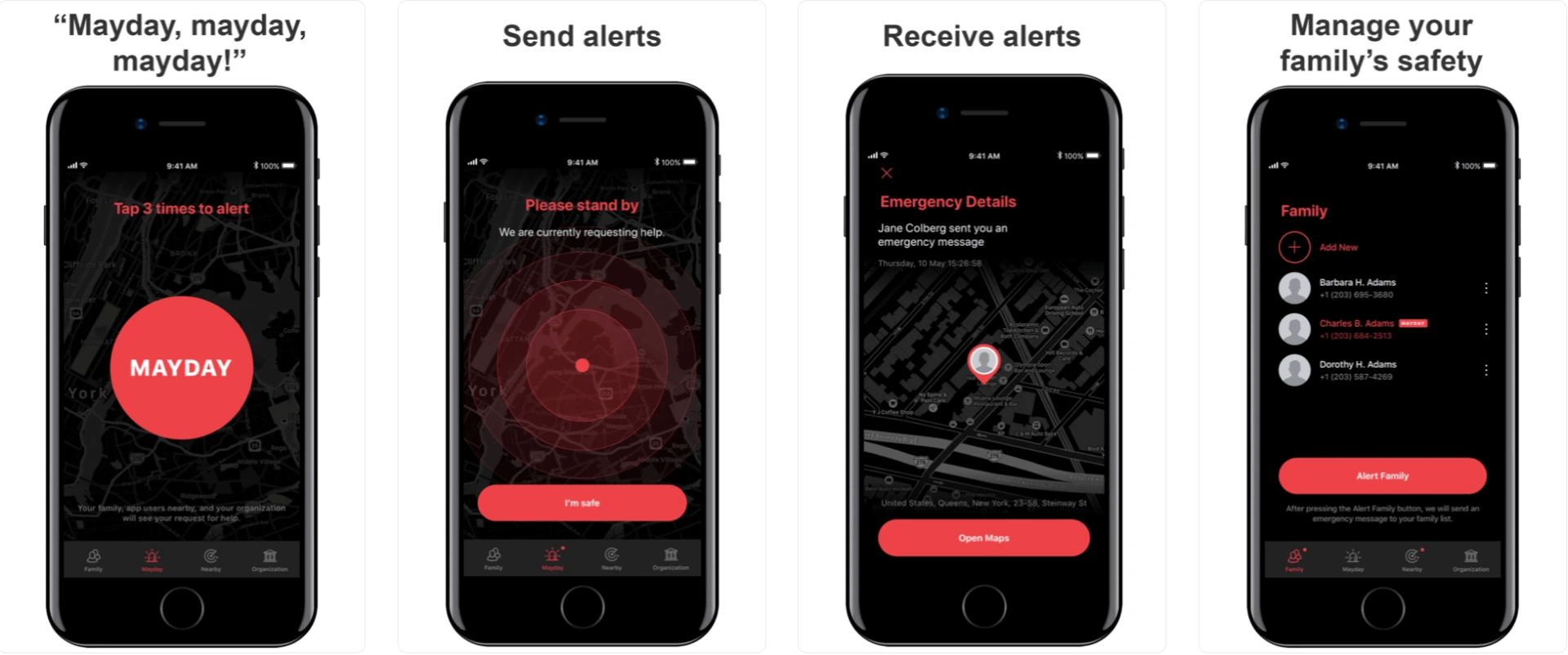 This tool is best to use when you are in an emergency or threatening situation, and you need to communicate your location right away. The app can precisely track your location and send this information to your trusted contacts.
Unlike most applications out there which do not allow two-way communication, Mayday Safety allows messaging and feedback. This can be used as a communication tool to reach many contacts, individuals, and organizations, depending on the user.
The app also sends alerts or alarms to family members to ensure that everyone picks up and checks their phones, instead of ignoring it and mistaking a call for help as a normal text message or notification.
Downloading Mayday Safety
The Mayday Safety app is available for download on the Google Play Store and the Apple App Store.
It is free to download and use by both platforms.
GeoSure - Safety Awareness in the Palm of Your Hand
This app is a must-have for solo female travelers visiting a place for the first time. GeoSure provides safety ratings (out of a score of 100) of a particular city, area, or neighborhood.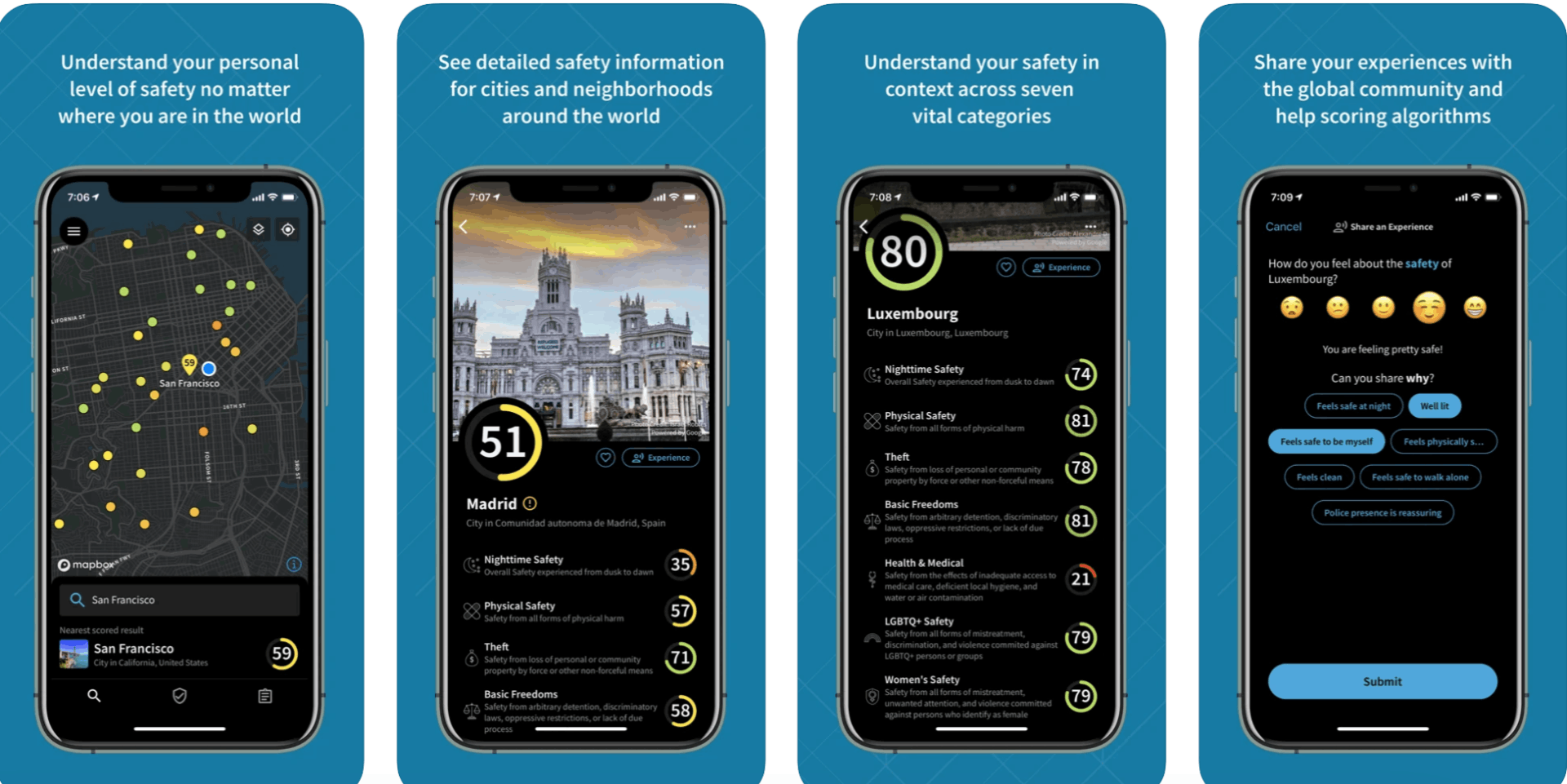 Using geospatial and artificial intelligence, ground reporting, and big data, GeoSure provides accurate and data-backed safety scores.
You can explore categories like supported cities or areas, specific safety conditions, or detailed safety information on overall safety, among several others.
GeoSure is also the only app that provides safety scores for the LGBTQIA+ community. Through this app, individuals and communities can work together to make their areas safer for everyone.
Travel Safely with GeoSure
With GeoSure, solo female travelers can prepare for their travels and consider safety precautions when traveling to an area.
This can also help them with their itineraries, as the app also shows safety levels down to the neighborhood level of a city. You can also compare safety scores across cities and check out the safety rating of your residence.
GeoSure is available for free for all mobile devices on the Google Play Store and the Apple App Store.
Flush - Fast and Simple Toilet Finder
This beneficial app is a lifesaver among female travelers who need to hit the restroom during travels. Unlike men, women do not have the luxury of being able to pee in a dark alley or hidden corner.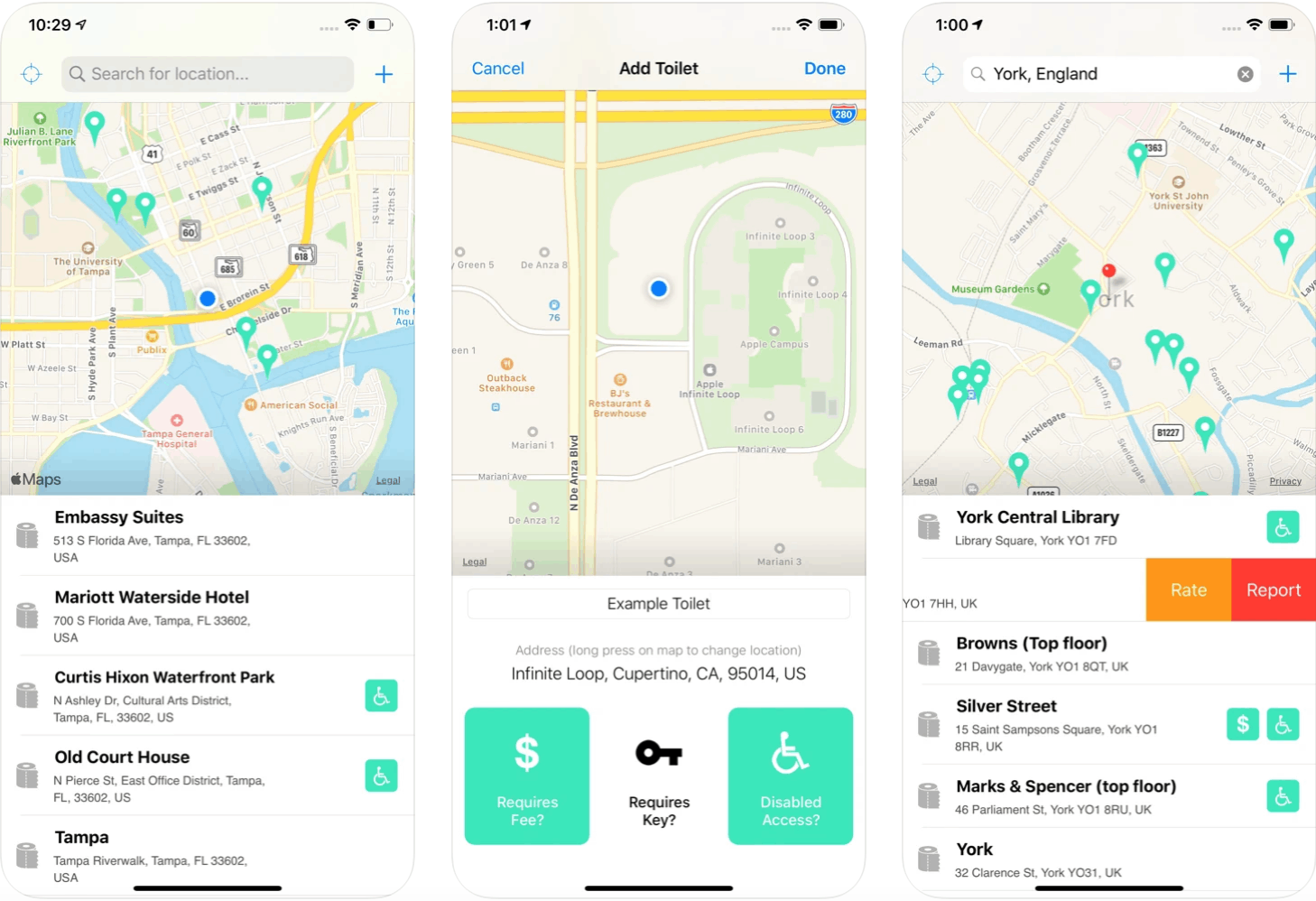 The Flush app, available for free at the Google Play Store and Apple App Store, shows you the locations of thousands of public toilets available for use.
With over 200,000 toilets on the app's database, you'll be sure to find a place to go to when you need to. The app tells you whether the restrooms need a key for access, whether it's free, and whether they provide access for persons with disabilities.
One of the best benefits of all is that you do not need internet access for this app to work.
Using Flush's Maps to Find a Restroom
The app builds on the Google Maps database. However, if you are in a hurry, you can immediately follow the directions to the nearest public toilet without a hassle with the Quick directions button.
As a bonus, Flush's interface is well-designed yet straightforward. With its slick interface and animations, your toilet-hunting experience won't be as bad as you've imagined.
Tourlina - Finding Interesting Female Travel Companions
Traveling solo can take a toll on people, but searching for travel buddies in a foreign place is a risky move, especially for female travelers. Fortunately, the Tourlina app has a solution to this problem.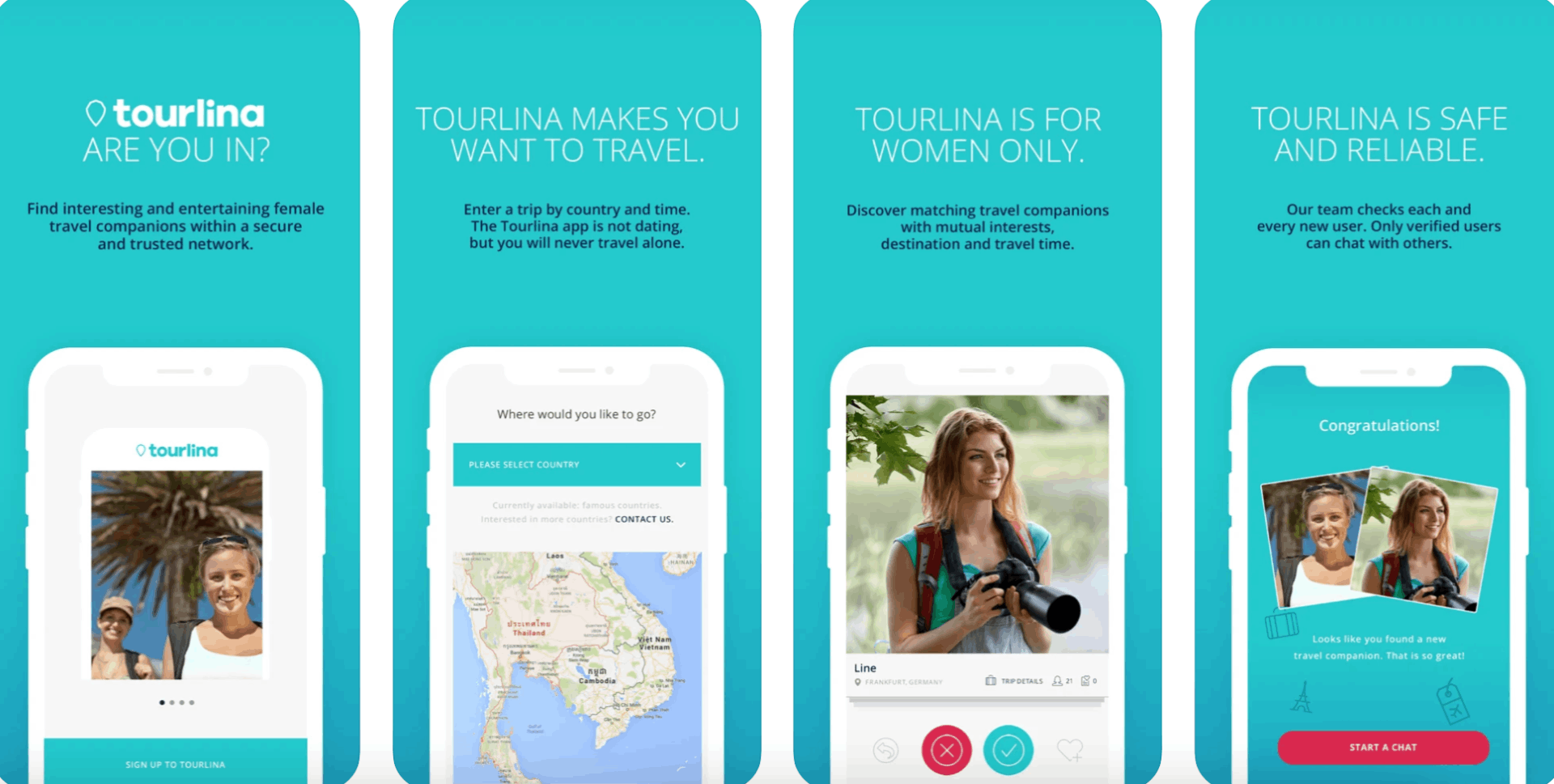 Tourlina is an all-female social app that connects you to other females in the area, lets you plan your activities together, and enjoy your stay with a companion.
It is essential to understand that Tourlina is not a dating or hookup app like Tinder. The app has high-security measures to ensure that you are chatting with real women, protect you from catfishing, and from men posing as women to be able to meet you.
The team verifies users' identities. While the app is only available for use in tourist hotspots and famous travel destinations, the app's team is constantly building its network to reach more users.
Downloading the Tourlina App
An emerging new app, Tourlina, is available for free download at the Google Play Store and the Apple App Store. 
You can upgrade to the premium version for premium features such as having more than one travel partner or match.
Where Is Public Toilet - Find Public Facilities
Another app similar to Flush, Where Is Public Toilet, provides women with comprehensive information on the proximity, location, cleanliness, and completeness of facilities of toilets.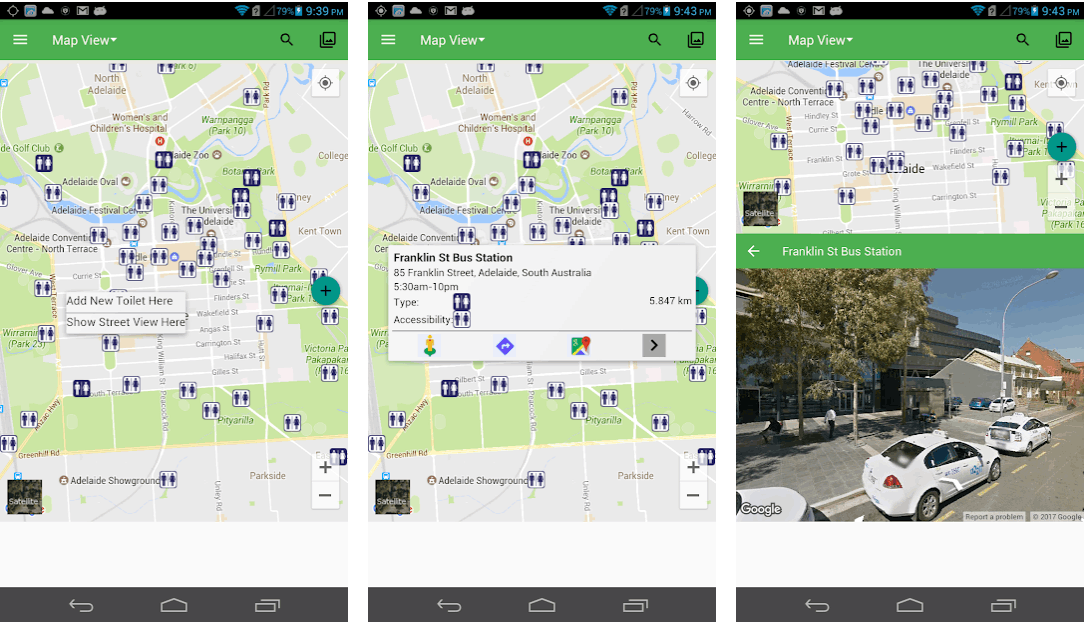 With more than 280,000 public toilets logged in the app's database, women won't have any trouble finding a toilet to use. Users can use the Map Mode to find the nearest restroom based on their location.
It utilizes the Google Route function on Google Maps, so you don't have to install a third-party application to use the map function.
Using List Mode, users can access location, operating hours, parking, accessibility, among others.
Filter Restroom Results
Women will find this app appealing and helpful as the app allows users to filter restrooms according to toilet types, accessibility (unisex, male, female, etc.), and facilities (baby changing, shower, sanitary).
There is also a cleanliness rating which can be a crucial factor in deciding whether to use the restroom or not.
The app is available for Android devices on the Google Play Store.
PackPoint - Packing Your Bags For You
PackPoint is a travel list generator that will surely help women customize a checklist for their travel needs. The app uses data such as one's gender, travel destination, duration of travel, weather, and planned activities during the trip.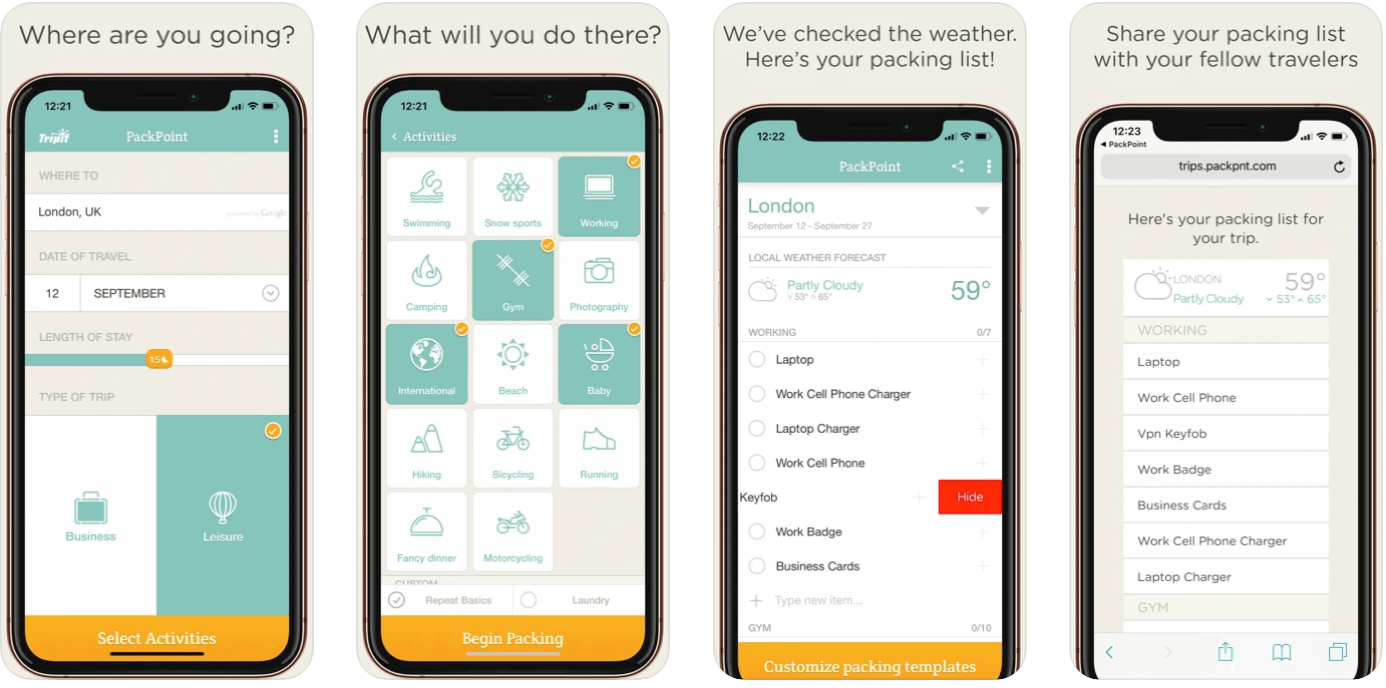 With all the things and essentials that a woman needs on a trip, the PackPoint app is indeed every woman's best friend! The packing list can also be modified and re-arranged through tapping and holding on to the items listed.
You can tick off every item packed so that it disappears from the list, but you can always make them reappear to double-check after everything is done. Swipe left to remove an item and tap the plus sign to add or subtract quantities to your items.
Toggle the "Repeat Basics" sign if you plan to repeat shirts and pants, and toggle on the "Laundry" option if you will have access to laundromats and facilities. These settings will affect your packing list and make it more relevant and appropriate for your trip.
Downloading PackPoint for Android and iOS Devices
The PackPoint app is available for download from the Google Play Store.
It costs $2.99 to download.
Rescuer - A Women's Safety App
Almost every woman has feared walking home alone, or getting mugged or robbed even in their own city or town. Everything is worse when that woman is alone in a foreign place.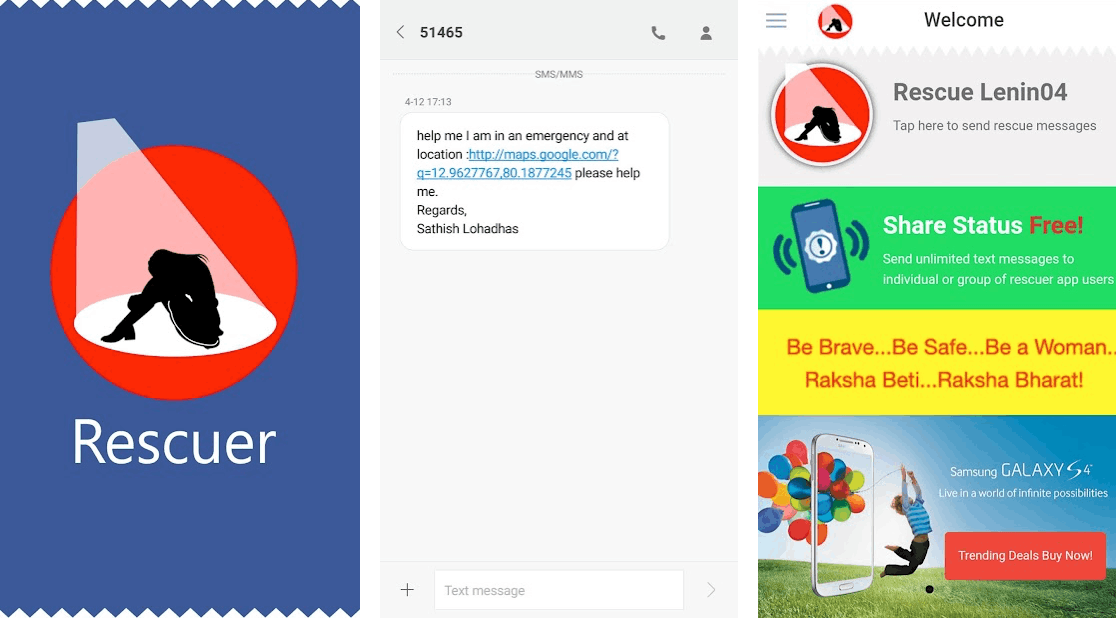 To mitigate the risks and be prepared, women should download the Rescuer App, available only on Google Play Store. With just a tap of a button, the app sends an alert along with a precise pinned location to five trusted contacts and Facebook friends.
The app also triggers a phone call to two contacts so that they can alert authorities or rush to the scene to rescue the user.
You can also customize the app to send pictures as well as audio files of the scene automatically recorded from your phone.
Using Voice Commands to Get Help with Rescuer
In moments where you are not able to grab your phone, the app can also work on voice commands.
You can set up a personalized key phrase that will trigger the app to send alerts and phone calls to your trusted contacts.
Rescuer is genuinely an essential app that all-female solo travelers must have with them during their trips.
Conclusion
Safety should never be compromised during traveling. Thanks to modern technology, there are apps that women can use to ensure their safety, comfort, and convenience when traveling alone. Solo traveling need not be dangerous, especially for vulnerable groups such as women.
These are just some of the best apps that solo female travelers can use. Remember that these apps should only complement safety protocols and procedures and that you must remain alert and cautious when traveling. Keep in mind that a safe traveler is a happy traveler!
Last updated on June 2nd, 2023 at 01:14 pm