Every 21st-century traveler knows how important a smartphone is during trips. With the abundance of software and mobile applications that can make travel easy, it's almost impossible to travel comfortably and conveniently nowadays without the help of a good, trusty smartphone.
There are countless apps to choose from to make your travel easier, such as offline and online maps and hotel and flight booking apps. It becomes challenging to decide which app works the best. Read more and discover the top 10 apps every traveler should have on their phone.
LoungeBuddy
If you're sick and tired of waiting in the crowded and noisy waiting area at airports, LoungeBuddy is a must-have app for you. Say goodbye to those dirty seats, terrible food, and expensive Wi-Fi because this ingenious application gives you information on the exclusive airport lounges you can stay at.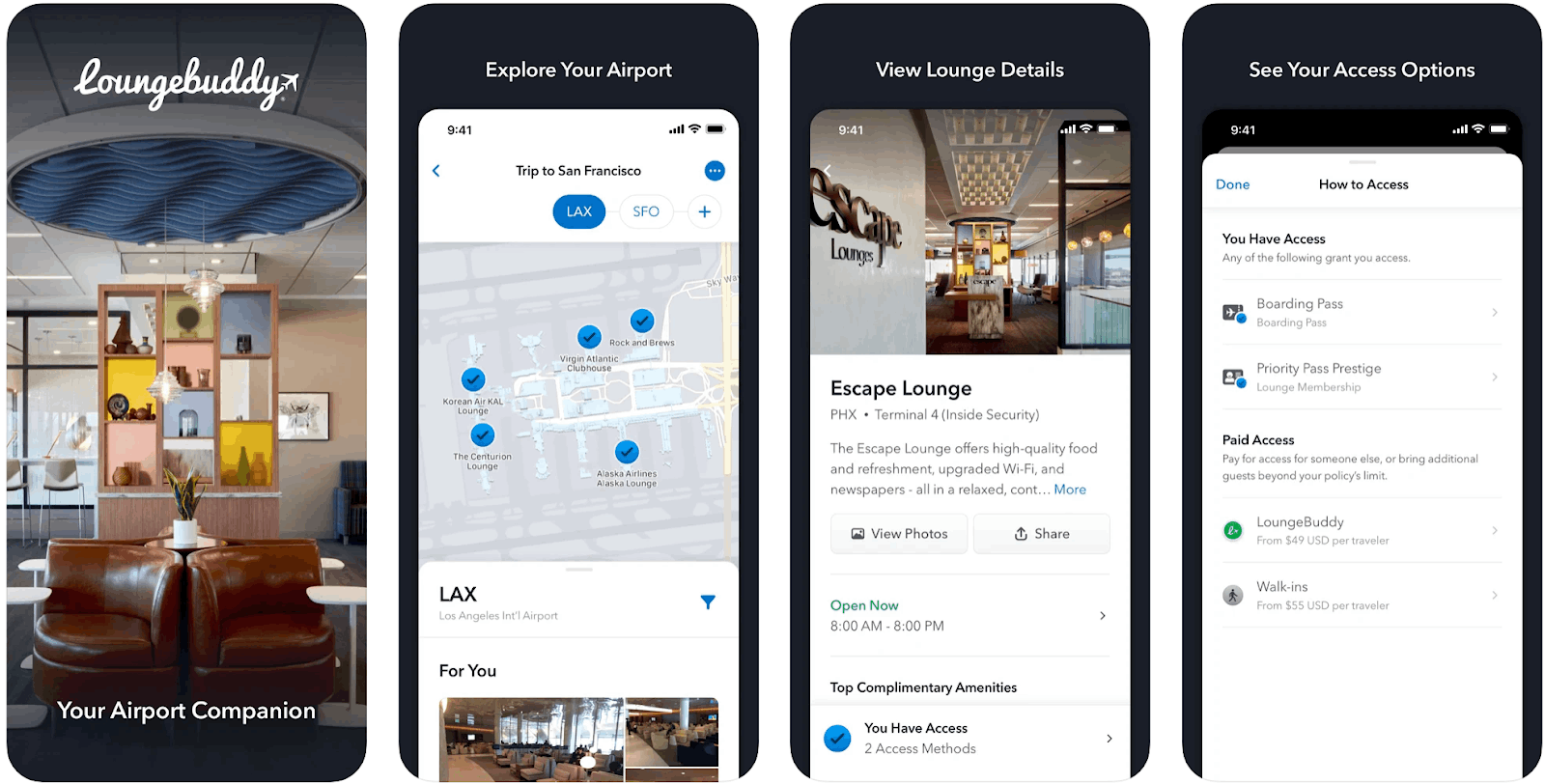 All you have to do is enter your flight details, service class, frequent flyer status, and credit card details, and the app will tell you about the available airport lounges you can access in any airport. While the app can direct you to free lounges, it can also show you lounges that you can pay for to get in.
You can purchase a pass to certain lounges by paying directly through the app, so it saves you time and effort, too. Moreover, the entire app is free, so you won't have to pay extra to use the app. With LoungeBuddy, you can sleep through your layovers and feel rested and refreshed for your next flight. However, the app is only available for iOS users.
Hostelworld
Hostelworld is an excellent app for backpackers and travelers who want to travel on a budget during their trip. The app has over a million downloads on the Google Play Store and has an impressive 4.5-star rating on the platform. It is also available for download on the Apple App Store.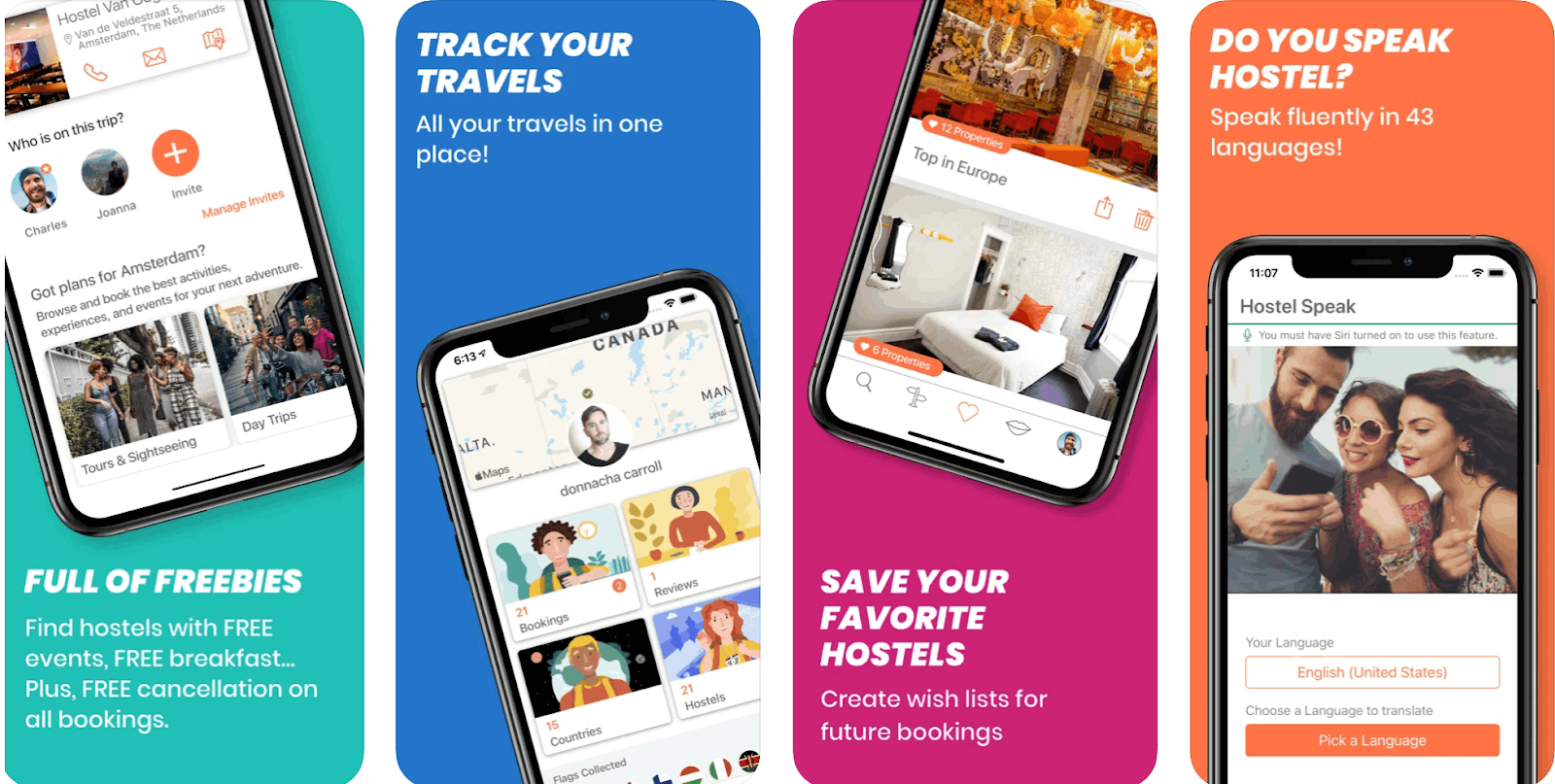 Travelers can search over 17,700 hostels across 179 countries, ranging from budget hostels in Europe to eco hostels in Southeast Asia. You can filter searches based on whether you're looking for a private room or shared dorm room, co-ed or all-female option, as well as location, room type, facilities, and price.
Some features include free cancellation on all bookings, 24/7 access to bookings even without Internet access, an extensive gallery of room photos for reference, and the "Hostel Speak" feature, which can translate up to 43 languages to accommodate all nationalities and ethnicities.
OpenRice
Known as the Yelp of Asia, OpenRice is an app that shows a city's most popular restaurants and dining establishments, as well as menus, ratings, and booking numbers. Over 2 million restaurants across Asia recognize it.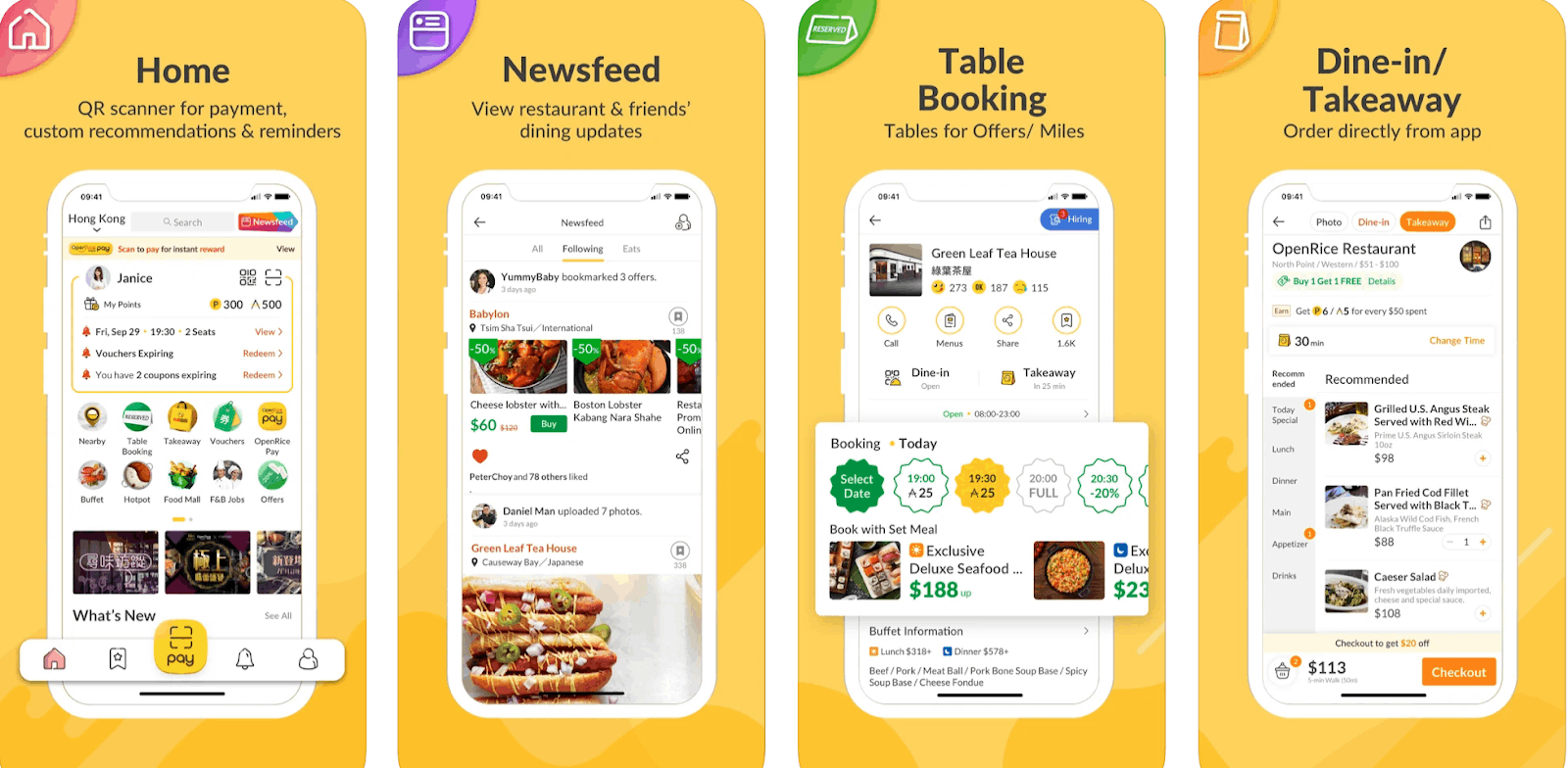 While some features such as payment, takeaways, delivery, and reservations via the app are only available in Hong Kong, it is still a great source of information on what and where to eat when you are in Asia.
The app is downloadable on the Google Play Store and App Store. 
Airbnb
Arguably one of the best accommodation booking apps out there, Airbnb brings innovation and an entirely new definition to guest accommodation by creating a platform where property owners or hosts can interact with the guests and prospective clients.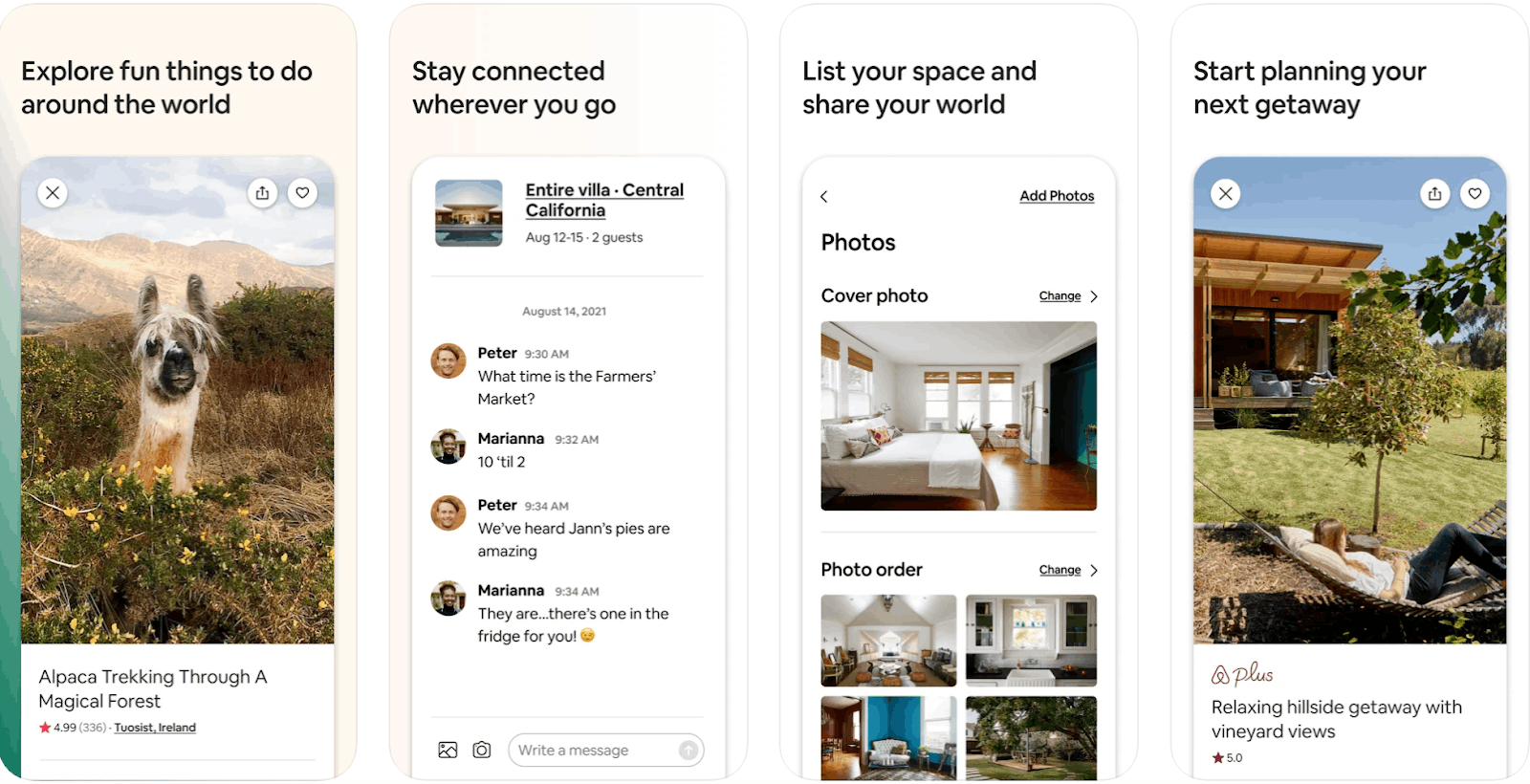 You can search available listings at your destination, and you'd be sure to find a place that suits you. Book right from the app, or save a listing for your future travel to make sure you don't miss out on a great deal. You can also use the app to message the hosts and add events and places to your itinerary.
Airbnb allows hosts to update their listing and availability, prices, and contact guests through the app. They can also create a host guidebook to showcase their neighborhood and city to attract potential clients. The app is free to download at Google Play Store or the Apple App Store. 
Spotted By Locals
This app called Spotted by Locals is a great app if you're heading to Europe and the US. Instead of going to jam-packed tourist hotspots that you probably won't enjoy anyway, you can get a more intimate and unique experience by visiting sites and areas recommended by actual locals in the area.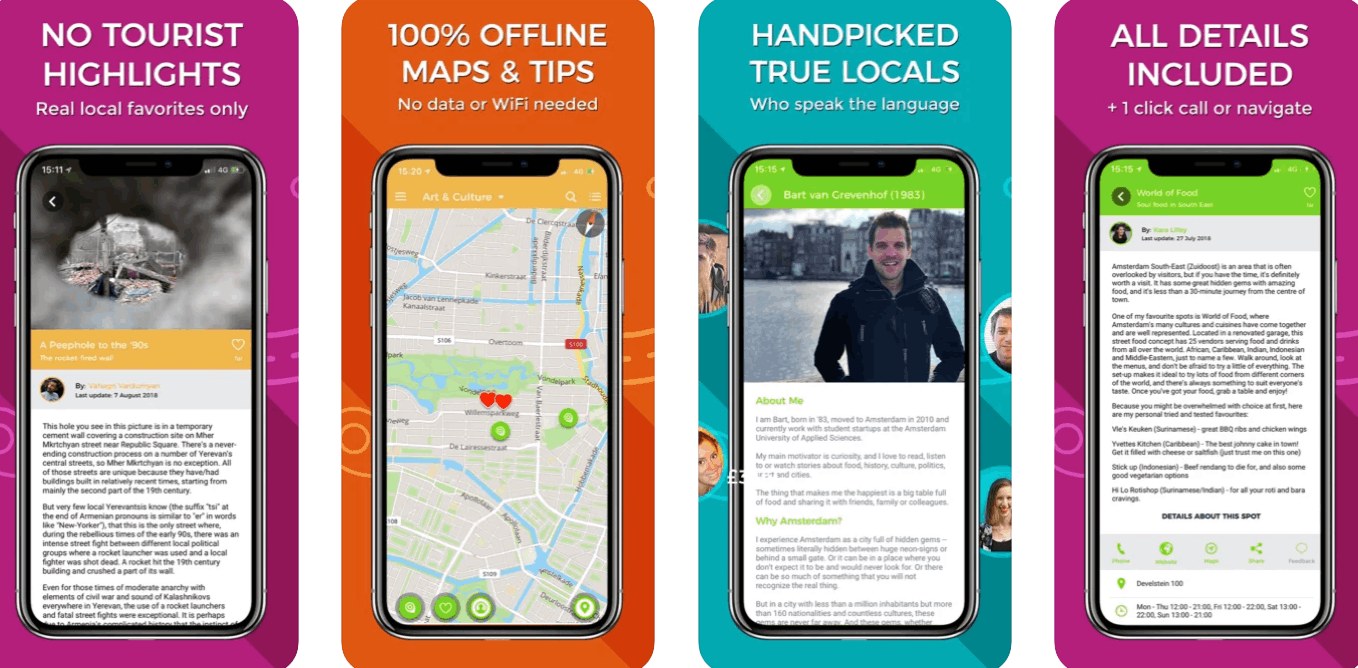 Called Spotters, various groups of locals from over 80 cities in Europe and the US (and in Tel Aviv, Israel) provide recommendations on some of the best spots. These well-kept secret and hidden gems will offer tourists and guests an authentic immersion and experience in their respective cities.
Spotted by Locals can be downloaded for free at Google Play Store and Apple App Store. You will need to purchase the guides to each city. The app also works offline so that you can access the app anytime and anywhere.
Skyscanner
With over 50 million downloads and an impressive rating of 4.5 stars on the Google Play Store, Skyscanner is easily one of the best and most reliable hotel and flight booking apps.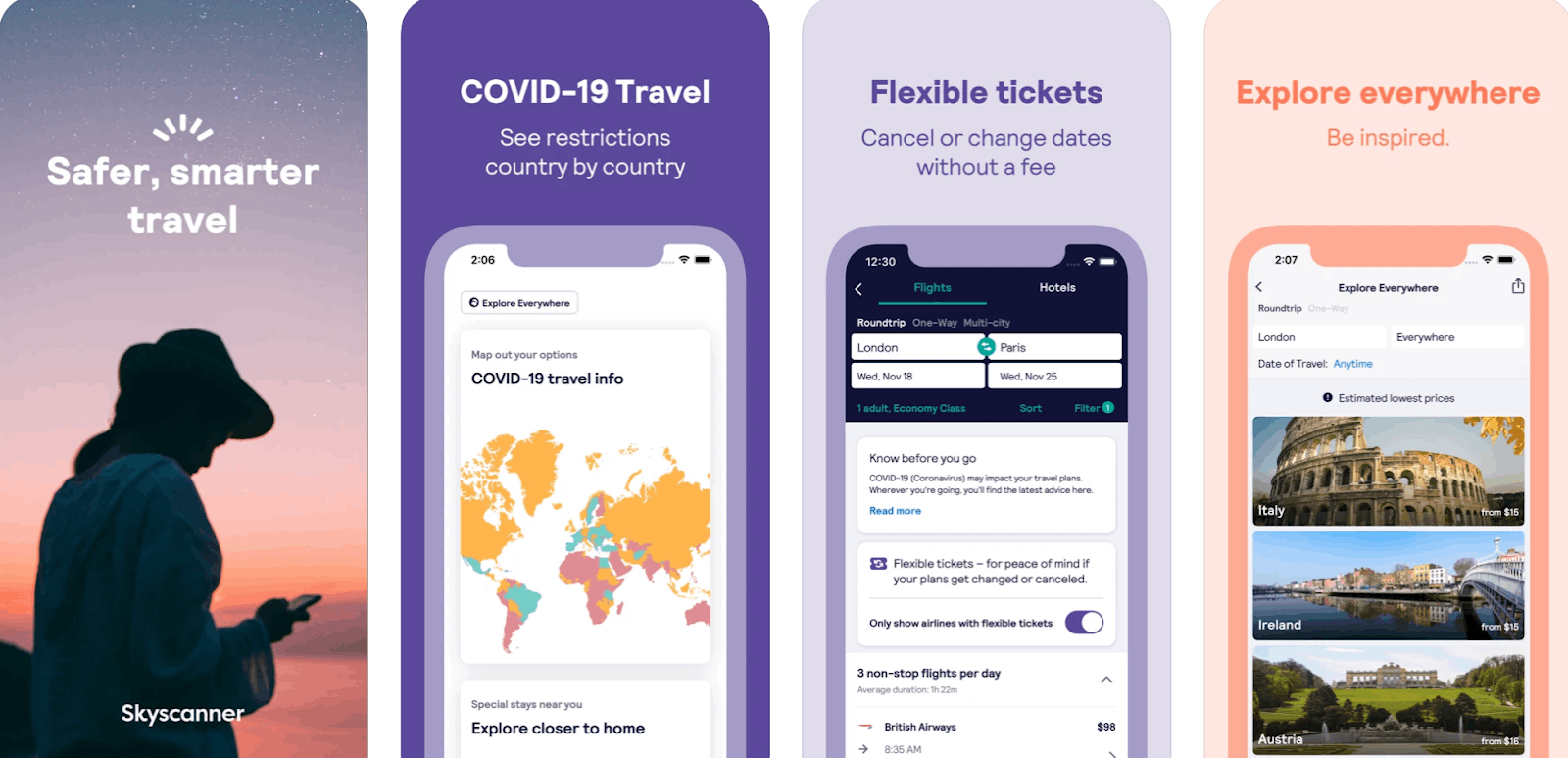 It allows guests to find the best deals for flights and hotel accommodations and compare all airfare prices in a single app. Its Price Alert feature notifies users of any changes to prices that you've recently searched.
You can also book last-minute deals in rooms in your current location if you need to! Plus, users can also rent a car with a guarantee that you won't be breaking the bank for fuel through its Fair Fuel Policy flag. The app is available to download for Android users and iOS users.
TripIt
TripIt is a great travel companion because it organizes your itinerary and all the pertinent documents that come with it, such as hotel booking confirmations, plane tickets, boarding passes, and much more.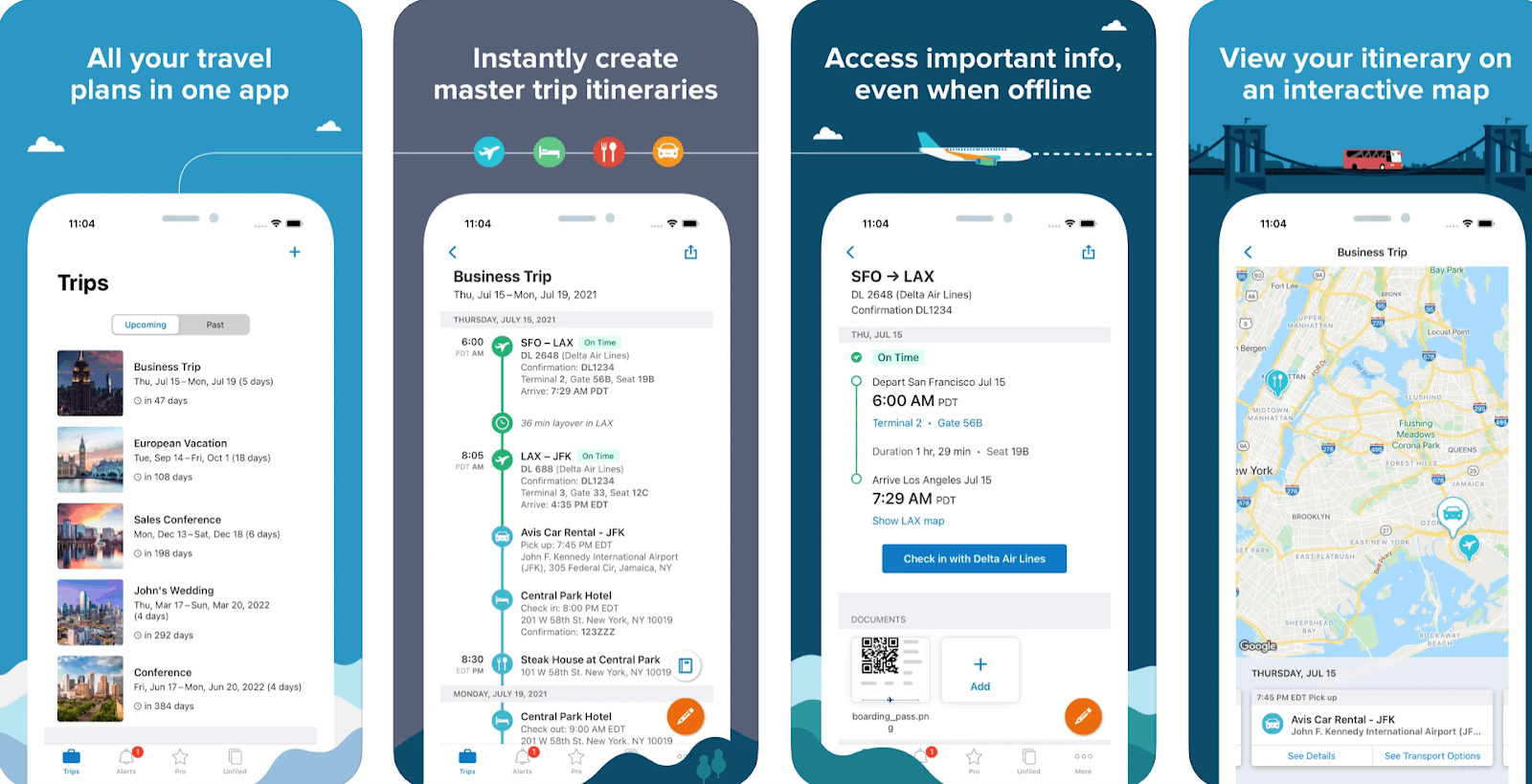 Instead of searching through your e-mails or printing a bunch of receipts and carrying them with you, all you have to do is forward all of these documents to plans@tripit.com, and the app will show you your master itinerary.
The basic version of the app is free to download on the Google Play Store and App Store. Still, you'll have to pay an annual fee of $48.99 to access premium features such as flight refund monitoring, security line and flight status alerts, and interactive airport/terminal maps.
Couchsurfing Travel App
If you're a budget traveler looking for someplace to stay for free or a solo traveler that craves socialization during your trip, you might want to try and find some accommodations on the Couchsurfing app.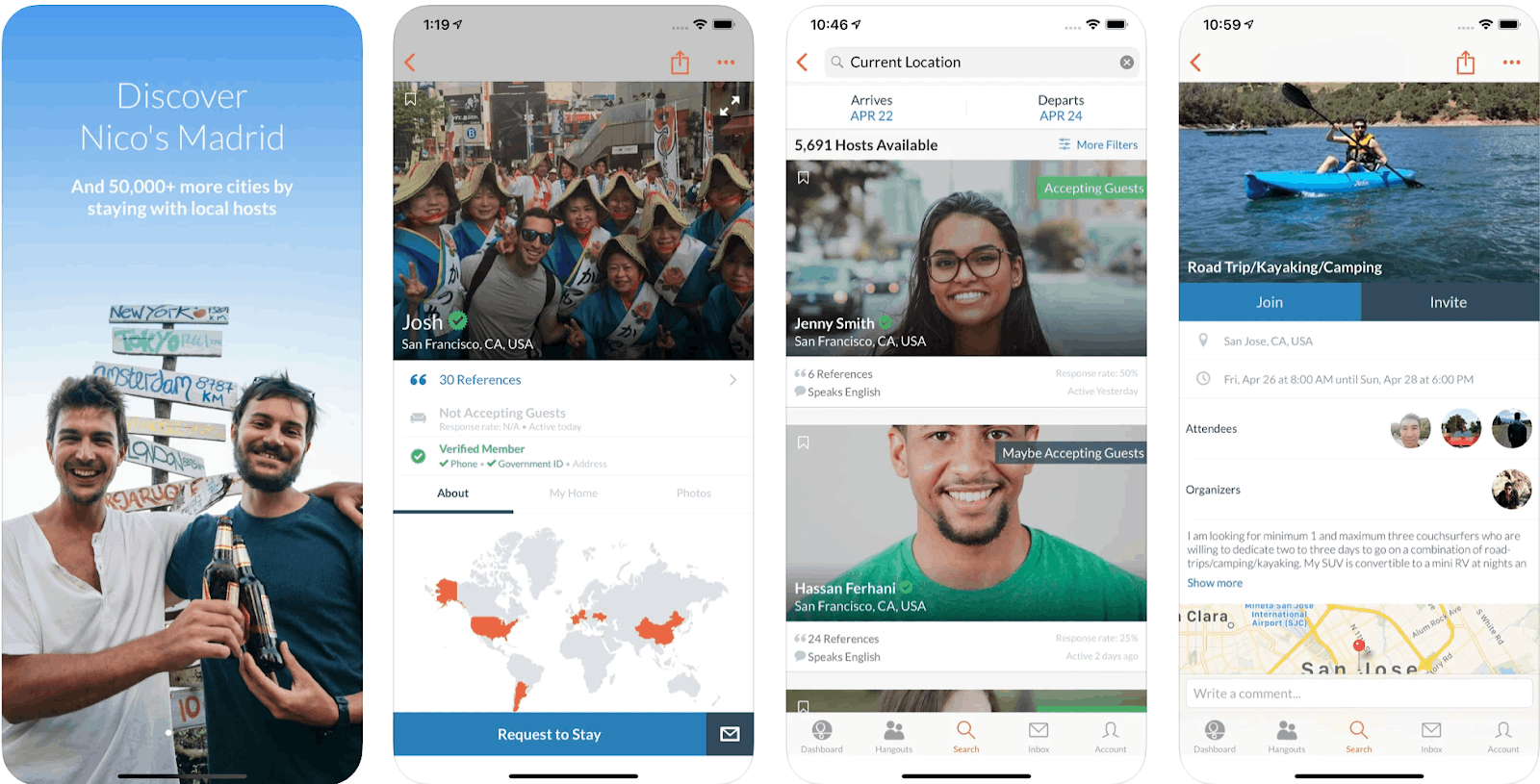 The app connects you to locals who have an extra space in their homes and who are willing to share their house with you for free. This is a great alternative to budget hostels and dorm rooms, and on the plus side, you get to meet and learn from someone who lives in the area.
The Hangouts feature is also helpful if you want to meet other travelers or locals. The app is available on Google Play Store and Apple App Store. Unless you're picky, Couchsurfing is a great app if you're up for a unique experience.
Citymapper
With over 10 million downloads, Citymapper is a must-have application on every traveler's smartphone. This transit map provides directions for walking, cycling, public transportation, and scooter trips.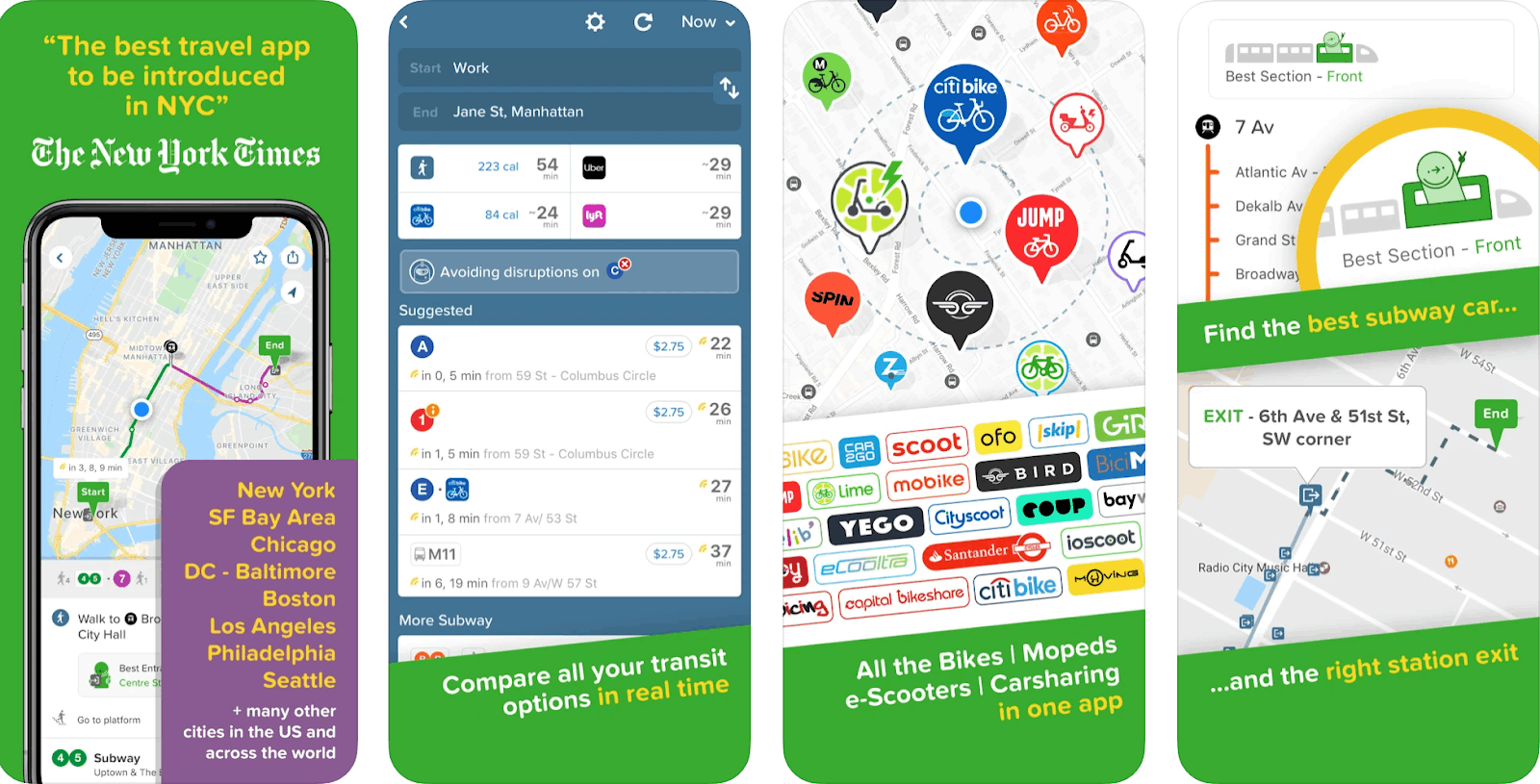 Through the app, you can find information on the best routes and ways to get around your destination. Beat the heavy traffic and rush hour through the real-time train and bus trackers, as well as live wait times and ETAs.
The app is available for download at the Google Play Store and App Store. Take the hassle out of commuting with Citymapper!
Mobile Passport
This innovative application operates like Global Entry and TSA Precheck by expediting travelers' entry in the US. Currently used in 26 major airports and three cruise ports in the country, the app submits your information to get a digital customs declaration instead of falling in line the traditional way.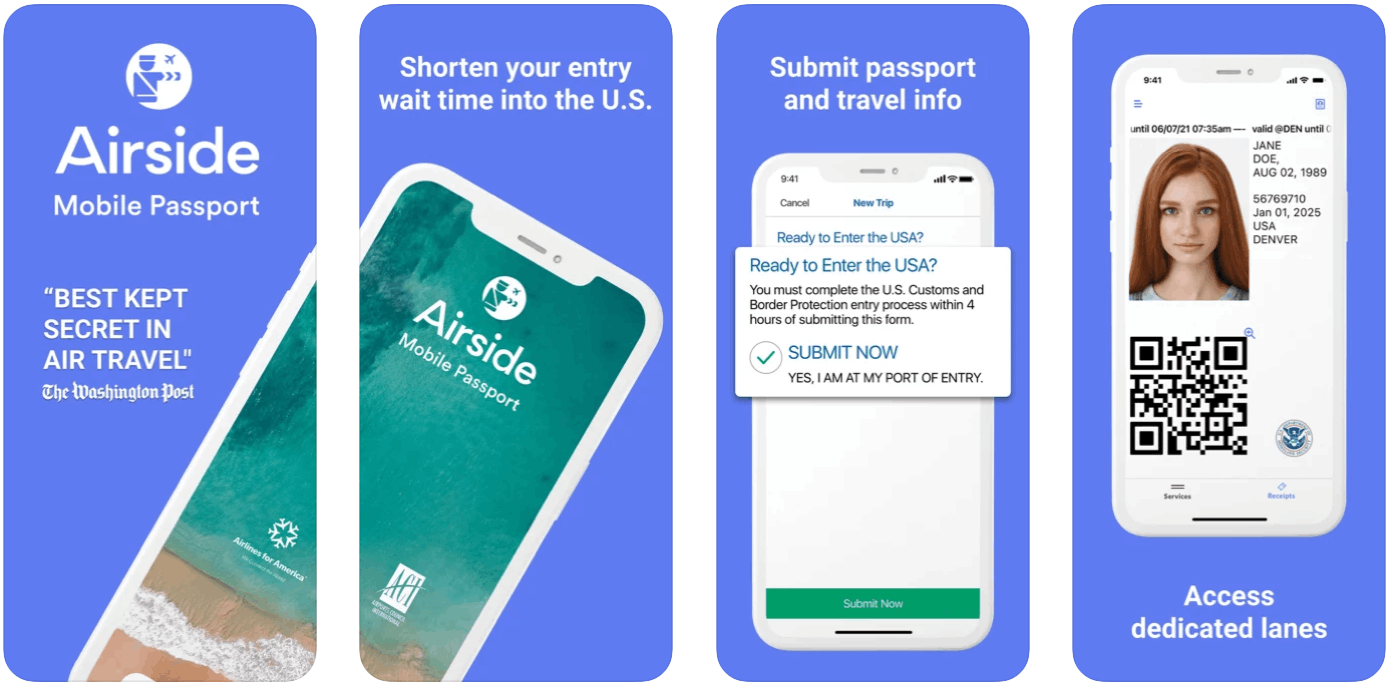 This app can be used by US and Canadian passport holders who wish to enter the US. All you have to do is fill in your passport profile and wait to receive a Customs & Border Protection QR code. Mobile Passport users have an exclusive lane for an expedited process.
The app is available to download on the App Store and the Google Play Store. You'll have to pay an annual fee to access the premium version, which features user information storage, so you'll never have to input your passport profile again.
Conclusion
Technology is an essential part of modern travel that people must take advantage of and enjoy while it still lasts. These are just some of the best apps every traveler must have on their phone for a convenient, comfortable, and safe trip.
Spanish version: Descubre las aplicaciones de viaje más populares
Last updated on May 23rd, 2023 at 02:58 am