GPS stands for Global Positioning System, and it is a beneficial technology today that can tell you your exact position on Earth anytime. Nowadays, smartphones are widely used by many people around the world for GPS navigation.
Many navigation apps require an internet connection to show you your location and routes. But, there may be instances when you cannot go online. Check out free offline GPS apps for iOS and Android phones.
Google Maps
Over the past years, Google has been the leading navigation app developer with Google Maps. Google Maps is one of the most popular and used apps by many people all over the world. This app covers 220 countries and hundreds of millions of places and businesses on the map.
There are tons of benefits you can get from using Google Maps. By downloading Google Maps, you can receive the perks of beating the traffic with real-time ETAs. You can also discover a wide array of places, list your favorite sites, and access them anytime you want.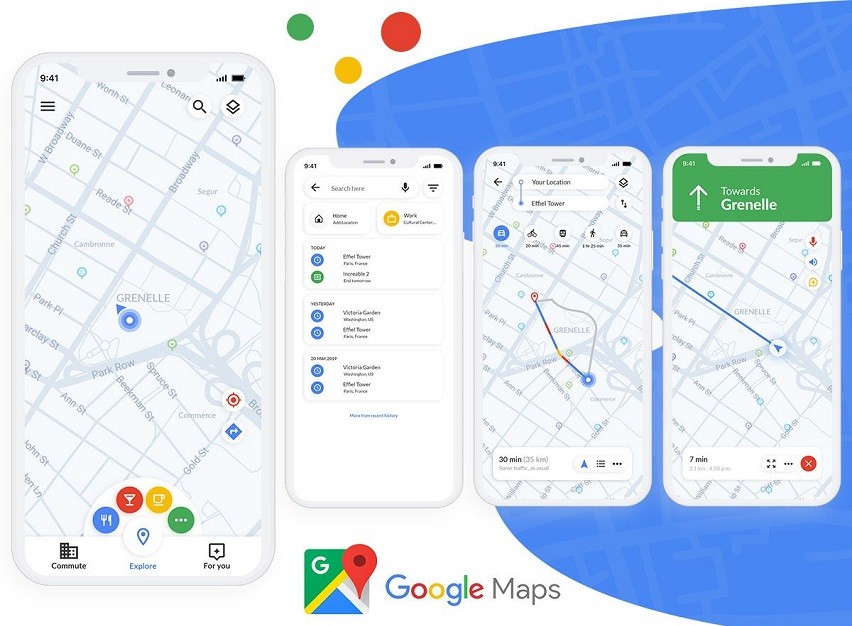 Main Features And How to Download
Google Maps has user-friendly features that allow you to discover and explore areas. Additionally, this GPS app works offline, so you can search for a specific area or region and preload it. The navigation keeps on working even if you cut or lose the connection.
This GPS app helps you pick and plan your route by car, taxi, bus, train, bike, or even walking. It can guide you to search various places near you, from supermarkets, malls, restaurants, parks, schools, hospitals, and more.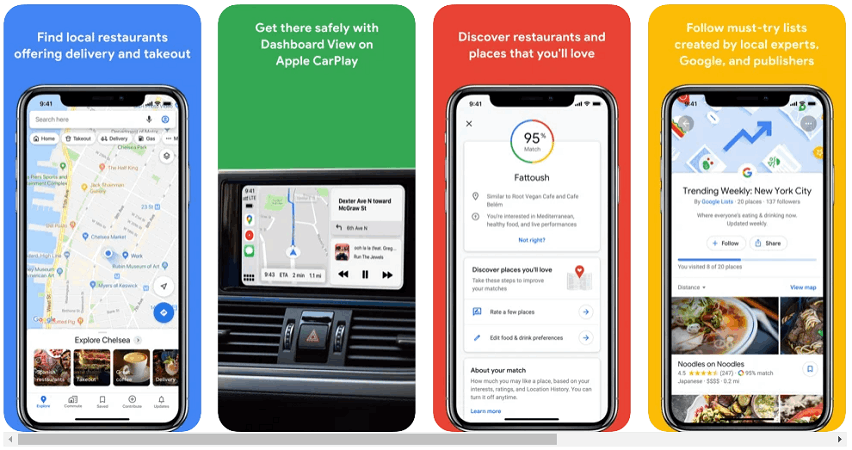 Google Maps is available for both iOS and Android devices. Download the app and install it on your device. Then, run the app to start using its features.
Maps.Me
Maps.Me is one of the offline apps you can try that is specifically developed for maps and navigation.
This GPS app lets you access worldwide maps whenever you need them. You can get turn by turn directions and navigate while walking, cycling, or driving.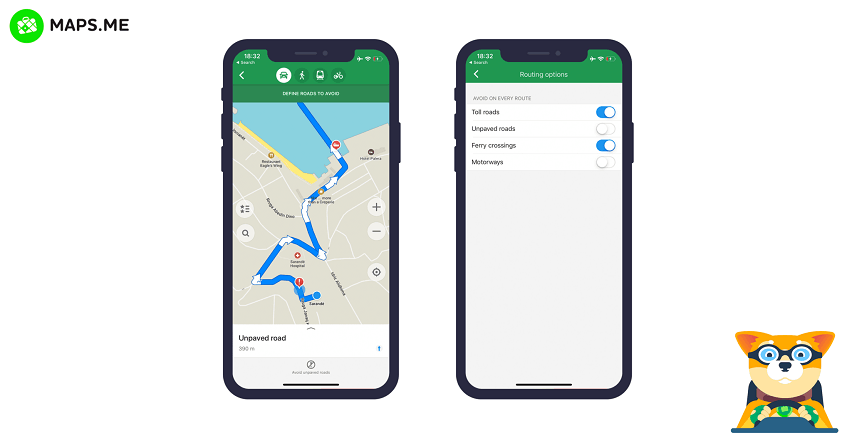 Main Features And How to Download
Map.ME app has been recommended by its users worldwide. This app's remarkable features include saving maps for offline use, receiving a travel guide catalog of different countries, calculating re-route, and public transportation.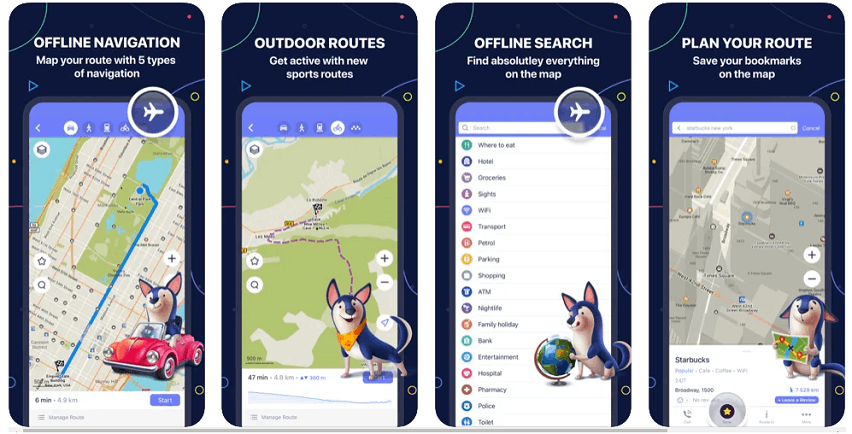 Moreover, you can search offline, bookmark locations, and check traffic data using the app. It has been improved with Wikipedia's content to provide you information about locations and suggested itineraries. Maps are updated via OpenStreetMap.
Search Maps.Me on Apple App Store or Google Play Store. Click "Get" to start the download. You can download the app for free with no in-app purchases, but expect some ads popping up.
Sygic GPS
Sygic is one of the top-rated GPS apps you can download on your Android and Apple device.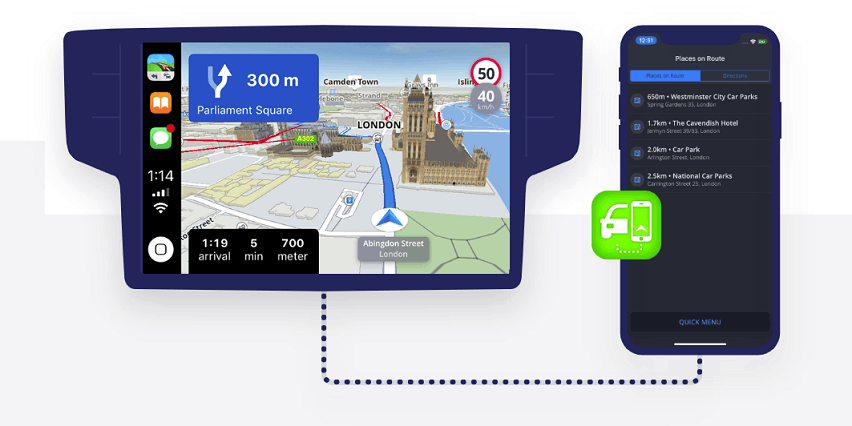 It has over 50 million installs making it listed as one of the most popular navigation apps. This app uses TomTom maps and offers offline maps of all countries worldwide with turn by turn navigation.
Main Features And How to Download
What's more impressive with the Sygic GPS is it has voice-guided GPS navigation fit for those who drive and pedestrian GPS navigation for those who walk. It also provides the most accurate real-time traffic information and even a speed limit display.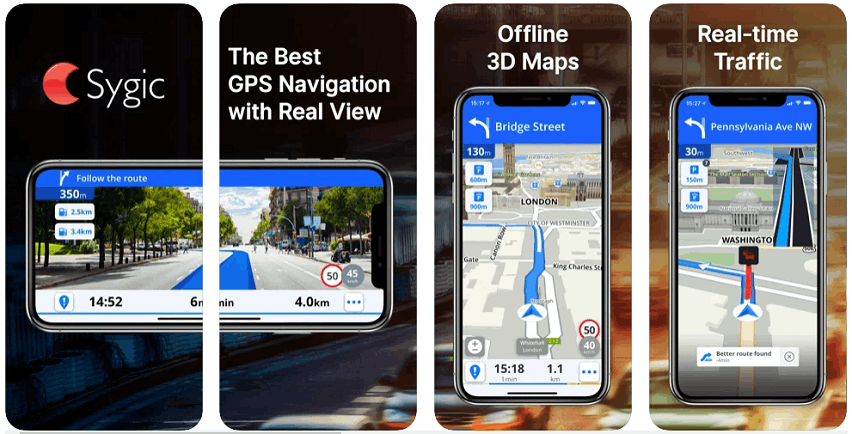 You can upgrade the app to 3 premium versions, and the starting cost is $13.99. The paid version of Sygic has added features. The app included live traffic information, route adjustment, dashcam recording, HUD mode, dashcam recording, and live traffic information.
Find the app in App Store or Google Play Store and then install it. The free version is readily available, but users have the option to subscribe to the premium versions.
OsmAnd
OsmAnd is a navigation app developed specifically for users who want offline maps.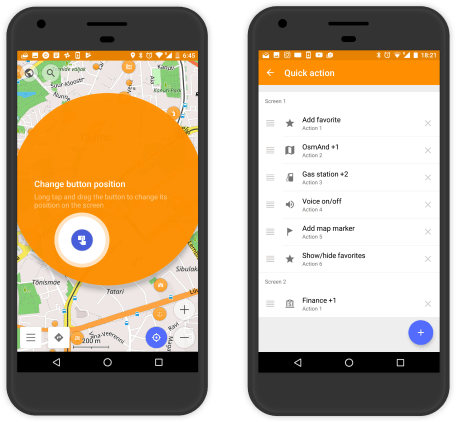 It allows users to download a large number of maps. The maps are high-quality and available in all countries worldwide.
Main Features And How to Download
The app offers features such as both voice and visual offline navigations, lane guidance, estimated time of arrival, and street names, among others. Try out their unique modes for walking, cycling, hiking, and public transport.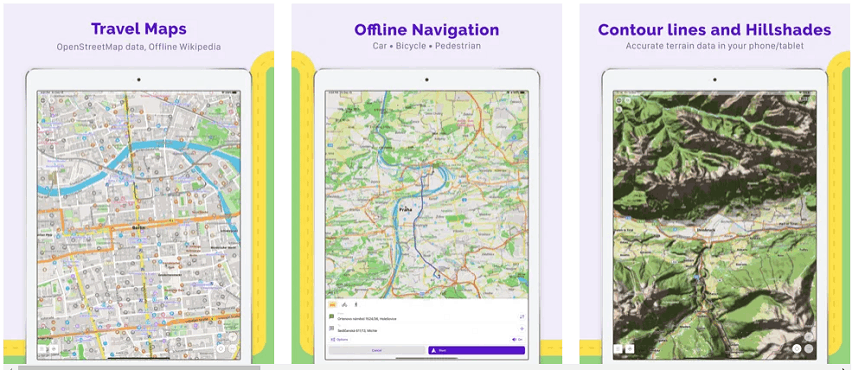 Look for OsmAnd in App Store or Google Play Store. Download the app to your device. The free version of the app has a limited download capacity. You have to pay if you want to get additional downloads via in-app purchases.
HERE WeGo
HERE WeGo is a navigation app that can be a close competitor to Google Maps. It is available offline and is specially designed for city navigation.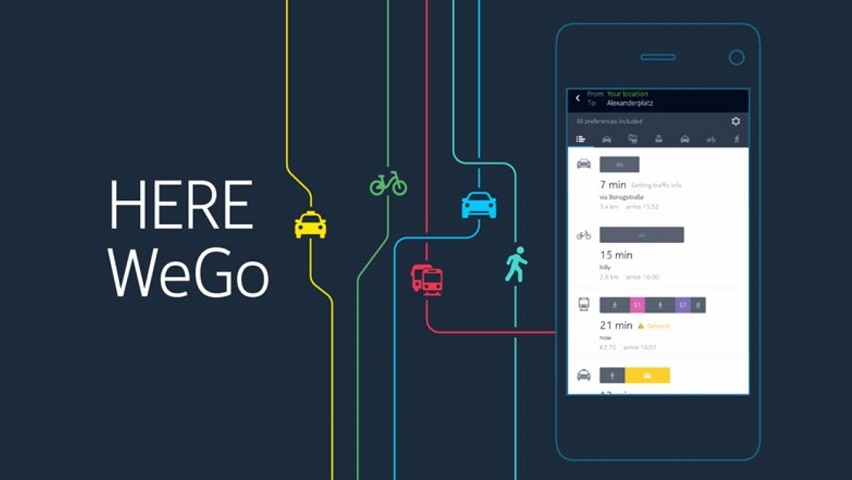 You can get more detailed information about public transport. The app prepares you for everything you need to know before you start your journey.
Take advantage of its features to tell you the best routes for various modes of transport. Whether by wheel or in-foot guidance, this app is beneficial.
Main Features And How to Download
The app lets you search for public transportation services. It also compares car, taxi, bike, pedestrian, and public transportation routes to find the quickest and cost-effective way to travel.
In its list of free maps, the app contains just over 100 countries. For more than 1,300 towns and cities, the app even provides knowledge on public transit. Regardless of what form of transport you have, it is really a must-have for urbanites.
Go to App Store or Google Play Store on your device. Then, type on the search box, HERE We Go. Download the app and wait for it to be completed. Run the app and use it anytime you need.
Scout GPS Navigation
Scout GPS app is formerly known as TeleNav. It is an older GPS app that changed its name, icon, and appearance.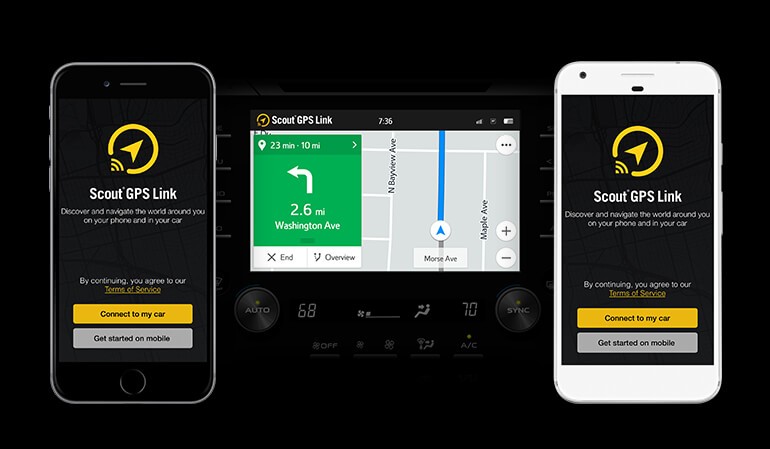 In terms of navigation, the basic features are still reliable and stable. This is also the app used by several suppliers of automobiles.
Main Features And How to Download
This navigation app aims more at people rather than navigation. It has a function to automatically text a message with your estimated time of arrival to people. It can even send alerts to its users when other people need you.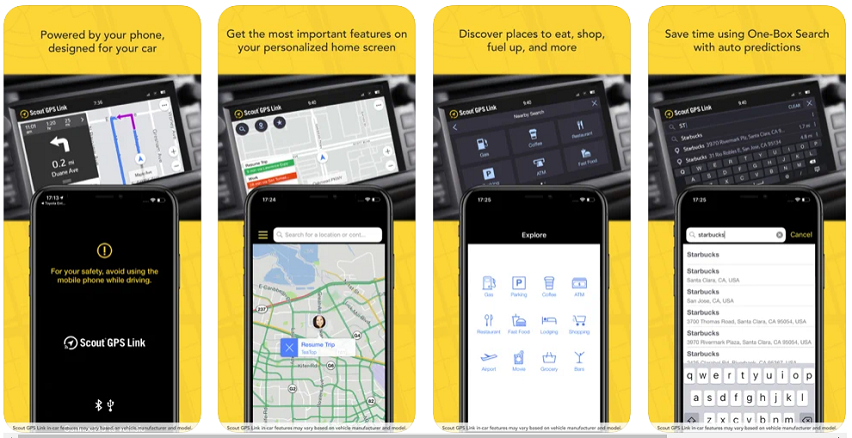 The social media aspect of the app that is location-based helps to distinguish it from the pack. It costs $24.99 a year for the full version.
Download the Scout GPS Navigation app from the App Store and Google Play Store on your device. Then, run the app to start using its features.
Polaris GPS Navigation
Polaris GPS Navigation app has both free and paid versions.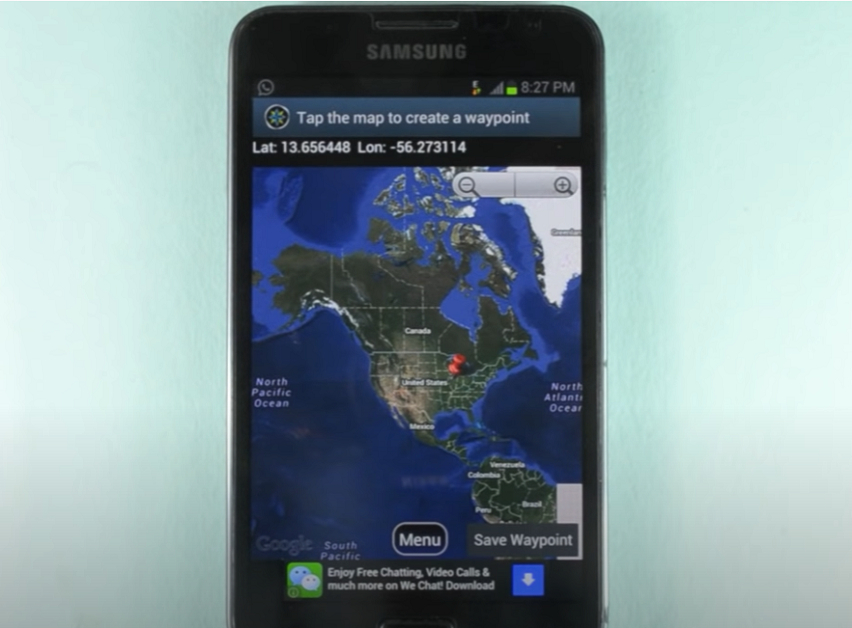 The free version has basic features and advertisements, while the paid version has extra features and no promotions.
The Polaris app also provides a compass tool and tons of sensor data to help you survive remote areas.
Main Features And How to Download
The app's best feature is its access to Google Maps, MapQuest, OpenStreet Map, and Cycle Route Map. The app also offers turn-by-turn navigation, several coordinate formats, trail recording, and a particular waypoint management system.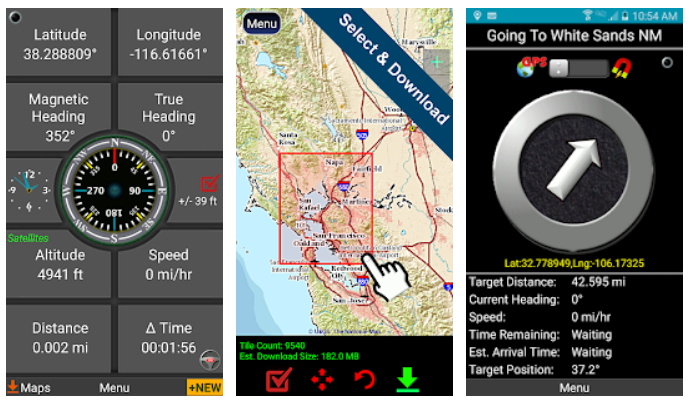 There are also specialized features for outdoor persons enjoying hiking, fishing, camping, sailing, hunting, and other outdoor activities.
Download the Polaris GPS app from Google Play Store on your device. Then, run the app to begin using its features.
MapFactor Navigator
MapFactor is a GPS app with a high average rating and tons of installs.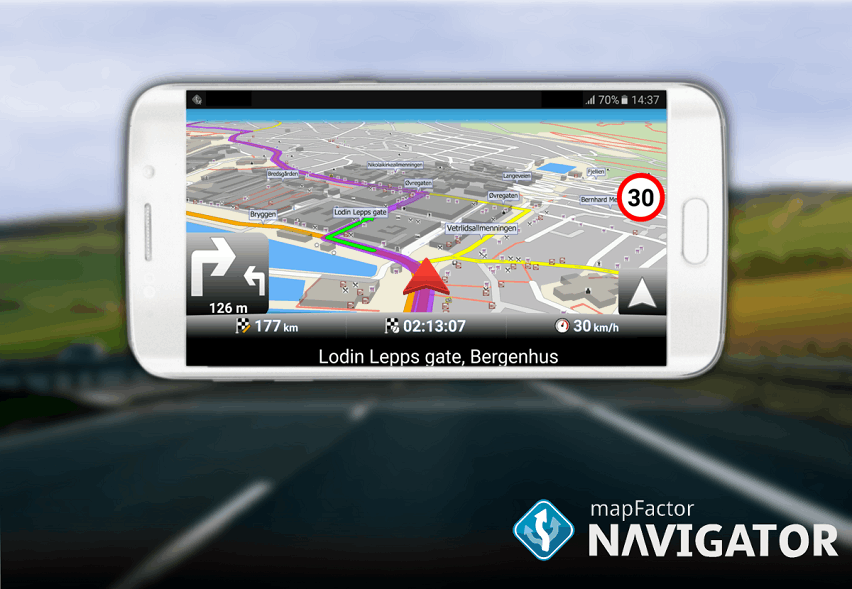 It uses OpenStreetMap that lets you access free offline maps you can update every month. You may also add other map options for a cost.
Main Features And How to Download
This app boasts impressive features such as 2D and 3D modes, cross-border routing, voice directions, day and night themes, and many more.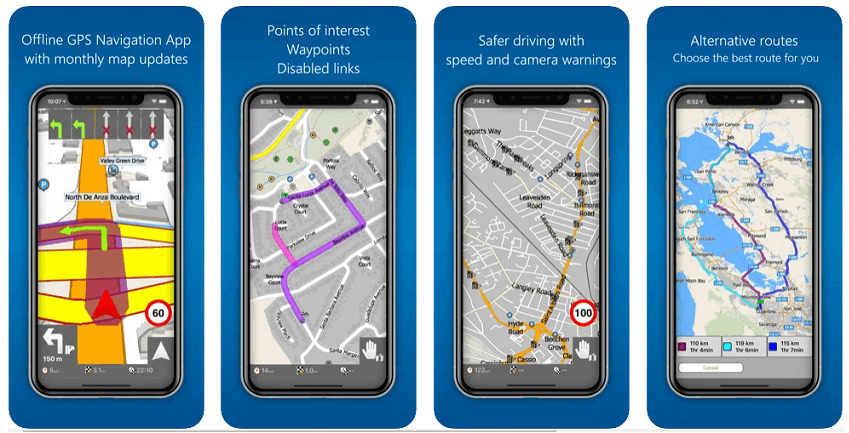 You can navigate over 200 countries and even thousands of stores, restaurants, gasoline stations, ATMs, and more.
Download this app on App Store or Google Play Store and use it everywhere you go, even without the internet.
Genius Maps
Genius Maps is a navigation app available offline. So, you are not required to connect on the internet to search and navigate.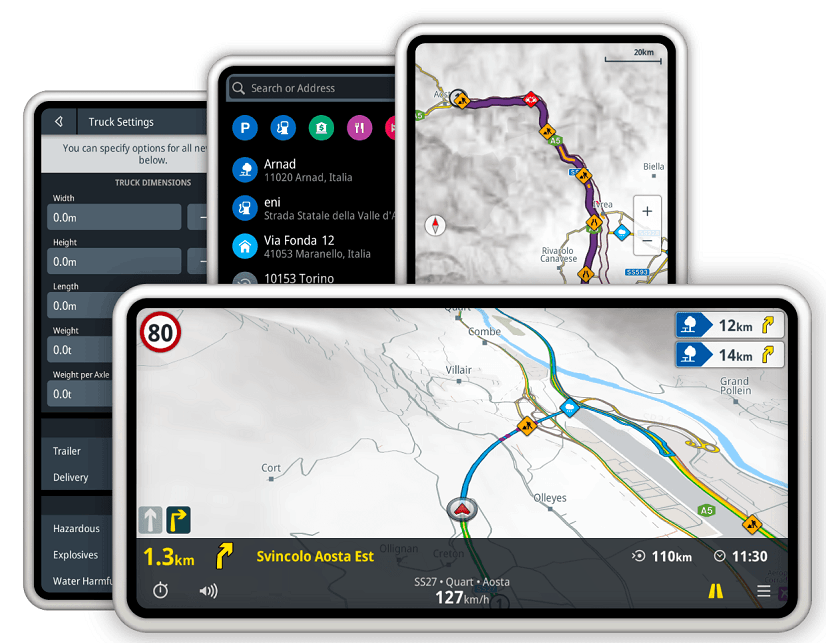 It is a premium application that gives you access to full-functional pro guidance and live traffic reports.
You can easily download and click the app and explore its functions.
Main Features And How to Download
With Genius Maps, turn-by-turn navigation is a paid premium feature, but the free software version allows you to download maps to your smartphone and use them for route planning.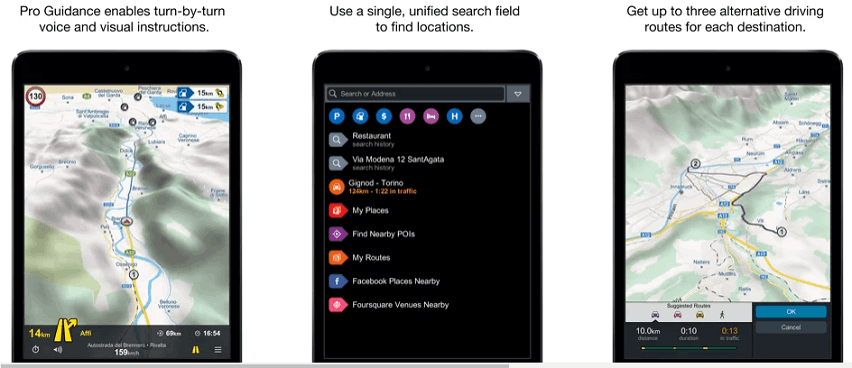 The maps available on the app are very detailed and contain innovative route calculation. Without the premium version, you need to use another application to use pro navigation component services like turn-by-turn navigation and live traffic updates.
Download Genius Maps from Apple App Store or Google Play Store on your device.
Conclusion
GPS navigation is a must-have whenever you travel to new and unfamiliar places. Mobile apps usually require an internet connection, but the good thing is that there are various offline GPS apps you can download. GPS navigation has become easily accessible in any country worldwide.
Spanish version: Mejores aplicaciones gratuitas de GPS sin conexión: aprende cómo descargarlas
Last updated on May 23rd, 2023 at 09:03 pm