Our phones have become vital parts of our daily lives and even make up a big part of our routines, and it seems that everything can be done from the tip of our fingers, at the click of a button, or even just by the sound of our voice.
Life becomes a whole lot easier when we have applications to help us with our day-to-day living.
Here, you will learn about five must-download applications, which will surely become a part of your routine and will make every day so much easier and more fun for you.
aCalendar: A Calendar For Every Day And Everyone
Expense IQ: The Money Manager That Grows With You
Squid – Take Notes And Mark PDFs
Tasker
Cool Reader: Cool And Classy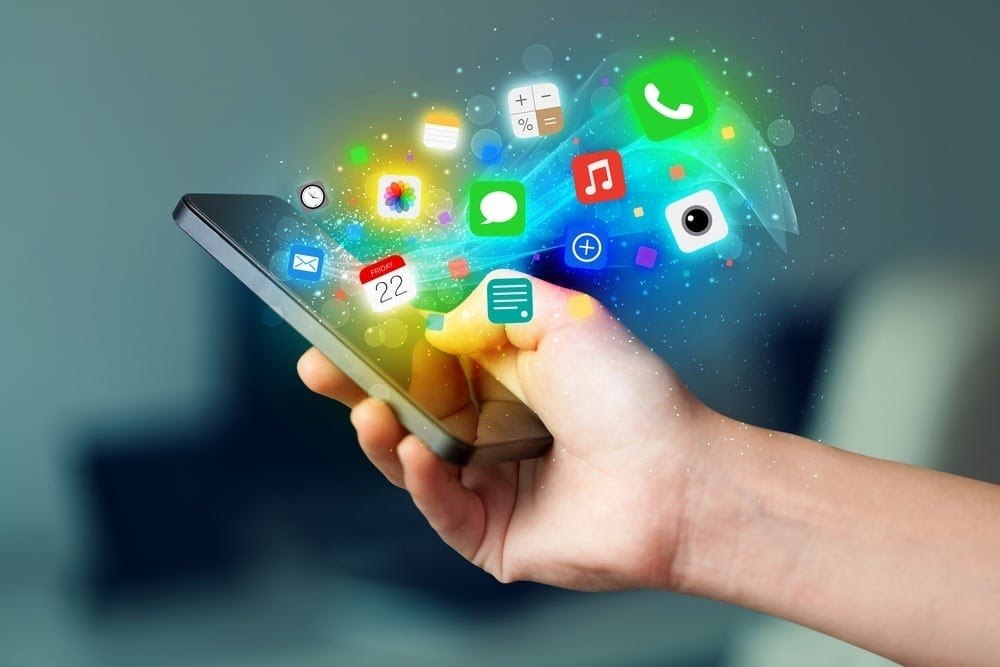 aCalendar: A Calendar For Every Day And Everyone
If you're looking for an all-in-one calendar app from Google Playstore, then worry no more because aCalendar is the best app for you! With over 10 million downloads, this app is ranked as one of the best calendar applications for Android users out there.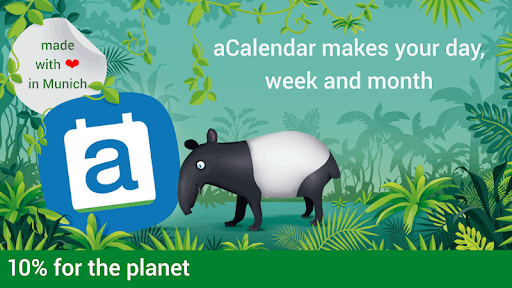 Developed by a small independent studio based in Germany called Tapir Apps, the app is well-known for having an excellent task integration feature that allows you to view your tasks in a calendar while also providing a separate view for each task.
The app also has many customization options where you can adjust your font-size, set the beginning and end of the day, and choose which views to use. aCalendar can be used for free, but if you want premium features, you'd have to pay to use the aCalendar + (plus).
The app is available in 30 languages, making it accessible and inclusive for everyone. In addition, there are also holiday calendars available for specific countries. You can also set up your calendar to use the moon's lunar cycle, which is a pretty neat feature.
aCalendar's Standout Features
aCalendar has a lot of features which makes it one of the best calendar apps out there. It boasts seven powerful widgets, flexible recurrences, Google calendar synchronization and management, and a mini-month or graphical week overview available in day and week view.
aCalendar is also organized because it uses Android's native calendar backend and synchronization. It also has several business features such as inviting attendees, linking contacts, toggling between free/busy status, privacy, creation of profiles, and exporting schedules as ICS.
It also boasts a wide array of user-friendly gestures such as moving forward and backward by vertically swiping and switching between calendar views through horizontally swiping. You can also long-press to add a new event or tap to open a new one. You can also long-press on an event in day view and drag it to a different time.
Expense IQ: The Money Manager That Grows With You
Keeping track of money can be a sure handful, especially when you have to juggle many tasks simultaneously. This is where Expense IQ Money Manager comes in, a handy and straightforward tracking app for your money that you can download on Google Playstore.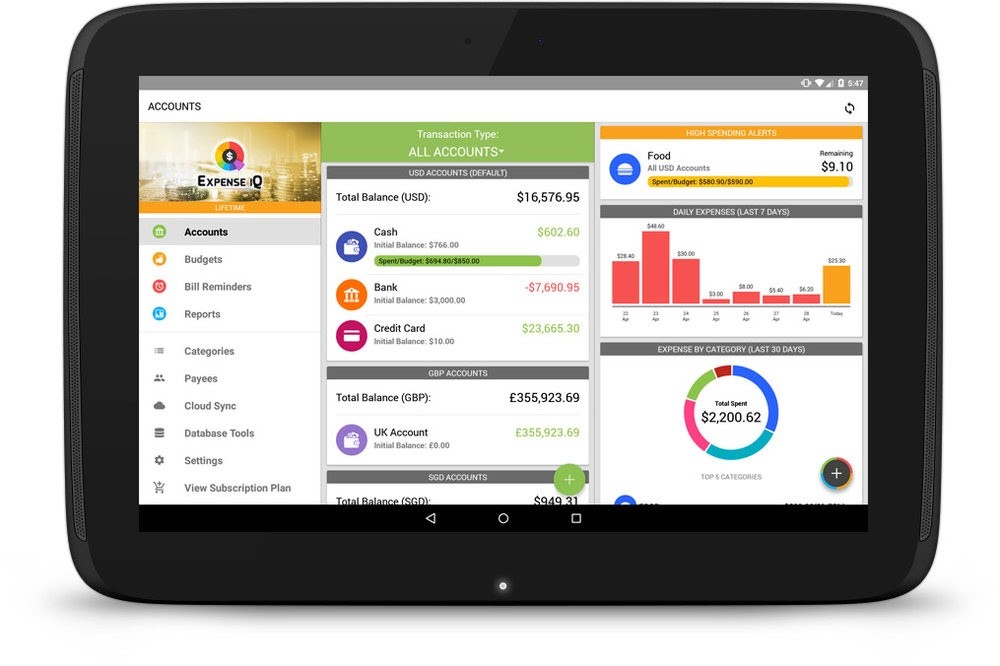 Expense IQ is developed by Handy Apps, with over a million downloads on the Google platform. The Singaporean-developed app has been acclaimed globally in the technological world and has received numerous awards and recognitions by Android Police and even Google Play itself.
The app boasts its simplicity, speed, and power, with various features such as the intuitive expense tracker, practical budget planner, timely bill reminders, comprehensive reports and charts, and cross-device cloud synchronization, which we will talk about in detail in the next section.
It's free of charge and supports over 30 languages, so anyone worldwide can enjoy and use this efficient and time-saving finance tracker. Developers also assure the users that none of their personal information and data are being distributed to third-party applications without their consent.
Expense IQ's Standout Features
You can enjoy a wide array of features that every finance tracking app must-have. One of these is the budget planner, where you can stay one step ahead in maintaining a healthy spending and saving habit with its intelligent-color coded budget health bars and overspending warnings.
You won't ever miss your bill payments and pay those penalties or charges because the Bills' Reminders feature will alert you days before your due dates, so you won't forget to pay them. You'll also see a summary of how many bills you have to pay.
You can use the apps more than ten valuable and fully-customizable report types which generate and visualize your spending habit and budget. The app can provide you with charts and reports, broken down into categories, accounts, periods, and even specific projects.
Squid – Take Notes And Mark PDFs
Squid, or Squidnotes, was an ingenious invention by Cal Poly student Andrew Hughes under self-developed Steadfast Innovation, LLC. Formerly known as Papyrus, it was Hughes' response to the growing need of students to take digital handwritten notes.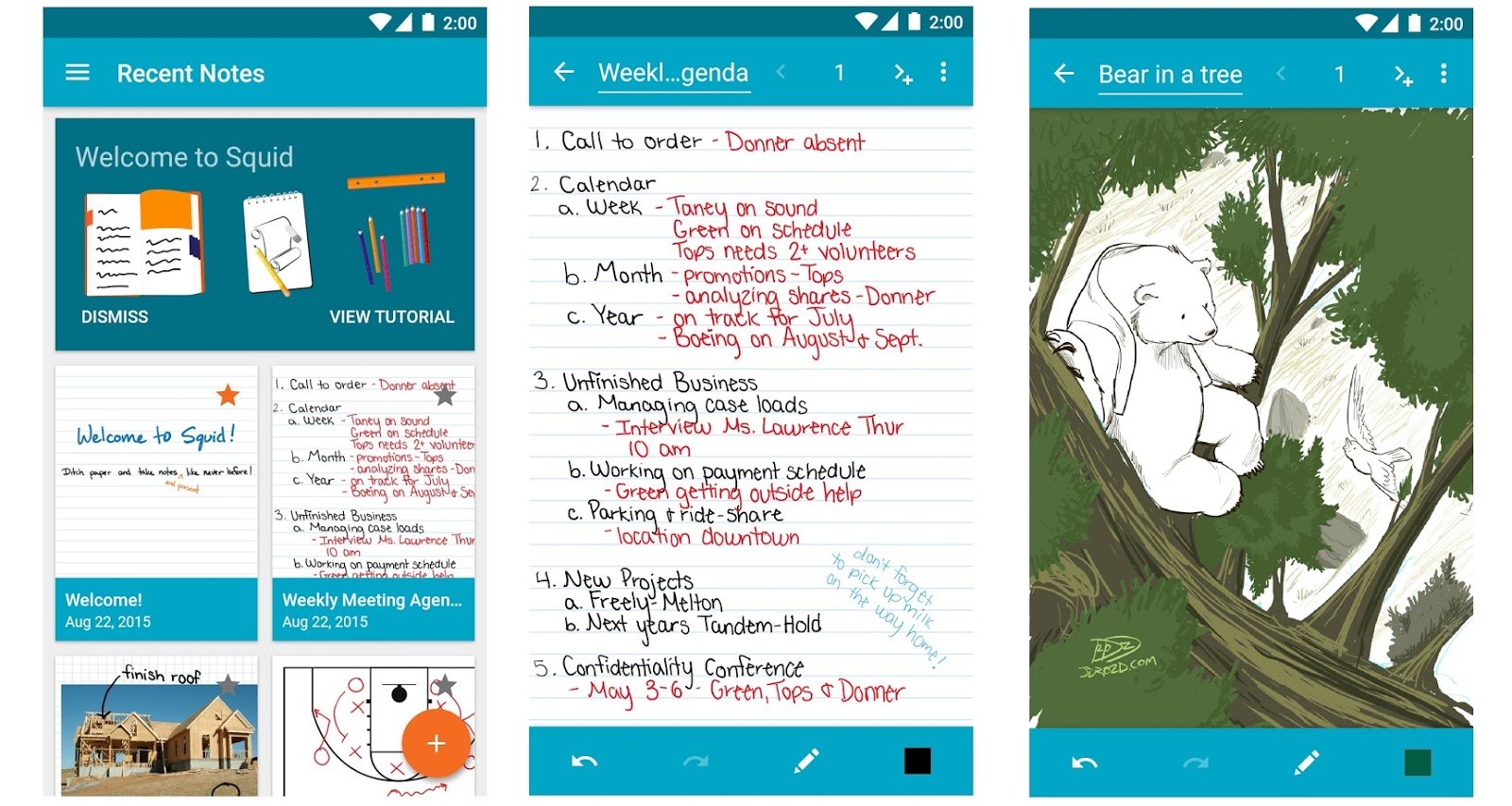 In early 2017, the first Chromebooks with Android and active pen support were released, which were perfect for the Squid app because of the device's low cost and versatility.
Squid has then been used by many educators and students since then, with over 5 million downloads on Google Playstore and a total rating of 4.3 stars on the platform.
The app has received recognition from the Google App Playstore and was an Honorable Mention for the Productivity Category in the Samsung Galaxy Note S Pen App Challenge. It can be used for free, but Squid Premium provides more key features which you can enjoy.
Squid's Standout Features
Squid prides itself in allowing people to take handwritten notes on Android tablets, phones, or Chromebooks the way they would write on paper. You can even turn your device into a virtual whiteboard or give presentations by wirelessly casting to a TV/projector.
You can also unleash your creativity by choosing from a variety of paper backgrounds, sizes, colors, and "textures." With the app optimizing active pen technology, you can write with the pen and erase it with your finger or write naturally as if you were writing on a sheet of paper.
You can also perform quick actions with the pen side button and take advantage of active pen technology on all capable devices. To add to that, you can organize notes within notebooks and sort them quickly with multi-window support.
Tasker
Tasker enables you to fully optimize your phone's potential by turning it into a true smartphone— the app lets you make your phone perform automated actions based on contexts and settings.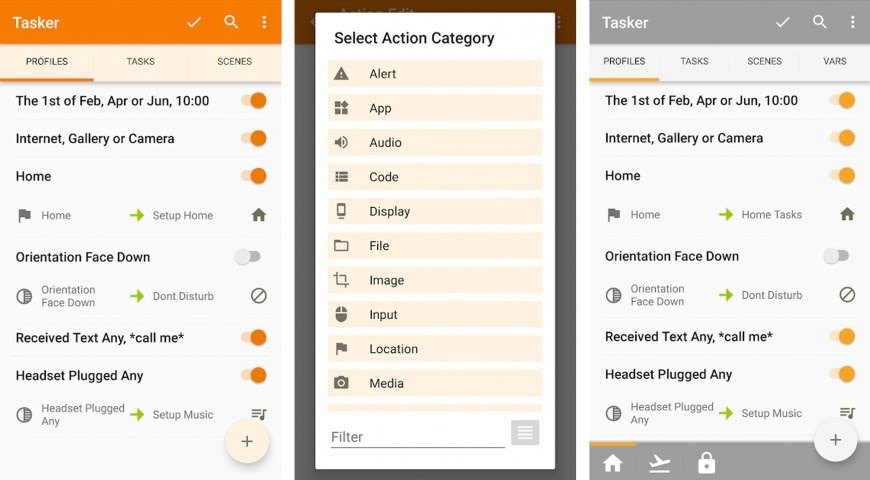 The app extends your control of your Android Device and its capabilities without rooting your phone or downloading a unique home screen to automate your tasks.
Tasker won 3rd in the Productivity category in the Android Developer Challenge 2. This app is not free– you have to pay around $3.50 to purchase the app on Google Playstore.
However, once you see the things it can do, it'll be all worth every penny!
Tasker's Standout Features
With Tasker, you can do various things, such as changing your phone settings by application, time, or location. You can tell your phone to increase its screen timeout when you open a book reader or decrease the brightness during the evening.
You can set up almost 350+ actions to customize your phone and change almost any setting such as WiFi Tethering, Dark Mode, Always On Display, opening apps, controlling music playback, among many others.
You can also tell your phone to do specific actions when you are in a particular location– amazing, isn't it? Chances are, if you can think of it, Tasker can do it!
Cool Reader: Cool And Classy
Cool Reader is an e-Book reader that supports multiple eBook formats and is available only on Google Playstore. It was created by developer Vadim Lopatin based in Russia and had over 10 million downloads.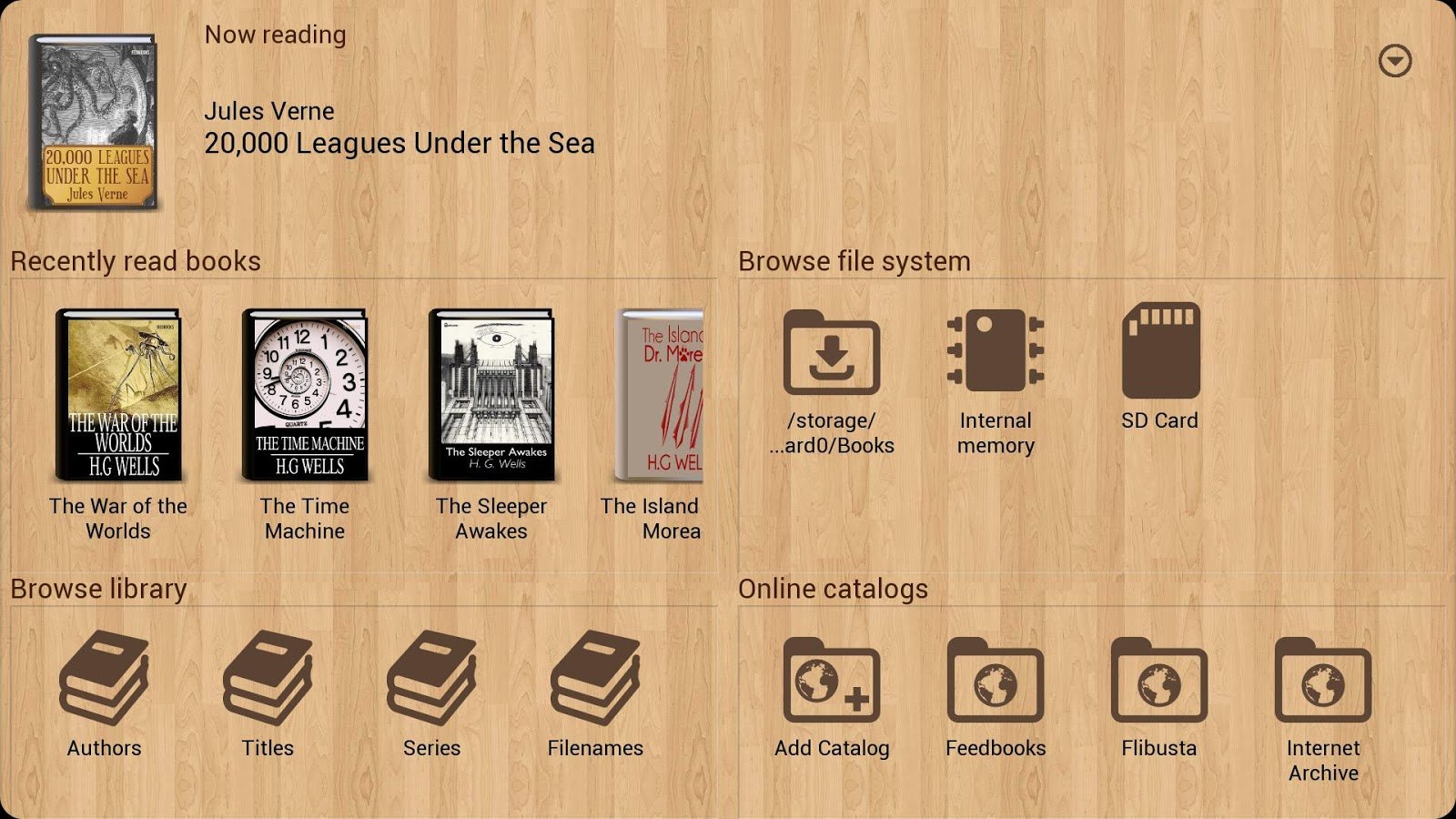 Cool Reader will be a significant part of your routine if you are into reading eBooks, PDFs, or other formats of electronic books and documents.
It is a free, open-source, multi-platform project with text to speech support and cloud synchronization.
You can choose between the page or scroll view, complete with page-flipping animation, navigation on the table of contents, bookmarks, and text search functions.
Cool Reader's Standout Features
The app also supports a built-in file browser for more straightforward navigation and importing of files. You can also export bookmarks to text files.
You can also feel that you are reading and holding an actual book because of its day and night profiles, which are fully-customizable, adjust brightness, and modify the background texture.
What's more, the app also supports dictionaries such as ColorDict, GoldenDict, Fora Dictionary, among many others, and auto-scrolling, which makes your reading easier and more convenient.
Conclusion
Technology truly makes our lives better through innovative applications and ingenious inventions. We should take advantage of these applications while they last.
So what are you waiting for? Spice up your routine and install these apps for more fun and carefree technology-driven life!
Last updated on December 27th, 2022 at 05:58 pm