Looking for a tool to manage your tasks for the week? Having a hard time keeping track of your accomplished work? Or maybe you're looking for an easy and interactive way to plan a vacation itinerary with friends?
Find all those features and more with Trello, a visual tool for organizing your work and life. You can organize all your work projects and plans anywhere and anytime. It gives you customizable work boards to serve virtually any purpose.
Check out how you can use the Trello organization app to organize and plan your work tasks and daily plans.
Trello for Workplace Project Management
Minimize your mental load from trying to keep track of all the details for an ongoing project. Trello helps you to visualize your progress and other details through the use of boards.
Trello's users primarily use the application for work-related purposes. Imagine bringing your conference room whiteboards onto your phone. You can easily access the plans, edit in real-time, and be updated with the pending tasks for the day or the week.
The application gives you the freedom to organize your projects however you want through the use of boards, lists, and cards. You can decide on each board which projects, events, or activities you wish to keep track of.
You can add a list that serves as the general tasks you need to accomplish like "To Do", "Doing", and "Done" lists. You can add or remove a list from your board at any time. The cards serve as the specific tasks that you need to finish. It may be a specific instruction, a photo, a menu, or anything.
Trello for Everyday Life
Trello can also be very helpful for students to organize studying, assignments, tests, and any upcoming deadlines.
But work and school isn't the only place that Trello can be useful. Trello can be used to organize anything going on in your life.
According to Trello's co-founder, Joel Spolsky, it is designed to be used for whatever event you need to prepare for, like planning weddings, your weekly diet, reading list, chores list for the day, and pretty much anything else you can think of.
Better Collaboration
One of the best features of the Trello app is its collaboration options. It is easy to plan, organize and update your boards with your team, groupmates, or friends.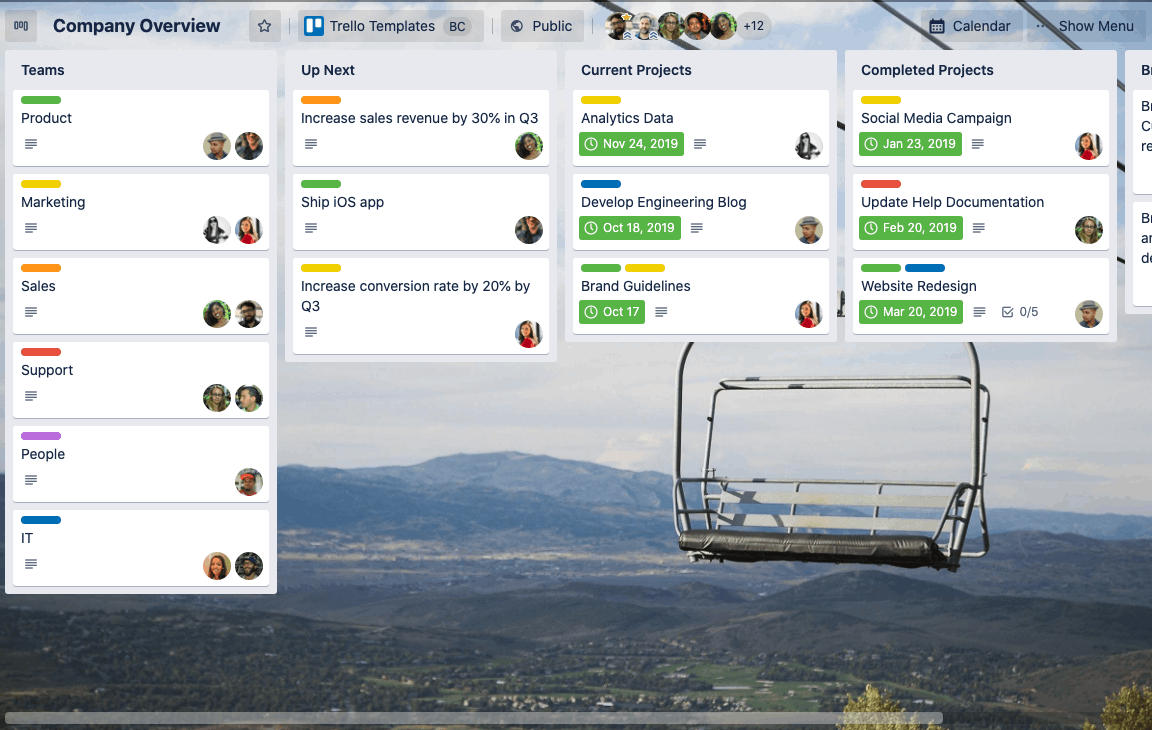 Invite everyone involved to work with each board by adding them as collaborators through their registered email in the application.
In Trello, you can add goals, timelines, and relevant resources for your project. All the members of the team will be reminded of the workflow, deadlines, and task delegations.
This lets you avoid the hassle of constantly checking up and following your fellow members through the application.
Lead More Effectively
Avoid the hassle of lengthy meetings to discuss your plans or possible miscommunication through task delegation on emails. Trello gives you a platform where you can explain tasks while providing a bigger picture for everyone.
If you are a team leader, you can keep track of the accomplished tasks of your members through this feature. They can add or transfer cards with their respective tasks across lists like they can put it on the "Doing" list if they are currently working on it or the "Done" list when they accomplish it.
This preserves productivity by relieving the need to constantly check-up on the status of teammates' work.
Basics of Trello
Trello has great user-friendly features to plan and organize projects and tasks. After deciding on the project to dedicate to a specific board, you can create lists of tasks to be accomplished through the use of cards.
With the drag-and-drop feature, you can transfer a card easily from one list to another. For example, from the "Doing" list you can move it to the "Done" list once you are finished. In a few seconds and a few finger taps, the board can be updated for all to see.
If you need a lot of resources for your project, you can organize and store them all within your boards. In a card, you can attach a file, post a photo, anchor a link, and a lot more.
You can also provide descriptions for tasks on each card. It may contain specific instructions given for the task, or directions for another team member to do certain work.
Calendar on Trello
Get reminders of the deadlines of the entire project, and specific tasks, through Trello. You can indicate the target completion date of the project through the general board or indicate your own target date for any non-work-related plans.
As team leader, you can give specific cards to your members for more efficient task delegations and set specific deadlines. The app can notify you and particular team members when a deadline is approaching, which can be customized to a specified timeframe. This makes it easy to see monitor who delivers their job on time.
There is also a calendar view wherein you can see the whole month with their specific tasks. You can navigate the calendar and see your day-to-day tasks and deadlines, or weekly reports needing to be accomplished.
Best Features of Trello
Trello is trusted by over 35 million users worldwide. This is due to its simplified, convenient, and efficient way to manage projects from the palm of your hand.
Trello is one of the easiest planning tools out there because it is completely customizable. You won't be confused with the boards, lists, and cards, because you will be the one to set their labels, descriptions, and functions. You can also provide a brief explanation for each to add more clarity.
Archiving is available in Trello to stay focused on the task at hand. Move accomplished boards to the archive in case that you may need to recall a specific file, card, or list for future projects.
Trello's versatility is one of its key selling points. You can use it to work with a team and collaborate with them. For personal use, you can utilize the calendar view for daily or weekly schedules. Also, it can serve as a journal if you want to keep day-to-day notes.
Trello on Phones
Trello is offered across devices as a web-based application, desktop application, and mobile device application. All features are available across all devices that you use, with the navigation and interface remaining the same even on the mobile app.
Synching is automatic. All the progress and changes made in other applications will automatically reflect on all devices. For example, if you updated something on Trello on the desktop application during your work hours, it will be shown on the phone application in real-time.
The boards can also be saved offline, however, this is only available on the mobile app. Wherever you are, you can have access to your work. Also, if you added some changes to the list or cards while being offline, it will still be saved. Once you go online, it will automatically sync to other devices.
Plans and Power-Ups
The free version of the app includes unlimited cards, unlimited storage (with a maximum of 10MB per file), unlimited members (collaborators), and 10 boards to use. Trello offers packages to enjoy an upgraded version of its services.
If you wish to maximize collaborative features such as dashboard, Team Table View, Timeline View, and have unlimited boards and unlimited storage with up to 250MB per file, then you can upgrade to the Business Class package.
The Business Class plan is $12.50 when billed monthly, but only $10 per month when billed annually. Prices differ depending on the additional services and features you wish to upgrade to
If you need to organize the boards other than what Trello offers, you can use Power-ups, or extensions, to add this function. Some of the external extensions are Jira, Slack, Google Drive, InVision and etc. These Power-ups will help you have better and efficient usage of the application.
Installing Trello
Trello is free to download on Google Play and the App Store.
You can get Trello on your phone by searching for it on the Google Play Store or the Apple App Store. Simply locate the app using the store's search feature and once you're on its page, click the install button and you are good to go.
An email will be required for you to sign-in. This will help you sync your data and files if you already have an account on other devices. You can retrieve all your boards just by signing into one device.
Conclusion
Aside from the project management features such as the use of boards, lists, and cards, to stream-line team workflow, Trello is a great avenue for collaborative work through its many various features.
If you are looking for a simple and easy-to-navigate application to help organize and plan your work-related or personal tasks, Trello might be the perfect fit for you.
Last updated on December 23rd, 2022 at 07:52 pm