If you are looking for the best interior design apps, Room Planner is pretty much on every designer's list. With Room Planner's features and functions, you will enjoy experimenting with style, colors, accessories, and furniture. It also reflects the latest trends in the interior design industry.
Room Planner allows you to create room mockups in 2D and 3D. Whether you are planning to redecorate or build a room, this app can help you generate new ideas and perspectives.
Learn more in this article about Room Planner and how to get the exact touch you wish to see for your space.
Room Planner App Features
How the Room Planner App Works
Design Functions
Building Your Outdoor Space
Room Planner App Subscription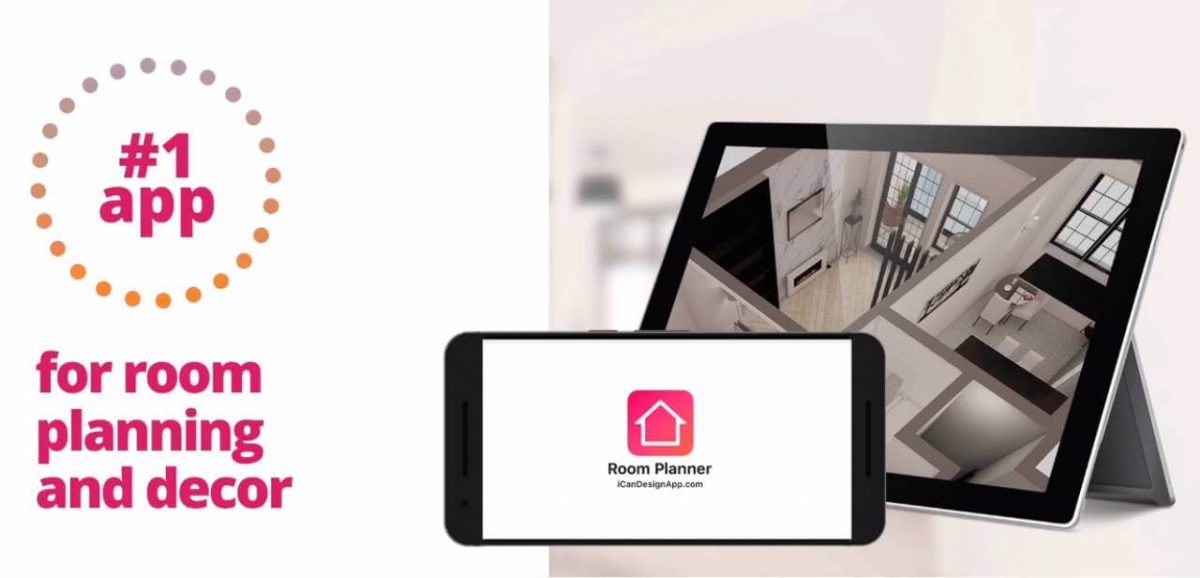 Room Planner App Features
Released by iCanDesign, the Room Planner app gives you freedom when it comes to styling your room. There is a wide variety of items to choose from, including decorations, carpets, furniture, and wallpapers that come in different colors and themes. These can be arranged in various positions in the room.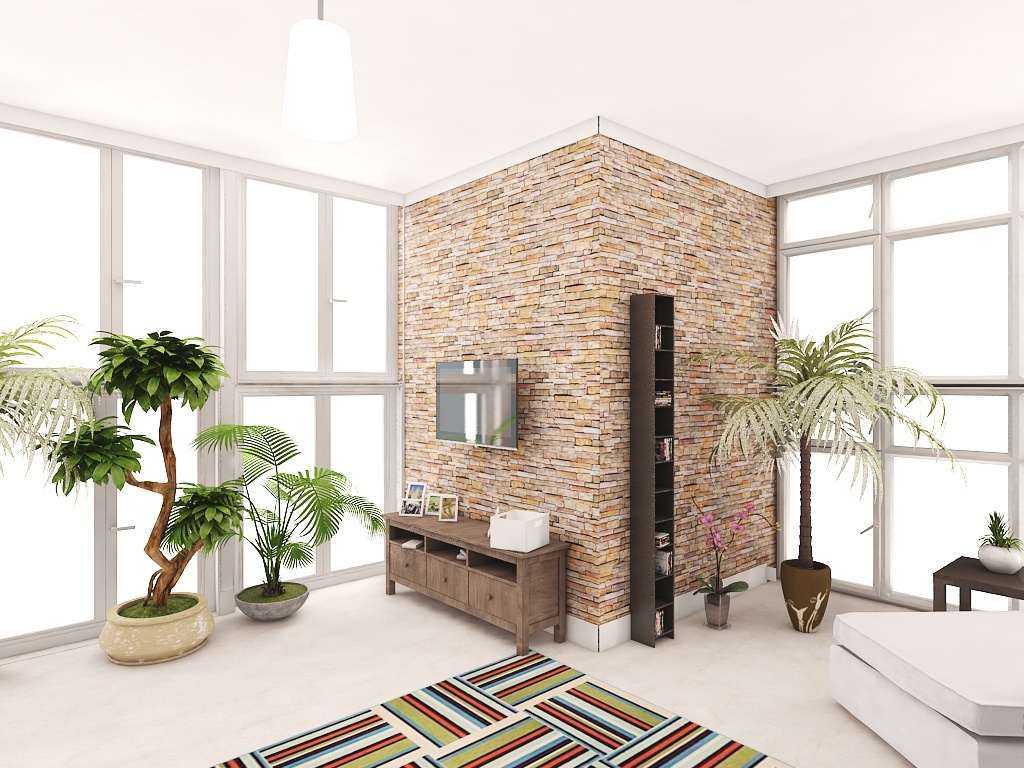 As a user, you can select and try out rooms in different locations, like a building near nature, a high-rise apartment, or a seaside villa. Each type of room has designated positions for the furniture so it will be easy for you to arrange them like a professional interior designer.
The rest of the styling, from colors to shape, will be up to you. You will get access to the highest quality decoration items in the app, thanks to iCanDesign's partnerships with high-end interior design brands around the world.
New decorations are also added every day. With this, the app helps you maximize your creativity and achieve the kind of room you want to build.
Creating a Community
The best design ideas do not only come from one perspective. You can find a community in the Room Planner app where you can get virtual approval from professional designers and amateurs. This will help hone your ideas as you explore styles and create your dream home.
Room Planner has a design voting feature that allows users to consult others and vote for the best works. With this type of interaction between users, your unique design can get support from another user. Every vote from the community makes you earn more "diamonds" in the app.
When you have diamonds, you will be able to purchase premium items. The other option is to exchange keys with other users to enter more challenges and earn more cash. Voting for other designs can help you unlock features.
How the Room Planner App Works
With its layout and striking visuals, Room Planner is easy to use and navigate. To start a project, you can simply click on one of the room types on the Home page, including "Bedroom," "Kitchen," and "Living Room."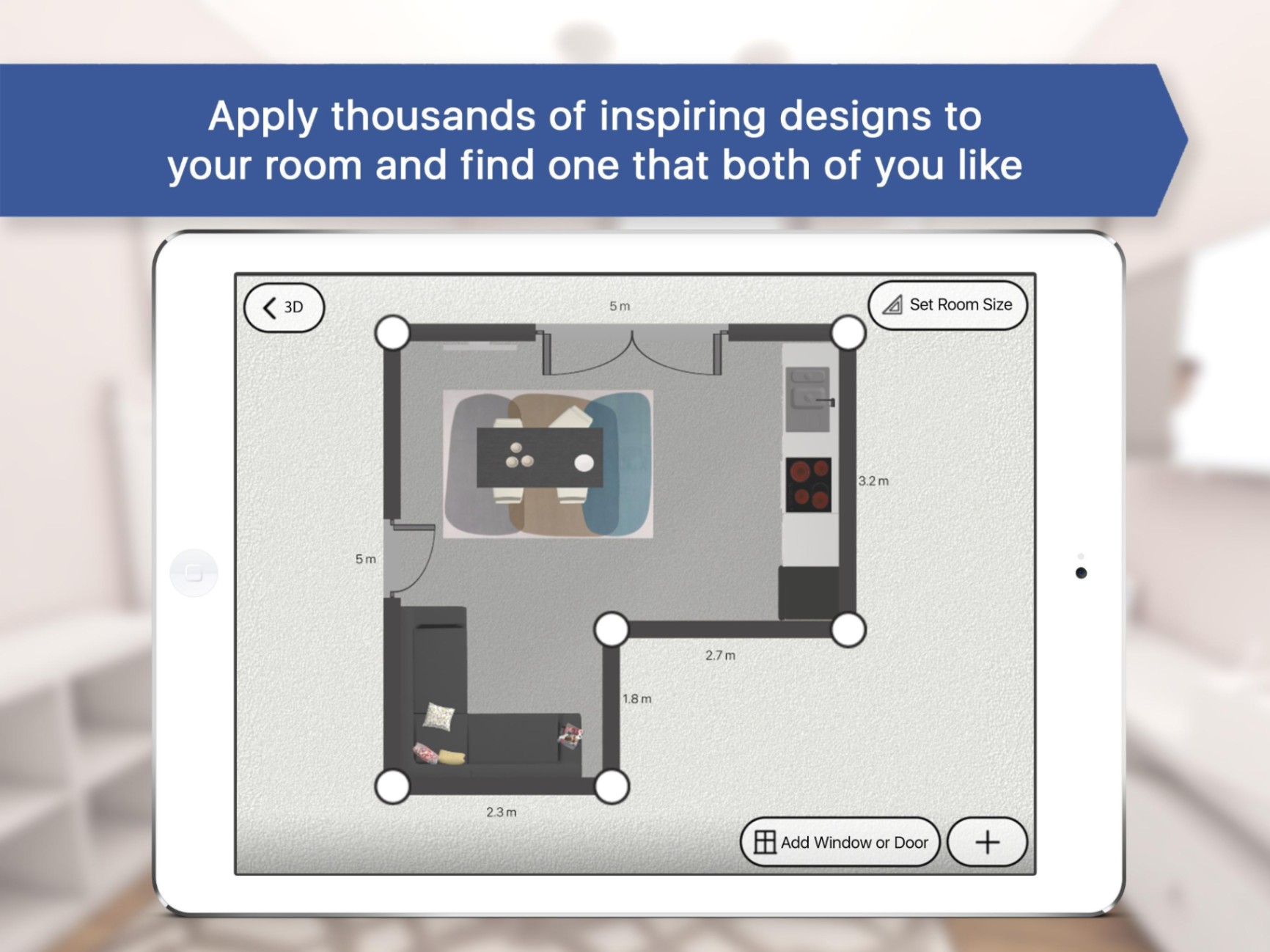 Just tap on the cross sign of the room of your choice. You can also select the My Floor Plans option. When you have chosen a room shape or drawn walls from scratch, you can create a background image and then set the space measurements.
Don't worry about saving your work because the app automatically saves it on the Ideas page.
If you're resuming a project, it's as easy as clicking on the file you want to edit. If you want to be 100% sure about the security of your work, just press the accessible Star button.
Designing with 3D Graphics
Room Planner's 3D graphics platform is sharp enough for you to see the most significant details. For example, the design of the wall shows you the waves and the contrast of colors. With the graphics, you will also recognize the texture easily, whether it's marble or wood.
If you want to create a ceiling with a LED lighting effect, a few clicks will get you that and make your room look cozy. The app's decoration system features different items that you will need for your desired aesthetic. It includes beds, lamps, furniture, and even indoor plants.
However, you must keep in mind that every piece of furniture comes with a price. The more high-end the furniture is, the more expensive it is. Taking note of the prices will help you maintain your funds throughout the designing process.
Design Functions
To change the wall's length, height, and thickness, point to the wall in either 2D or 3D mode and select the blue settings button. Then, click the object and choose the blue palette button. When you're on the 2D plan, just choose the wall you want to move and move it around with your fingers.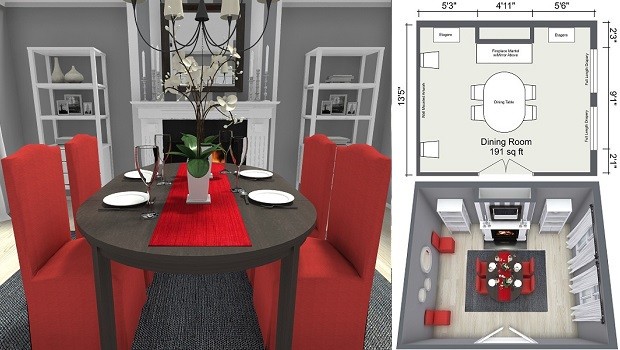 To move an item, just tap the object and drag your finger to where you want it placed. To rotate, you can either pick an item in 3D mode and choose the rotation button to rotate the item by a 45-degree step, or in 2D mode, you can tap the rotation button and rotate the object with a free degree.
Build a windowsill by selecting "Construction" in the furniture catalog. Choose the Select View button and pick one of the photos from the menu or place a new one. Click the No View option if you want to remove the window view.
Windows are not complete without curtains. Just tap the window and then select the Curtains button so you can see the options in the menu. You can also tap the Add Furniture button from the Decoration/Curtains catalog menu to select one of the options in the menu.
Uploading a Background Image and Adding Stories
You can see the Background function right away when you begin a new project in the menu called My Floor Plans – Import as an Image button. Once you have uploaded an image, you can use two points and the length between them to determine your floor plan scale.
Once your stylish room is done, the background image will stay hidden. If you want to replace it, just go to the project settings in 2D mode and choose the Change Floor Plan Background Image item.
If you want a bigger house, you can add a new level by simply going to the "furniture catalog" and clicking the "add level." If you have the Pro version, you can modify the room size using the wall settings.
Building Your Outdoor Space
While the name of the app, Room Planner, seems like it is for enclosed spaces only, you will be thrilled to know that it is not limited to things inside the house. You can actually create and design outdoor spaces in the app.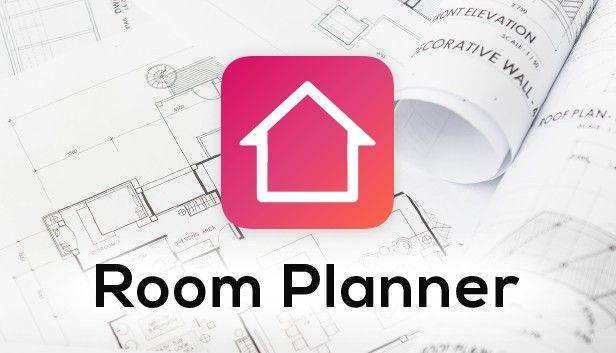 Take into consideration your outdoor spaces because those will affect the position of the windows of your rooms.
You can create an outdoor recreational area like a balcony or a terrace by adding another "room" and using "grass" as the floor.
Change the color of the walls and the ceiling to wooden or metallic, depending on your style. You can also accessories your outdoor spaces with items like plants, benches, and pets.
Swimming Pools
Another exciting recreation you can add to your dream house is a swimming pool.
You can create one by choosing a room shape, building walls, and placing tiles on the floor.
Add outdoor elements to the space surrounding the pool, like grasses, plants, and pool chairs.
Room Planner App Subscription
Ready-made designs, an unlimited number of rooms, and even a full furniture catalog are available through Room Planner's auto-renewing subscription. For personal use, the annual fee is $59.99. Other in-app purchases are available.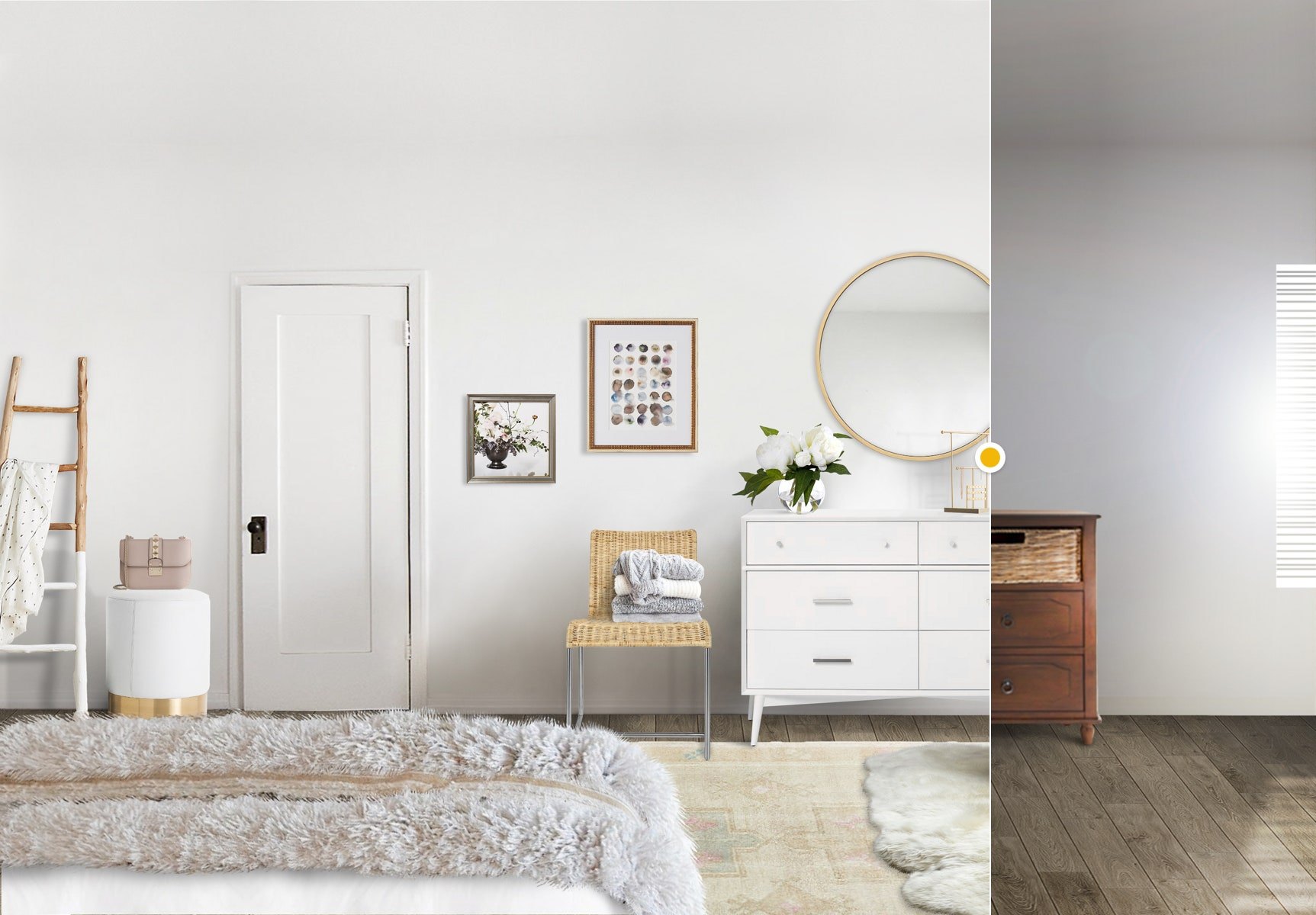 The desktop version of Room Planner is available for MacOS and Windows. As a user, you can enjoy access to over 5,000 items from IKEA and other branded stores. You can even choose a design for your room from 9,000 real projects.
You can also calculate renovation costs and get ideas from collections of inspirations in the app.
When you have the Pro version, you can enable sync and backup for all your devices. Room Planner allows you to unsubscribe anytime or modify your subscription.
Download the Room Planner App
Now that you've learned about Room Planner, its amazing features, and how to use it to create your perfect room, it's time for you to download it!
For Android phone users, you can go to the Google Play Store to download, while iOS device owners can get the app from the Apple App Store.
Conclusion
Room Planner is truly a user-friendly app, but if you want a complete tour of its settings before you start designing, you can opt for free tutorials and check the Room Design Wizard option in the room settings and Show tips button.
Whether you are a professional designer or are simply curious about interior design, Room Planner has a lot of features that will help you achieve the style you desire and connect with a fun and inspiring community.
Spanish version: Aplicación gratuita para simular la decoración del hogar
Last updated on May 23rd, 2023 at 07:14 pm