It is fascinating that there is a limitless possibility on how people can use their mobile phones nowadays. Developers have come a long way in making phones transform into different devices or function as other appliances or devices. It all became possible with various mobile apps.
Mobile phones can now be turned into a universal remote control for a television. People do not have to worry about missing remote controls or worn-out batteries. Their phones can control their television through various apps.
Check some of the mobile apps that can turn cellphones into a remote control. Learn about their features and how to download them. Moreover, discover how to set up the phone and the television apps to make them work.
Google Home
SURE Universal
Unified Remote
Universal TV Remote Control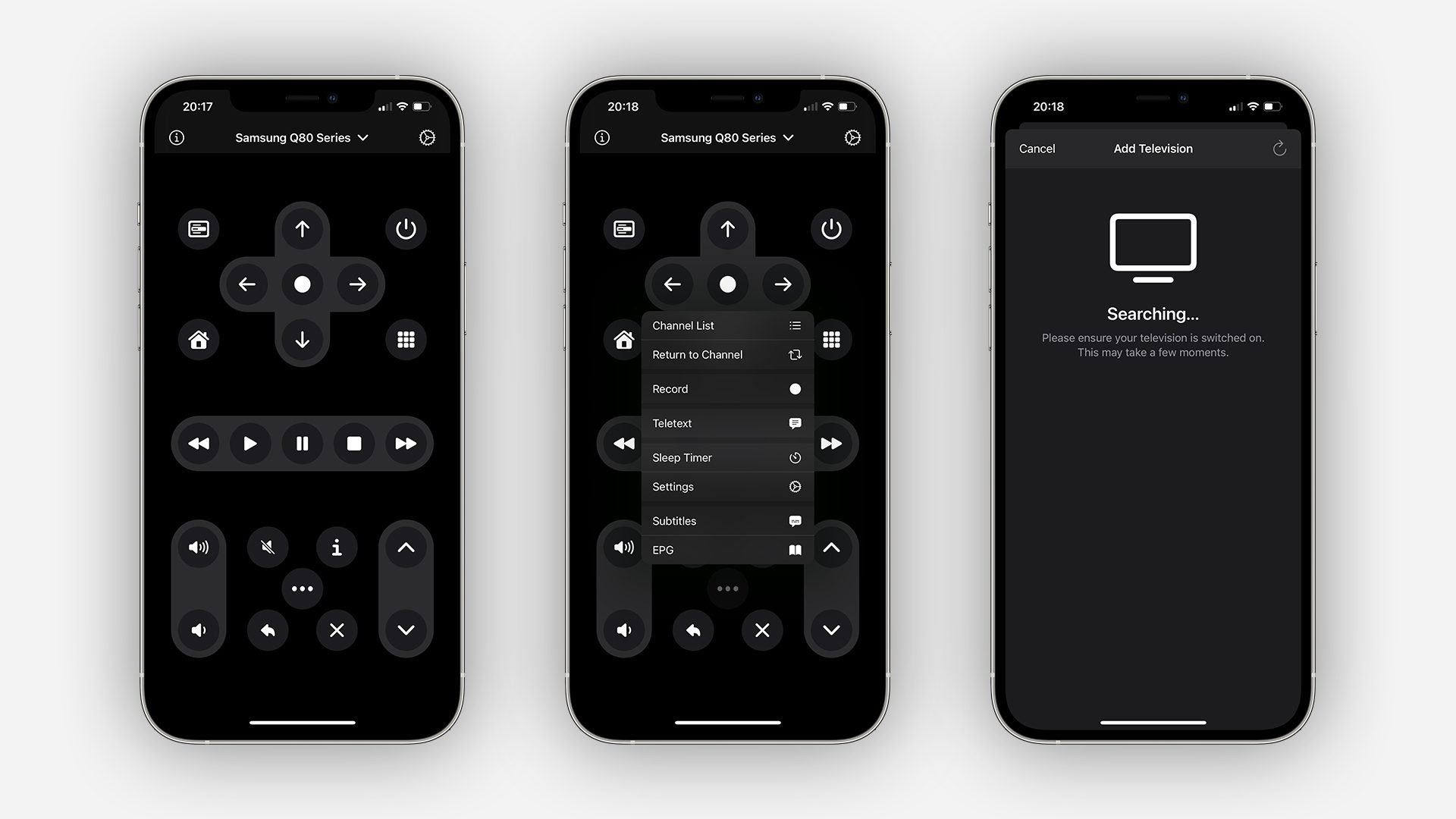 Google Home
The Google Home app can turn your Android device into an all-in-one remote control hub for all Nest, Chromecast, and Google Home devices. People can check on what is happening in their homes with this app with access to these devices anytime and anywhere.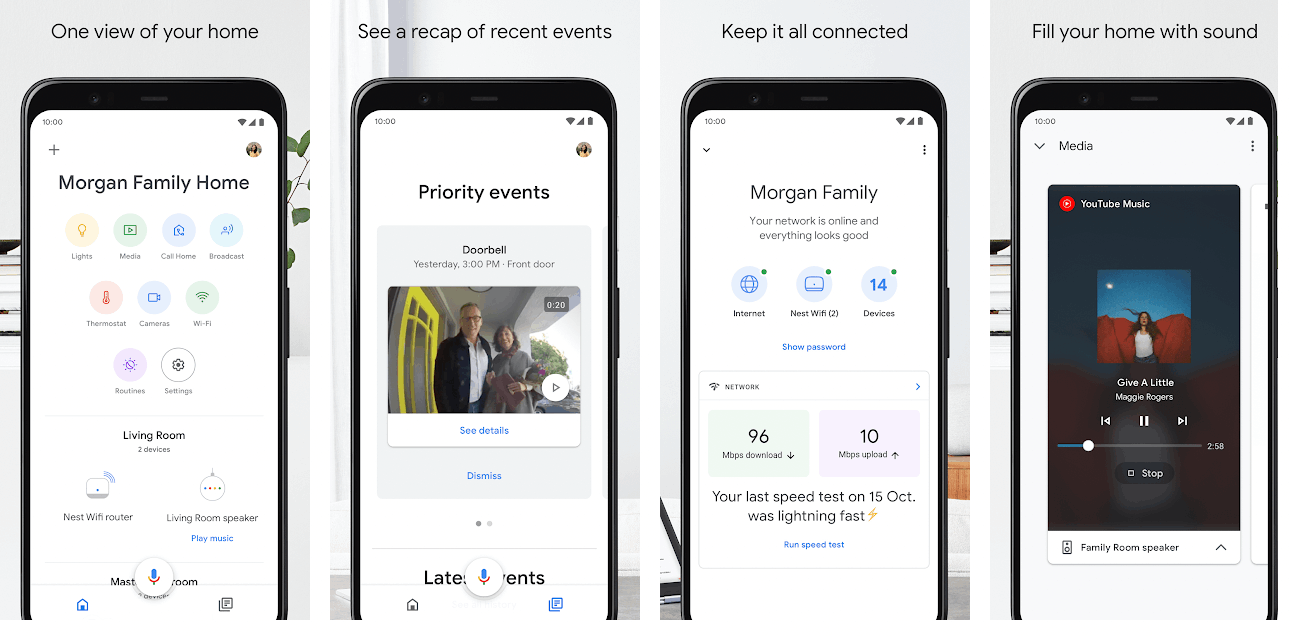 Google Home allows users to access and control home appliances like lights, cameras, televisions, thermostats, media players, and more. The Google Home app provides convenience to the users as they can send commands to the devices with just a few taps on their phones.
Moreover, the app allows users to control almost everything in their homes since it shows the connected devices in different parts of the house like the bedrooms, kitchen, living room, garage, etc. For example, a user can dim the lights in the kitchen even though the user is already in bed.
Google Home was previously called Google Cast, which was released in July 2013. The Google Home app is entirely free to use and can be found on the Google Play Store.
Remote Control Functions of Google Home
Google Home users can easily set up the app upon installation as it automatically detects compatible devices. The app can categorize the devices depending on the location in the house. For example, in a bedroom, Google Home can control the light, thermostat, television, etc.
With Google Home, users just need a few finger taps to turn on their television and power up, and use Netflix. Moreover, the app's Home tab shows all the shortcuts for all the usual tasks done like playing music, dimming lights, and turning on the air conditioner, among others.
Google allows users to create routines on the devices connected to the app, like turning on lights at a given time or turning off the air conditioner at a scheduled hour.
SURE Universal
SURE Universal is one of the leading universal remote control apps for home entertainment, appliances, and smart home. It is widely popular for its interesting features that can control smart appliances and devices at home. SURE Universal is trusted by over 10 million users around the world.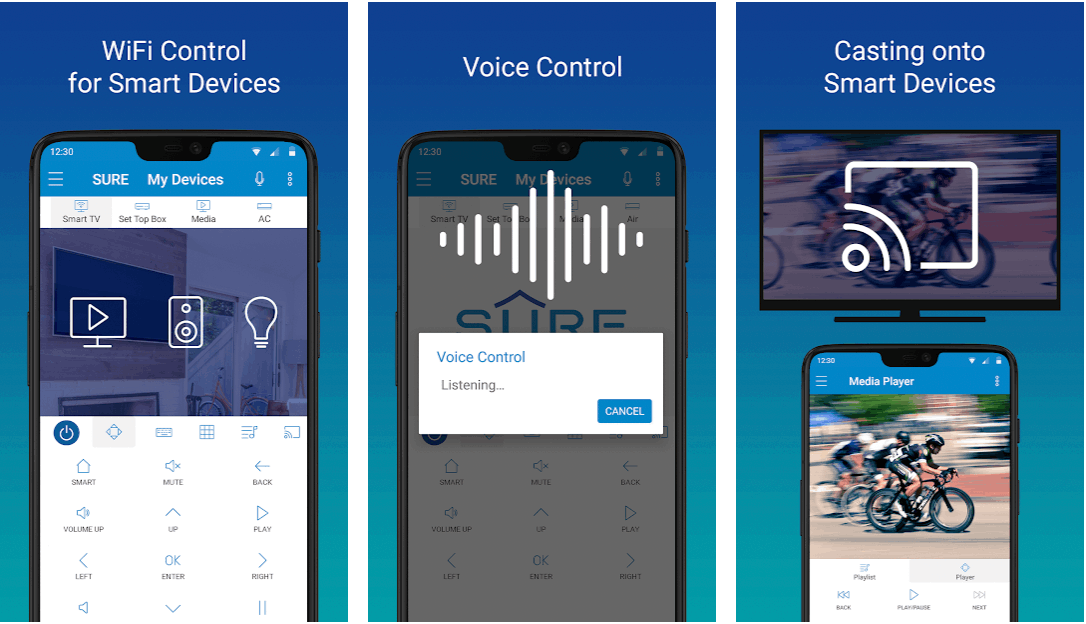 The app also earned several awards for its unique functionalities and features. Aside from smart devices, SURE Universal can also be used in different legacy devices, provided that the phone has a built-in Infrared Blaster (IR) or a Wi-Fi-to-IR converter.
Known for its convenience and user-friendliness, SURE Universal saves time by not having to find a separate remote control for different devices. SURE Universal can control a smart TV, smart lights, media streamers, air conditioners, and more.
People can download the SURE Universal app for free from Google Play Store or iOS App Store. There are in-app products available for purchase to make the app experience better for the users. These products cost around $1 to $5 per item.
Remote Control Functions of SURE Universal
Since SURE Universal focuses on smart devices, most remote control functions involve smart motions and commands. All the smart devices at home can be controlled on the app and there are different controls and keys for each identified smart device.
SURE Universal is indeed convenient as it allows users to utilize the voice control feature. Users can use voice commands inside the app, so there is no need to use other external voice assistants. With this, users can save time from scrolling through the app just to initiate a command.
Through the SURE Universal app, users can conveniently play and browse media by folders. The built-in media player supports all popular audio and video formats. Moreover, it is possible to stream audio, photos, and videos from the phone to smart devices like the television for casting.
Unified Remote
Interestingly, remote controls can also be used on devices besides the typical home appliances like televisions or air conditioners. A great example of this one is the Unified Remote app. It is a rare mobile app that serves as a remote control for Windows, Mac, and Linux computers.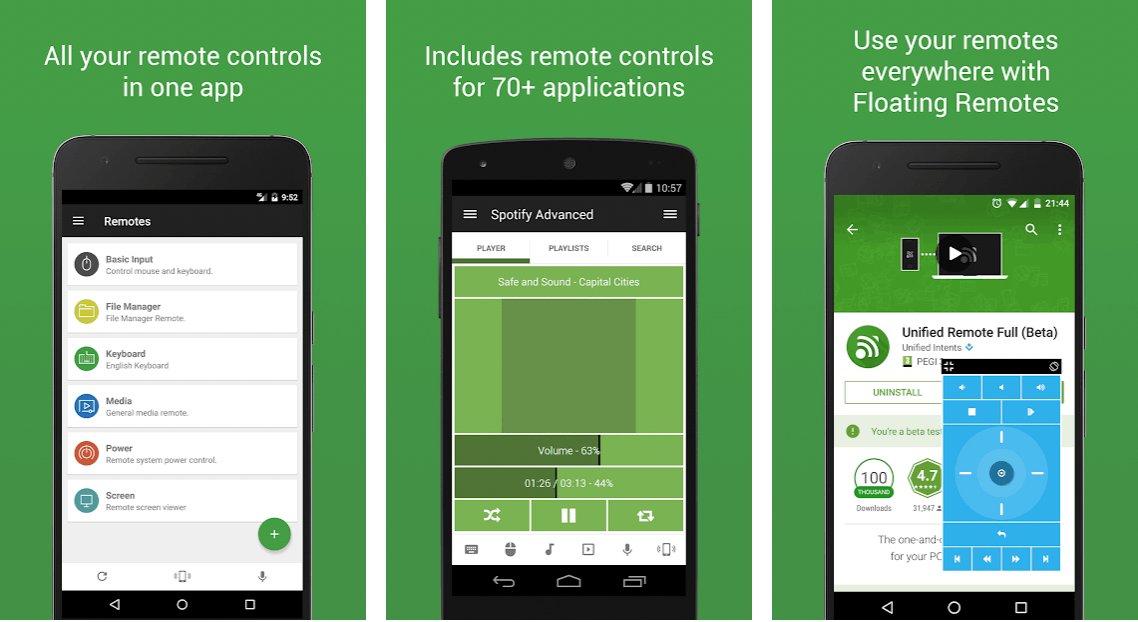 The Unified Remote app controls these devices so that people can still work even if they are not directly using their PCs. The app only requires users to connect the devices through Bluetooth or be connected to the same WiFi network.
Unified Remote has already been preloaded with over 90 programs that include mouse, keyboard, screen mirroring, power control, media players, file manager, terminal, and presentations. Thus, users can utilize the app to access several programs and files on their PCs.
The company, Unified Intents, launched the app in 2010 and has recorded over 10 million downloads. The Unified Remote app can be installed from the Google Play Store or the iOS App Store for free.
Remote Control Functions of Unified Remote
Besides all the features that are included to make use of a PCs keyboard or mouse, the app also has a voice command feature that can be activated using the built-in feature of the app.
Users can enjoy the apps on their PC using the app when listening to music, streaming, and watching videos. It is because Unified Remote can access apps like Spotify, iTunes, Google Music, Hulu, Netflix, Youtube, VLC, Windows Media Player, PotPlayer, BS Player, Winamp, and many more.
Some users even use the app to control and present their presentations for work because Unified Remote can access PowerPoint, Google Presentation, and Keynote. Users can also browse the internet through the available browsers such as Google Chrome, Internet Explorer, Opera, and Firefox.
Universal TV Remote Control
One of the most popular apps that turn mobile phones into remote controls is Universal TV Remote Control. It is widely used across more than 100 countries because of its features and services. Since its launch in September 2015, the app has recorded over 100 million downloads.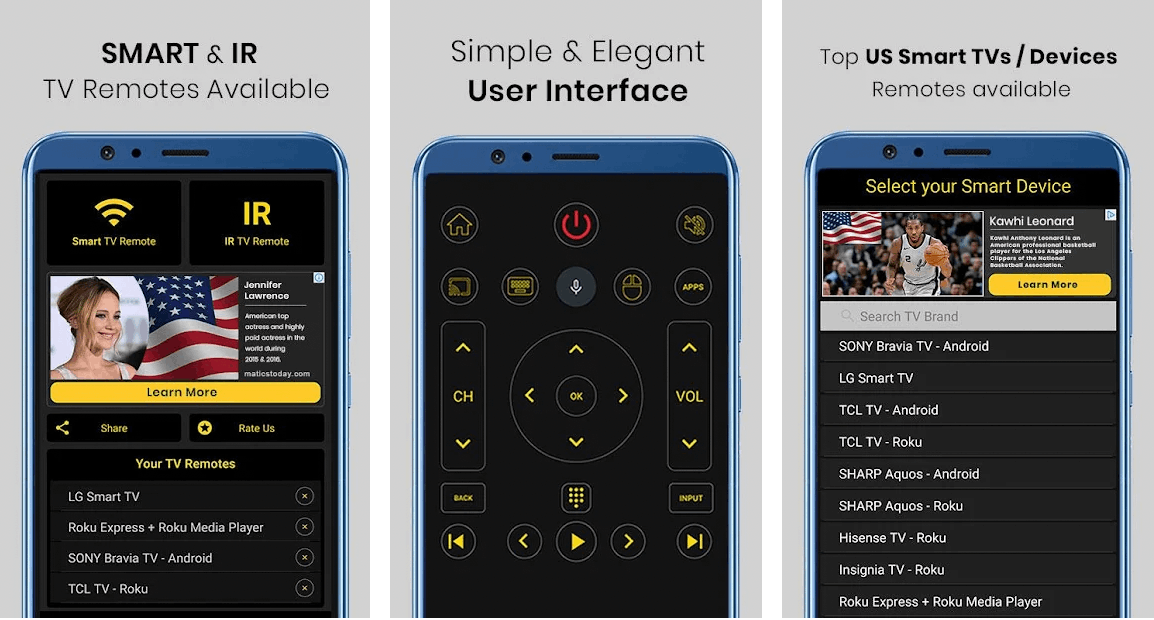 CodeMatics Media Solutions, the team behind the app, had the vision to help people by providing convenience to simple household activities. The Universal TV Remote Control turns smartphones into a remote control that can connect with smart TVs or IR TVs and is compatible with different TV models.
Universal TV Remote Control can only be downloaded on Google Play Store. Although people can install it for free, the app offers in-app products that cost around $2.95 to $9.49 per item.
To use the app for a smart TV, the phone and the television must be connected to the same WiFi network. The phone must also have a built-in infrared feature to work for IR TV because the IR on the phone will send signals to the television for commands.
Remote Control Functions of Universal TV Remote Control
Since the Universal TV Remote Control works for two models of televisions, the functionalities are different. Some of the smart TV functionalities for Universal TV Remote Control are voice search, power control, mute and volume control, channel up and down, etc.
Users can also utilize smart sharing and casting through the app to view their pictures and videos. Moreover, they can listen to music through their smart TV. The app allows users to access their installed apps on their smart TV through mouse navigation and easy keyboard features.
For infrared TVs, the Universal TV Remote Control app functions as the traditional remote control. The functionalities available include power control, AV/TV, mute/unmute, channel digits buttons, channel index and lists, volume control, channel control, menu button, and multi-purpose soft keys (red, green, blue, and yellow).
Conclusion
Mobile phones nowadays can function as different devices and appliances because of the development of various mobile apps. These phones can now be used as remote control devices for home appliances, computers, and much more. The future is remote, and these apps are leading the way in providing users with convenient and free ways to manage their households.
Being able to control devices remotely means being able to save money on electric bills, prolong the life of lightbulbs and appliances, and give yourself peace of mind that you didn't leave something running when you left the house. Coordinating actions from your phone to PCs and smart TVs let you display and interact with web content or multimedia from the palm of your hand.
Last updated on December 23rd, 2022 at 07:28 pm