It comes as no surprise that many individuals have an eye for beauty in a highly digital age and have perfected capturing equally stunning photos for the world to see. Whether it is on Instagram, Facebook, or whatnot, there are now tons of programs to showcase photos unlike any other.
Thankfully, many apps can turn photos into drawings and sketches. Not only does it elevate the quality of photos and make them appear more stylistic, but it also lends an interesting viewpoint to pictures. For those looking for something new, below are some mobile apps that can do these for free.
Watercolor Effect – Watercolor Photo & Photo Paint
True to its name, Watercolor Effect turns photos into paintings using various watercolor and oil-based painting styles. From Vincent Van Gogh to more modern artists, there is no shortage of filters and presets to use on the website, especially with more than 30 painting effects to choose from.
Available for download on both the Google Play Store and the App Store, this mobile application is one of the easiest to use. Free to use for three days, this gives individuals access to a free trial period before having the option to subscribe for around $3.99 a week or $29.99 for a whole year.
One of the main highlights of this program is that it provides maximum customizability. User-friendly in every sense of the word, individuals can easily choose what preset or filter they need and gloss over the desired image to transform the picture over their very eyes.
Clip2Comic & Caricature Maker
For those who want a lighter and funnier take on life, look no further. This mobile application is designed specifically to help turn photos into caricatures and cartoon-style sketches – from turning images into comic books, sketches, and more. This app can even work with videos.
Though this is only available to iOS users and comes with optional in-app purchases, users can still maximize this free app. With its easy-to-use interface, photo manipulations can be done with precision down to the last line. It is even equipped with editing tools to address cropping, color needs, and more.
To use this application, individuals should open the app, tap on the image they want to edit, turn it into a drawing, and select the type of filter or preset they wish to use to stylize the image. There are around 10 sketch styles to choose from, including cartoon, realistic, abstract, and many others.
Sketch Me!
Sketch Me! is a program dedicated to Android users. Available only on the Google Play Store, this app can be downloaded for free without a hitch. It also comes with a Premium version free of ads, but this comes with a price.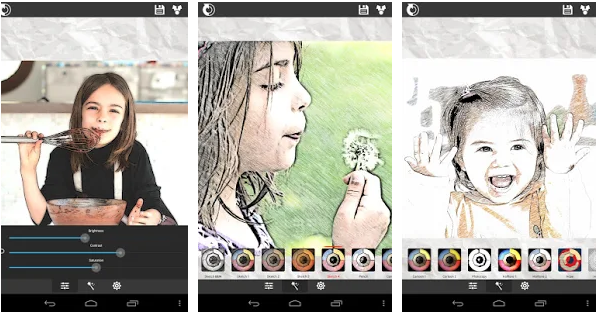 With this, users can create photos and transform them into realistic sketches with varying effects – from black strokes, pastel hues, pencil sketches, and more. Besides images being saved to the device's gallery, they can also be shared on different social media platforms such as Instagram, Facebook, and even email.
This program gives users excellent control of their desired photo outcomes. Each image can be customized in terms of opacity, edge strength, and the overall brightness, contrast, and saturation of the image. All users need to do is choose the filter and adjust the sliders accordingly.
Photo Sketch Maker
Another one of the photo apps solely dedicated to Android users is no other than the Photo Sketch Maker. Perhaps the simplest and most straightforward program on this list, this app brings only the essentials to provide users with a hassle-free experience to turning photos into drawings.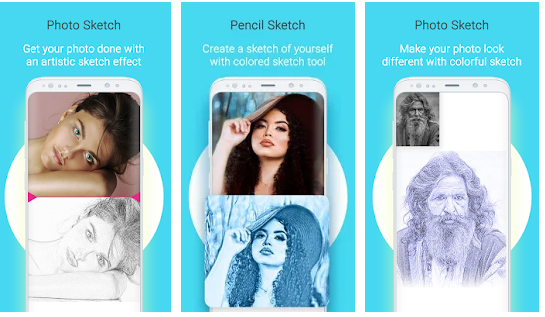 One of the main yet well-curated features of the Photo Sketch Maker is that it gives limited editing options such as trimming and converting images. However, what it "lacks" in editing tools, certainly makes up for its great range of sketching or drawing styles to choose from.
Among the filters include the traditional pencil sketch, color sketch, and photo sketch, all of which serve to provide a realistic take on drawing styles applied to desired photos. To use this, users can pick their image, select their desired sketch effect, and use the desired pencil color to draw.
Prisma
Go into the world of art with the Prisma mobile app. Made for both Android and iOS users; this can easily be downloaded on the respective play stores for free. This, however, also comes with optional in-app purchases to gain access to more filters.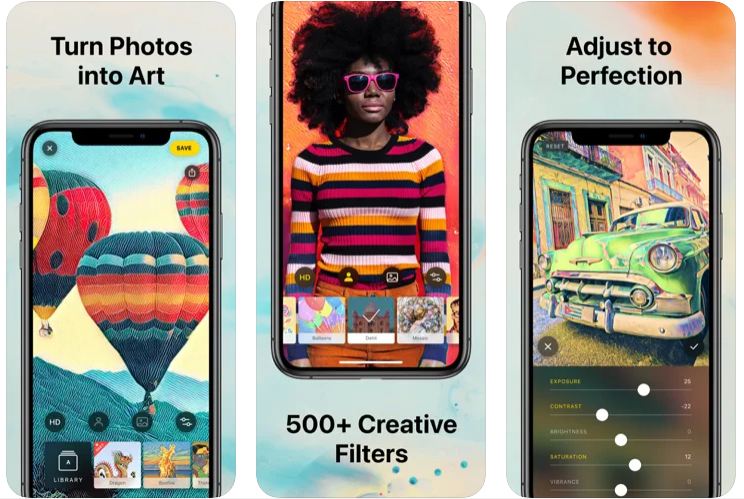 What sets Prisma apart is that its offerings are deeply rooted in the styles of famous painters and artists around the globe. The app's selection of filters ranges from the renowned Vincent Van Gogh to that of Pablo Picasso. What's more, the developers of the app come out with new filters every single day.
Editing tools are also available for use in Prisma. These allow the intensity of the filters to be customized according to the user's preferences. Moreover, using this program is simple. It only requires people to choose a photo and filter, and voila. The photo is now a stunning work of art.
Painnt – Art & Cartoon Filters
Yet another one of the more inclusive apps that individuals can find on this list is Painnt. From its name alone, one can already surmise that this turns photographs into various sketches, cartoon options, and more. This is available for download on both the Google Play Store and the App Store.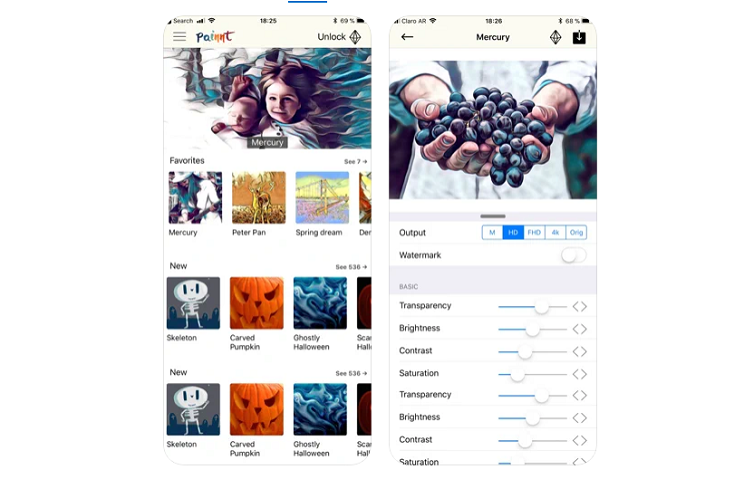 This particular application offers more than 2,000 filters for individuals to choose from. These styles range from more classical pieces from the likes of Van Gogh and Picasso to more modern renditions such as cartoon and comic book sketches. Of this, more than 90 styles are dedicated to sketches alone.
Even better, artistic users can channel their creativity with the help of this app. After all, individuals can create their own filters. To use this program, finding the image and tapping on the chosen style is all it takes.
PhotoMania
Ideal for beginners, PhotoMania brings simple and easy-to-use features designed to turn photos into drawings and sketches, a fun and exciting activity. This can be downloaded on the App Store for iOS users and the Google Play Store for Android users, with in-app purchases.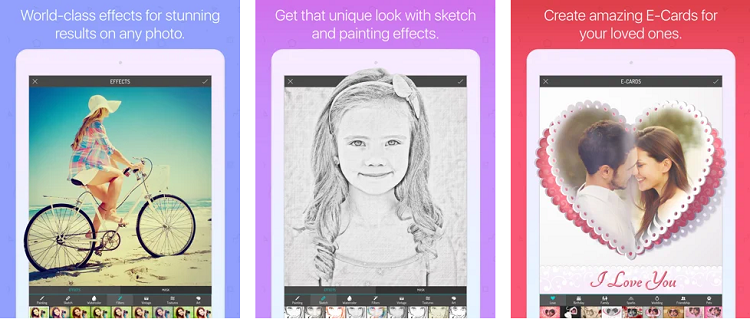 It comes with numerous effects and features available, including painting effects using different paintbrush stroke options such as pastel and watercolors, sketch effects using colored pencils, or traditional charcoal ones, among many others.
Besides the drawing and sketching feature, PhotoMania can give users access to frames to enhance profile photos. It also comes with vintage presets and editing tools to adjust the exposure settings and other aspects of the photo in question.
Pencil Sketch
There is a certain air of romance when it comes to sketching. After all, it requires tons of time to perfect the features of those in the photograph. Thanks to Pencil Sketch, Android users can transform their images to realistically made sketches in just a touch of a button.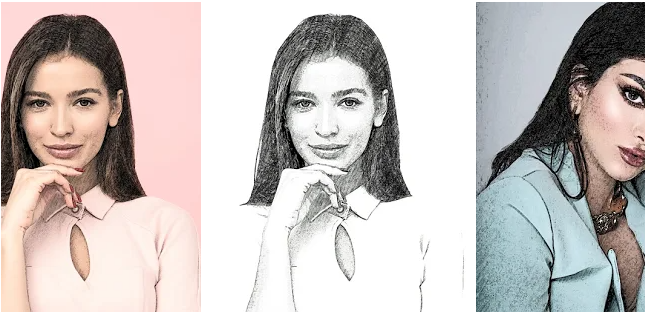 There are four main sketch styles available on this app: the pencil, sketch, doodle, and comic, giving users various stylistic approaches to choose from. The doodle and comic versions, in particular, offer a more animated and caricature-like version to pictures.
In the Google Play Store to download, individuals can select the desired effect and apply it to their photo. The app's auto-improve feature is noteworthy as well, especially as it can enhance features and even colors instantly.
Photolab
Last but certainly not least is Photolab. Downloadable on the Google Play Store and the App Store for free, this allows users to turn any of their gallery photos into sketches, watercolor images, and even cartoon-style drawings. Its user-friendly interface makes it accessible even for beginners to use.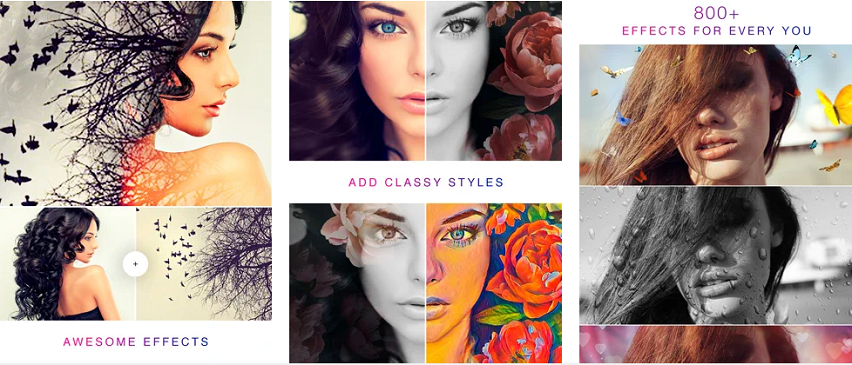 Photolab truly brings an expansive range of offerings. Apart from the presets, users can experiment with various styles as these can be combined to form a unique result. Over 900 effects are available for users on the app.
Photolab is easy to use. Like other photo apps on this list, individuals can tap on the chosen image and select the filter they wish to use. This can be saved on the user's gallery or even be shared on social media sites.
The Bottom Line
There are certainly various photo apps that turn photos into drawings, and these apps are just some of the best image-editing apps on the market today. With these options, even beginners and professionals alike can enjoy changing up their scenery, so to speak, and step out of their comfort zone.
These apps are made available on mobile phones and devices. Given this, the extensive range of effects and filters that these programs offer are now made more convenient than ever, especially for people who are always on-the-go and looking for the next big thing to put on their 'gram.
Last updated on December 23rd, 2022 at 07:58 pm