The main disadvantages of mobile devices are battery drain and short battery life. There are several causes that make your phone battery not last for a long period. Some of them include unnecessary apps running in the background, inappropriate app optimization, ads, and viruses.
If you are experiencing battery drain, or your device has a short battery life, this article is for you.
Check out the list of some of the most efficient and popular battery saver apps to boost battery life on your device.
Kaspersky Battery Life: Saver & Booster
Greenify
DU Battery Saver – Battery Charger & Battery Life
Battery Life
Battery HD
2 Battery – Battery Saver
Go Battery Pro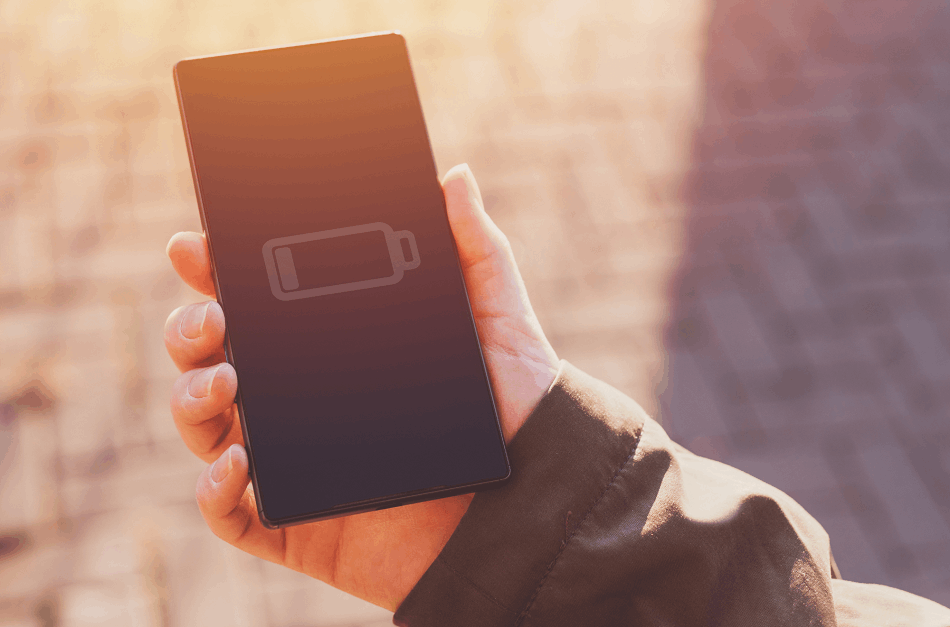 Kaspersky Battery Life: Saver & Booster
The Kaspersky Battery Life app acts as both a battery monitor and a battery life extender. The app helps to disable power-hogging apps and gives precise details about the status of your battery. It can even calculate how long you will be able to use your mobile device with the remaining battery.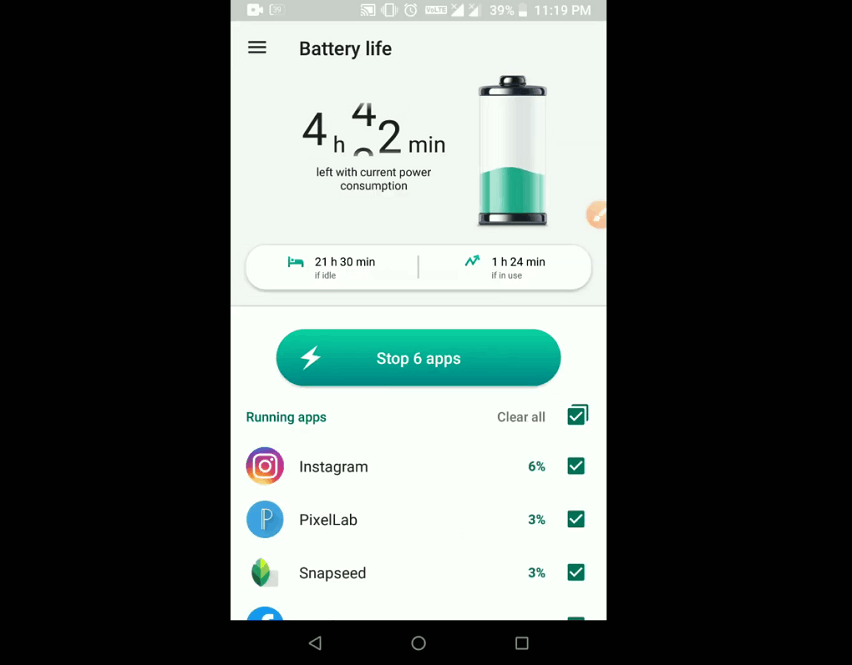 The percentage of the battery and charging level is displayed in the notification bar of your mobile. The app also shows your current charge and remaining runtime depending on your battery consumption habits. It provides a projected battery life when operating or on sleep.
You will receive an accurate estimate of how long your battery will run in an hour and minutes format. You can also see a list of active and background apps that are using battery power and phone resources. You can close them down or list them on your favorite apps.
It notifies you whenever it finds an app that is using too much battery. It manages programs that are running in the background by automatically closing them if they use too much power. A battery-saving mode is also available, which improves the battery's life.
How to Download
Kaspersky Battery Life is a free app that will help you improve the quality of your Android phone or tablet's battery.
Get this battery app for your Android device on the Google Play Store by searching the app's name and tapping "Install".
Greenify
Greenify is a useful battery-saving app if you have troublesome background-running apps that drain your battery. Greenify puts an app in hibernation mode, blocking it from accessing device services, consuming bandwidth, or running background processes.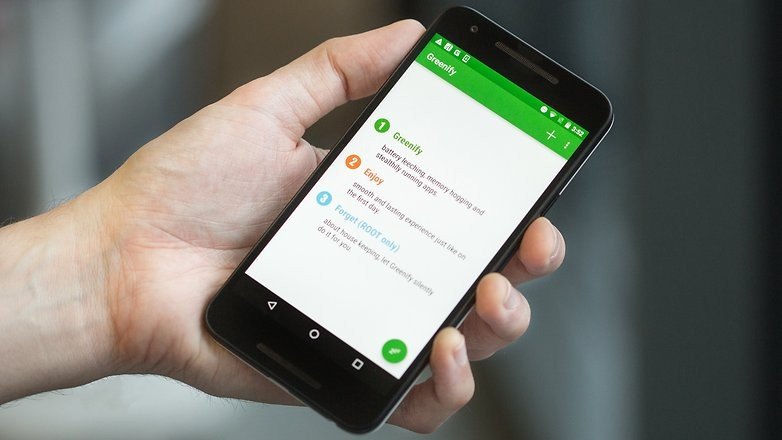 Greenify enables you to run an app normally in the foreground after you have specifically set it up.
There is no need to use a task-killer if your mobile device has memory or battery hogs that keep wasting power in the background. You can simply use Greenify to solve these problems.
However, take note that you should not use the app for those with important notifications, such as your alarm clock, email app, messaging apps, or others unless you want them to stop operating.
How to Download
Greenify app is available on any Android device. You can download it for free via the Google Play Store.
Look for the app's name and install. Afterward, run the app on your device and enjoy its benefits.
DU Speed Booster, Cache Cleaner, Battery Saver
Among other helpful tools it offers, DU Battery Saver aids in resolving several battery-related issues and guarantees extended battery life.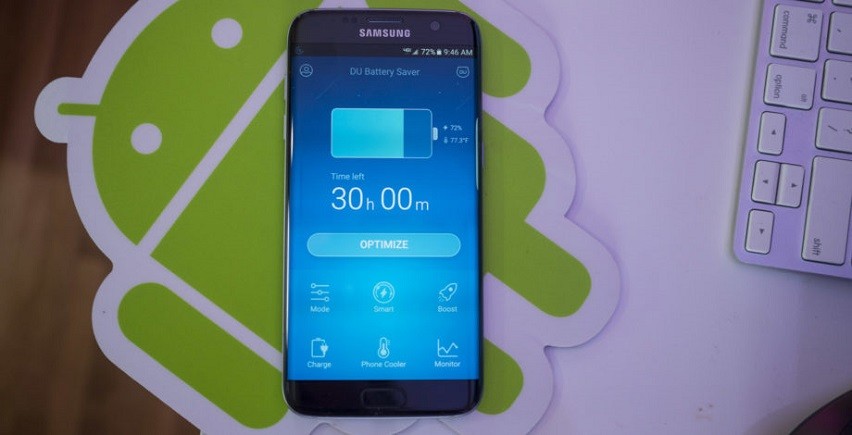 The app contains key features that make it great, including a junk file cleaner, apps manager, app lock, and of course, the coveted battery saver.
This app does you a favor by displaying your charging status in real-time. It is accurate in its attempts to figure out just how much time you have left with your remaining battery levels.
How to Download
This mobile app is completely free to download for Android phones.
Get the app on the Google Play Store, and install it on any of your Android devices today.
Battery Life
Battery Life is an iOS app that gives iPhone and iPad users a reasonable calculation of how much longer the battery's power can last for a range of activities. The app offers projected runtimes for phone calls, internet surfing, and watching videos or listening to music, and more.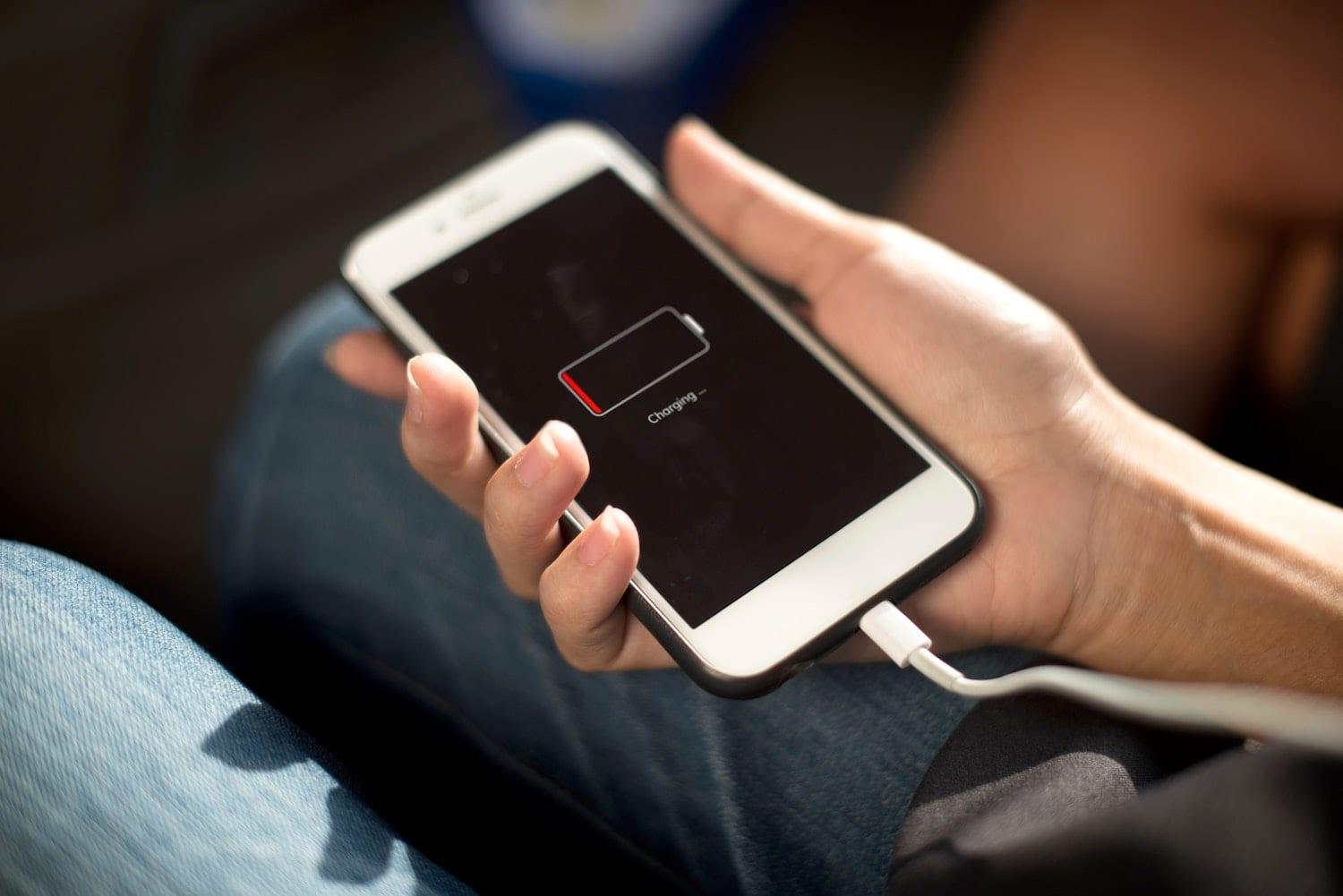 It is one of the best battery apps for iOS devices that looks at the battery status. Based on which iOS version you are running, the app provides detailed battery stats, including charge status, capacity, and voltage.
In addition, the Battery Life app can also give you an estimation of how worn out your device's battery is.
How to Download
Download the Battery Life app on your Apple devices via the Apple App Store. You can opt to get the pro features through an in-app purchase.
The upgrade has no advertisements, unlocks a Today widget, and customizes notifications.
Battery HD
Battery HD has one of the most commendable interfaces on the list of the best battery apps. The app's interface displays how much charge you have and how much usage you can get out of it.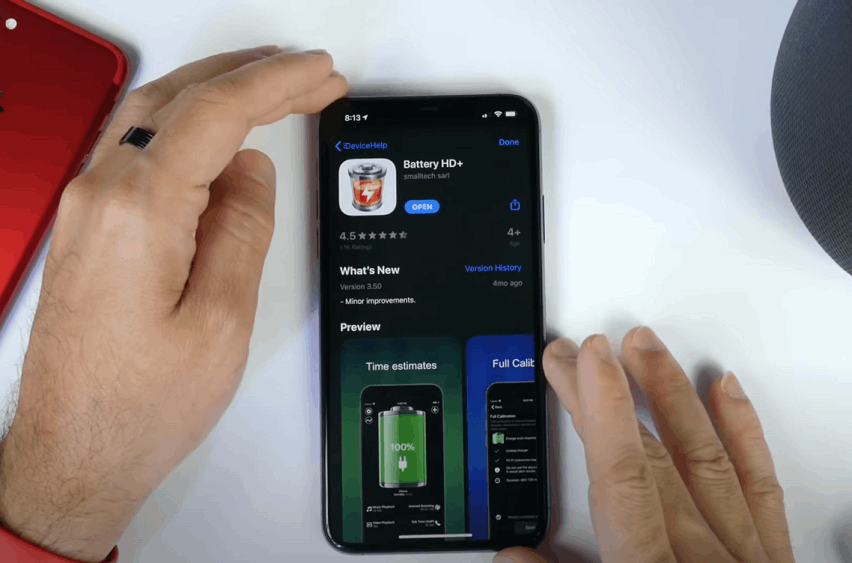 This app can also show temperature, usage charts, and voltage of battery charge over time, as well as the calculated runtimes for a range of activities such as GPS, gaming, web browsing, and video streaming.
Battery HD, unlike other battery applications, is solely focused on monitoring. It has no battery-saving functionality, dubious task killers, or other bloatware.
Moreover, when you use this app, you can view all of your battery stats in the widget or notification bar at a glance. You can even examine the consumption chart to get a clearer idea of your everyday device usage.
How to Download
Battery HD is available for free on both Android and iOS users. This app can be downloaded at the Google Play Store and the Apple App Store.
2 Battery – Battery Saver
2 Battery is a great option for a battery booster app. It is a must-have app for anyone who uses an Android smartphone. It is intended to manage some of the device's power usage functions. The app improves the battery efficiently without using a complicated menu and options.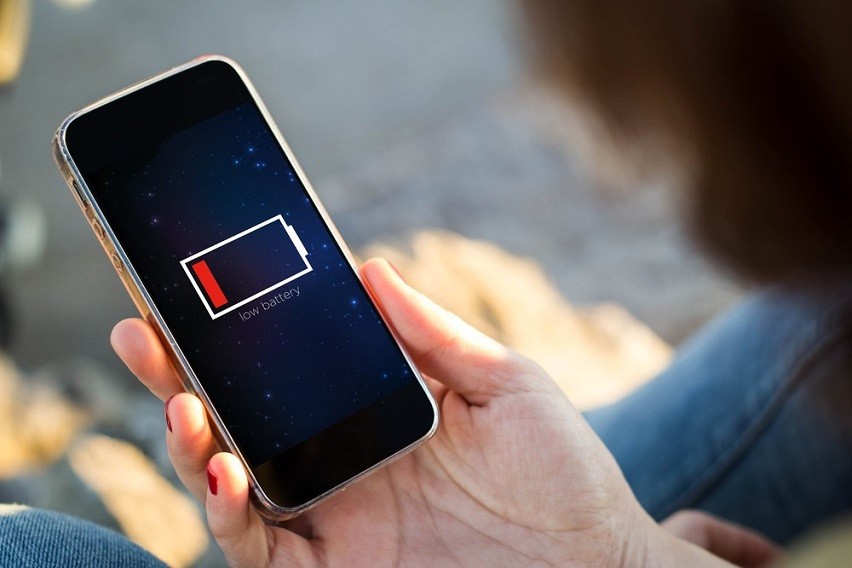 The app will control the internet access and monitor its action and inactivity. It manages Wi-Fi, 4G, and 3G mode in the background. Furthermore, it turns mobile data back on from time to time to keep your background data such as calendar, email, and SNS, synchronized.
It also has a whitelist and a blacklist feature. This app's battery icon design can be changed at any time. It will give you details, such as whether the battery is completely charged or low. There is also a quick setting option to adjust some features.
Other important features include options to switch off the screen automatically, battery saving mode to extend battery life, charge percentage in the notification bar, and details about your battery.
How to Download
Get your 2 Battery app for free on the Google Play Store. To download, simply search for the app's name and click Install.
You will need to wait for the download to complete, then run the app on your device.
Go Battery Pro
Go Battery Pro is one of the most common Android battery saver applications. There are a few bonus features in the app. Based on an authoritative paper algorithm, the app generates an accurate report.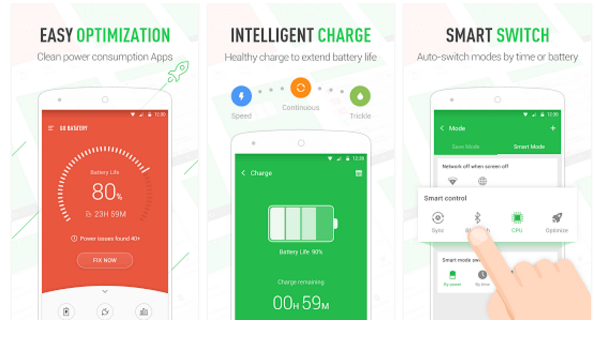 The app will send you an estimation of how long the battery will last at the current charging point. It will also calculate how many hours you can watch videos or play a game or listen to songs with that estimated battery life.
The app has a boost option that will optimize the charging capacity. The app keeps a report on the charge consumption level of different applications. It will also suggest you change activities which will save power, and send notifications about low battery and full charge.
Other important features are available, such as power-saving mode, a home screen widget, a night mode with beautiful themes, and monitoring other apps available on your device and show reports of their action.
How to Download
Go Battery Pro is a free app compatible with any Android device.
If you want to get this helpful and easy-to-use app in your hands and start reaping its many benefits, you can simply search for it on the app on the Google Play Store, and click "Install" to download. Then, run the app to utilize its features.
Conclusion
The mobile device lifestyle requires a long and extended battery life. The applications listed above are some of the best battery booster options you can choose from on the mobile app market today.
By using an excellent battery management app on your current device, you can get accurate reports on the status of your battery's health. You can also have battery-saving features that allow you to adjust device settings to get the best out of your battery life.
Spanish version: Aplicaciones para mejorar la batería - Encuéntralas aquí
Last updated on May 23rd, 2023 at 07:31 pm