Meeting people from your team or outside the organization is made easy through video conferencing apps. It removes the hassle of meeting them physically for a conference or a lunch meeting.
People can now save time they'd otherwise spend traveling or in traffic and use it to prepare for presentations from the comfort of their own homes or offices. One of the most popular video conferencing apps is Google Meet.
Offered by Google, the app has features fit for work-related or school-related functions. It is known to be easy to use in connecting, collaborating, and celebrating with everyone from anywhere. Learn more about the features of Google Meet below.
Google's Official Video Conferencing App
Meetings on Google Meet
Starting a Meeting Using Google Calendar
Layouts and Screen Sharing on Google Meet
Other Interesting Features of Google Meet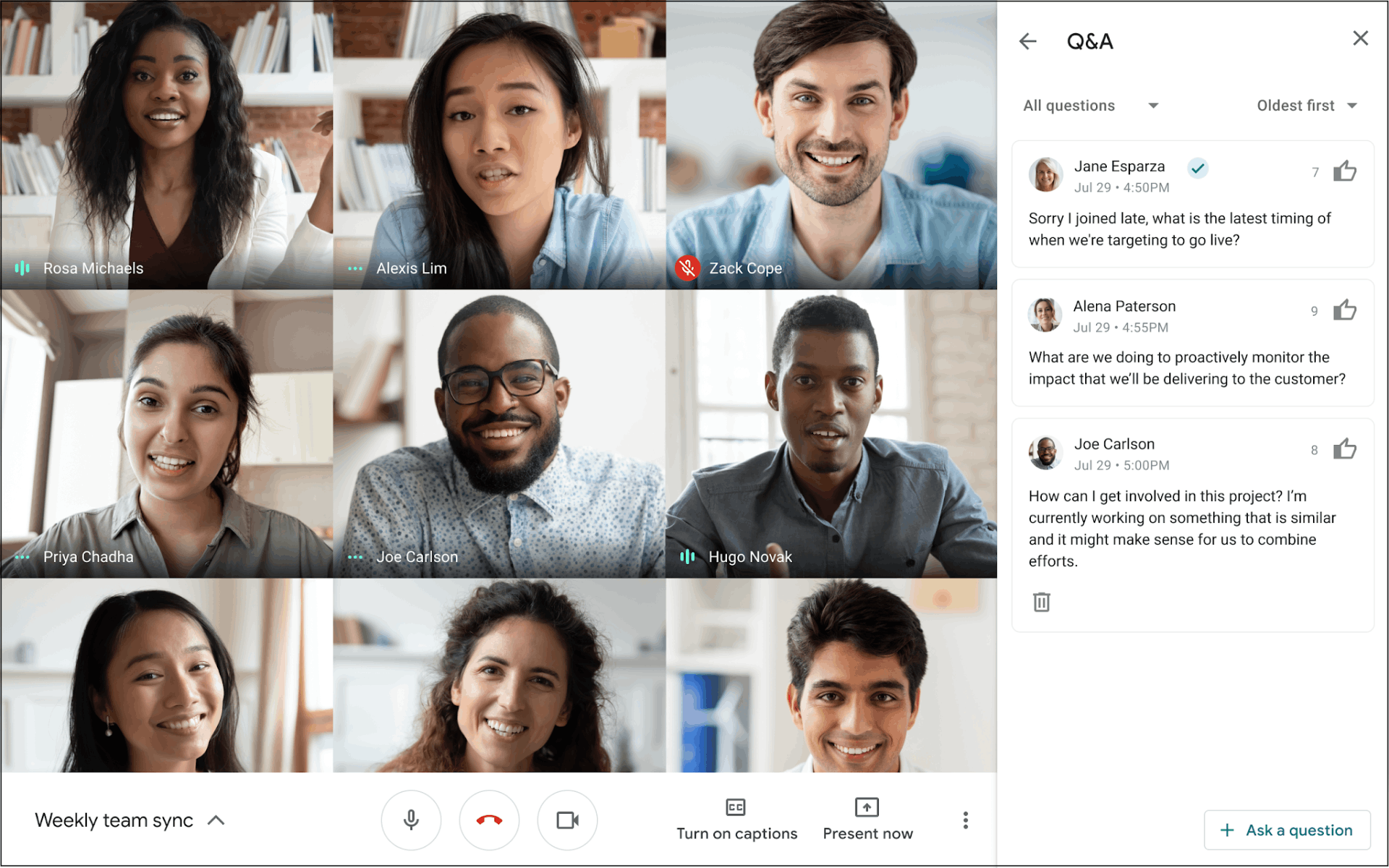 Google's Official Video Conferencing App
In a time where people widely utilize technology in the workplace it is not surprising that video conferencing apps became so popular. Google Meet is an excellent tool for those looking for a secure and stable video conferencing app.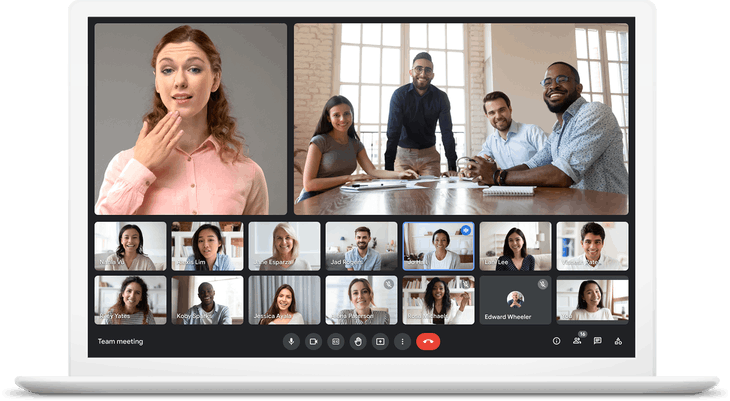 Google Meet is one of the most widely known ones among them and is the official video conferencing app under the Google Workspace, formerly Google Suite. However, it is possible to use the app separately for free even without being a part of an official subscription or a workspace.
Ideally, Google Meet is meant for those who need to regularly host meetings remotely. Moreover, the app greatly helps those who remotely manage a team or group and regularly work from home. Meanwhile, some use Google Meet for academic purposes like classes or meetings.
Google launched Google Meet in 2017 initially as a web app and eventually released the Android and iOS mobile versions. When it was released, the app had a 60-minute limit for those without premium access, but Google removed this limit to better serve the needs and demand of users.
Getting the Google Meet App
As mentioned, Google Meet is available as a web application and a mobile app. Google Meet has become one of the most used video conferencing apps in the world as Google recorded that the app breached 100 million daily active users by 2020.
Google Meet is indeed user-friendly as signing up on the app only needs any active Google account. However, those who have an official Google Workspace account must use their designated email address to enjoy the complete features of the Google Meet app.
Once logged in, the app will proceed to ask for permission to access the device's video camera and microphone. Moreover, Google wants its users to understand the Terms of Service, Contract Summary, and Privacy Policy before using the services and features of the Google Meet app.
Meetings on Google Meet
On the home screen of Google Meet, the users have two main things they can do: start a new meeting or join a meeting. If the users need to create a new meeting, there are also several options, depending on their needs.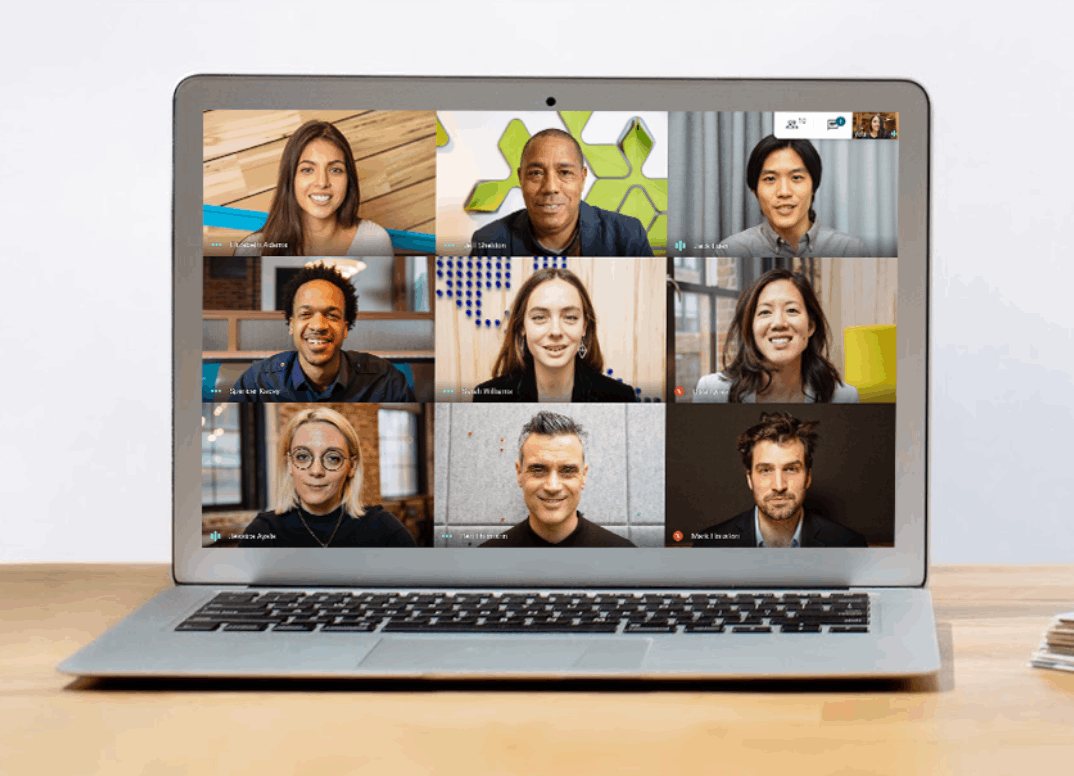 The three options are getting a meeting link to share, starting an instant meeting, or scheduling in Google Calendar. In the first one, users may get a new meeting link to share with other people whom they want to join the conference.
The app automatically copies the link so that the users can send it to other people. However, there is also a share invite option wherein users can directly send the link through other apps like email, text, messaging apps, and social media platforms.
The links will also appear on the home screen as Google Meet records the created meeting links for future reference. It is also date-stamped and time-stamped. However, users must remember that the unused links will automatically be deleted after a few hours.
Starting an Instant Meeting
The instant meeting also starts a new meeting which is for those who need to meet people shortly.
The meeting link will be available once the meeting has begun.
Users can also utilize the options to copy the invite link or share it across different messaging and social media platforms.
Starting a Meeting Using Google Calendar
To have an organized meeting scheduling, Google Meet users can utilize the Google Calendar so that the information will automatically be saved.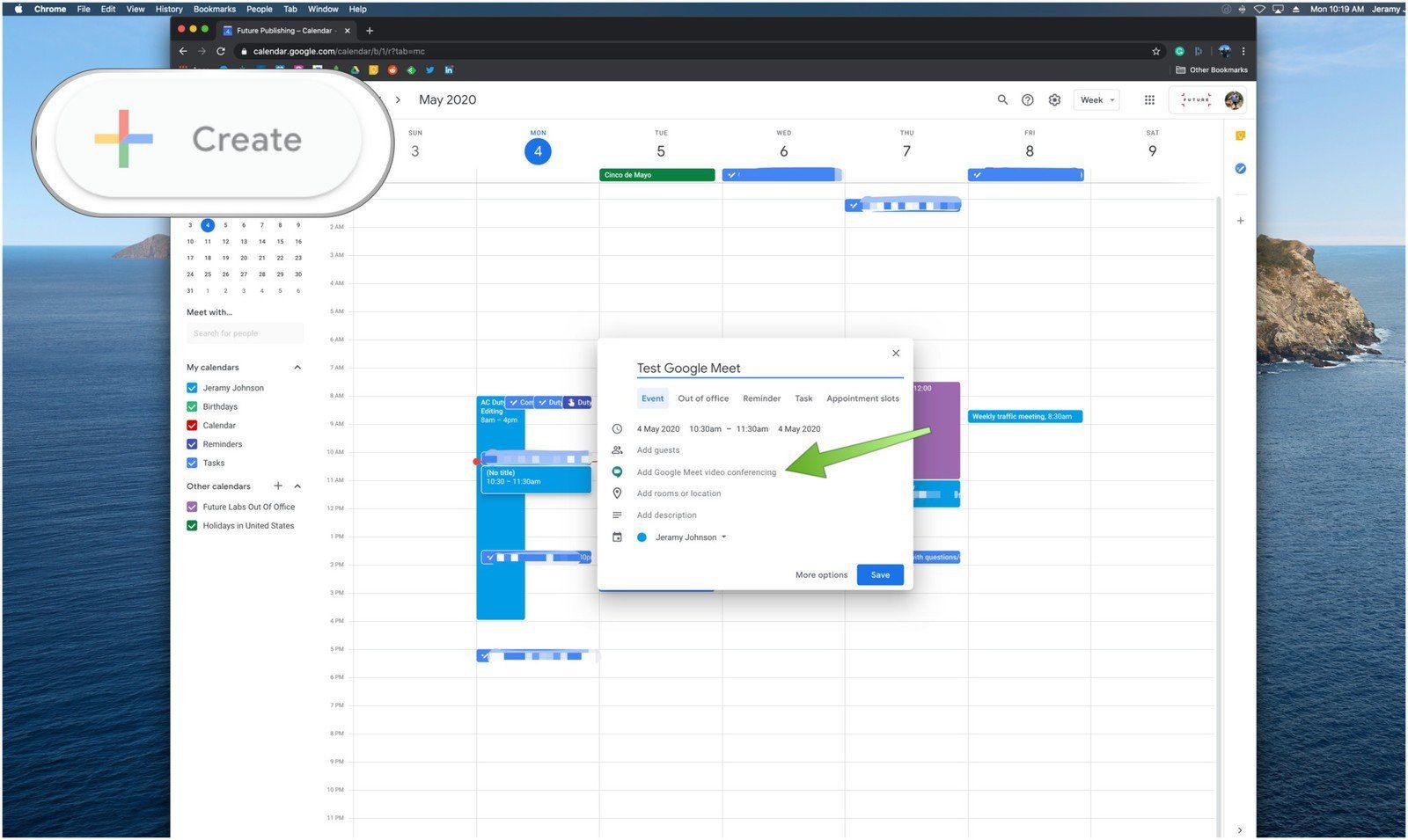 The details can also be sync in other calendars and other external apps. Moreover, users love this option as all the additional necessary information about the meeting is already provided.
To add a new schedule for the meeting, users just have to click the "Create" button, wherein they must provide the meeting details.
They can schedule easily by adding a title of the meeting or event, date, and duration of the meeting. Other information can be put on the meeting description, such as reminders, notes, and event announcements.
Sharing the Meeting Link on Google Calendar
It is necessary to click the "Add Google Meet video conferencing" to create a meeting link. The link can then be shared with the people involved in the meeting.
However, Google Calendar already allows users to add guests by adding their respective email addresses, where Google will automatically send them a notification to be informed.
Layouts and Screen Sharing on Google Meet
Google ensures that Google Meet has top-tier features to fully maximize the service and have an excellent experience on the app. Several things can be done during the session on Google Meet aside from the usual video camera and microphone or audio set up.
In a group meeting, Google Meet has three options to view the participants, called the multi-screen layouts. These layouts can be utilized to highlight speakers, keep track of them, and encourage participation among other participants. The options are sidebar, tiled, and spotlight.
Sidebar layout can be used during presentations with slides or reports, as it highlights what is shown by the presenter. The tiled layout is best for collaborative activities as users can see everyone on the screen.
Lastly, the spotlight layout can be used if users want to highlight who is currently speaking.
Screen Sharing
As mentioned, it is possible to share screens on the app as users can present their prepared slides or audiovisual materials like videos, music, or photos.
Users may opt to share their entire screen, but for privacy purposes, Google Meet provides an option to share only specific windows, applications, or documents for privacy purposes.
Features that Aid in Clarity During the Meeting
Google sees the need to help users during meetings so that the message will be clearly conveyed. Thus, they provided features for this need.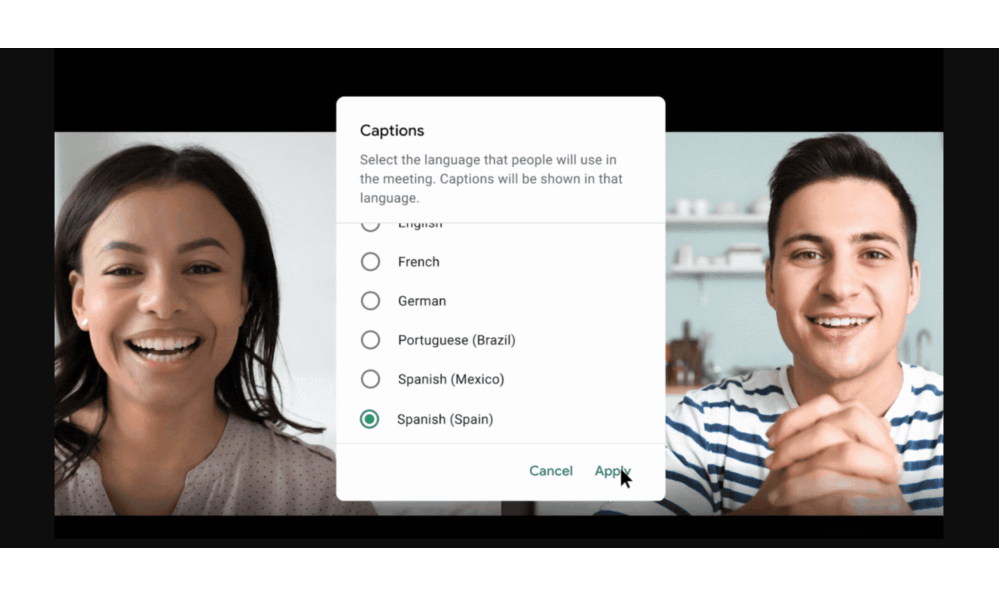 The first one is the real-time caption, wherein Google tries its best to provide captioning during the conversation so that all participants can understand what one person is saying.
Users just have to click the "Show Caption" button. However, the downside of this feature is the accuracy since Google depends on the clarity of the audio.
At present, the available languages for captions are English, French, German, Portuguese (Brazil), Spanish (Spain), and Spanish (Mexico).
Audio Enhancing Through Noise Cancellation
It is integral that the participants' audio is clear so that they can convey the message well.
Google Meet announced that they are incorporating an automatic noise cancellation feature on the app.
This will help those who cannot find a quiet place during a conference, as well as the captioning will have higher accuracy.
Other Interesting Features of Google Meet
Before entering or starting a meeting, users can test whether their camera and microphone are working correctly. This is to avoid technical glitches during the meeting, as users can resolve issues before the meeting.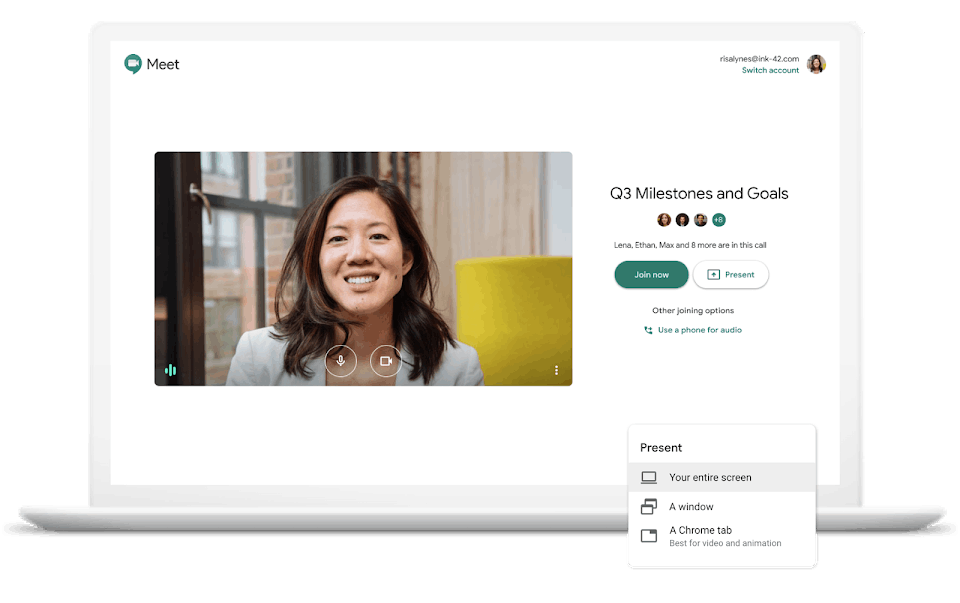 Google Meet also includes a chat option where users can send messages to the entire group. They can use this during discussions as responses to the speaker. However, users can only see the messages sent after they join the meeting, so they will miss out on any sent before.
Google Meet also has safety options for users to assure users that the meeting will be smooth. The host can turn off the option for everyone to share their screen and send chat messages. In this case, the participants' activity during the meeting will be limited.
Moreover, the host has the power to admit only those who are legit participants of the meeting. Guests who are not added when scheduled using Google Calendar will seek permission to join the meeting.
Premium Plan on Google Meet
Even though the Google Meet app uses the freemium model, users are limited to a maximum of 100 participants and meeting call-in only via the internet (no phone call-ins). Although, the biggest advantage is that there is no time limit for the meetings.
To enjoy a maximum of 250 participants and record the meeting, a user must avail of any of the plans. The Basic plan best suits the professional office suite, and users are given 30GB of storage. The Basic plan of Google Meet costs $6 per month.
Those who want unlimited storage and archiving can avail of the Business Plan that is $12 per month, or the Business Plus Plan that is $14 per month. Lastly, there is an Enterprise Plan for $25 per month for more advanced controls and features.
Conclusion
Google Meet is indeed a high-quality video conferencing app powered by Google to help people remotely work, meet, or manage people. It has exciting features that aid the needs of its users to have successful meetings wherein messages are clearly conveyed.
People can download Google Meet for free on both Google Play and App Store.
Last updated on December 23rd, 2022 at 07:30 pm