Getting tired of the same shows and films from your go-to streaming service? Don't worry, there are a lot of streaming services out there that can give you plenty of content to stream and consume.
Discover a whole new world and find more new films to love with these 10 streaming apps. Read on and learn about these apps and where to get them, so you will never run out of things to watch ever again!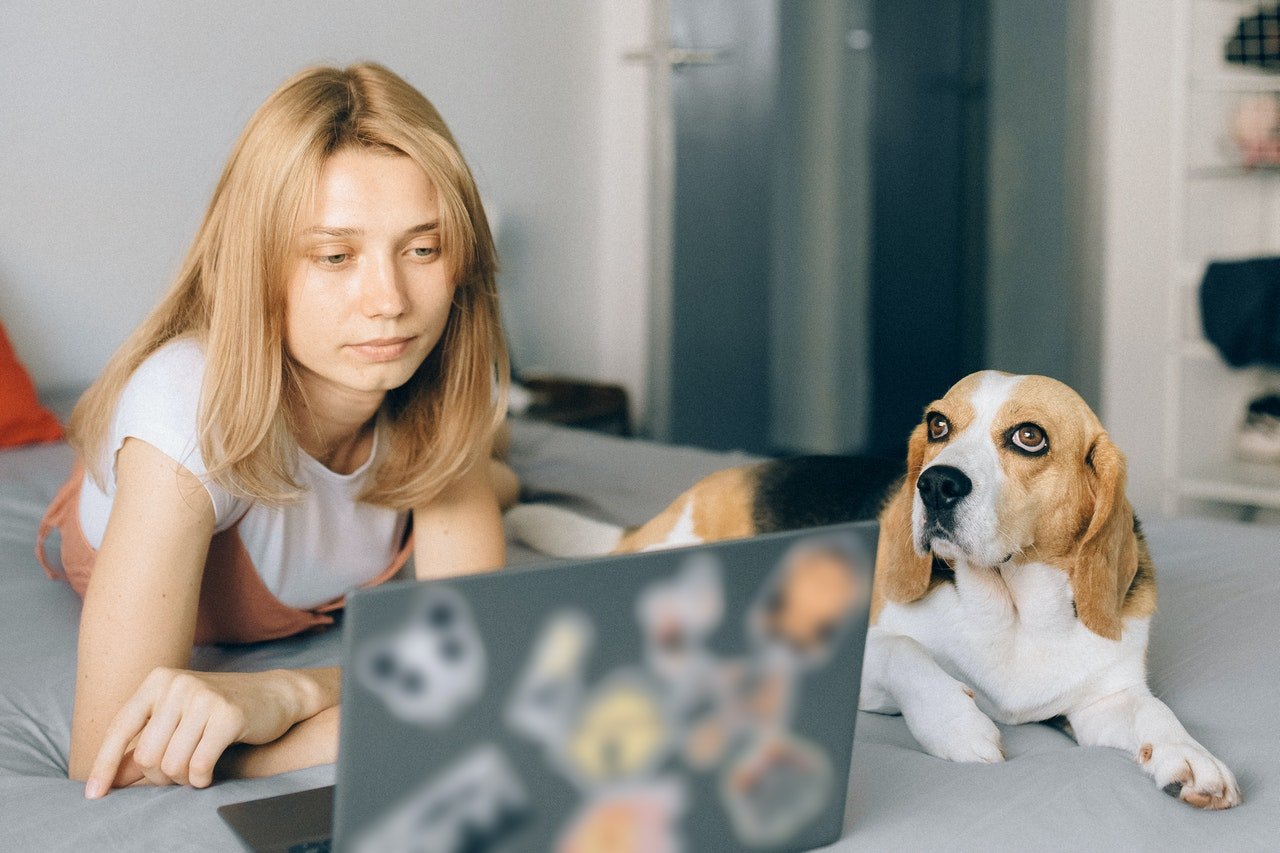 HBO Max
HBO Max's claim to fame is its award-winning original programming and top-tier movies that set it apart from other competitors in the streaming service industry. With HBO Max, you get access to all great shows on HBO, such as all the episodes of Westworld, Veep, and Curb Your Enthusiasm.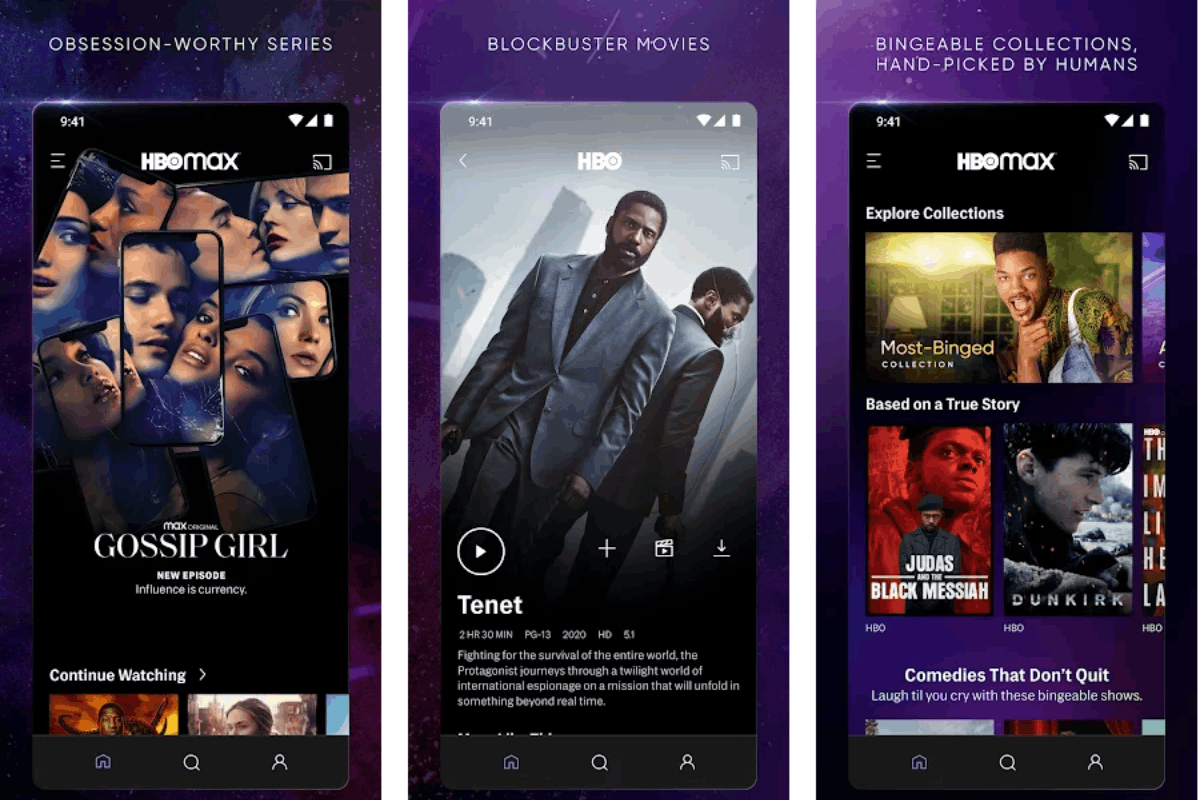 HBO Max proves to be one of Netflix's biggest competitors, as it adds big highlights to its wide library of great shows, including titles such as Wonder Woman 1984, The Flight Attendant (with Big Bang Theory star Kaley Cuoco), Friends, and original series like Made for Love.
Catch shows that you love with an ad-free subscription which costs $14.99 per month. You can also subscribe to the basic account for $9.99 per month, but there'll be ads, and you won't have access to big Warner movies. HBO Max is available for free download from the Google Play Store and Apple App Store.
Disney+
Disney+ is the streaming home of some of the best titles from Pixar, Marvel, Disney, and Star Wars. You'll never run out of shows to watch because there's always something new to discover every week.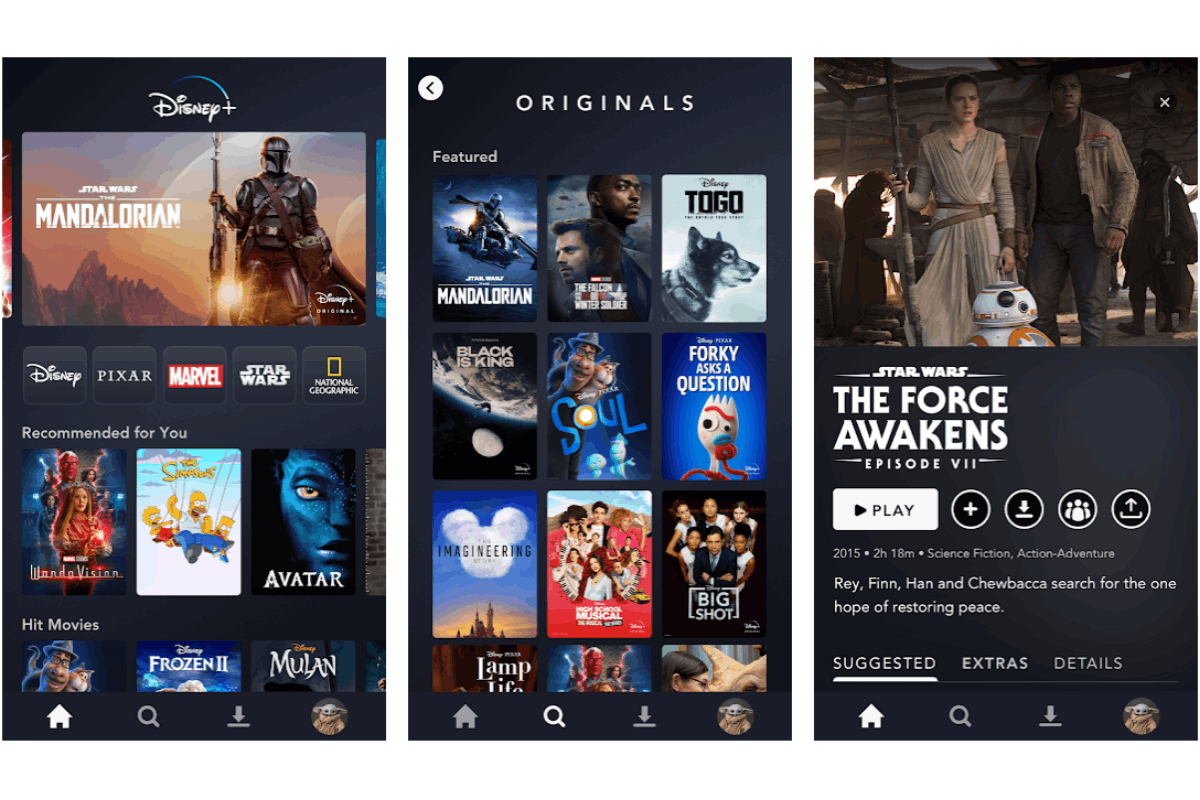 A Disney Plus subscription gives you access to new releases, all-time favorites, and timeless TV shows. In addition, you can access exclusive and original content from creators of Marvel, Pixar, National Geographic, and other companies owned by Disney.
GroupWatch is one of the app's coolest features which lets users watch shows together with the app even when they're apart! Disney Plus is available for free download on the Google Play Store and Apple App Store.
Hulu
Hulu brings all your favorite shows and original titles to one streaming service. Whether you're looking for new TV series to binge-watch, movies to discover, or just want to rewatch your favorite episodes, Hulu has everything you need.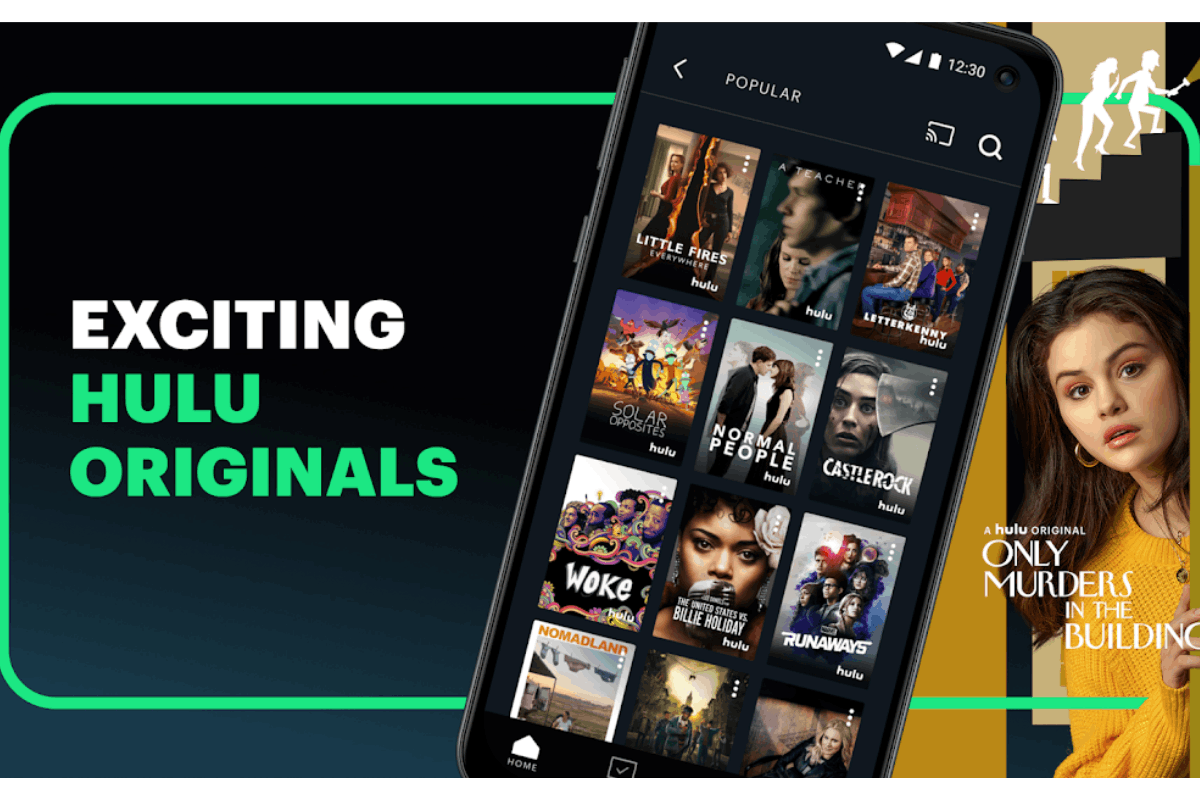 Enjoy your personalized library based on your subscription plan and viewing activity. You can choose from Hulu, Hulu (No Ads), or Hulu + Live TV. With Hulu, you can create up to six separate profiles and enjoy an ad-free experience.
You can watch movies at home or on the go because you can download content and stream it offline. Get access to premium networks such as Showtime, HBO, Cinemax, and others. Hulu is available for free download at the Google Play Store and Apple App Store.  
Sling TV
Enjoy the privileges of a cable subscription without breaking the bank with Sling TV.  Like a typical cable service, you pay a monthly subscription fee for 30 real-time channels, but unlike a cable subscription, you won't be tied to a contract, and you won't have to pay a set-top box rental fee.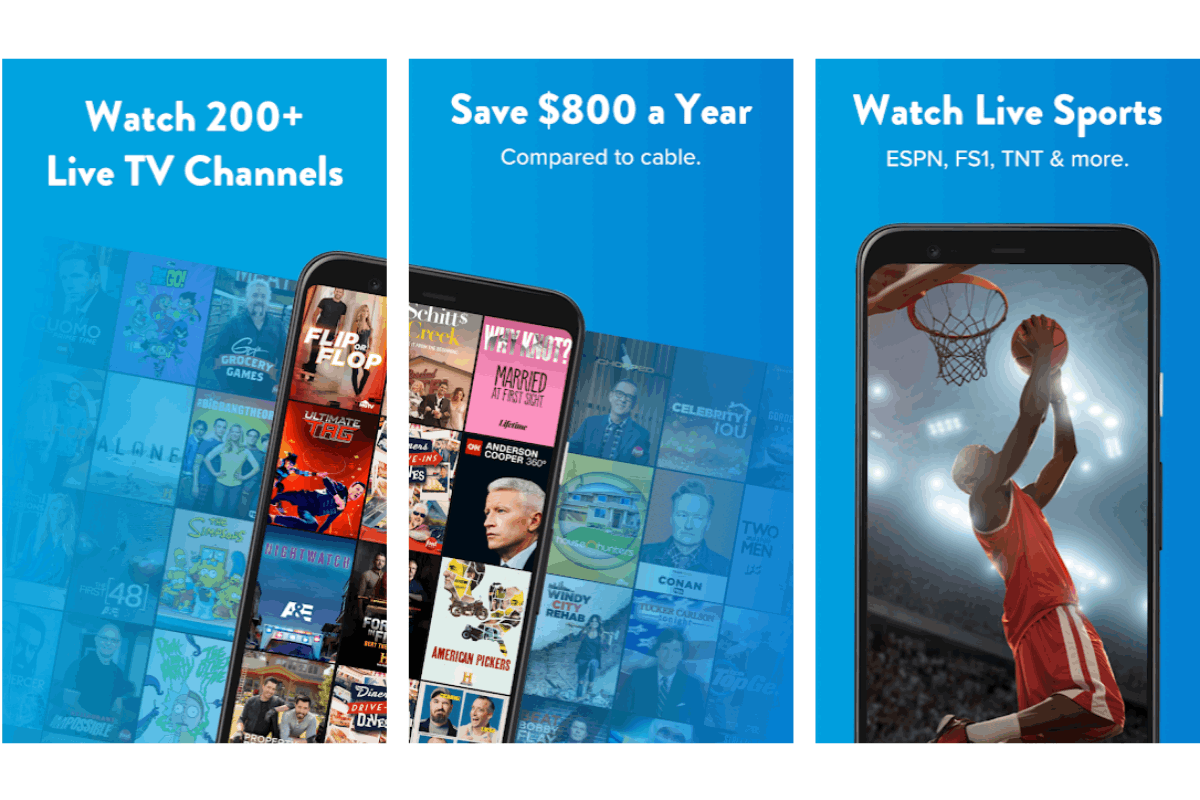 You also get access to favorite channels such as BBC America, Cartoon Network, TBS, Food Network, and NBC, among many others. With an affordable monthly fee starting at only $35, Sling TV is a great alternative to pricey cable services.
Catch up with the latest shows on entertainment, children's TV, sports, and international and local news with Sling TV. The app is available for free download on the Google Play Store and Apple App Store, with a 4.1-star and 4.6-star rating and over 10 million downloads on both platforms.
Amazon Prime Video
Watch movies and exclusive TV shows online or offline with Amazon Prime Video. Amazon Prime takes streaming to a whole new level by allowing you to rent or buy newly-released movies and popular TV shows. You can also take your viewing experience to the big screen through Chromecast and Fire TV.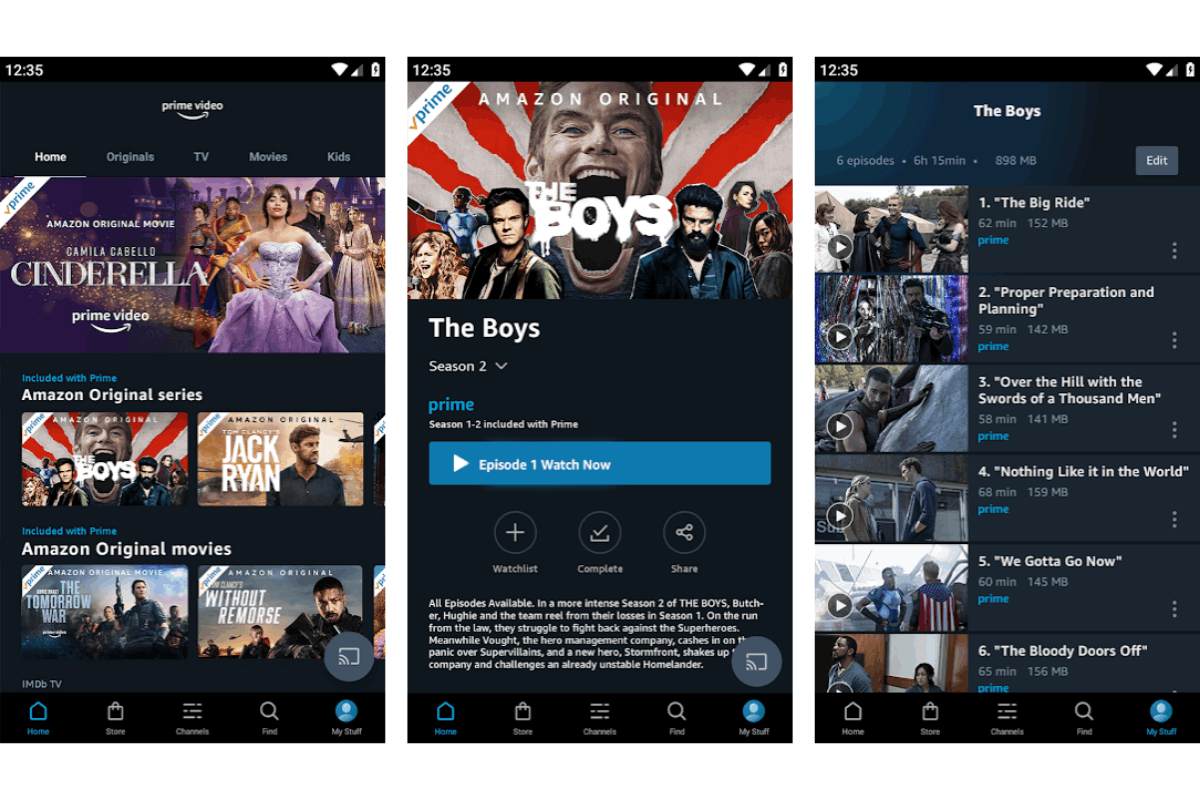 You can create multiple profiles for a more personalized and organized entertainment experience. Gain access to over 100 channels straight through the app, without the need to download other applications.
If you're looking for a lot of laughs, Amazon Prime is the place to go. This is thanks to its deal with Viacom, a media company that controls Comedy Central, MTV, and Nickelodeon. Amazon Prime is available for free download through the Google Play Store and the Apple App Store. 
Peacock TV
Peacock TV is arguably one of the best streaming services out there, which isn't surprising considering that it's developed by entertainment industry giant network NBC. Unlike other streaming apps, you can use Peacock TV absolutely for free, but some perks come with the premium subscription.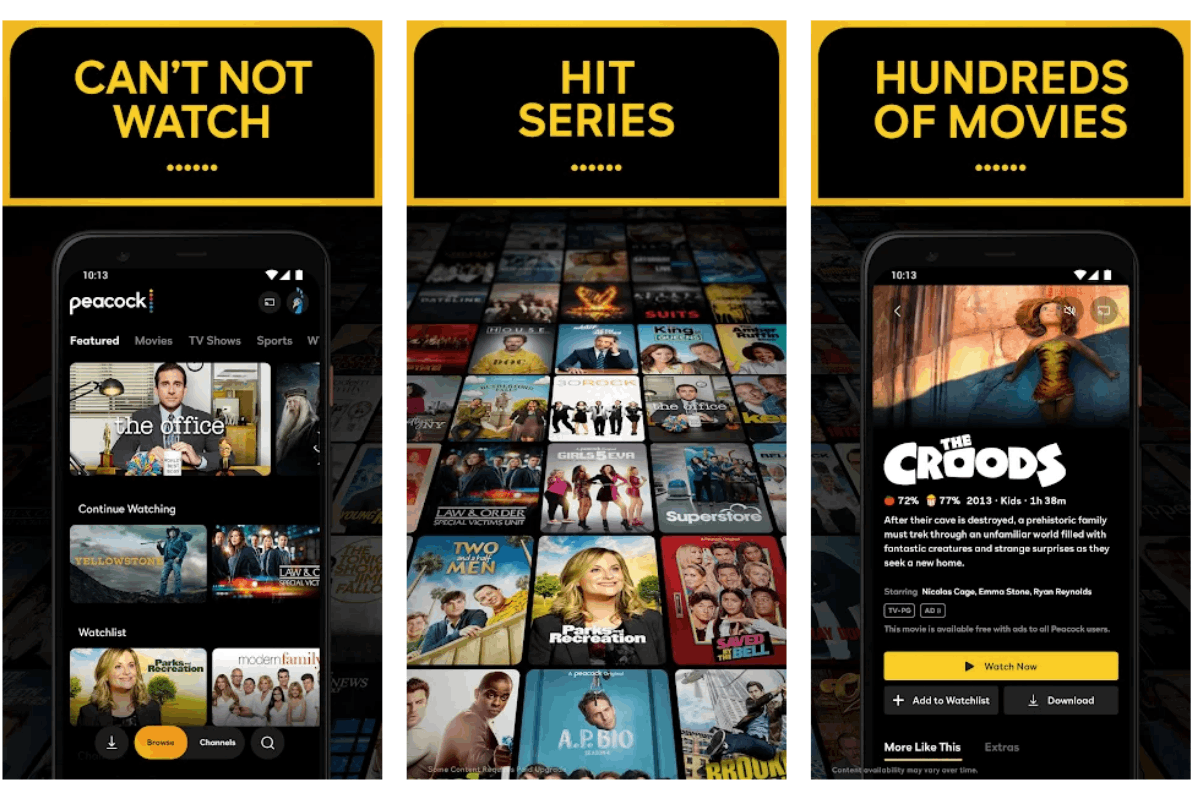 With Peacock Free, you get instant access to hundreds of movies from Universal, DreamWorks, Focus Features, and exclusive content from Peacock channels, including SNL Vault, Fallon Tonight, NBC Sports on Peacock, NBC News, True Crime, and Dateline 24/7.
Create up to six personal profiles to organize your viewing experience. For just $4.99 a month, you can get an all-access pass to all the content in Peacock's library and stream everything. Peacock TV can be downloaded for free through the Google Play Store and Apple App Store. 
fuboTV
fuboTV is every sports enthusiasts' dream because it has access to over 100 TV channels and every Nielsen-rated sports channel without the need for a cable subscription. fuboTV features a long list of sports networks such as ABC, NBC, FOX, ESPN, NBA TV, MLB Network, RedZone, Big Ten Network, Olympic Channel, CBS Sports, to name a few.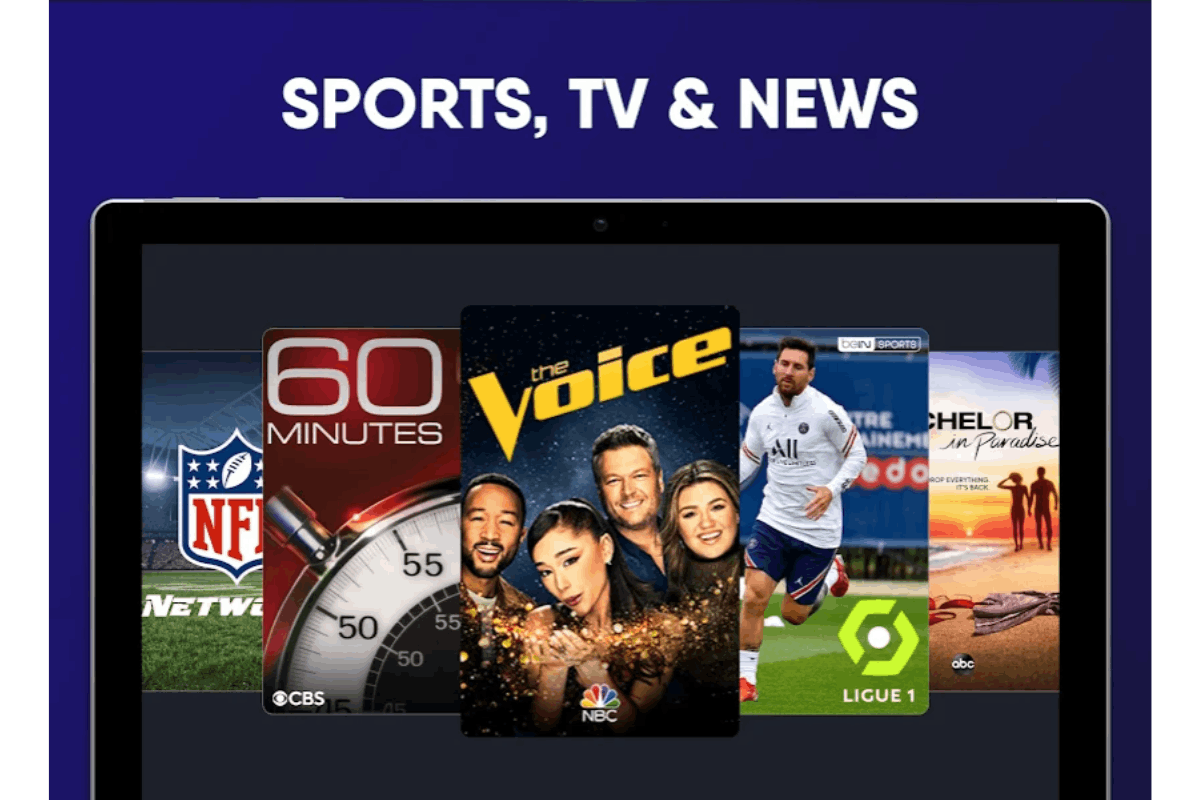 fuboTV also provides extensive live sports coverage and major events, which you can stream right as the action happens. Find top leagues, international club competitions, and national-level teams from around the world. Watch over 100,000 hours of on-demand TV shows and movies from USA, Disney, E!, Nickelodeon, MTV, among many others.
While fuboTV is a bit pricey at $64.99 a month, this price will be worth your money, especially if you're a sports junkie who wants to be updated on every sports event that happens. fuboTV is available for free download at the Google Play Store and the Apple App Store.
Crackle
Crackle is a great streaming service for those who just want to watch a classic film and don't mind what will be played on screen. It's completely free, and no subscription is needed. Stream free Hollywood movies, TV series, and original content on your devices.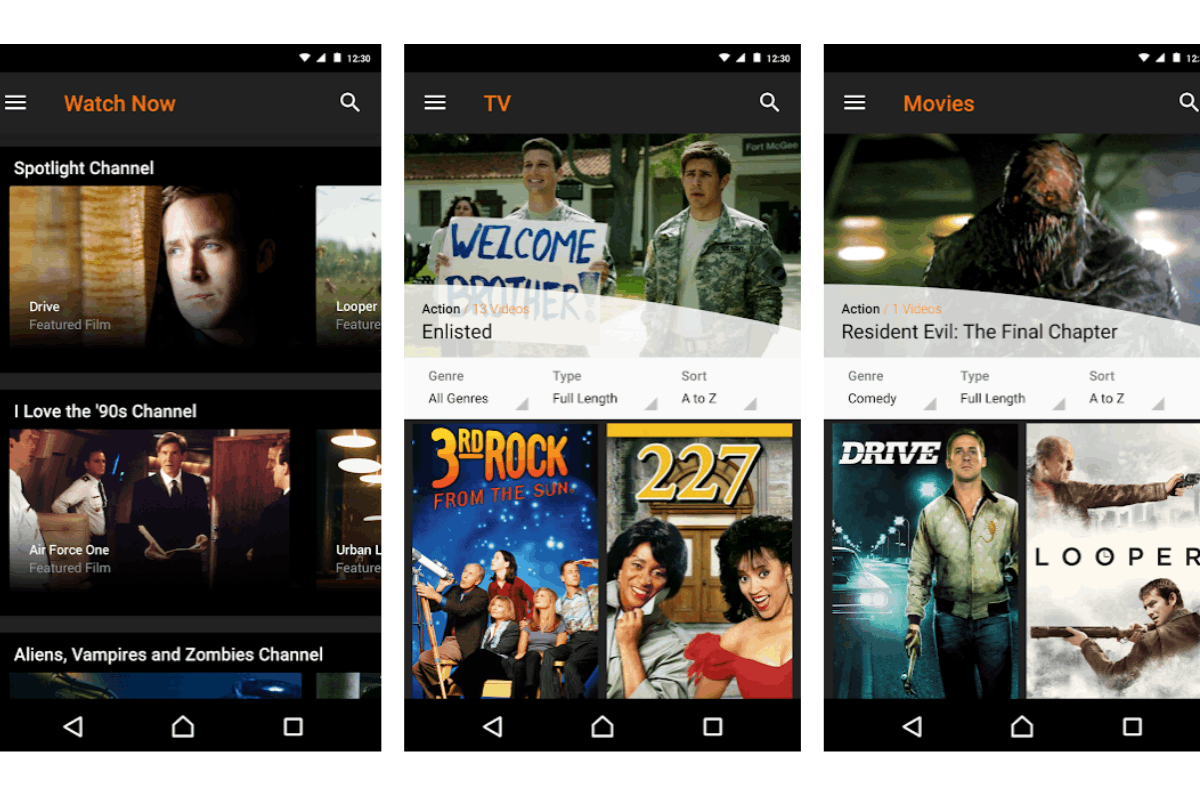 You can watch without an account, but it is advised that you register for a free account to see fewer ads. Despite being a free streaming platform, you can easily filter titles according to genres, such as comedy, drama, thriller, and action.
You can even add titles to your Watch Later list to see your favorite films in one list without having to scroll through the app's entire library. Check out handpicked recommendations from the Crackle team to decide what to watch. The app is available for free download at the Google Play Store and the Apple App Store. 
Paramount Plus
Spoil yourself with a lot of content from Paramount Plus and watch over 30,000 episodes on demand from cult-favorite series like NCIS, Spongebob Squarepants, The Challenge, and Survivor. Get access to exclusive content and subscriber-only original series such as RuPaul's Drag Race All-Stars, The Good Fight, and iCarly.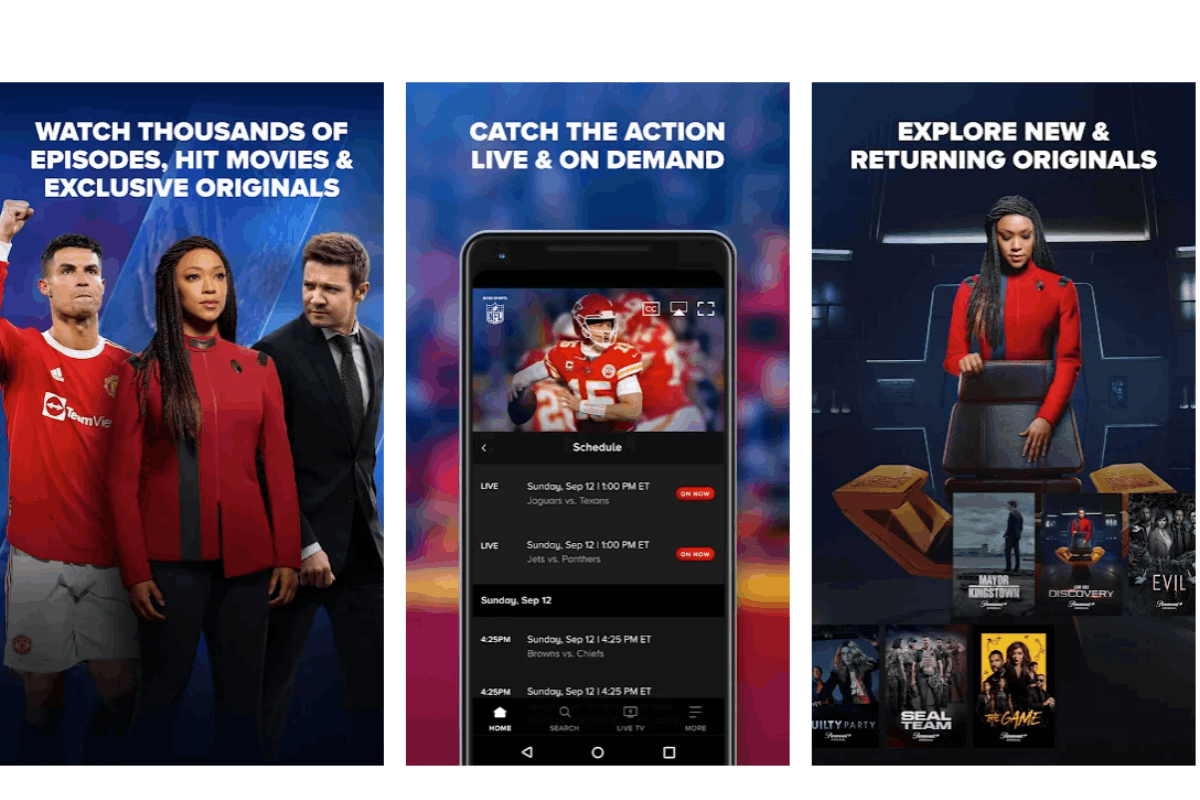 Support your favorite teams in the NFL and watch sports events on Paramount Plus. Catch live events as they happen and be in the know of some of the biggest events such as the Emmys, the Masters Tournament, and SEC football.
Make every night a movie night with fan-favorite films from Paramount Pictures and MGM. You'll never worry about your kids watching inappropriate content with the Kids Mode profile feature. Download Paramount Pictures at the Google Play Store or the Apple App Store and get all of this for just $4.99 a month.
Showtime
A home for critically-acclaimed shows, movies, documentaries, and sports events, Showtime has it all for you. With new titles added all the time, you'll never run out of things to watch! Get access to exclusive episodes of originals such as Shameless, Black Monday, and Hollywood hits.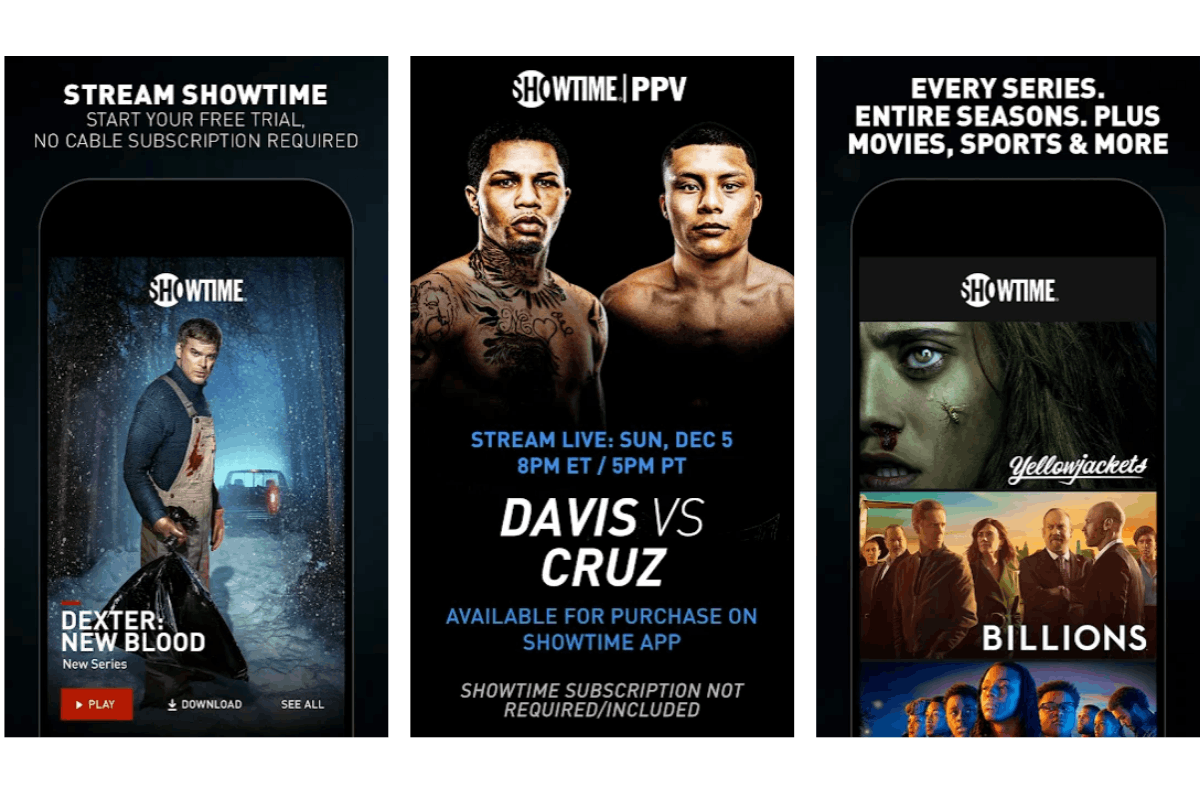 Get a front-row seat and watch the action as it happens on events such as Bellator MMA and Showtime Championship Boxing. Plus, you can have unlimited access to fan favorites like Dexter, Twin Peaks, The Affair, and Homeland. You can even watch them offline. With a premium subscription, you can stream without getting interrupted by ads.
However, Showtime only allows up to one profile and three devices to stream simultaneously. The app is available for free download at the Google Play Store and the Apple App Store. 
Conclusion
Streaming services have truly revolutionized the entertainment industry by making more titles accessible to others and encouraging the industry to produce more content that people will love.
These are just some of the best streaming services that are out there in the market waiting to be enjoyed. Go beyond Netflix and discover an entirely new library of great shows and films to consume with these apps!
Last updated on May 25th, 2023 at 06:24 pm