Manga comic books are a popular form of entertainment and literature that are enjoyed not only in Asia where they originated but across the world. Manga has become a staple part of culture and entertainment which shapes and influences the art and literature scene.
With great and modern technology, stories and comic books from Japan and Korea can now be read and enjoyed by the rest of the globe right from their fingertips.
Here are some of the best apps for manga fans. Read on and see whether the right app for your manga needs is on our list.
Crunchyroll
Manga Toon
Manga Dogs – Webtoon Reader
Manga Plus by Shueisha
Manga Zone
UR Manga
Crunchyroll
Every anime and manga lover knows the app called Crunchyroll, a WarnerMedia company which brings anime and manga to the global platform. With Crunchyroll, you have access to thousands of manga titles – from classics to newly-released titles.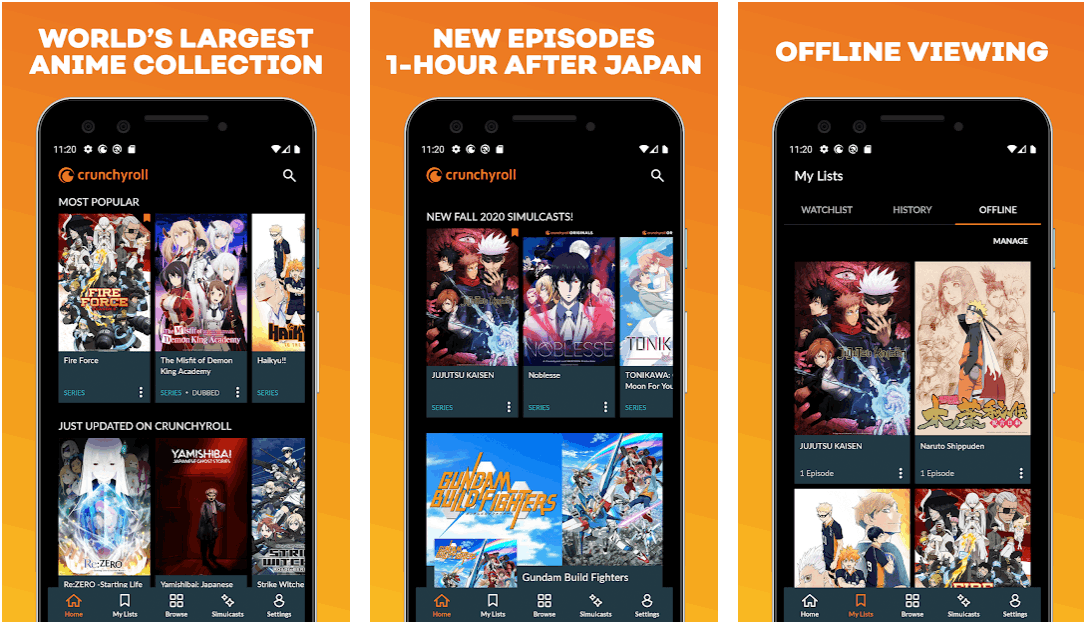 The titles are arranged according to their themes, which makes it easy to navigate. You can also choose titles under categories such as Popular, Updated, and Promotion, as well as sort mangas alphabetically.
The app has the latest titles one hour after its official release or publication. You also have the option to customize your watchlist for a more personalized dashboard according to your preference.
You can use the app for free, but you will have to subscribe to the premium subscription to experience premium features such as ad-free viewing, access to episodes an hour after their release, simultaneous streaming for up to six screens, as well as offline viewing.
How to Download the Crunchyroll App
The app is free to download from the Google Play Store.
With a 3.5-star rating and over 50 million downloads on the platform, the app is one of the top apps to stream and read manga in over 200 countries across the world.
Founded in 2006, Crunchyroll has its headquarters in San Francisco and offices in Paris, Lausanne, Berlin, Tokyo, Chisinau, Los Angeles, and Germany.
Manga Toon
Manga Toon, a free manga reader app, provides access to some of the best and popular manga comics which you can read in HD. The app has daily updates, so you won't have to worry about running out of content to read and enjoy.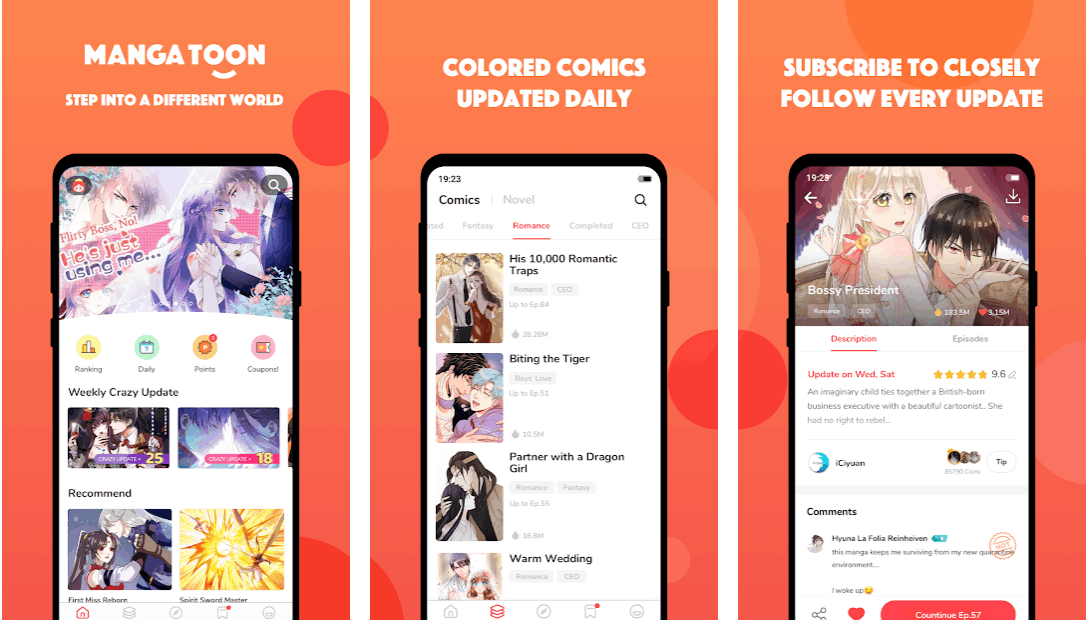 The app includes Japanese manga and Korean comics through Webtoon. Take note that not all manga comics are free on the app – you will have to subscribe with pay-per-view – although a majority are free to access.
Manga creators love this app because they can create comic stories and books and share them with the user community. The admins will sometimes pick the best creations and convert them to manga comics which will then be featured on the app.
You can also download your favorite manga titles and read them offline. The app is optimized for mobile phone viewing, so you are assured to have a great overall reading experience wherever you are, with or without access to the Internet.
How to Download the App
The app is available for free download on the Google Play Store. It has over 10 million downloads and a 4.2-star rating on the platform.
The app supports Bahasa Indonesia, Spanish, Thai, Vietnamese, Portuguese, and English.
Genres range from Action, Romance, BL, Comedy, to Horror, Sci-Fi, and many more which you can explore and enjoy.
Manga Dogs – Webtoon Reader
Manga Dogs is an online manga reader available for iOS users only. It supports six languages and features 20 sources where you can find a wide selection of manga titles. Discover new titles from the app's recommendations based on what you've read and what you are currently reading.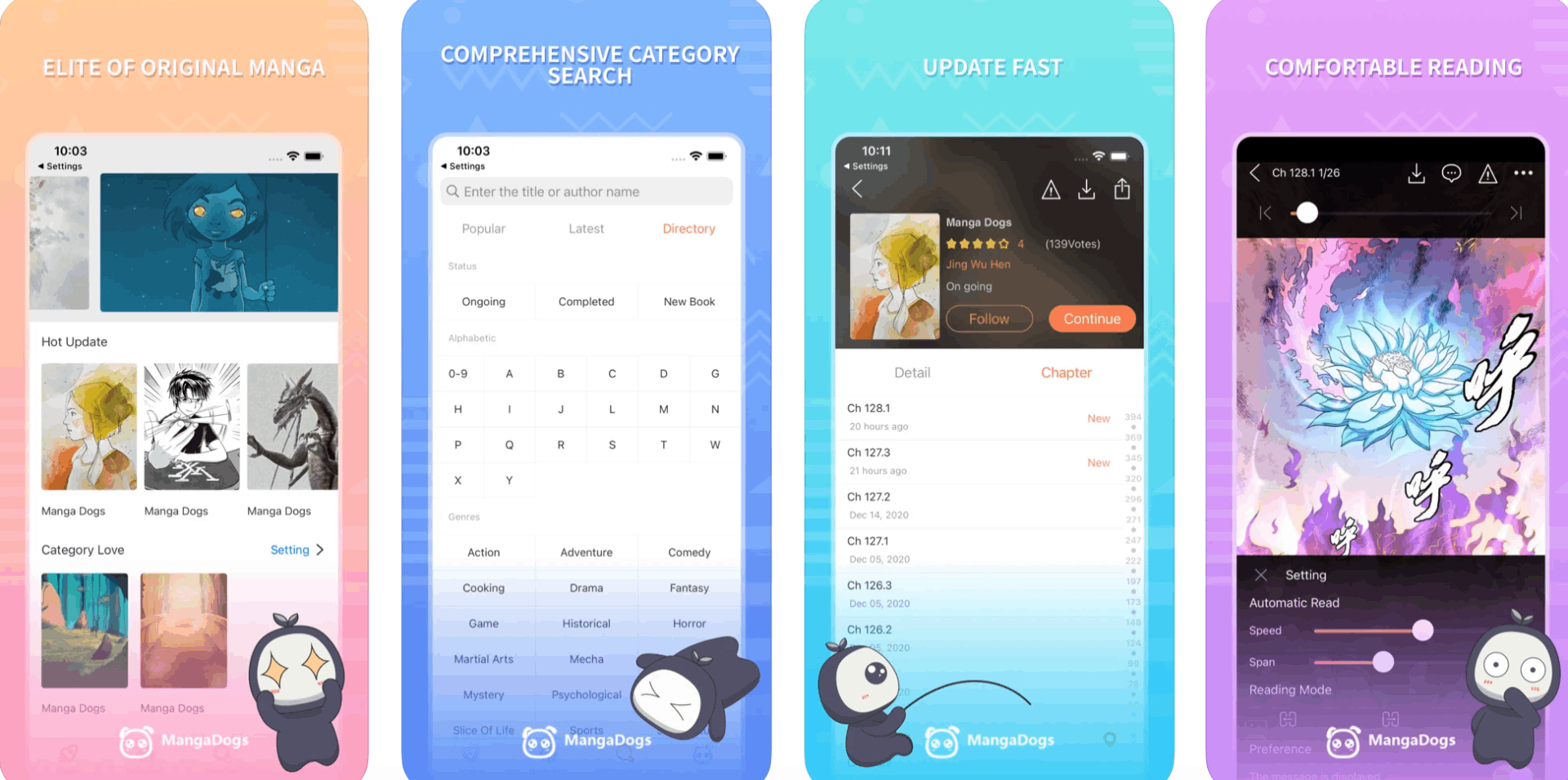 You can organize your favorite manga titles using the bookshelf and monitor your history by keeping tabs on your reading history. Aside from that, you get notifications when your favorite comics are updated so that you won't miss anything!
You can also personalize your app with advanced customization features. Other features include two-reading mode options (vertical or horizontal) and a smart speed optimizer to efficiently use data and save battery.
The app has a specially-made viewer that is optimized for phones or tablets, depending on the device, so you get the best manga reading experience. While reading online, the next page of your book will be automatically downloaded to save time and allow you to read quicker.
How to Download the App
The app is available for free download on the App Store and ranks as the 119th app on the entire platform for apps under the Books category.
You can pay $5.99 a year to read manga comics without annoying and intrusive ads.
The app also offers a Manga Dogs Cloud where you can backup and restore all your data and seamlessly synchronize usage across your Apple devices.
Manga Plus by Shueisha
Developed by world-renowned manga publisher Shueisha, Manga Plus has first and direct access to manga comic books published by Shueisha such as Naruto and Dragon Ball. The app's huge and extensive library is updated daily and can be accessed for free.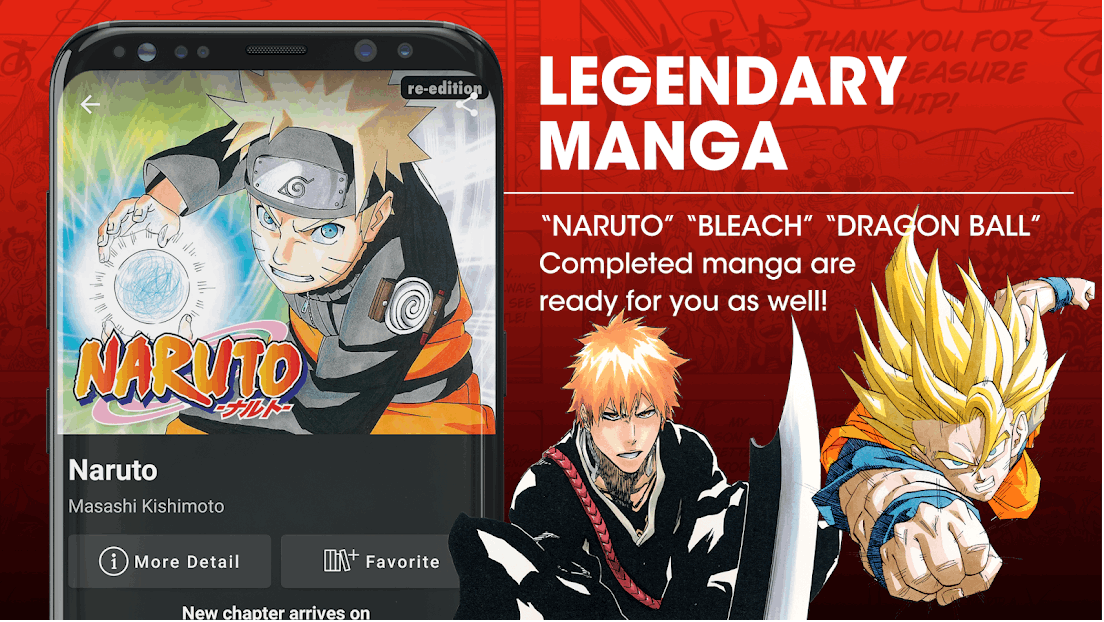 The app is similar to a social networking site where you can add comments to a manga title and read comments posted by others in the community. You can interact with manga creators and join their fan communities as well.
You need not worry about losing track of your favorites as you can always save manga titles under your favorites. Moreover, you get notifications when titles are updated so that you don't miss out on new releases.
Read titles such as One Piece, My Hero Academia, The Promised Neverland, HunterxHunter, Demon Slayer, Jujutsu Kaisen, Dr. Stone, Hell's Paradise, and much more! The app is also available in Spanish and includes 27 series in the language.
How to Download the App
The app is free to download on the Google Play Store. It has 5 million downloads and a 4.4-star rating on the platform.
Unfortunately, you cannot pay for a premium version to remove the ads as the developers use the money raised from in-app ads to keep the app running.
Manga Zone
Manga Zone is a great manga reader app with a growing library from multiple sources. It recommends users great titles daily and also provides curated content to bring popular manga titles straight to your phone.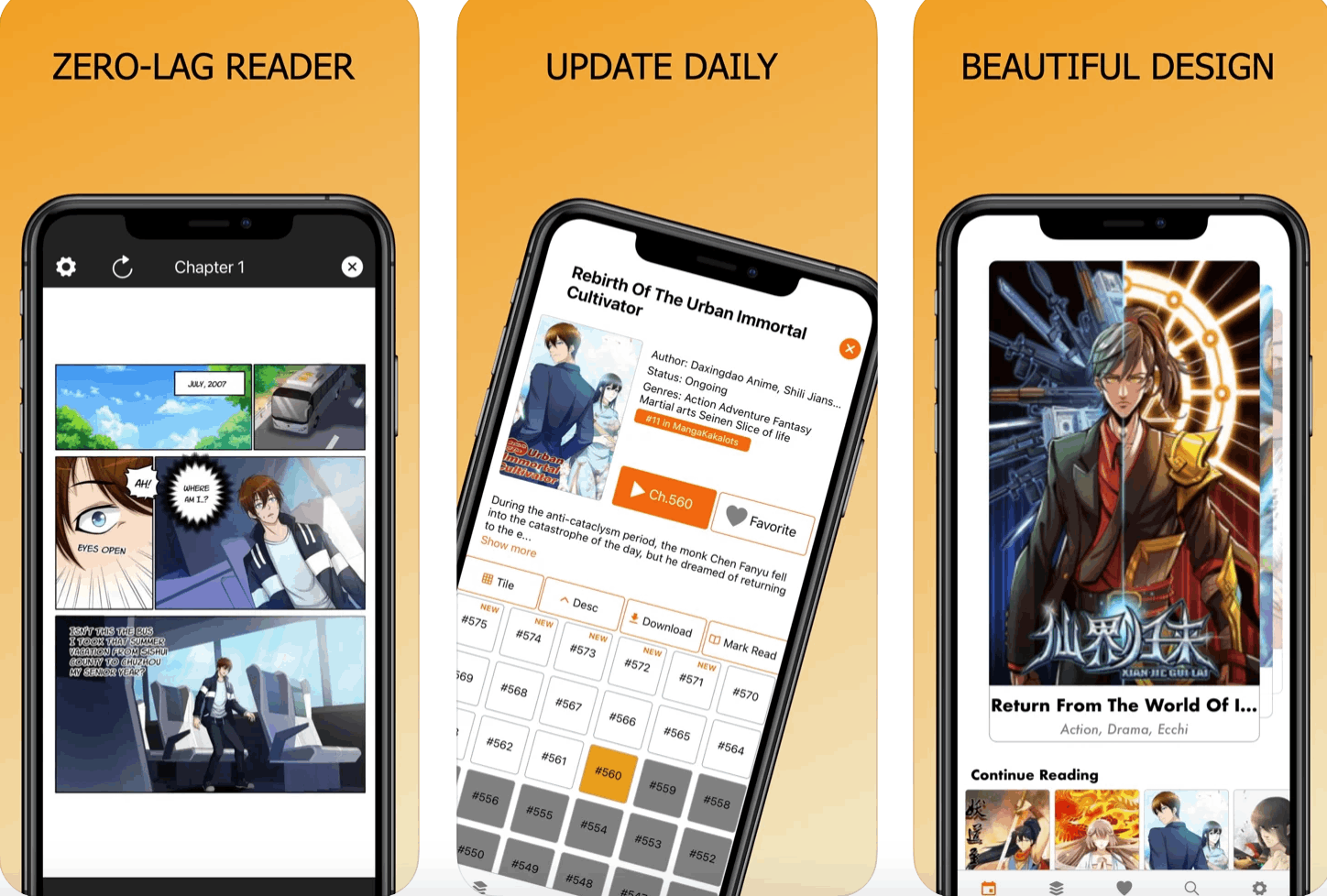 You can save your favorite titles and keep track of your reading progress, use advanced search filters when searching for titles and drop comments and share opinions on titles that you are reading.
What's great about Manga Zone is that it has less annoying and intrusive ads, even on the free and basic version.
With this, you will get a smooth and enjoyable manga reading experience without closing and canceling ads every single minute.
How to Download the App
Manga Zone is available for free download at the App Store and is rated the 15th app under the Books category.
The premium version costs $3.99 for a one-time payment to get rid of all the apps and gain access to all manga titles.
UR Manga
A fairly new manga reader app with a small community of 1 million users, UR Manga boasts a growing library of 2,000 mangas with more added daily. Themes and genres include adventure, love, fantasy, among many others.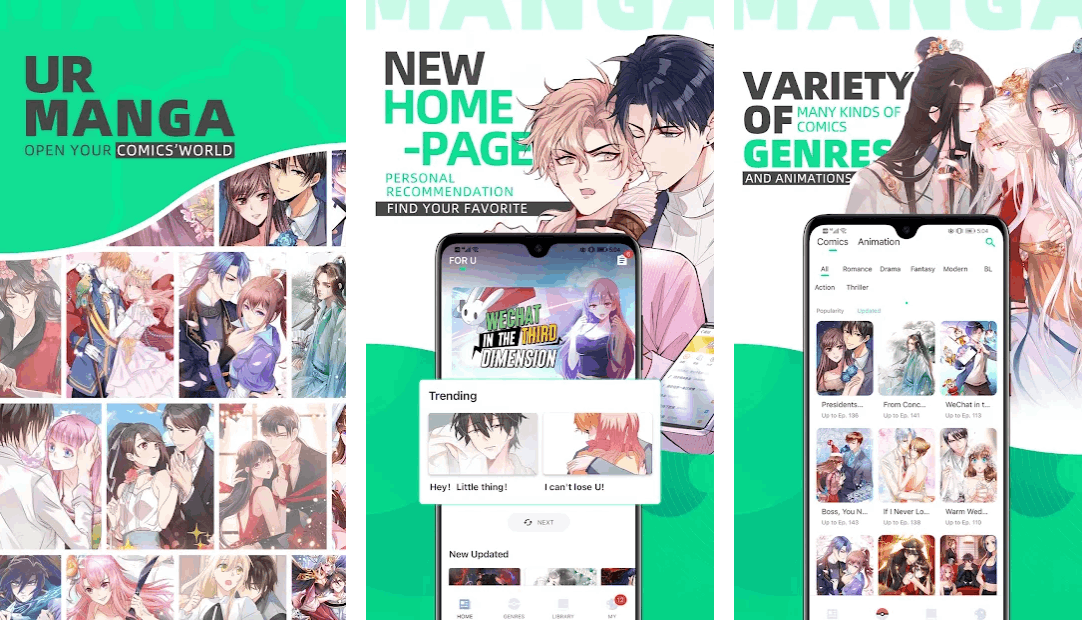 The reading model is designed to be interactive as the plots and outcome of the stories depend on the choice of the user. Each choice determines what happens next in the story. This interactive element sets UR Manga apart from other manga readers in the market.
You won't have to worry about straining your fingers as this app can be fully operated with just a single hand, thanks to its optimized positioning lens and scroll mode. You can also add your best manga titles under the Favorites tab so you can easily access them later on.
Data usage is also minimized thanks to the apps' unique image processing technology. When you read titles offline and download them, the app also ensures that the books you've downloaded do not take up more storage space than it should.
How to Download the App
The app is available for free download on the Google Play Store. It has a 4.2-star rating and over 1 million downloads on the platform.
You can pay for the VIP subscription service to enjoy an ad-free experience and access to premium manga content.
Conclusion
Technology has indeed allowed people to further explore and enjoy culture and art such as the manga comics. These apps bring the world closer together through shared experiences and narratives, thanks to modern technology.
If you're a fan of manga, check out these apps to make your manga reading richer.
Last updated on December 26th, 2022 at 07:29 pm