Most people fancy a beautiful and well-made manicure that's interesting and fun to look at. Now, it's also possible to curate your very own nail art using the Nail Salon App. This app features a wide collection of custom nail colors to match with different gems, stickers, and designs.
What's more, is that the app allows users to take a photo of their creation and share it with friends. It's the perfect app to bring unique nail art creations and ideas to reality. Read on to know more about the Nail Salon App, its features, and how it works.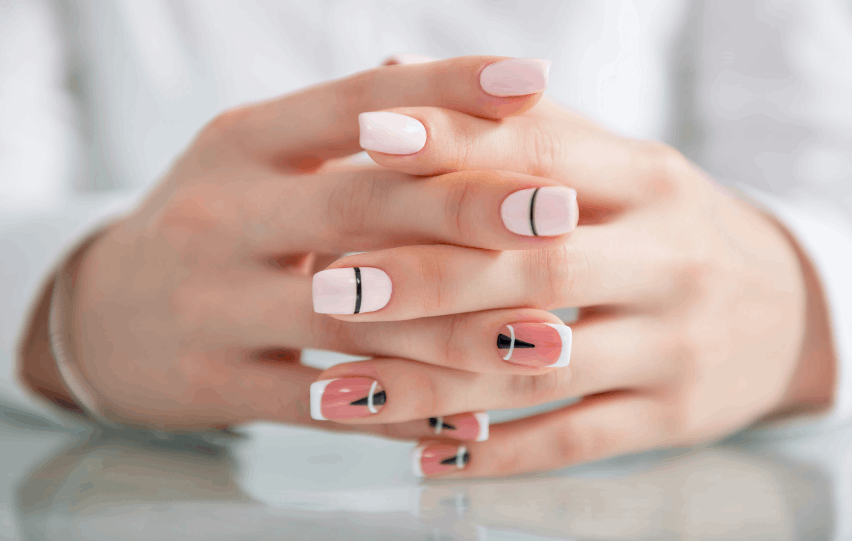 What Is the Nail Salon App?
The Nail Salon App is a game, allowing users to make nail art and customize nails according to their liking. It features a host of nail colors to choose from as well as stamps, patterns, and gorgeous crystals. The best thing about the app is that everything is customizable including the skin color, length of nails, and even accessories. For the most part, users love the game because it's entertaining, and allows you to use a whole bunch of designs to create your dream digital manicure.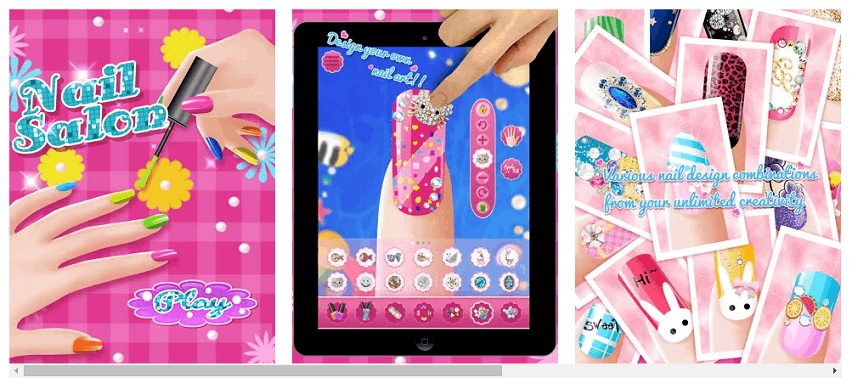 The app has background audio that can be disabled, a screenshot feature, and more. It's interesting to play and suited for players of all ages. The application fosters the creative ideas of users, especially those who love nail art. There's a lot of patterns and designs to choose from, making it easier to create a nice manicure.
What Can It Do?
Players can choose a design and redo the process in case the outcome didn't come out as desired. Those who are learning new designs for nail art can benefit from the Nail Salon App too. With a lot of designs available and a hand to practice, players can definitely feel like they're giving a manicure.
The app lets you experience what it feels like to have a nail salon and give a virtual manicure. Overall, it's a fun and entertaining application for creating nail art and manicure in general. Those who enjoy fashion and beauty games can have fun with this game too, as it features a number of options, accessories, and more.
Best Features of Nail Salon
There's a reason why this app is pretty popular among users. First, the Nail Salon application lets players take a picture of their creation to share with friends, family, and even for sharing social media or via email. This makes it more exciting and fun because it connects more people through this app. Another great thing is the wide variety of choices for nail colors, nail art patterns, stickers, nail shapes, skin tones, and accessories such as rings.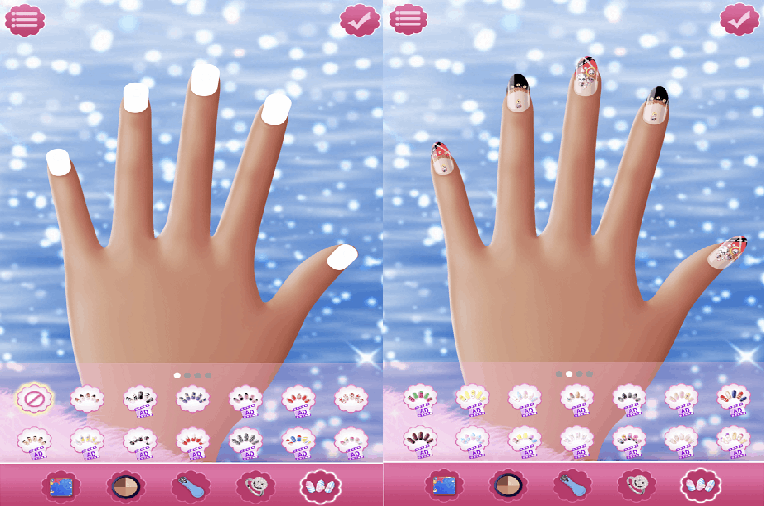 There's a chance to decorate with crystals, gemstones, diamonds, and other sparkly resins. Additionally, the app features an option to unlock millions of collections to enjoy designing nails more. In case you want to take a picture of your creation, you can enhance this with a matching background. You can also choose from various background pictures that are available to switch at any time.
You can mix and match designs per nail. This is for those who want to experiment with the actual look of the nails, and to make their design more original. It could mean combining sparkles with unique colors for the nails or using a different color intermittently on different nails. Nail Salon also features cute gem, alloy, and resin options
Painting and Customizing
Design each nail differently with unique paint colors and patterns, as well as apply one design to all the fingers. There's no right or wrong, and every player can experiment, play with colors and nail art, and come out with a beautiful creation. Finally, the application features a chance to be on the Cover Girl magazine thing.
Players don't simply take a pic of the hand and the nail creation, but also take a selfie with it and can see what it feels like to be featured on Cover Girl Magazine's front page. This is lit and makes the game even more enjoyable as users can save the photo to their gallery and even share it with friends.
How the App Works
The app works without needing to sign up or create an account. Users can simply head to Play and start designing nails and playing the game. Each player can choose a skin tone to start, as well as the background image. There's really no step-by-step to playing the game, and you can just start choosing the nail color and design.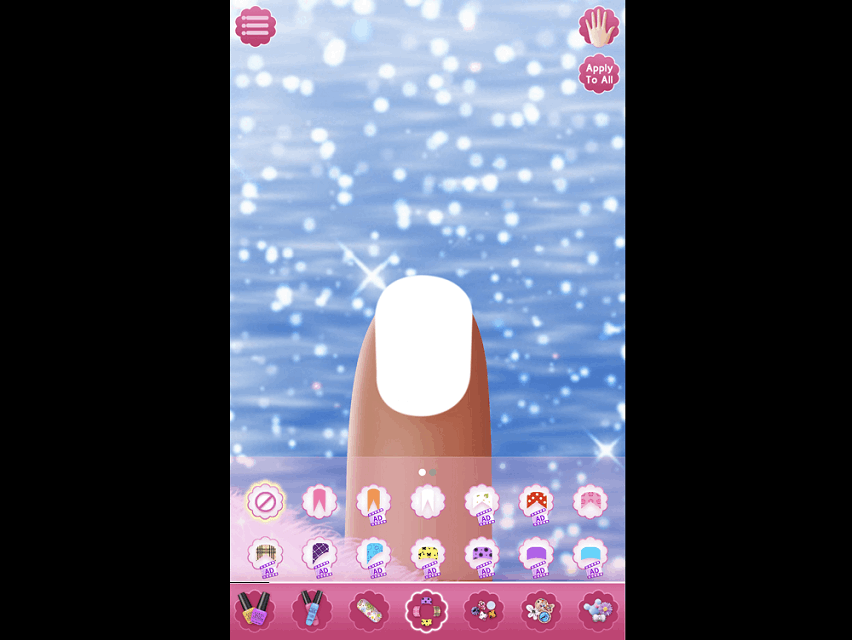 The game has five categories on the screen for the free version; one is the background gallery, the next is the skin tone, followed by nail length, type of ring, and nail art or color. By tapping each category, players can choose from the items available and customize the nails one by one.
In addition to the five categories, there's also more in case you choose to unlock all items. The added category includes a bunch of nail paint colors to use, along with stickers, add-ons, and other exciting accessories. Gemstones and other crystals are added too, but this is only available if you get the full version.
On the upper left part of the screen lies the option to screenshot the hand, share with friends, and redo an action made.
Functionality
In case you want to play the game without the sound, you can mute it by tapping the mute button. There's also an option to go to the store to unlock other items and accessories.
Once you're done with the virtual manicure, players can tap on the check button on the upper right part of the screen, share it via email, save it to the phone's gallery, or join in the weekly Best Show.
The latter is a great showcase of talent, with the best nail designs made by different players across the world. Players can submit entries for the Best Show through email. There's an option to join the Best Show by messaging the Makeupward, attaching a photo of the creation, and telling a detailed story about the entry.
Cost and Subscription
Nail Salon is absolutely free to download but the app has annoying ads that pop up every action made. To avoid this, users can buy the full version of the app that costs $9.99 and another $0.99 to remove the banner and ads.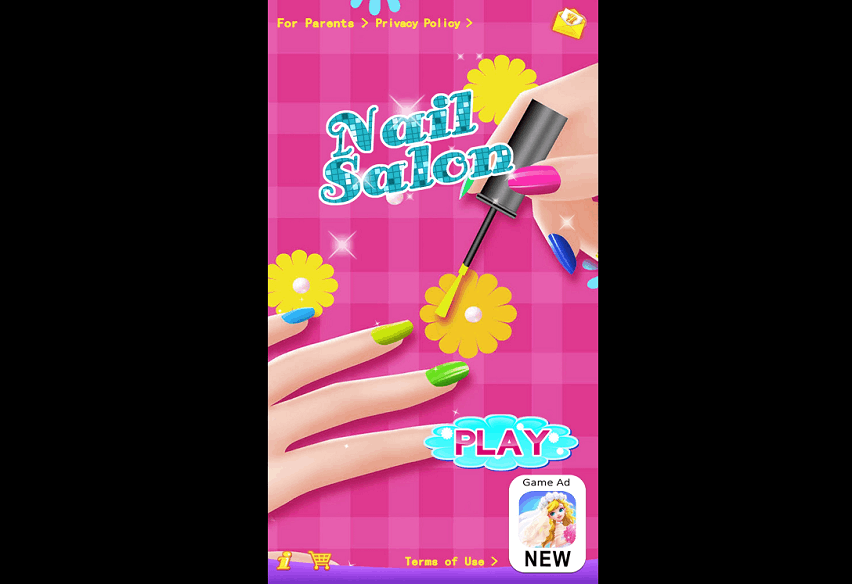 Aside from these charges, there's nothing more to worry about. Unlocking the full version simply removes the hassle of watching ads just to use a nail art pattern, color, and use beautiful rings. With this, customizing becomes easier and there's no need to wait for the annoying ads to end and continue playing the game.
Limitations of the Free Version
What's more is that players can get unlimited designs, colors, nail shapes, lengths, additions, and collections to use. The free version has a lot of limitations on these collections, and most of the time, options require watching ads—which isn't a fun way to play the game.
How to Download Nail Salon
To get started playing Nail Salon, you need to download it to your device. This app is available on iOS and Android devices for free. It's available for both iPhone and iPad devices for a more enjoyable gaming experience. What you need to do is simply look for the Nail Salon app in the Apple App Store or the Google Play Store and tap on Get or Download.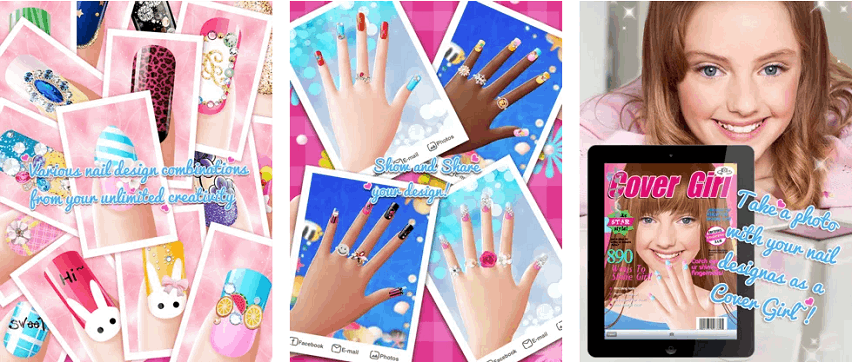 Sometimes the device asks for the Apple ID password to verify the download and get on with the action. If it asks for the password, simply enter or use the facial recognition feature or the fingerprint.
Wait for the download to complete before running the application. The best part is not signing up for anything; just open the app and you can immediately play the game.
What's more, players have the option to get the full version whenever they want, unlike other apps that bug players to get the Premium version. Everything's straightforward and players only need to download the app and enjoy the game.
Accessing the Gallery
There's a pop-up on the screen that allows the app to access the photo gallery in order to save the screenshots from the app. In case you don't want this action to be allowed, you can disable the option to allow access to your gallery. In case a player chooses not to let Nail Salon access the gallery, there are more ways to access the photos through email.
After taking a photo of the nail art, players can send it to their email or anyone's email for archiving. This action is free and doesn't require anything, just the email address to send the email.
Bottom Line
It is so wild that these days we can achieve our fashion dreams through beauty apps like the Nail Salon App. With the Nail Salon App, you can figure out your ultimate nail style and help others find their own too. You can be a nail salon gourmand without ever having to step into a nail salon.
Beyond the fun of it all, if you've ever fancied yourself to be an owner of a nail salon shop, this will give you a chance to practice it all – without having to invest a ton of money.
Last updated on December 23rd, 2022 at 07:53 pm