Buying a house is probably the most costly purchase one will ever make. Any advantage I can acquire to help me find a new home in today's real estate market could mean the difference between signing a deal on my dream home and passing up a great opportunity.
To find the perfect home that fits both my budget and wish list, I filter search results by price, the number of bedrooms and bathrooms, location, and square footage using the best house hunting apps. Keep on reading to discover some of the best iOS and Android house hunting applications that I have used in my house hunting journey.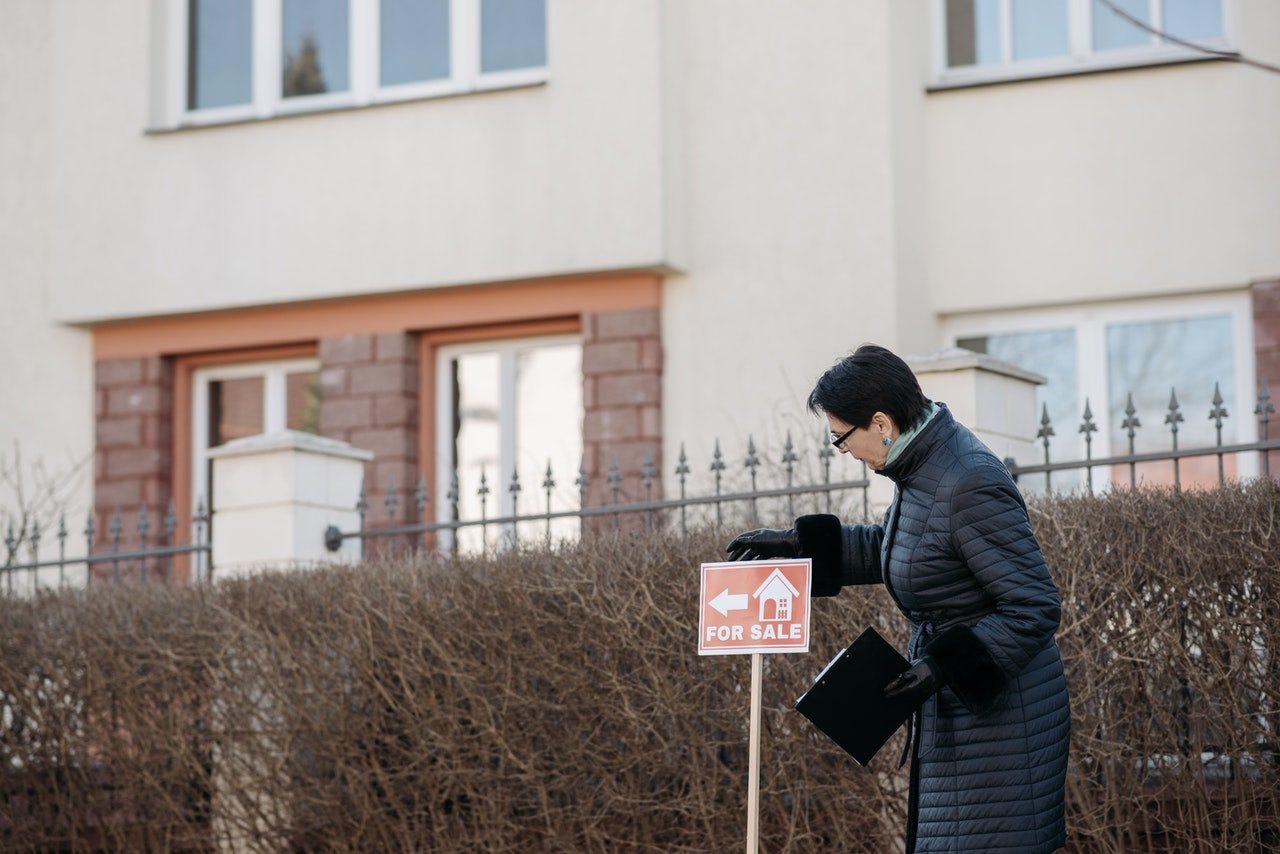 Zillow
This is the most popular real estate app for Apple and Android devices, and it includes Zillow's home value estimate tools and its signature map. Its app is a highly regarded way for users to learn more about the platform, which has a database of over 135 million homes.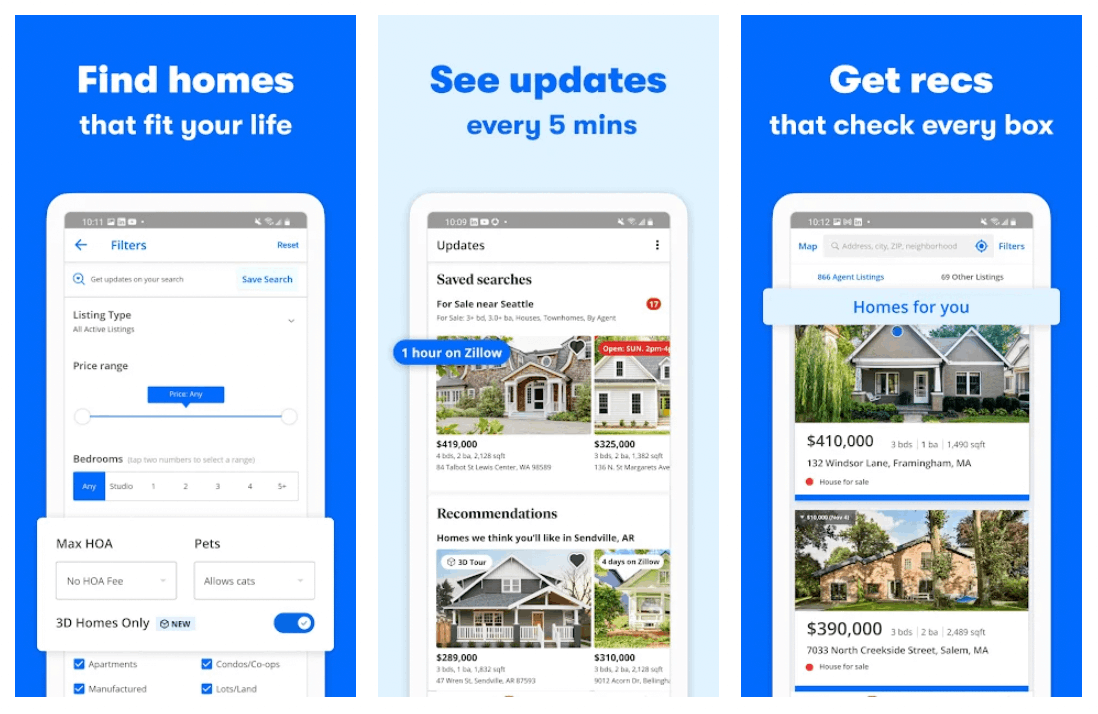 For the third quarter of 2021, Zillow recorded a total of over 227 million unique monthly visitors. Its most impressive feature is its next-generation 3D Home tours, which allow me to take a virtual tour of a house with panoramic photographs, floor-plan views, and easy navigation.
The app's interface features a Your Home option, which allows me to keep information about my home and see how its estimated worth grows over time. However, the Zillow Zestimate isn't a guarantee of what my home will sell for, no matter how much I want it to be.
Compass Real Estate – Homes
This app from Compass, a leading real estate agency, gives me details on any properties posted in the location where I'm browsing. It's also simple to reach a Compass agent in my area using the app.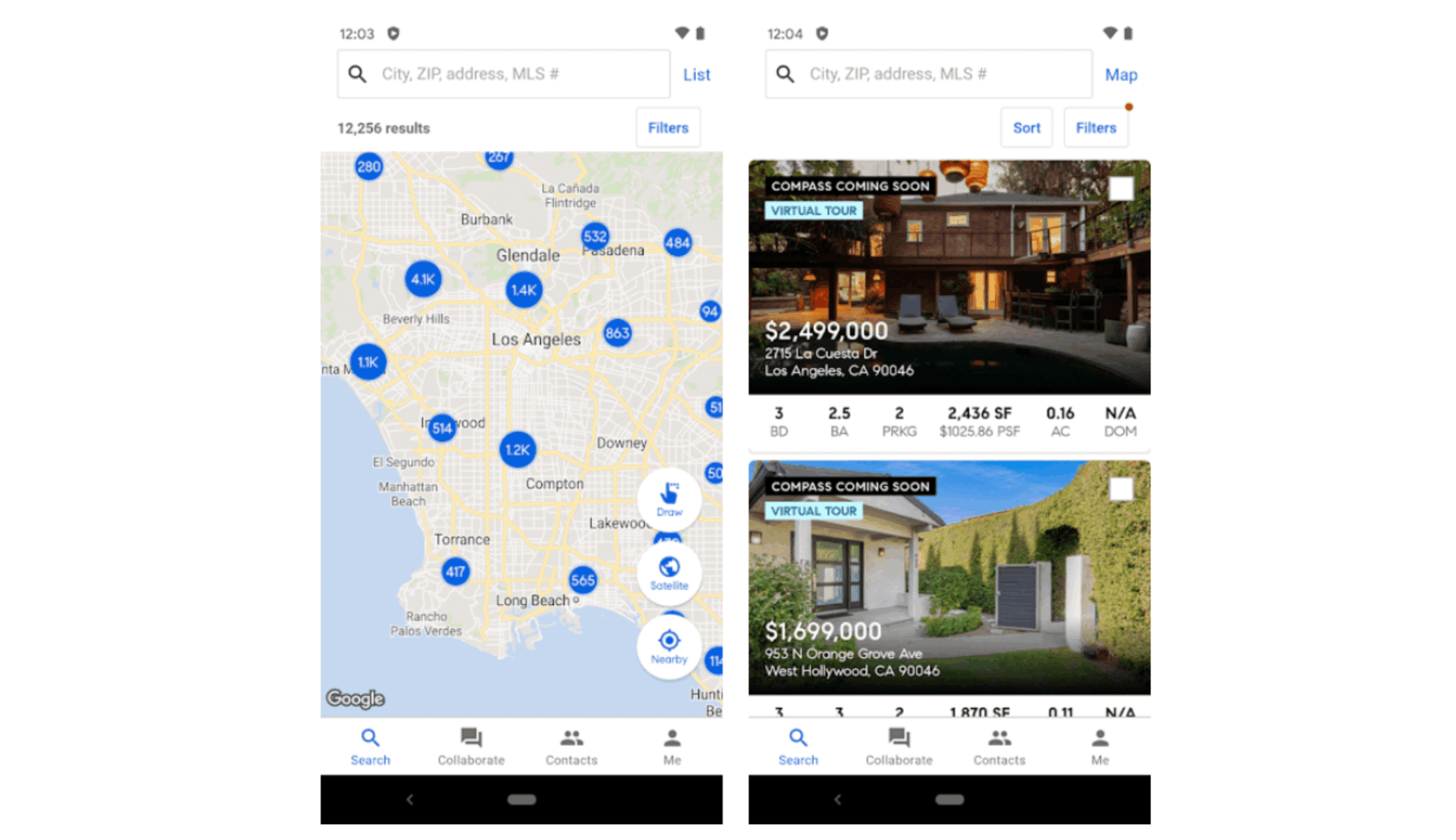 When I give the app access to my phone's Bluetooth, it connects me to Compass signs, which provide information about properties for sale by Compass agents in my neighborhood. Listings with virtual tours are marked with a light blue play button icon in the map search feature.
However, there are instances when filter options, even if they aren't meant to, will exclude all listings. When you select the "any time" option for an open house, for example, any properties that don't have an open house currently planned will be removed.
Realtor.com Real Estate
Through this app, I can readily contact Realtors in my area since Realtor is the consumer-facing company that is affiliated with the National Association of Realtors. I can put particular details on my must-have list, including central air, a fireplace, multiple floors, and even communal swimming pools or security features, all using the filters in this app's search tool.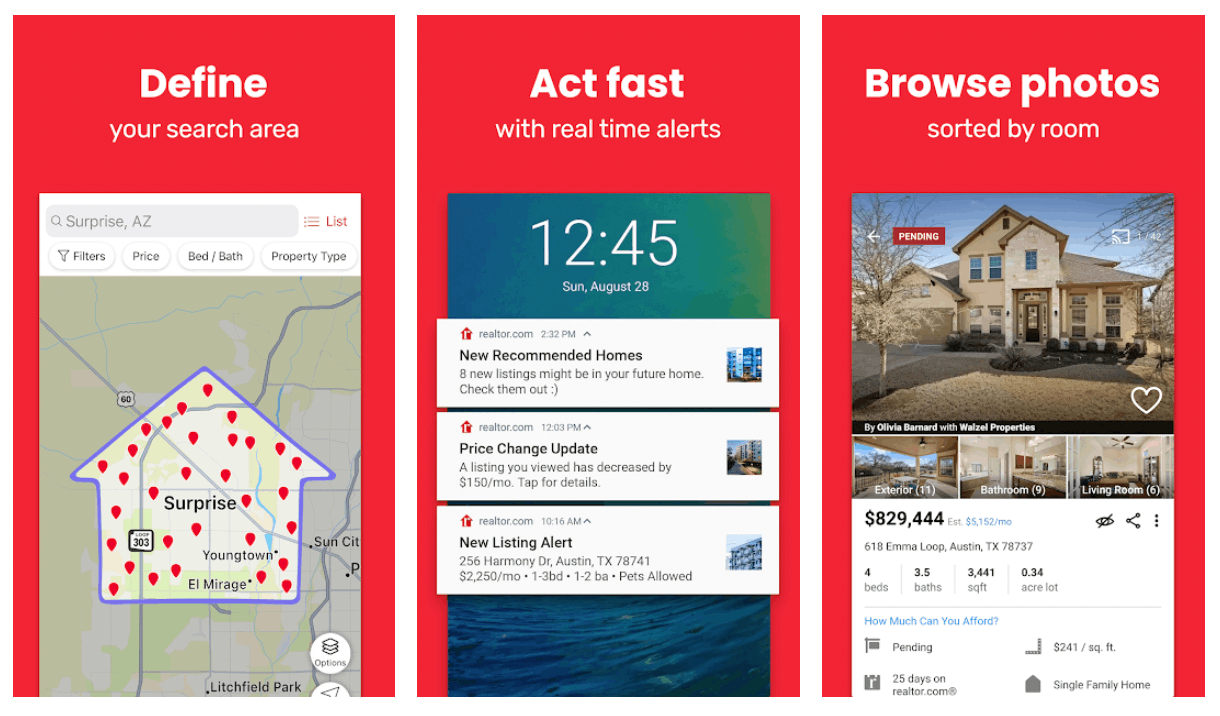 I can also link my account to that of a spouse or roommate, making it easier for us to hunt for our next house together. Moreover, property profiles provide information that is important to me, such as if the property is in a FEMA flood zone and the noise level in the area.
Since I'm used to checking the "key facts and figures" first after the photos in a listing, I need to expand them in order to view them. I always do this when I'm searching for information about the house design, if there's a washer and dryer, or whether there are HOA costs.
Xome Real Estate
Xome's app is known primarily for its information and search feature for homes sold at auction, but it also has comprehensive information for a wide range of homes for sale through traditional sales.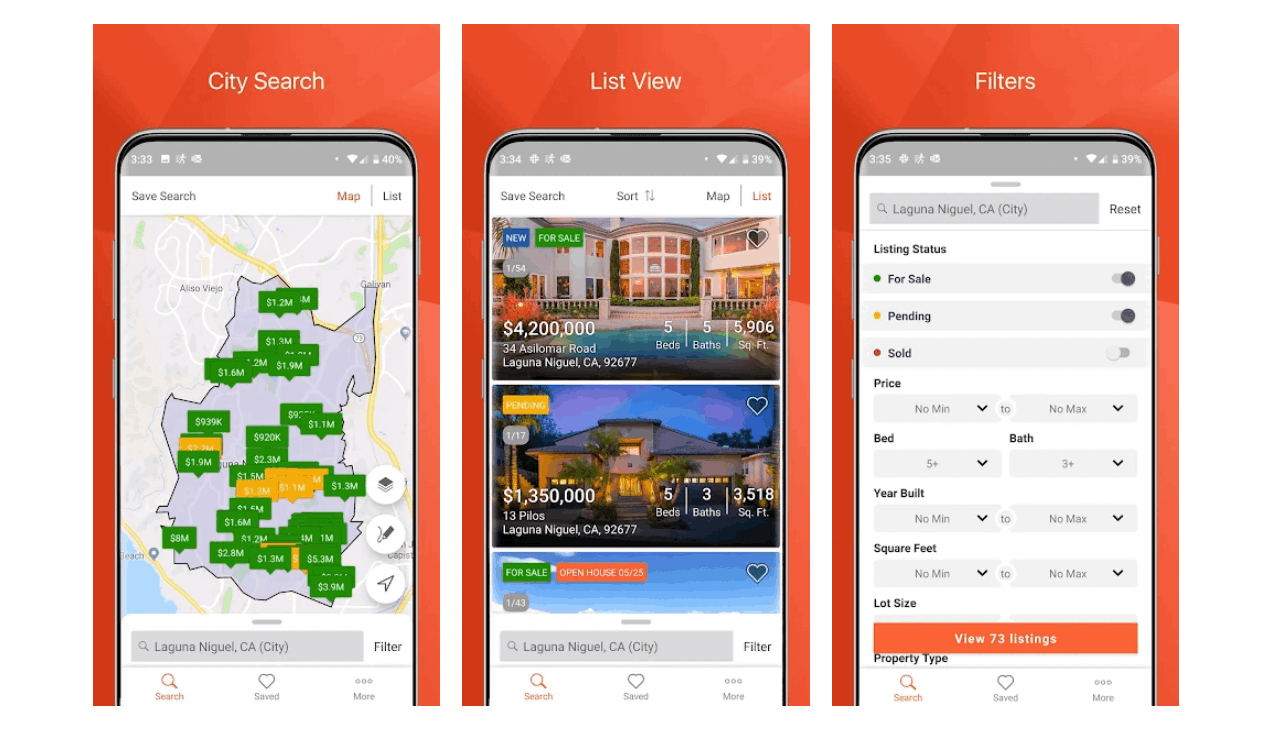 The Xome Zoom feature allows me to point my phone's camera at a property and have details about the property show up on the app. I can filter properties not yet on the market with Xome-estimated home prices and public record information when zooming in on a street or area.
On a desktop computer, Xome's database of auction properties is extremely user-friendly and searchable, but I can't filter to see auction properties in the main app. I have to download the separate Xome Real Estate Auctions app if I'm interested in auction properties.
Trulia
Trulia's app offers me a desktop-like experience on my phone, with plenty of neighborhood-focused options to help me filter my search geographically to match my needs and expectations. The app also surveys its online users in certain neighborhoods and then publishes the findings on Trulia.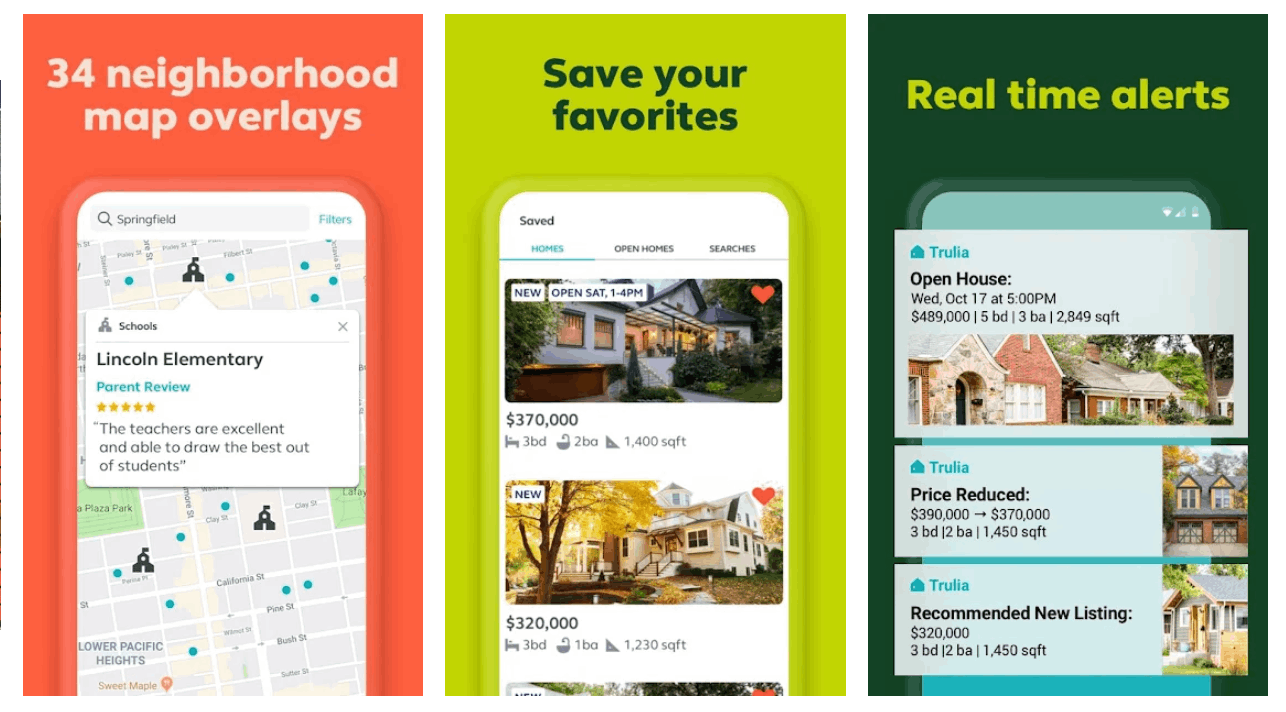 For example, I can discover that 83% of children play outside on a regular basis or that 47% of residents in one neighborhood do not feel safe walking alone at night. Trulia lists local legal protections on each property profile, indicating whether the area has legislation that protects people from discrimination based on gender identity or sexual orientation in employment, housing, or public accommodations.
However, I have observed that any property profile prompts me to call or email an agent for more information. While this is useful if a user is serious about buying but does not have contact with an agent, it might be distracting and annoying if they are simply browsing.
Movoto Real Estate by Ojo
Movoto's real estate information, which is used for its lists about local life in various cities, now gives thorough property searches and listing details that outdo any of the other apps I've tried.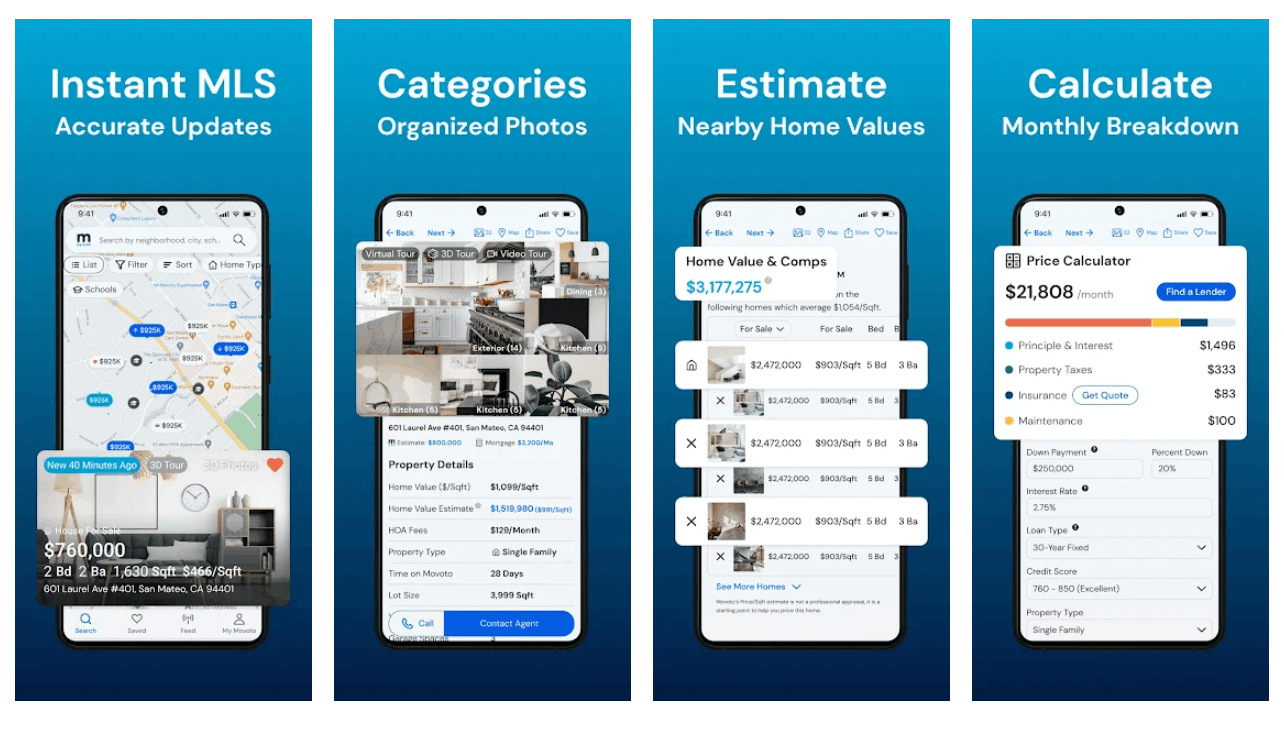 For the neighborhood, ZIP code, and city, property profiles include one-year and five-year market statistics. The asking price of the property is also noted to demonstrate where it compares to others. The number of days a property has been on the market is clearly displayed in both the map and list search functions when I'm looking at all the latest listings.
I only have to scroll a little to learn about important features. The listing agent's block of text displays before many of the property specifics that I think are more important because of pulling long descriptions from the local multiple listing services.
Homesnap Rental & House Finder
With this app, Homesnap offers home searchers control and ease, making it simple to begin my search through the app or in person, by snapping a photo of a property for sale on the street. I can take a photo of a house, and the app will recognize it.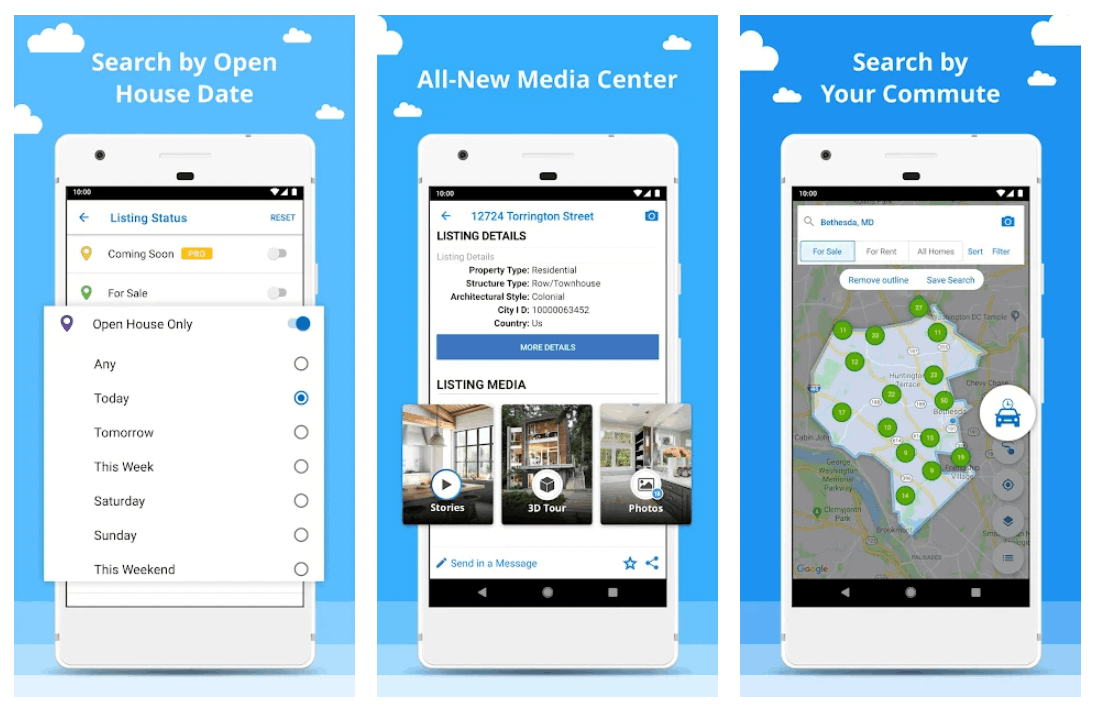 It will then show information about it from the local multiple listing service or public records—a really amazing feature! I can also check the details for a certain listing in the property's profile even if I am not actively looking for a home with a specific commute. The property profile provides neighboring train stops in places where public transportation is available.
I can expand the property information list to assess everything from the home's architectural style to the number of bathrooms and homeowners association fees. The breadth of information is useful, but the extensive lists sometimes cause me to lose concentration and overlook important aspects.
Century 21 Local
Century 21 is a long-standing national brokerage that gives customers access to home listing information from local multiple listing services. The app is especially useful when I plan to work with a Century 21 agent, as that's who I contact when I want to learn more about a home.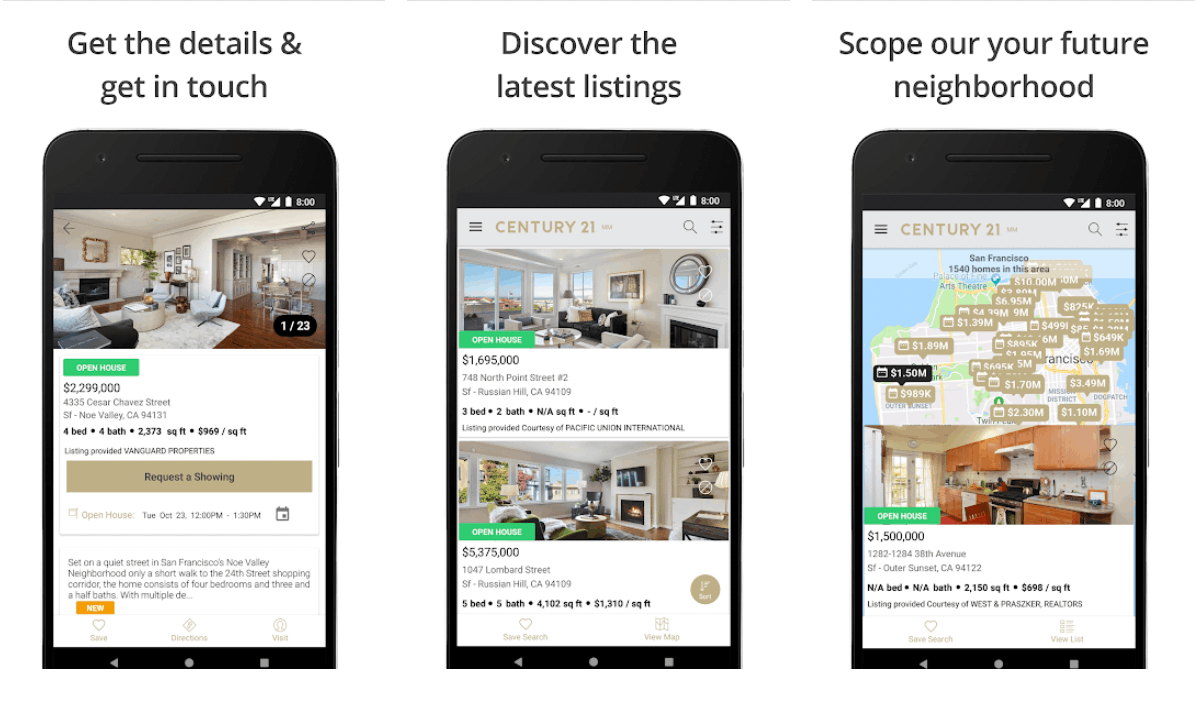 Every property has a notes section in the app, which allows me to keep track of my observations as I compare houses. When I start looking for properties in a new city, the information regarding the local Century 21 brokerage I can contact changes, while I can still see listings from other brokerages.
This app uses Zillow to estimate the value of a house. However, it occasionally lists "unavailable" even if the property has a Zillow Zestimate.
Redfin Real Estate
The Redfin app allows me and Redfin agents to interact since the company operates on an unconventional business model with agents and experts specialized in various stages of the house buying and selling process.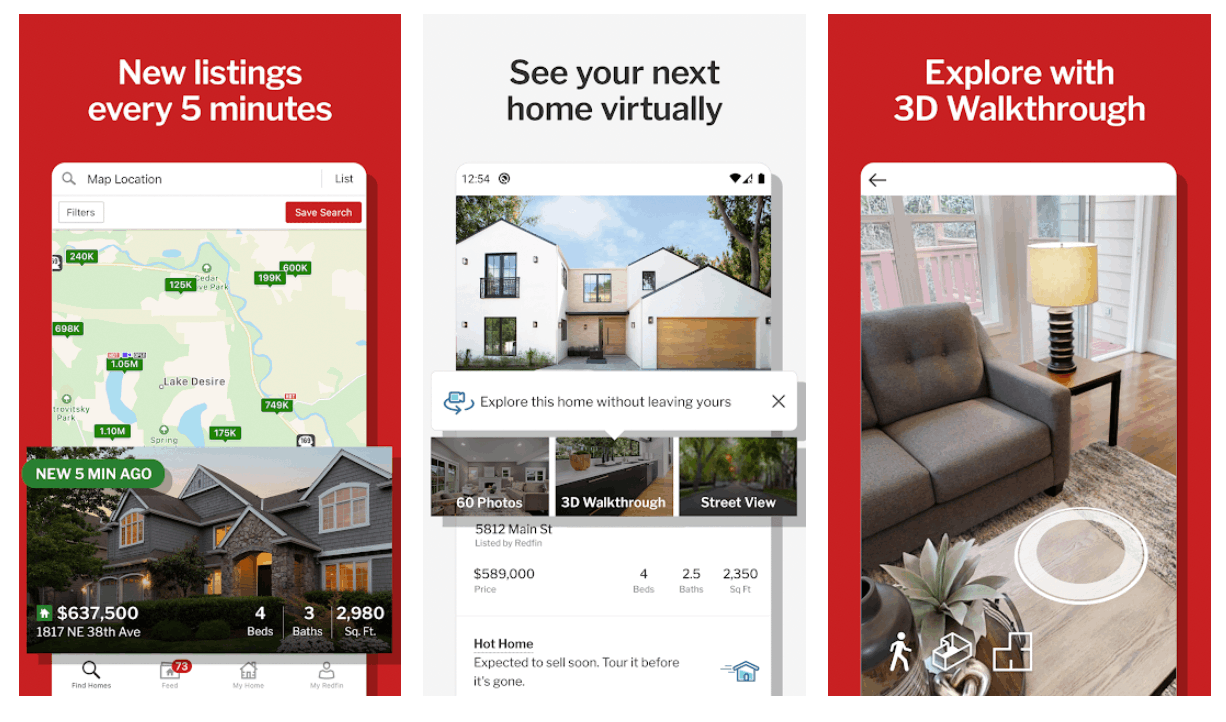 Through its Hot Homes feature, a map shows which properties are posted by Redfin or another broker, as well as homes that are expected to sell quickly. I can book a virtual or in-person tour with a Redfin agent right from the app. The app even shows me when the next tour is scheduled.
During the pandemic, contactless meeting options also helped ensure everyone's safety and comfort. Lastly, climate risk data from the ClimateCheck and First Street Foundation allows me to assess a property's risk to catastrophic natural calamities such as wildfires, regional drought, and floods.
Rocket Homes
The Rocket Homes app, from mortgage lender Rocket Mortgage, allows me to look for available homes while simultaneously preparing for the mortgage application and home buying process.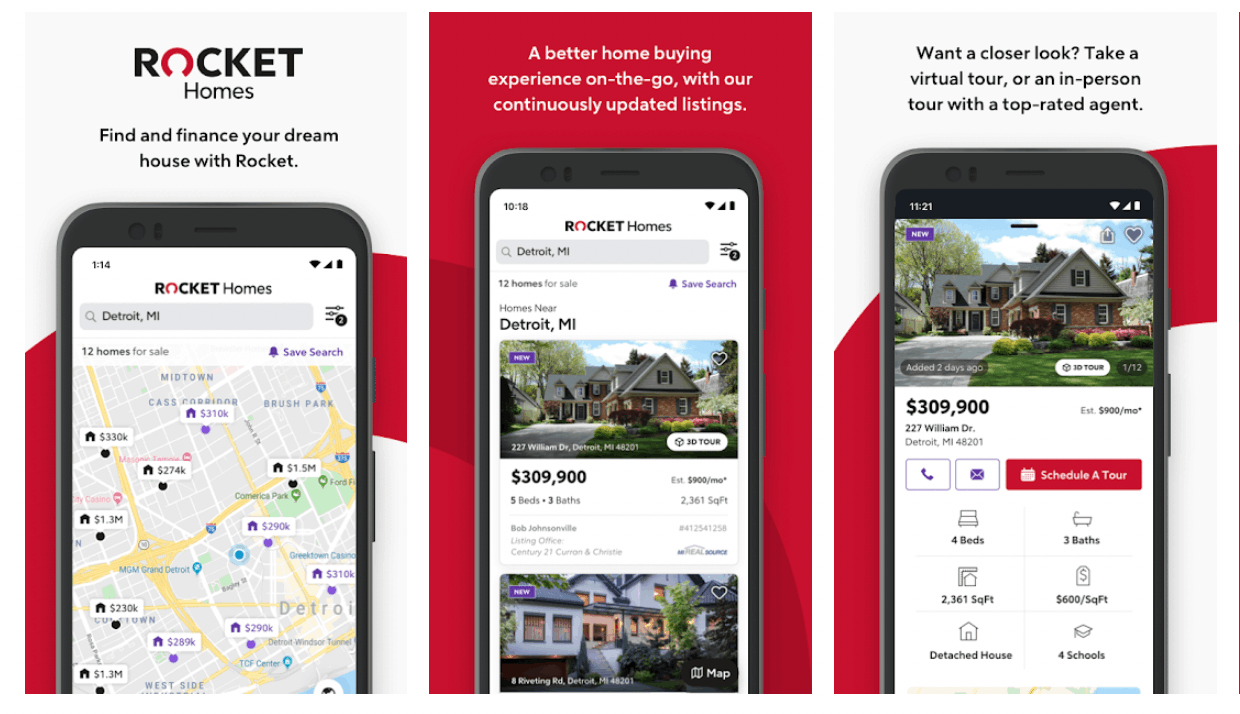 The Rocket Homes app provides a free credit-tracking feature that will not affect my credit score, which will help me in preparing for the financing process. New listings are highlighted in purple on the map as I search for homes, assisting me in navigating a hot market.
Because Rocket Mortgage specializes in mortgages rather than home sales, contacting a real estate agent through the app isn't as simple as it is with other apps like Redfin or Century 21, though you can request that an agent contact you.
Conclusion
I can simplify my search and find a home that checks all of the boxes on my house-hunting checklist by using one of these apps. These applications make finding my future home easy with photographs, locations, and property history.
You can use one of these apps to find your dream home and then begin decorating your house.
Last updated on April 10th, 2023 at 01:12 pm