Making memories is the best part of any trip or just about any life event. Whether it is a birthday, a celebratory work drink with colleagues, a dream vacation, or everything else in between, there is nothing like preserving these memories and keeping them close as a snapshot on your mobile device.
Unfortunately, there are times that these photos are deleted. Whether the device malfunctioned or the user simply pressed 'Delete' by accident, recovering these deleted photos is essential. Thankfully, there are a number of apps that can help put these images back where they belong, in your gallery.
For individuals looking to recover photos, look no further. Below are some mobile applications that can help users restore deleted photos with ease. Take a look at these and how these work.
Dumpster
DiskDigger
EaseUS MobiSaver
Restore Image (Super Easy)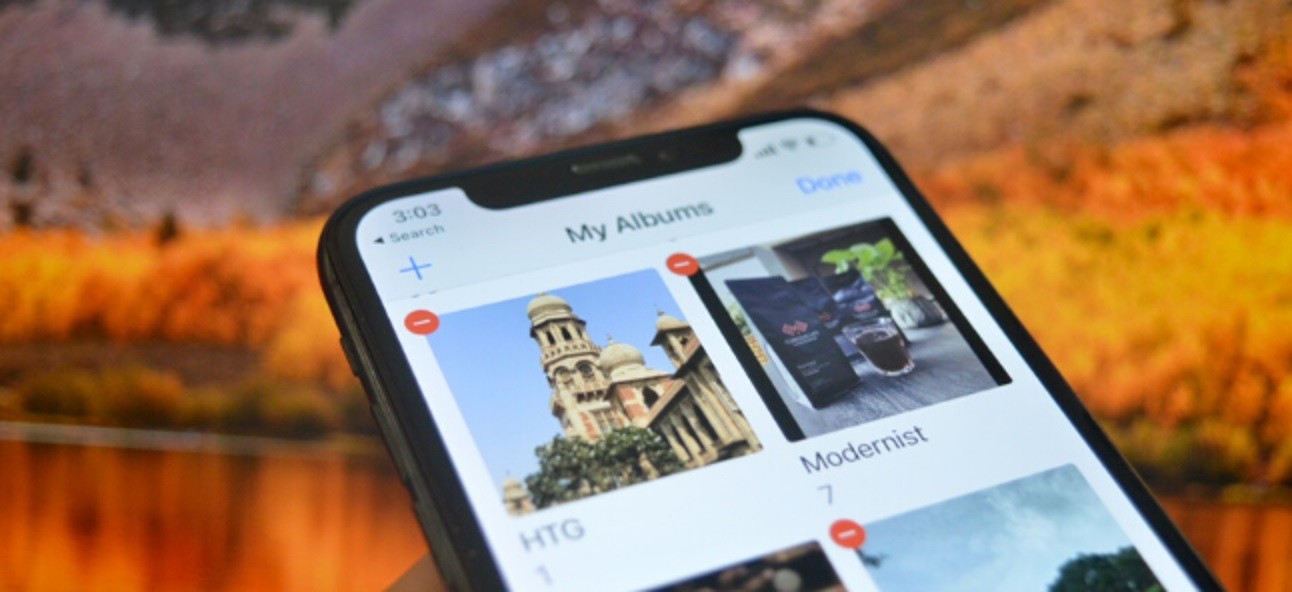 Dumpster
Dumpster is a free mobile app for Android that is available on the Google Play Store. In essence, it is a recycle bin of sorts that allows users to immediately restore their deleted photos and files. As a smart tool, this instantly provides security and protection to all sorts of files from the get-go.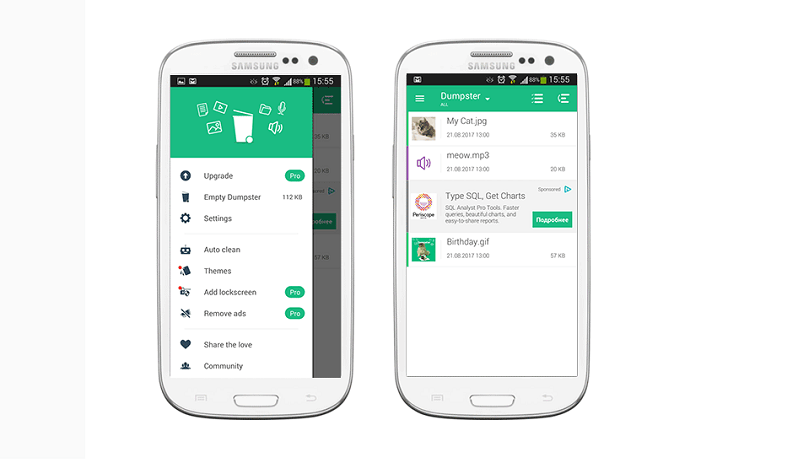 One of the key features of the app is that it does not require an Internet connection, meaning users can easily run this app whenever or wherever needed. Another notable feature is that media files can be safeguarded with the help of a four-digit access code that keeps them away from prying eyes.
Even better, users have the option to use Dumpster to back up their images, videos, and other files to cloud storage of their choice. This option frees up storage, making for a hassle-free and convenient option when it comes to restoring all deleted photos and documents, but only comes on the premium plan.
Dumpster is free to use and download. However, for those who wish to give the premium version a try, Dumpster comes with a 7-day free trial. Besides cloud storage, users can also enjoy an ad-free experience and unlimited restores. The premium membership costs about $23.
How the App Works
In many ways, Dumpster works as a seamless backup app for images, videos, and other files that a user may have on their device. In the event that these are deleted, Dumpster allows users to retrieve their necessary files right away as it creates a backup without having to root the device.
Upon downloading and installing the app, Dumpster runs in the background and keeps tabs on all deleted files by creating a copy right away. This way, it 'prevents' users from deleting their images in the first place, making restoration a breeze.
After users have deleted photos, intentionally or otherwise, these files are simply reverted to the recycle bin where users can restore them with just a touch of a button. The great thing about this is that before restoring deleted files, Dumpster gives a preview of images and videos that users may want to restore.
DiskDigger
Another Android-based mobile application is DiskDigger. Unlike the recycle bin approach of Dumpster, DiskDigger, per its name, digs and sorts through the various drives of the user's mobile device to find the image or file in question. This works by bypassing the systems and reading the raw files.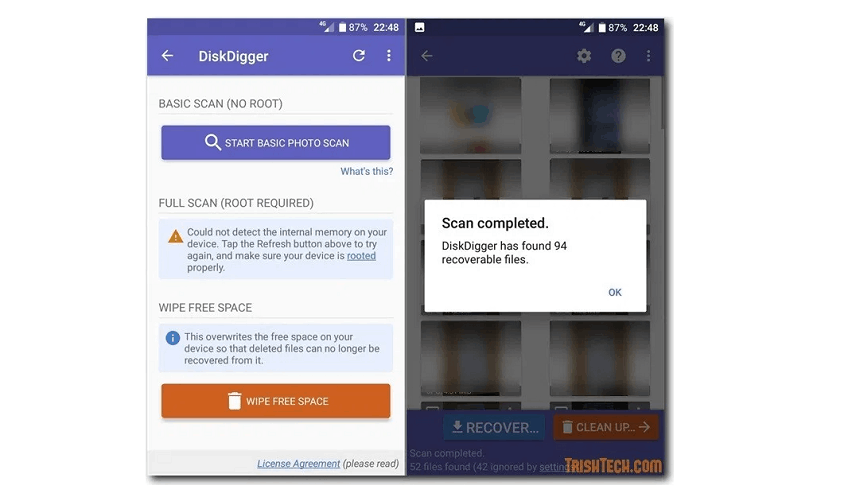 This means that the app works not just on a smartphone, but also on other types of systems, such as USBs, SD cards, and many others. What's more, DiskDigger is unique in that it does not require devices (particularly Androids) to be rooted, meaning it can easily scan deleted photos from the cache.
What sets this app apart from the rest on this list is that there are two recovery modes. The "Dig deep" mode lets users restore and undelete images and other files without their device being rooted. Meanwhile, the "Dig deeper" one entails a more comprehensive scan and requires permission for rooted devices.
DiskDigger already boasts of a strong set of tools that individuals can rely on to perform basic scans and photo recoveries on unrooted devices. However, for those who want more advanced options and scans with root access, the DiskDigger pro version is just $2.99. Besides images, users have the ability to restore, messages, text documents, music, and other files, while also freeing up space.
How the App Works
The DiskDigger app is available on the Google Play Store for download. After installing it, users can simply tap on the 'Start basic photo scan' seen on the screen and proceed by heading to the 'Scanning for files' section.
Then, users proceed by choosing the memory device they wish the app to scan and what types of files they want to recover. Some of the options that are supported by DiskDigger are JPG, PNG, GIF, MP4, and many others.
As the app scans the system, results will come up to a page where users can select the images they want to recover. To make the photo and file recovery easier, individuals can sort and filter through these by date, size, and file name, and later on, save these to cloud storage or a memory card.
EaseUS MobiSaver
Yet another app for Android photo recovery is the EaseUS MobiSaver. This app is made to recover deleted photos and other relevant file data from the user's mobile internal memory or their respective microSD. From photos, videos to contacts, this app can get back deleted files and more in just a few taps.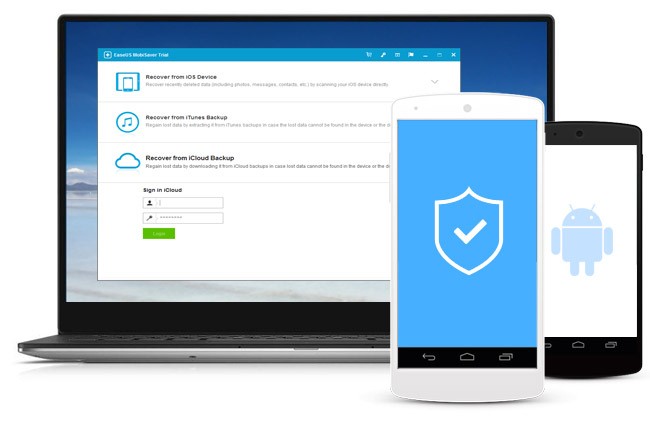 The beauty of the EaseUS MobiSaver is that it supports an extensive range of both photo and video formats, ranging from JPG, PNG, GIF, TIF, BMP, MP4, AVI, 3GP, and MOV. Apart from this, its name itself implies ease of use, especially with its user-friendly interface.
Another one of its impressive features is that the app scans and sorts through the required files, with a preview window made available to users so they can see what images they want to recover. Even better, users can filter and sort through the required files even while the app is scanning midway.
EaseUS MobiSaver is free to use and download. However, for a more expansive range of features and offerings, users may want to get themselves the premium software for $39.95. It also comes with a free trial period for those who want to get a feel for it prior to committing. This comes with advanced filters that let users sort the photos and data by date, size, and other essential attributes.
How the App Works
The EaseUS MobiSaver app can be downloaded by Android users from the Google Play Store. To download this, users can simply tap on 'Install' to proceed. After installing the app, it will ask the user for permission for access to photos, media, files, and others.
Bear in mind that the mobile application usually requires individuals to provide it with root permission. This way, it can scan the internal storage system of the device in question, bringing more accurate results and finding more data.
To start the recovery process, click on the 'Photo & Video' category found on the screen. Doing so will prompt the app to scan and crawl the photos available and the recent items deleted. This will also bring up recoverable files which the user can choose to recover and return to his or her respective phone gallery.
Restore Image (Super Easy)
Last but certainly not least on this list of apps is no other than the Restore Image app. Based on its claims, the app is 'Super Easy' to use. With a simple interface and basic functions, this app may look bare but provides a seamless experience with its no-frills approach.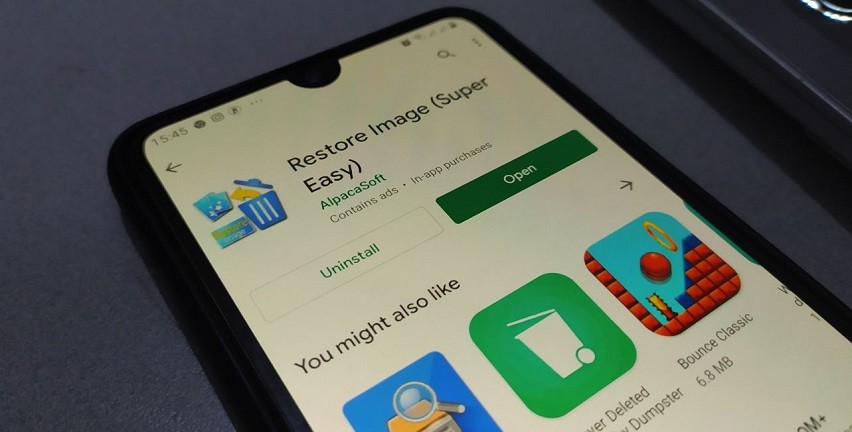 Because of its fuss-free interface, users can easily recover images in just a few touches. No longer will they need their devices rooted nor will they have to resort to using their personal computers. Instead, they can just choose and tap on their desired images to restore.
What makes the Restore Image app great is that images deleted prior to the installation of the app can still be recovered. With this, users no longer have to fear losing their precious memories over time. This app can scan and restore images not only from the device but also from the SD card.
This app is free to use and download, with some ads to support this. For those who do not want to bother with ads, Restore Image offers a function to remove ads for a small fee.
How the App Works
Restore Image is available for Android users. They can download this from the Google Play Store. After downloading and installing the app, users can restore deleted photos without any difficulty.
To do this, users will be asked to pick the desired folder where the deleted image was initially from. Then, individuals will be asked to tap on the images they want to recover. Click on 'Start' to commence the restoration process.
The Bottom Line
Recovering deleted photos does not have to be difficult. With these four mobile apps, users can get the peace of mind they deserve knowing they can get back their photos and other important data with ease.
Last updated on December 28th, 2022 at 07:06 pm