It takes time to find a common time with a group of people to set up a business meeting or even a casual meet-up. Being a professional entails that my work hours depend on the number of tasks I need to finish, and the same goes for my friends and work clients.
Instead of relying on lengthy email threads or group chat messages, I found a useful mobile application that simplifies the process of finding the time that people have available. The Doodle app is a free scheduling app that aims to set appointments and meetings through polls.
Busy individuals have long been using and recommending the Doodle app for the convenience it brings. Aside from helping us find our commonly available time, the app has other exciting features for a better scheduling experience. Also, check out how to install the app below.
Saving Time Through A Scheduling App
Starting A Poll For Appointments
Finalizing The Poll For The Meeting
Sharing The Poll With Your Friends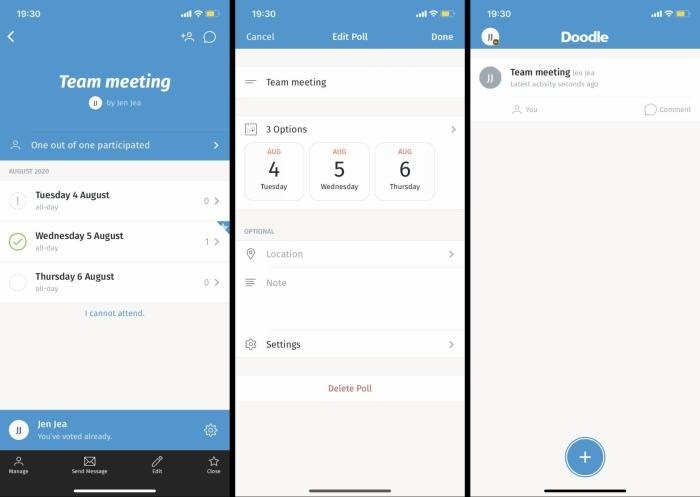 Saving Time Through A Scheduling App
It has already been years since I started using the Doodle app because of its pretty convenient features as a professional. Since I have irregular free time, I find it challenging to meet up with my friends who also have their respective free time.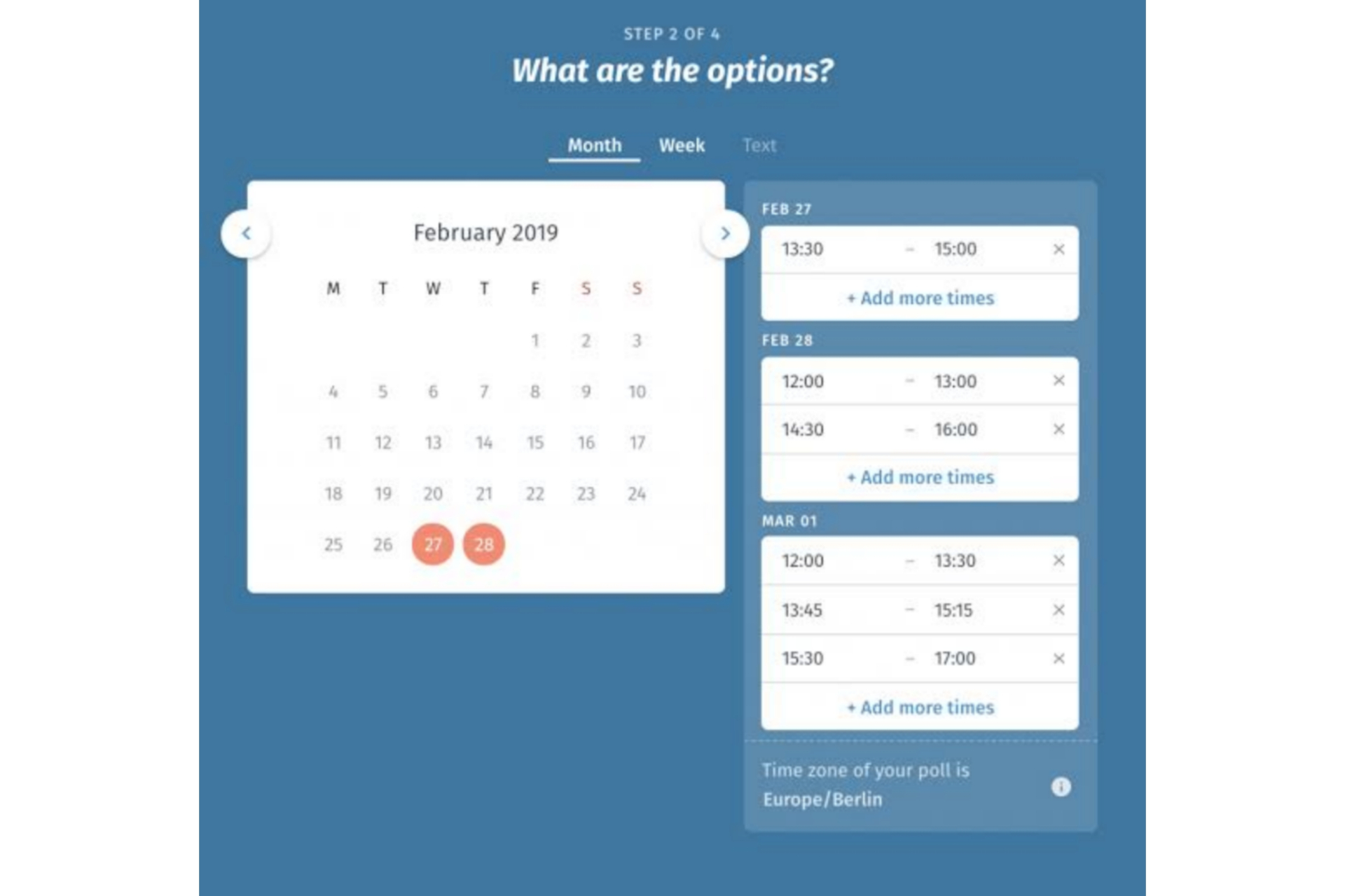 This discussion is lengthy because we are six in the group, and it is challenging to find a common time. We spend so much time talking in our group chat, and the struggle of keeping up with their available schedule is present because we need to do backreading.
Thus, I looked for a scheduling app that can help us with this dilemma. Fortunately, I found the Doodle scheduling app since it is well-known for being one of the Best Apps of 2015, according to the Google Play Store.
Since its launch in 2015, the Doodle app received overwhelming support from its users because they loved its features. At present, the team records over 30 million active users per month on the app. This shows how users see the app's convenience, especially when finding a common time among busy individuals.
Knowing More About The Doodle Mobile App
At first, I find it confusing because of the name of the app. I thought it is a note-taking or sketching mobile app, but I was wrong as it is a scheduling app. The Doodle app is free to download on both Google Play Store and iOS App Store, and you have to search for "Doodle – Easy Scheduling."
The app follows a freemium model so that I can enjoy most of its features for free as a user. However, there are in-purchases and premium subscription plans available for more perks and a better scheduling experience.
The app immediately offers a quick tour of its features upon installation. After the overview, creating an account on the app is required using either my Facebook account, Google account, or email address. In just a few taps, I already have my account and can start enjoying the app.
Starting A Poll For Appointments
Since the app provides an overview of the app's features, it expects us to avoid the nightmare of lengthy discussion to find a common free time among our friends or clients. It explains the basic features like how it is a better scheduling app by allowing users to make suggestions and create a poll, which saves time for everyone.

I like how the app designed the scheduling feature as a poll because it can help me ask people to set a meeting with ease. Moreover, I agree with the app when it claimed that there are a gazillion ways to use it because I can use it for personal and professional purposes.
It is easy to start a poll on the app because of the neat user interface. On the home screen, I can immediately see the plus icon that will create a new poll. There are two options in starting a new poll where I need to choose whether I want to "Find a date" or "Make a choice."
The Doodle app lets me see all the polls that I have created and participated in. It is easy for me to look for those polls as they are just on the home screen with the corresponding name of the poll. It is arranged according to the latest poll created or participated.
Selecting The Best Option For The Poll
In the "Find a date" option, I can select the dates when I am free, and I can suggest dates when we can meet based on my availability. I often use this option for business purposes because I want them to know when I am available for a meeting. This also works for my subordinates at work so that they can adjust their schedules accordingly.
The second option is freer because it allows me to use the survey feature for whatever purpose it is. I can add whatever question I want as well as the options. It may not necessarily be a date that I am asking about; it could be about what we would like to do on the set date or place we should meet.
I often use this second option with my friends since there might be cases when we do not know what we should do, like a movie night, barbeque night or a game night. However, it is possible to use this for business purposes and where the clients would like to meet.
Finalizing The Poll For The Meeting
The app also allows me to add other important information from the meeting or the poll. I can already set where the meeting will take place. If it is a face-to-face meeting, I may set the exact location that provides a map and direction to the people I will meet.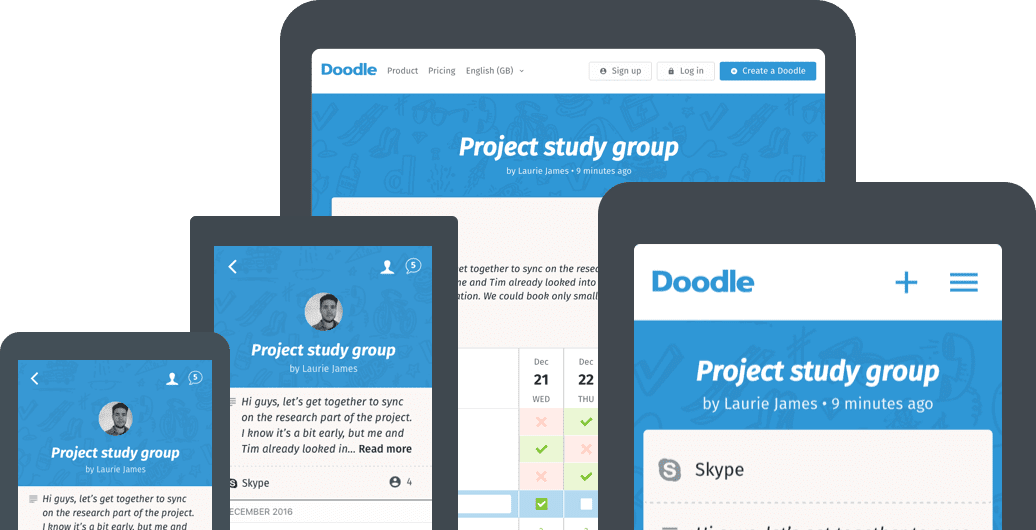 There are other options for the location, like "to be defined" for instances where we haven't decided on a location yet. I may also choose among the other options like a conference call, phone call, Skype, online, WebEx, Google Hangouts, and Zoom.
Moreover, I can add notes or other reminders on the poll. I tend to use this whenever we meet on a specific platform as I provide the meeting link or credentials. You can maximize the notes by adding whatever information you would like the people to know about before the meeting.
Customizing The Poll
The polls provide comprehensive information to the people who I will be inviting. Aside from the notes and location, the app has settings for more accurate surveying. I love maximizing these options to make sure that I get exactly what I want.
Participants can indicate if the choices provided are not ideal for them by selecting yes or no. I can also turn on the button for a hidden poll where participants' names and votes are confidential, and I am the only one who can see the results.
It is also possible to limit the participants with one vote only. Lastly, I can also restrict the votes per option, which means a first-come, first-served feature. So, once the spots are filled, the choice is no longer available.
Sharing The Poll With Your Friends
Upon finalizing the poll, I can share it anywhere, even with those without any accounts or apps to vote. Yes, the Doodle app does not require other people to install the app to answer the poll.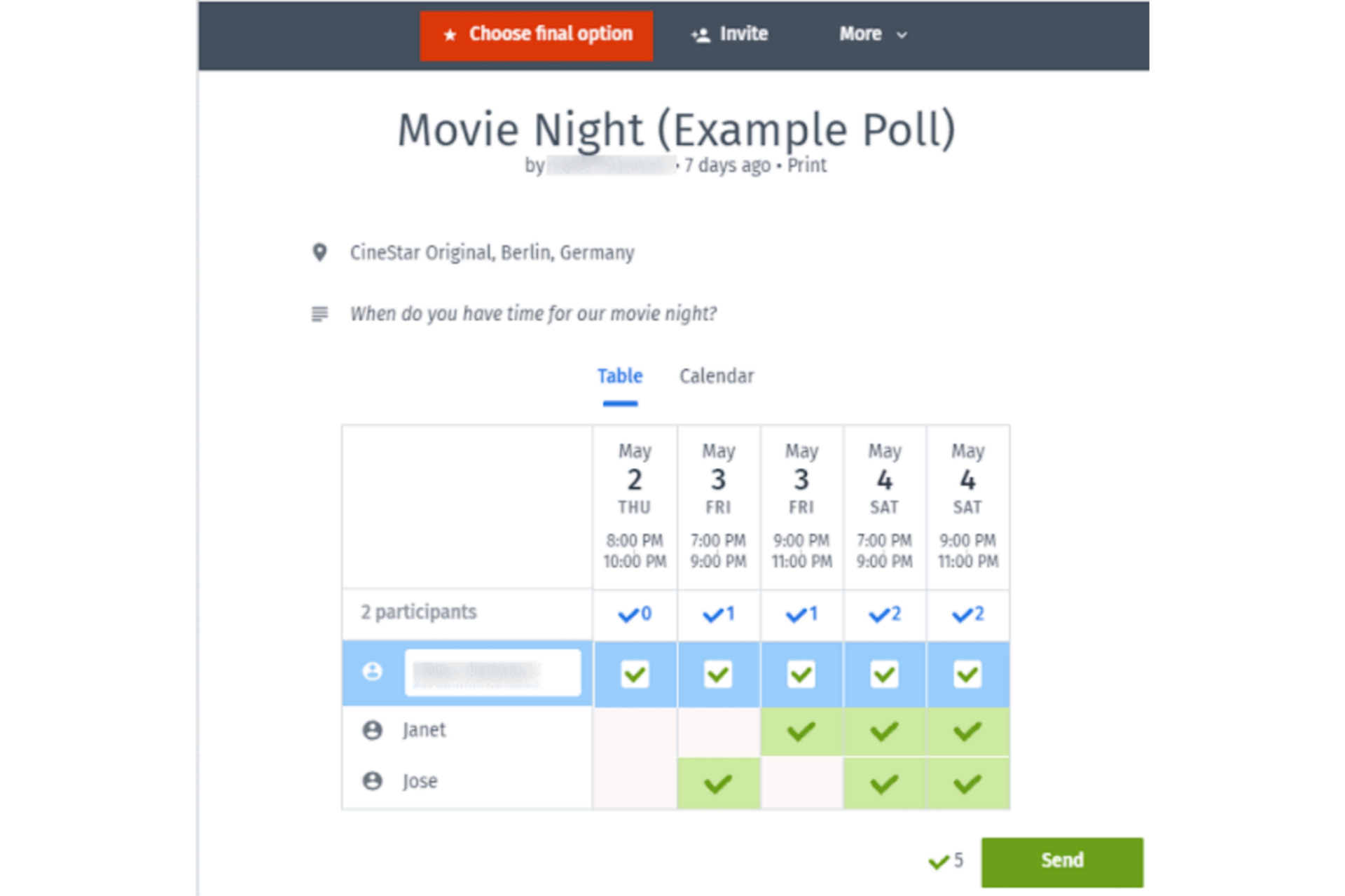 I only need to send them the link or the poll itself. I can invite participants to vote on the app or website if they have an account. For those who do not have a Doodle app, I can send the link on different platforms like WhatsApp, Messenger, Instagram chat, QR Code, email, text message, Bluetooth, and many more.
It is essential to grant permission to access my calendar because it syncs the data. So, I can have one collated view of my set appointment and schedules saved on other calendars like Google Calendar and phone calendar.
The app allows me to check whether there will be conflicts in my schedules. It helps create the poll with a "Find a date" option; it shows on the lower right part of the screen if there will be an appointment. I can then refrain from choosing that specific date. It also goes with the possible time conflict of meetings.
Enjoying The Premium Plan
I already enjoy the free version of the account on the Doodle app. But, there are more features that I can have access to when I subscribe to its premium plans. There are two plans I can choose from, either private or business.
The private plan costs $39 per year, which removes all the intrusive ads on the app. I can also see who has not answered the survey yet. But, what I genuinely like is end-to-end encryption for additional security on the app.
Meanwhile, the business plan is for those who are working with a small group of people. The plan costs $69 per year per person. The perks of the private plan are included in the business plan but with more user-management features.
Conclusion
The Doodle app is truly a time-saver because it minimizes the effort required in scheduling an appointment with other people through polls. Its features are simple yet practical and are meant for busy individuals.
Last updated on December 23rd, 2022 at 07:32 pm