When you're occupied with different things at work or at home, making time for self-care seems a far-fetched idea. But the Tangerine app can help you set and achieve goals one day at a time.
The Tangerine app can track your progress, mood, and activities. Whether you want to gain a new skill or improve how you see certain things in life, Tangerine is enjoyable and easy to use. It doesn't just remind you of your activities but also motivates you.
All you need is a smartphone and your commitment to be the best version of yourself. Here's how the Tangerine app can help you practice self-care.
About the Tangerine App
Pursuing Progress
Monitoring Your Mood
The Joy of Journaling
How to Download the Tangerine App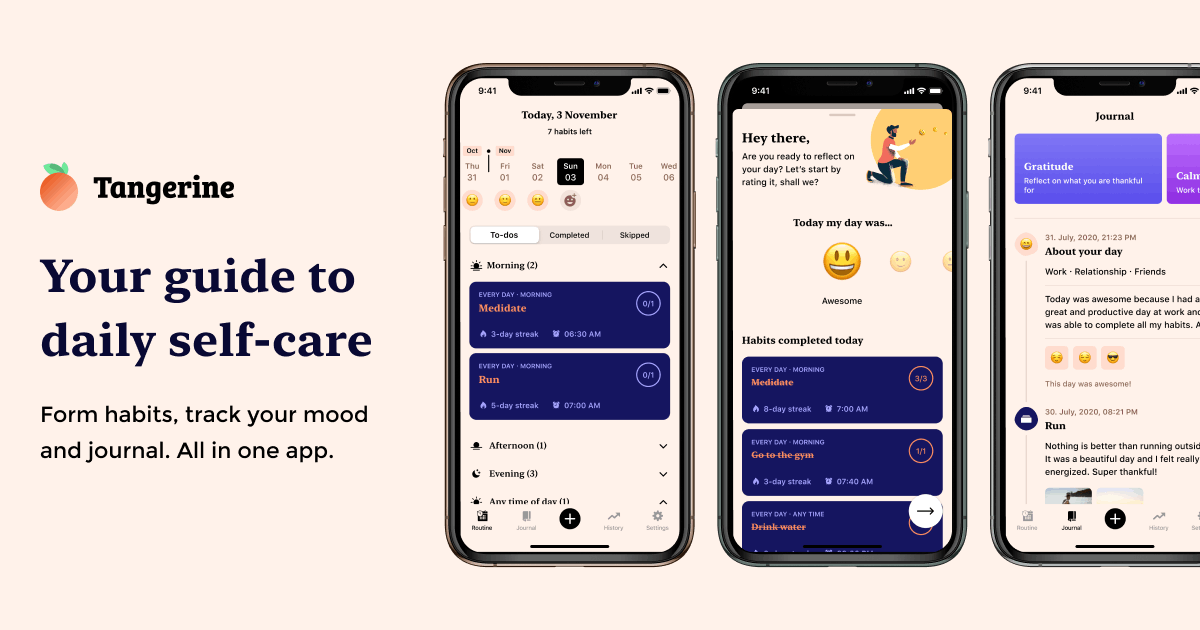 About the Tangerine App
Tangerine is a fun habit and mood tracker that helps users start and sustain healthy habits. It's the perfect tool for one's self-care journey.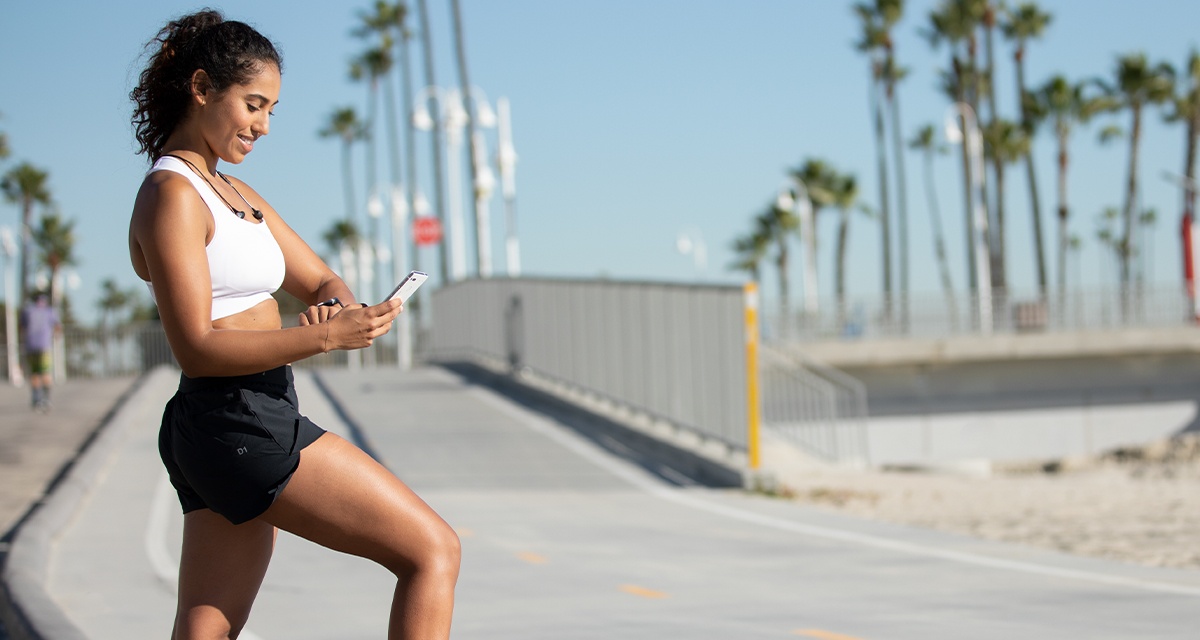 Launched in January 2020, Tangerine saw around 15,000 downloads and 2,000 daily active users in less than a month. With the app, you can reflect on your personal goals and how you can achieve them.
It monitors your habits and how you are keeping them. Its features are designed to improve one's physical, emotional, and mental health.
In 2020, the App Store gave the Tangerine app several awards, including "New Apps We Love," "App of the Day," and "Best of the Month."
Reminders
As a self-care tracking app, the Tangerine works like an alarm clock. One of its major features is its reminders in the form of Notifications. To use this, tap the "Settings" button at the lower right bottom of the screen.
Tap the "Notifications" text with the bell icon. On the "Notifications" page, enable the "Show notifications" option. Below are other options that allow you to set your icon badges, floating notifications, lock screen notifications, sound, vibration, and even the use of LED light.
By choosing the "Habit reminders," you can enable notifications and adjust their importance, sound, vibration, LED light, or if you want the notifications on the lock screen. The "Mood tracking reminder" can be configured in the same way.
Pursuing Progress
If you feel like your self-care is falling by the wayside, install the Tangerine app on your device. Its progress tracker will keep you focused and motivated.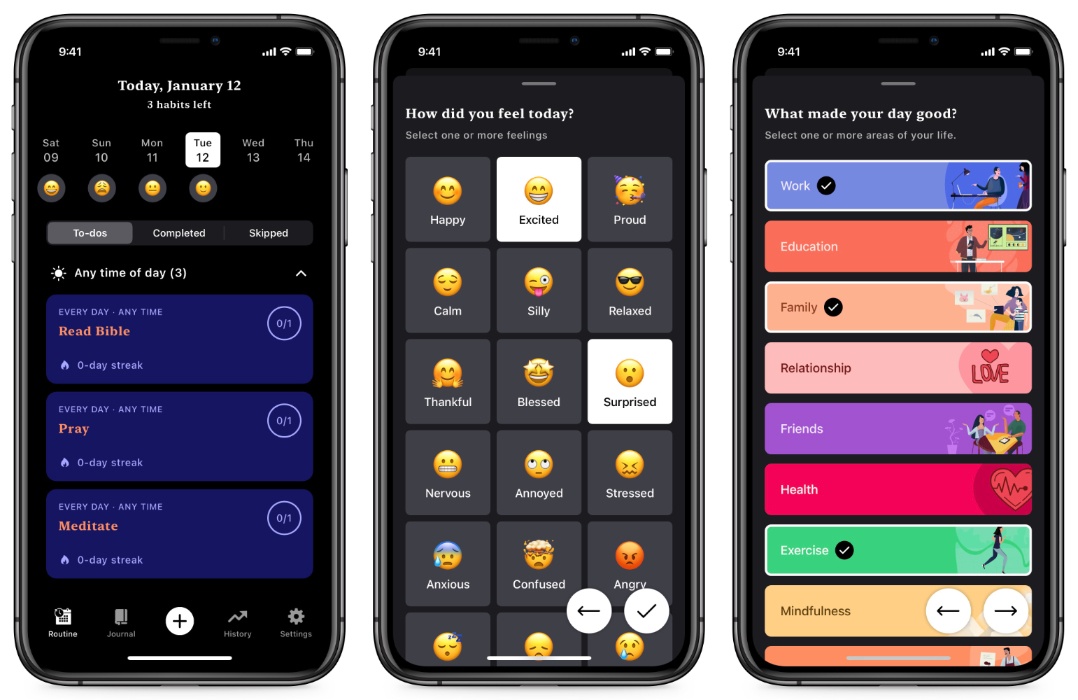 When you have the Tangerine app on your phone, you can track your current streaks and goals. You can even view your competition history or rate for each habit you form. It comes with notes so you can add details or thoughts that are not prebuilt in the app.
The goal of the app is to help you develop habits that can be sustained. It will remind you to do them and celebrate your milestones.
With the app, you'll get an overview of your performance and motivation to achieve more.
How to Create a Habit
If you're a first-time user of the app, you won't see anything on the To-Do's section yet. To add an item or create a habit, tap the "+" icon. You will see a page that you have to fill out.
Enter the new habit you'd like to start, such as 'eating more fruits', 'doing yoga', or 'sending a friend a joyful message'. Choose when you want to start your habit: Today, Tomorrow, or Custom, which allows you to select a specific date.
You have to determine how often you want to do the activity, how many times per day you want to do it, and which time of day you would like to do it. You can create a reminder on the same page. You can edit, archive, or manage a habit by tapping the "Settings" button at the lower left part of the screen and then select "Manage habits."
Monitoring Your Mood
Mood tracking is a major feature of the Tangerine app because the developers believe that routine can affect how a person feels.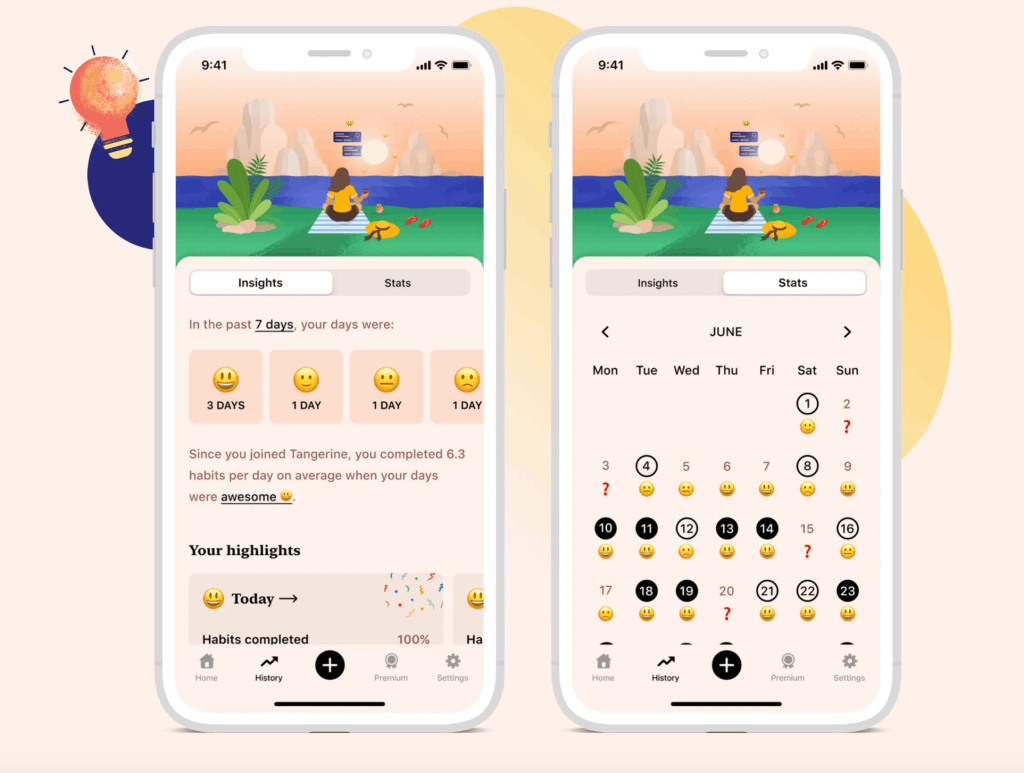 With the app's mood tracker, you can quickly reflect on your emotions at the end of each day. Reflecting on them involves understanding the how's and why's.
Note that mood tracking is actually a method used in positive psychology. This means that Tangerine is applying psychological approaches to its system.
From tracking to recording to analyzing your mood, Tangerine helps you look back on what happened during the day as well as the activities that make you happy or sad.
How to Track Your Mood
To apply the concept of mood tracking to your routine, open your Tangerine app. You will see the dates at the top of the screen. Below them are smiley icons with a plus sign.
Tap on the smiley icon below the current date. It will direct you to a page that will allow you to rate your mood. For instance, you must complete the line "Today my day was…" by swiping on the emoticons with descriptors, like "Awesome," "Good," and "Bad."
Then, tap the right arrow icon to go to the next page, which displays the question "What made your day okay?" and a list of options. You can select one or more areas of your life, including "Work," "Education," "Family," "Relationship," "Friends," Health," Exercise," "Travel, and "Food." You will be asked to elaborate on it and choose more feelings to record in the app.
The Joy of Journaling
The Tangerine app recognizes the importance of journaling in one's self-care journey.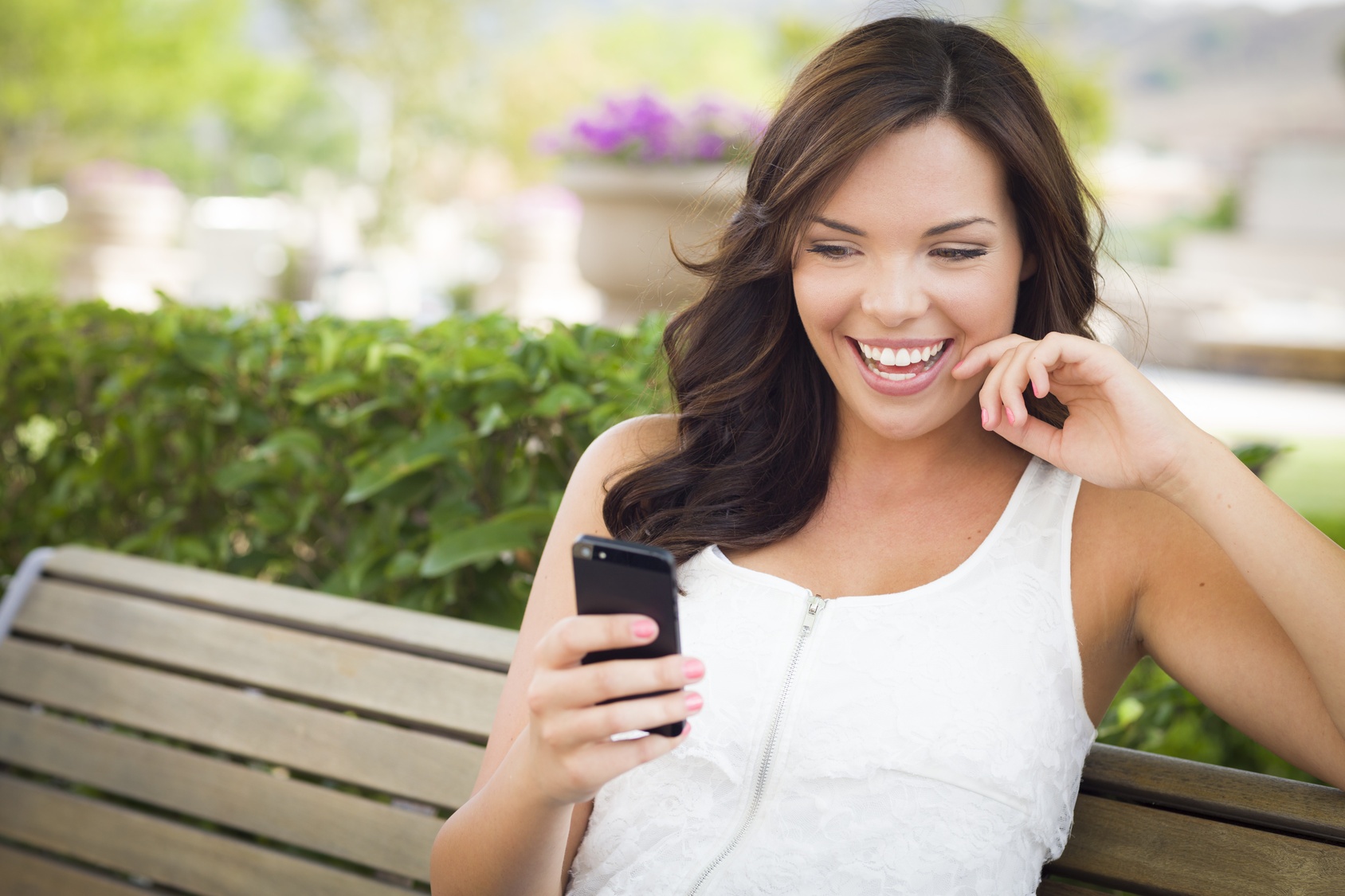 Tangerine's journaling feature helps users develop mindfulness, communication skills, and memory. Journaling helps them clarify their thinking and understand their emotions.
The app has built-in journaling templates where you can type out your thoughts. You can accompany your text with images, like a photo from your gallery or an inspirational quote you found online.
What to Write in Your Journal
Since it is your journal, you can write anything you want. It could be something you experienced during the day, feelings, thoughts, plans, or regrets.
But you are also encouraged to reflect on the data you enter into the app. For example, on the home page, you can tap "Completed" and "Skipped." Each of them will display the activities or habits you accomplished and failed to do.
You may want to journal about how you were able to complete goals or the reasons why you were not able to accomplish some. You can reflect further on those things by tapping the "History" button at the bottom of the menu to check your insights and stats.
How to Download the Tangerine App
Both iPhone and Android phone users can experience the Tangerine app. If you want to invite friends to use the Tangerine app, you can share it with them even if you are using different types of operating systems.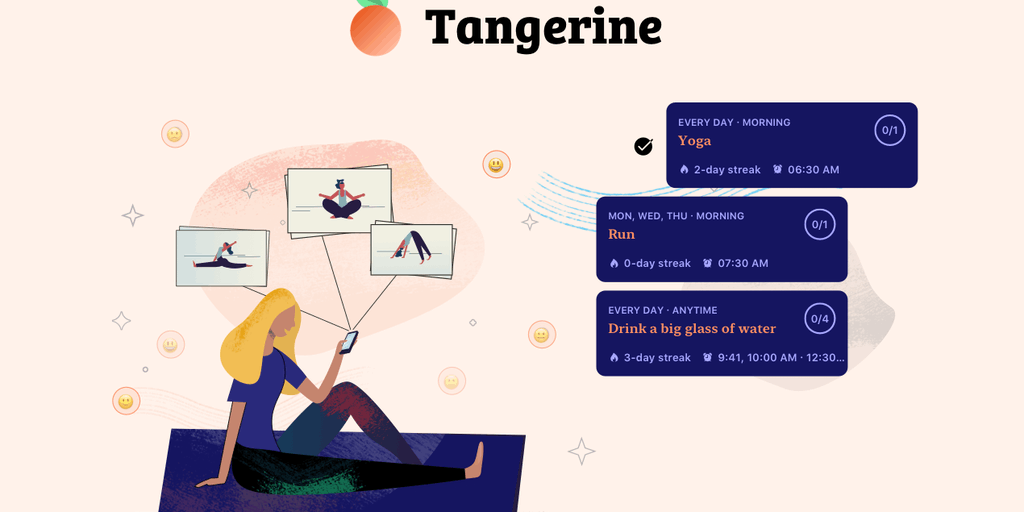 For Android users with versions 7.0 and up, simply go to the Google Play Store. Look for "Tangerine – Habit and mood tracker." Once it appears on the results, open the app and then tap "Install."
Head to the App Store if you want to install the Tangerine app on your iPhone, iPad, or iPod Touch. Search for "Tangerine: Self-care & Goals." When it shows up, click on the "Get" button.
Once you have the app on your phone, note that the Tangerine app will collect the personal information you voluntarily sent to it when you registered for an account. The app will also have access to the actions you are taking in the app, such as editing entries or uploading media. Hence, the app may request access to your photo gallery or camera so you can upload images to the app.
Premium Subscription
To date, the Tangerine app is free. But if you want to maximize your usage, you can opt for the premium subscription, which costs $4.99/month or $29.99/year for premium. The app gives you a seven-day free trial so you can assess if it fits your needs.
The features you can access when you are a premium subscriber include unlimited records of habits and unlimited reminders per habit. No matter how many tasks and activities you have in a day or in a week, the app can keep you in charge of them.
The premium subscription allows you to add photos to your notes. Lastly, the Tangerine app will give you access to insights and statistics related you your routine. It will provide you comprehensive reports about habits you've completed and how you are overall.
Conclusion
Among the self-care apps in the market today, the Tangerine app is one of the simplest yet most powerful. It is aesthetically pleasing and equipped with top-notch functionalities. The app allows you to acknowledge your emotions and habits and view them from a statistical lens at the same time.
Its system urges you to build strong habits but lets you choose how to spend your days. If you want self-care milestones without too much pressure, install the app now.
Last updated on December 23rd, 2022 at 07:35 pm